A meaningful gift is worth the time and money, especially when it is for a family member, such as your brother-in-law. Your brother-in-law comes from a different family and may sometimes feel left out or out of place in yours. And what better way to make him feel a part of your clan than with a thoughtful welcome gift or for his birthday or wedding anniversary? Let him know how thoughtful your family is by choosing a gift keeping in mind his likes, dislikes, and hobbies.
Read this MomJunction post to find a list of the best gift ideas for a brother-in-law, which are not just meaningful, but also match his interests.
13 Best Gift Ideas For A Brother-in-law


This is a great gift idea for a brother-in-law who loves carrying his own tumbler wherever he goes. The tumbler has stainless steel, double-wall construction, which is lead and BPA-free. The quote on the bottle is lase-etched and does not come off with use. Being vacuum insulated, this tumbler will hold the hot or cold drink two times better than regular plastic or glass bottles.

This could be a great birthday gift for a brother-in-law, especially if you share a very friendly relationship with him. Getting him this beautiful poem, which is printed on high-quality paper with ink, is perhaps the best way to show your gratitude to him. The dimensions of the picture are 5 ½" x 7 ½" and includes an 8″ x10″ double-mat. This gift makes a wonderful keepsake that your brother-in-law will cherish.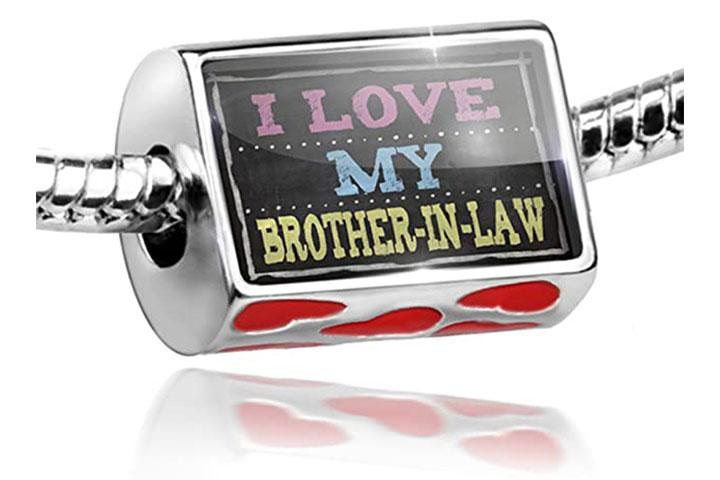 This cute charm fit is a cool and funky accessory that your brother-in-law may love wearing.  Made of a silver-plated base, with 1.46 inches in length, the charm fit has a cute message that says, "I love my brother-in-law" etched on a bead, with hearts on the other side of the chalkboard.

This is a funny gift for a brother-in-law, especially if he has a good sense of humor. This high-quality, white mug with black print is sure to cheer anyone who loves a good joke. The message, written in high-quality print, will never fade, despite repeated cleaning. The product is dishwasher and microwave safe.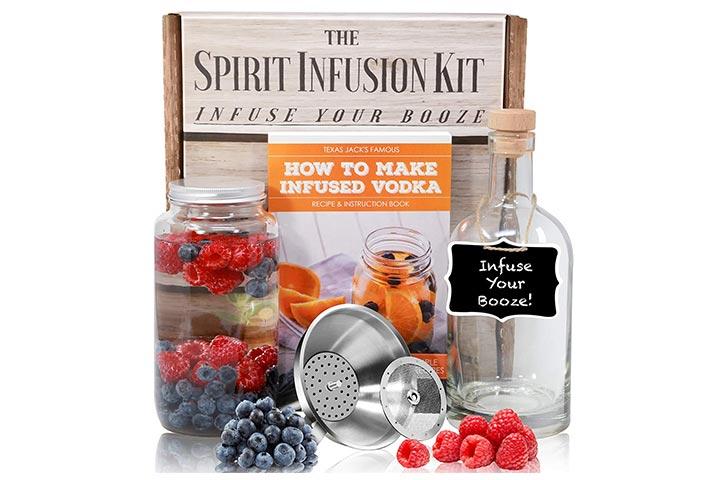 A perfect gift idea for a brother-in-law who also loves bartending! This elaborate infusion kit is great to encourage him and equip him with fancy alcohol cocktail recipes. The package has a 110-page recipe and instruction book, along with a 1000ml infusion jar, 750 ml liquor bottle, funnel & strainer with fine mesh filter, and a chalkboard tag to display the name of your concoctions.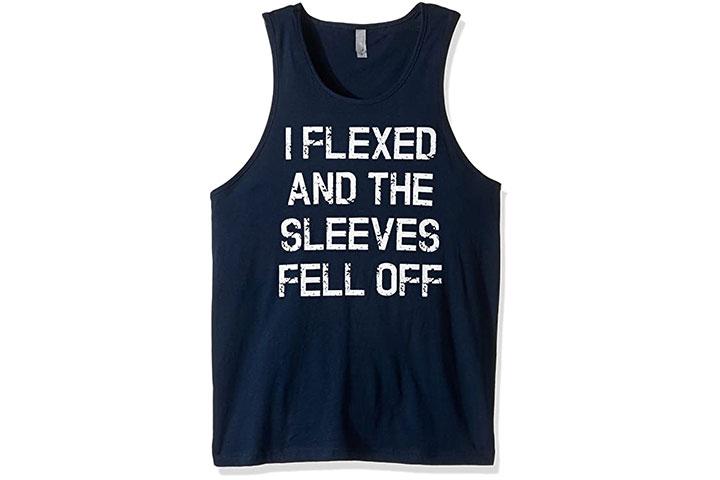 A funky gift for a brother-in-law, this 100% pre-shrunk cotton tee comes in a variety of colors and is quite long-lasting. Made with ring spun cotton to provide that comfortable fit and feel, this lightweight tee is great to wear outdoors, when traveling, or working out in the gym. The fun element is the sarcastic message, which will make him stand out for sure!

If your brother-in-law is like most men and tends to be forgetful and can never seem to find where the bottle opener is, then this wall-mount bottle opener becomes the perfect gift for him. This meaningful gift idea for your brother-in-law will save him a lot of time otherwise spent searching for a bottle opener.
The size of this opener is big enough to make its presence obvious even when you look for it in a hurry. The product is handmade from hardwood, treated with a water-resistant lacquer, and has a great wooden finish. Its magnetic cap catcher eliminates the need to pick up caps and can hold up to 50 caps.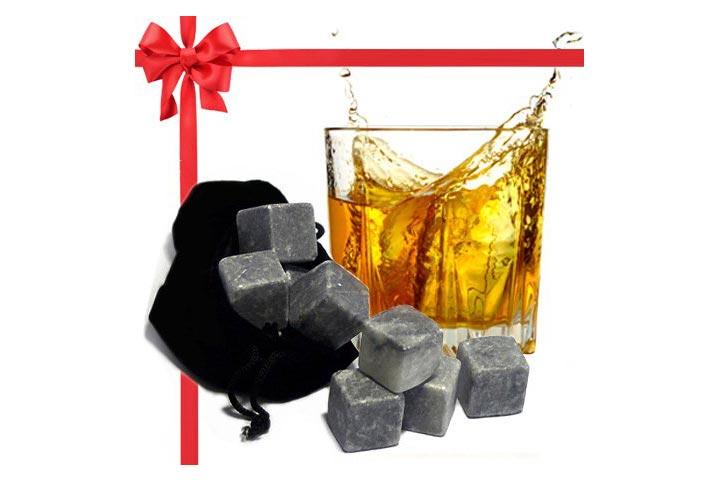 Whether he is a whiskey connoisseur or just loves to socially entertain his guests, these whiskey stones set can make a great birthday gift for your brother-in-law. The set of nine whiskey stones comes in an elegant pouch, packed in a gift box. The box self-closes with the help of a magnet closure. These natural soapstone whiskey stones, when chilled, will keep the drinks cold, making them perfect for that 'scotch on the rocks' experience!

Another great gift idea for brother-in-law would be gifting these flameless LED Moon Candles. These are ultra-safe without real flames. The LED flames are operated using a remote control and have a glow time of up to 50,000 hours. For someone who is finicky about getting the lights perfect or setting a cozy ambiance, these LED candles are good. Made with real wax, these give a flickering candlelight effect, just as flame-candles do.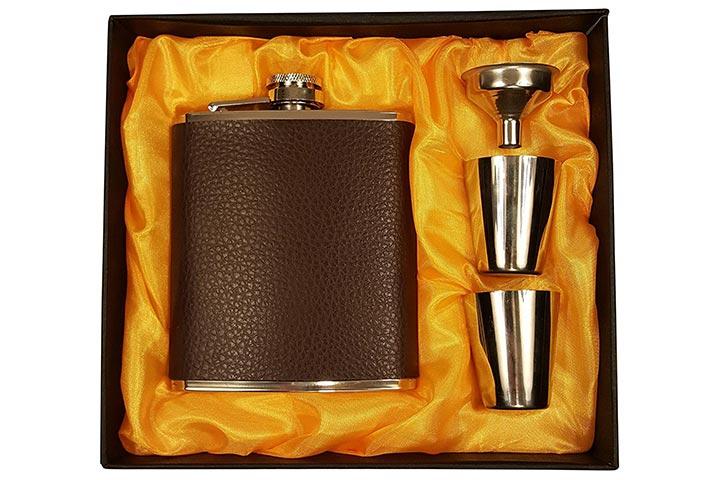 This leather flask set can be given for anniversaries, birthdays, or other occasions. If your brother-in-law enjoys his drink but travels a lot, then this classy gift set, which includes a 7oz flask, will let him carry his favorite spirit with him. The flask is made with rust-resistant stainless steel, wrapped in dark brown leather. The set also includes two shot glasses and funnel to help one enjoy the drink on the go!

A message that says, "Marriage made you family, love made you my brother," rightly expresses a person's fondness for their brother-in-law. This brother-in-law gift idea can also be given as a token of friendship. Made with a blend of stainless steel and alloy, the keychain is lead and nickel free. It also does not rust, change color, or even tarnish. The dimensions of the keychain are 12×50 MM.

The minimalistic design of the wristwatch makes it a classic, yet a stylish birthday gift for a brother-in-law. The traditional walnut casing with a glass cover has a subtle woody aroma. The internal quartz crystal dial gives an accurate reading, without any requirement for winding. The watch functions with a battery, which has a life of up to 24 months. With an authentic leather strap, the look and feel of the watch go beyond comfort. It spells true style!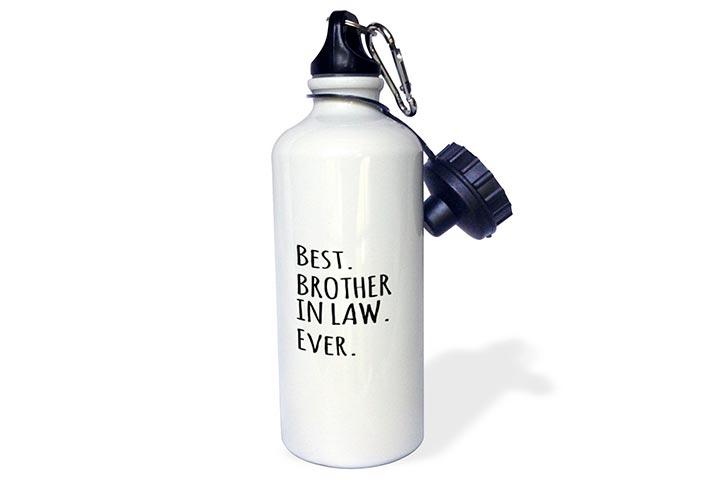 For the brother-in-law, who is fond of fancy and quirky water bottles, this bottle can be a good gifting idea. Cool to carry and functional to use, the bottle can fit into all kinds of bottle holders. The glossy white body has a neat custom printed image, which doesn't get erased with repeating washing. However, the stainless-steel bottle is not meant for dishwasher cleaning. It has a spout on top and a standard cap to close it.
 Tips To Choose The Right Gifts For Brother-in-law
Shopping for your brother-in-law need not be hard. Some familiarization with his likes and dislikes is enough to find something that he will appreciate. Here are a few tips to help you with that.
Focus on his routine: Sometimes, the most meaningful gifts turn out to be those that can be used regularly. They might seem mundane, but if you know that your brother-in-law will use it regularly, then they are likely to appreciate it more than a showpiece or decorative item. Choose gifts like a cool tee, gym water bottle, or coffee mug, which can be a part of his daily routine.
Help him pursue his passions: If your brother-in-law likes to entertain in style and has a passion for good things in life, then choosing from gifts like hip flasks, LED moon candles would be a good idea.
Enrich his knowledge: Some people may not have the time to pursue their hobbies, and sometimes need a nudge to take that first step. If such is the case with your brother-in-law and his love for bartending, then the spirit infusion kit, which has an elaborate recipe book, can be a great gift idea.
Help him with necessities: Sometimes, everyday essentials, with a little twist, can be all that you need to give to make your brother-in-law's day. Examples of such gifts include the wall-mounted bottle opener, the wooden watch, and the steel water bottle, which he might appreciate.
Gift emotional keepsakes: For brothers-in-law who are sensitive and emotional, customized gifts with special etched messages might be a great idea. Gifts like key chain, charm band, etc. are examples of that.
Humor him: To see that instant smile on his face, try gifting funny or quirky gifts. These will not just spell your easy-going equation but will also make them happy every time they use it.
Choosing meaningful gifts is more of a skill than art. One has to keep in mind the choices and needs of the recipient, along with their personality traits. These simple points cumulatively help in deciding gifts, which will not just serve the purpose but will strengthen your bond too. Choose from our curated list of gift ideas for brother-in-law and see him get excited!