Gifting a cat lover something that they can use for their furry babies or show off their love for them can be a sure shot way to make them smile. Most cat parents love cat-themed accessories and home décor items and are 'purrfectly' pleased when they get them as gifts. There are abundant cat-themed goodies in the market, ranging from mugs to magnets and blankets to décor items.
However,it might be a bit tricky to choose the right gift. In this post, we bring you a list of the best gifts for cat lovers. Pick one that is most likely to impress the cat-lover in your life.
19 Best Gifts For Cat Lovers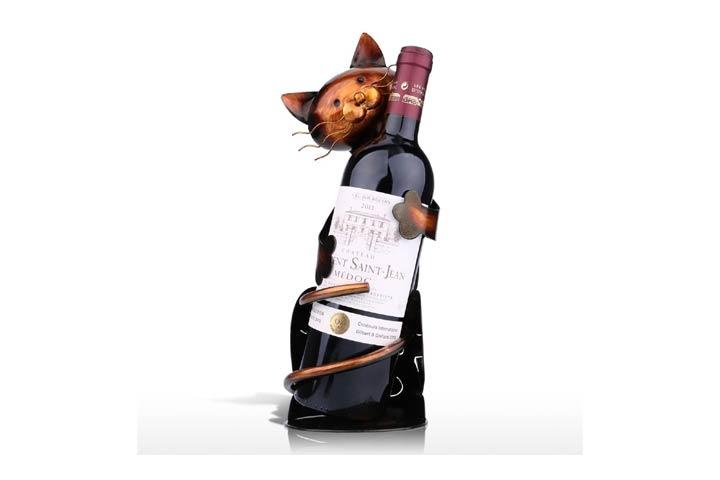 The wine holder from Tooarts is the perfect home décor gift for a cat-lover who also loves wine. This metal carved handcrafted cat-shaped holder is a cute, thoughtful, and useful item. Measuring13.7×5.98×4.61in, it can be placed in a bar, cabinet, or kitchen shelf. The high-quality item is eco-friendly and decorated in durable paint.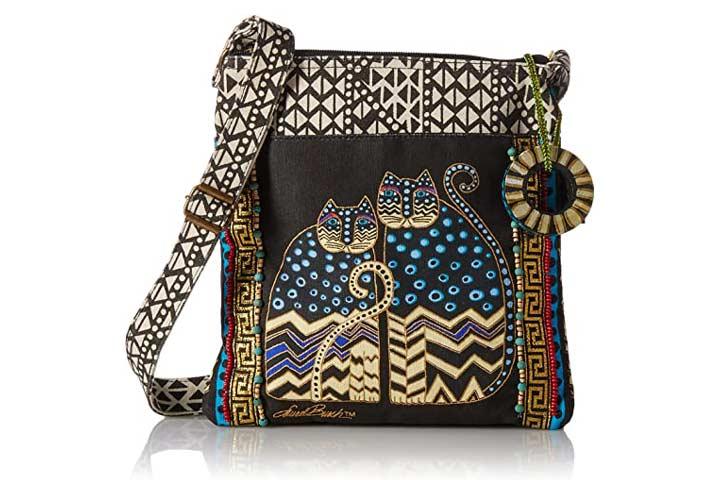 The artful, traditionally designed cross body tote has vibrant hues and patterned designs of cats.It adds a nice quirk to your cat-lover friend's stylish ensemble, making it a great gift. The tote is made of a polyester blend, and it measures9.75x1x10in. It is soft and can hold most accessories conveniently.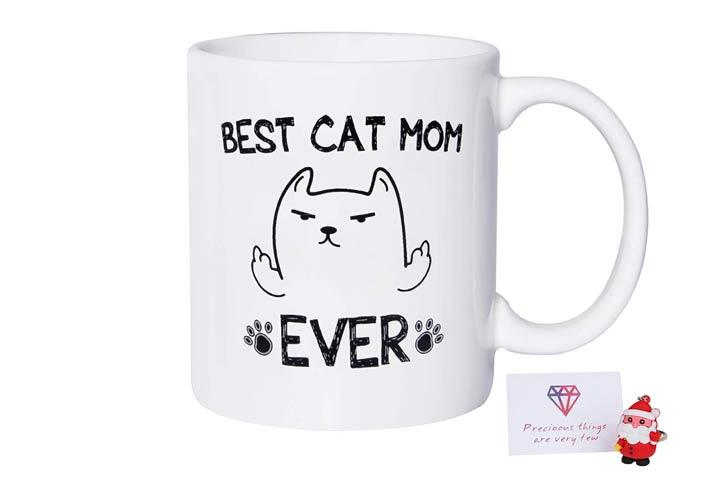 The 'Best Cat Mom Ever'painted coffee mug with a grumpy cat face on it can be a humorous and smart gift for your friend, grandma, or mom who has a cat. This white ceramic mug with 11oz capacity comes with a cute pendant and a greeting card, making it the best gift for cat lovers. It is also microwave and dishwasher-safe.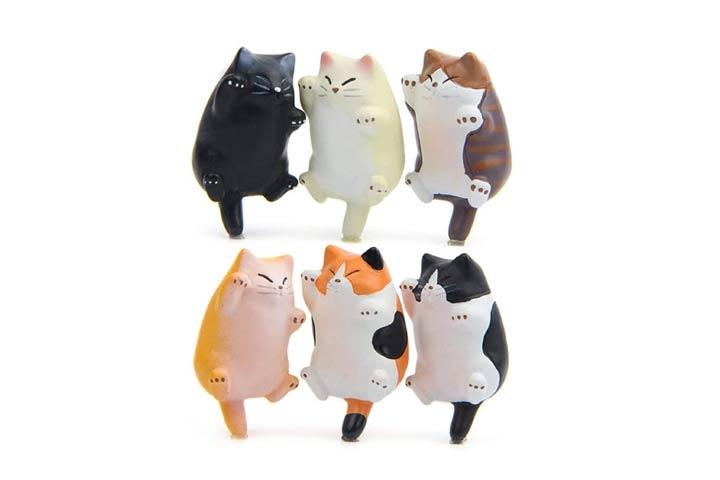 The pack of six cat-shaped magnets can bea cute and useful gift choice for your cat lover friend. These little magnets can be used on refrigerators, cabinets, lockers, whiteboard, or any magnetic surface and steadily hold thick photos. If your friend loves photographing cats, these cat magnets could be the perfect option. Each magnet measures 1.3×0.8in and come in different colors.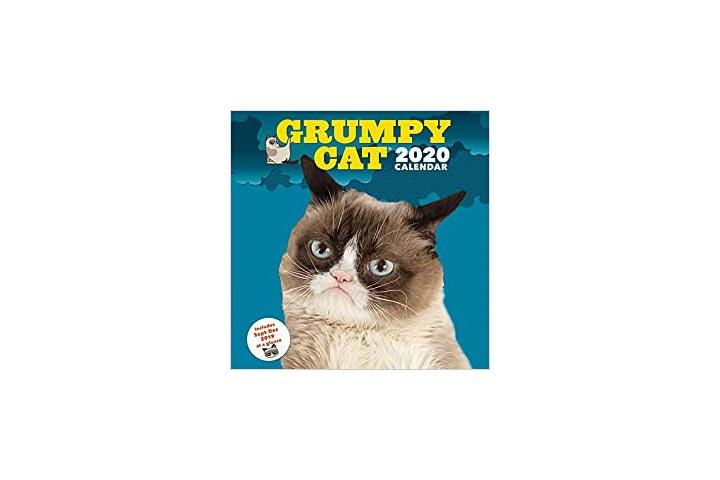 The wall calendar with a unique grumpy cat's poster for each month is an ultra-useful andfunny gift for a cat parent. Each poster has a phrase or quote that adds to its theme of grumpiness, making it a cute and funnyaddition to your friend's cat goodies. The calendar has 24 pages and measures 12×0.3×12.05in.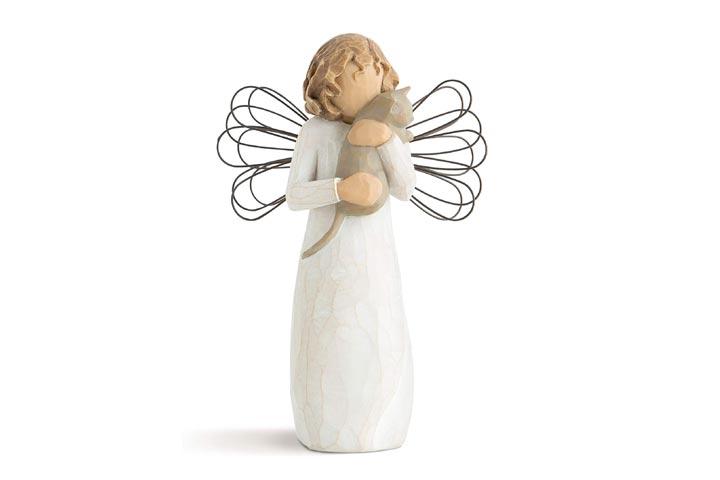 The home décor item of a sculpted angel holding a cat is a sentimental symbol to celebrate friendship. This hand-painted resin willow-tree artpiece is perfect for displaying on a shelf or table of your cat lover friend. It comes with a card that says, "I love friendship!"The showpiece weighs 0.34lb and is 1.5×1.5x5in in dimensions.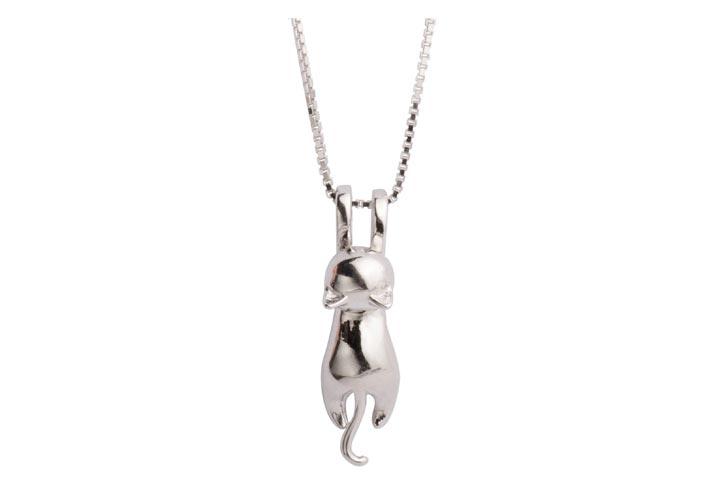 The necklace with a hanging cat pendant made of925 sterling silver is the best gift ever for your female cat lover friend. It is elegant, has a mirror polish finish, and can bea beautiful addition to your friend's jewelry collection. The chain and pendant are nickel-free and shouldbe kept away from chemicals in an air-tight storage bag.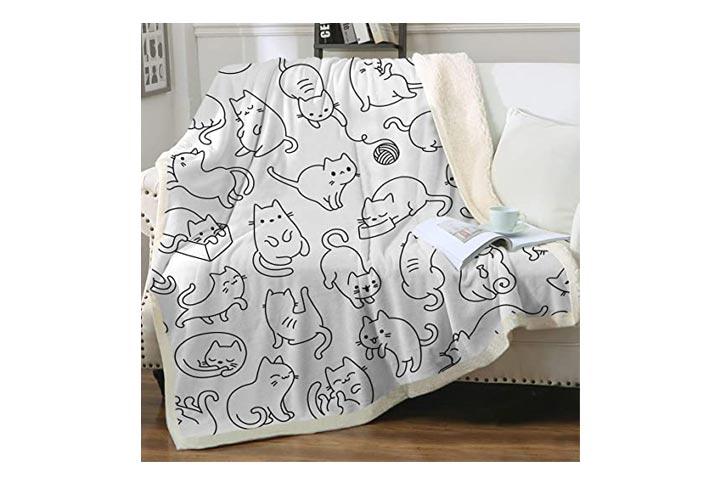 The super-soft, comfortable blanket from Sleepwishis made of 100% polyester with cute cat prints on one side. It is a usefuland beautiful addition to cat-themed home décor and furnishings. The reversible, warm blanket can be used as a throw when watching TV on the couch or lying in a bed to read. The blanket is durable with 50x60in dimensions and has waterproof prints, suitable for a cold wash.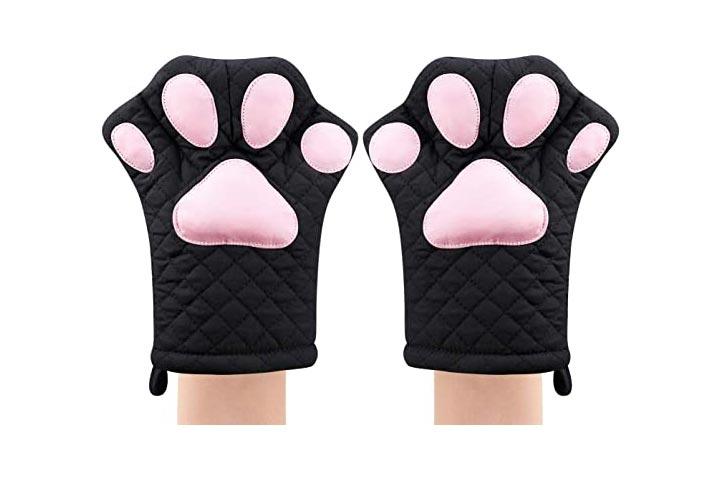 The heat-resistant pair of oven mittens isone of the cutest and useful gifts for cat parents. The paw-designed mittens are perfect for holding hot pots straight from the oven since theycan withstand heat up to 480°F. They have a special cotton lining to provide a comfortable grip and extra protection.
The gloves are made ofhigh-quality100% cotton fabric witha 180gsm surfaceandfilled with 600gsm cotton. The materials are BPA-free and have a loop on the side for easy storage. The mittens are easy to clean and are anideal gift for your cat lover chef friend.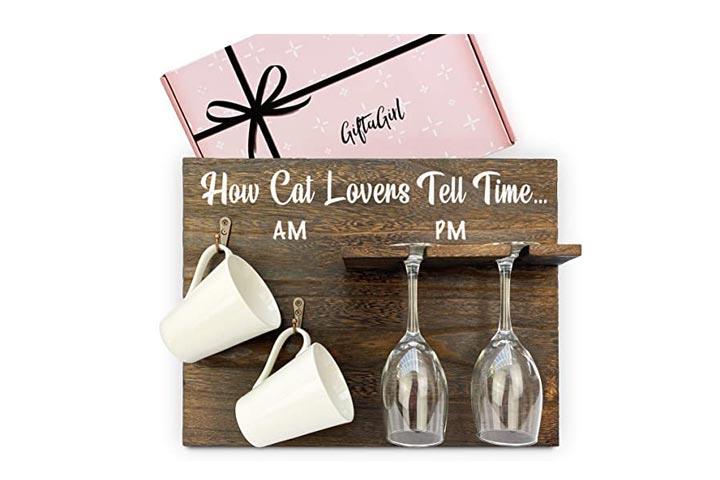 The wildly popular gift for women cat lovers is this wall-mountable coffee and wine glass holder with"How Cat Lovers Tell Time"painted on the plate. The wooden frame with hooks is quick to assemble and can be displayed in the kitchen or dining room. The funny quote and its attractive finish make this holder the best gift for cat lovers. The product comes with a yearlong warranty and is 16.9x13x3.9in in dimensions.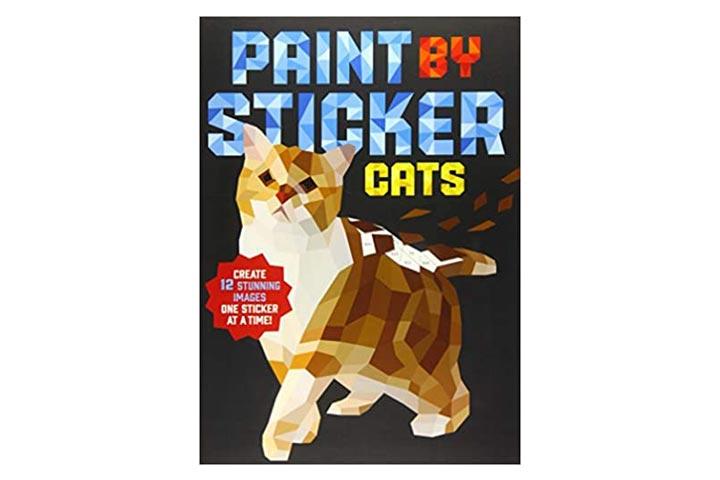 The paint by sticker images of cats are suitable for cat lovers who are also artists. The creative cat image stickers come in low-poly style and are ready to tick on a numbered sheet that forms a beautiful image of a cat once it is complete. The set of 12 images, measuring 9.3×0.4×12.3in with 54 pages in total,let them engage in a creative spur of art-making.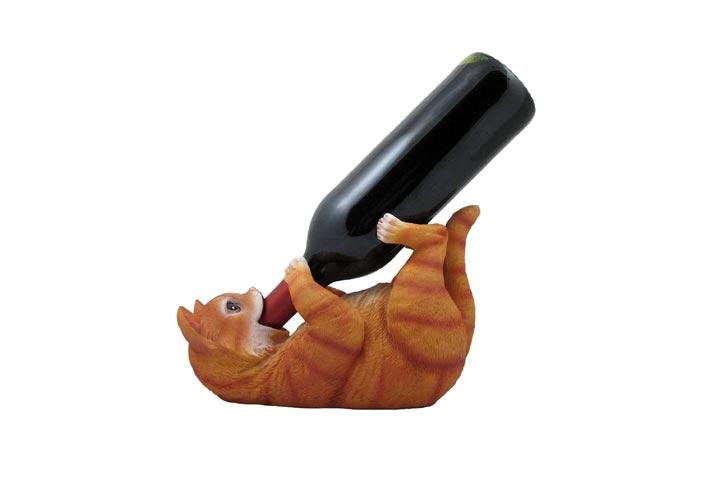 The tabletop cat sculpture is not only a great gift for cat lovers but also wine lovers. The wine bottle holder shaped in the form of a lovely, playful cat can be the best addition to your friend's cat-themed décor. The holder is handcrafted from polyresin, weighs 2.3lb, and measures 9.5×4.38×6.38in.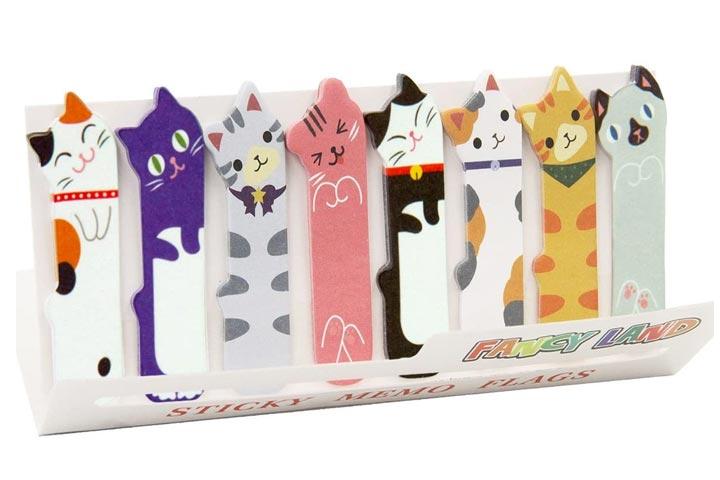 The set of three cat-shaped sticky notes with 15 sheets per pad can be the best stationery you could gift to a cat lover. It is suitable for every age group and can be used for flagging a diary or as reminders. The eight different cat memo flags are perfect for someone who loves cats and enjoys using planners and journals. The size of sheets is 0.6x2in,and the dimensions of the product are 4.33×7.48×0.2in.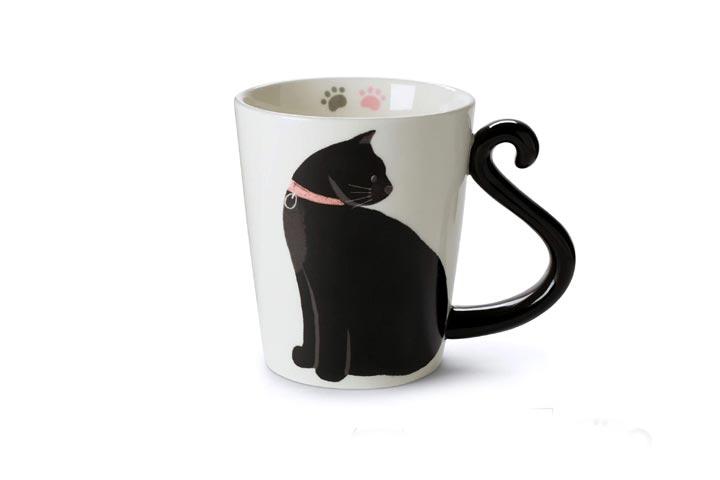 There cannot be a prettiergift for cat lovers that is also useful as the ceramic cup with a cute cat tail handle. The 11oz uniquely designed coffee mug has a black cat with a pink collar painted and paw prints. It is durable, dishwasher, and microwave-safe. The mug's dimensions are 3.3x4in,and its ceramic body helps keep the coffee or tea warm for a long time.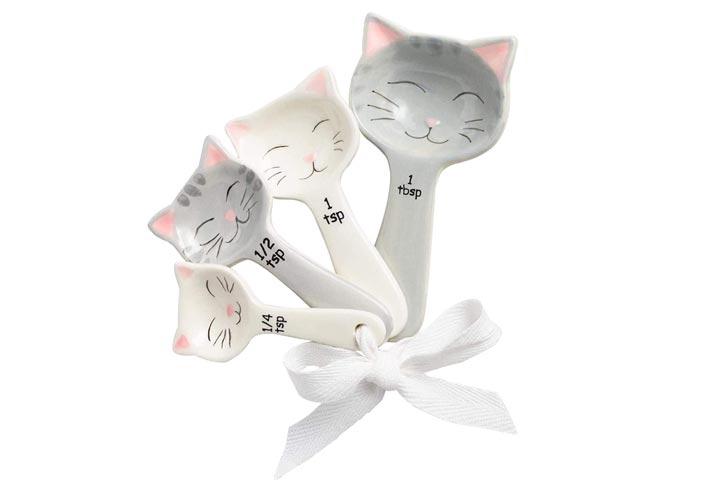 The set of four cat-shaped ceramic measuring spoons are perfect baking tools,withthe smiling cat faces on them. The set includes a tablespoon, a teaspoon, a half-teaspoon, and a quarter-teaspoon for measuring various ingredients. The durable spoons are easy to clean and are tied together with a ribbon for easy use and storage. The product weighs 0.25lb and measures5.51×2.2×1.69in.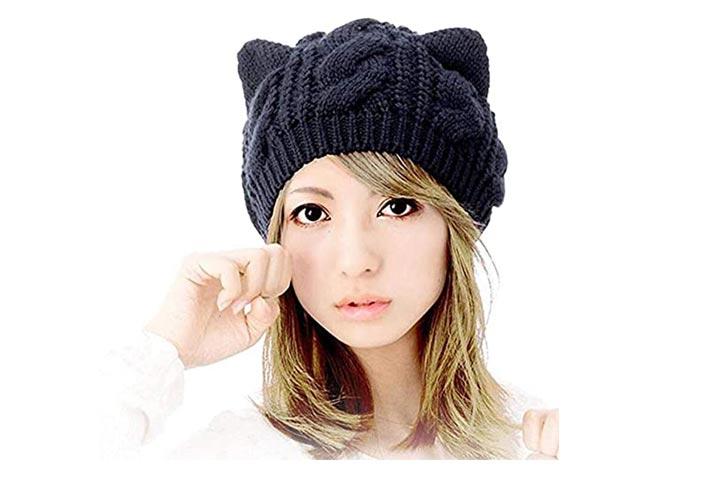 The crochet hat with elastic cat ears made of comfortable soft acrylic fiber is the best gift for acat lover. The hat is stylish, warm, and perfect for all weather conditions. The hat's size is 8.27×7.87in, keeps your hair neat, and is flexible to fit most people.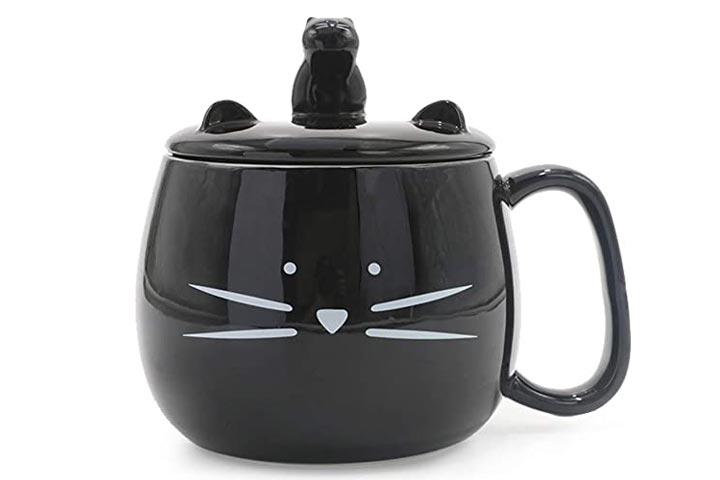 The cute black colored coffee mug with a cat-shaped cell phone bracket on the lid is the practicalgift for your cat lover friend. The large-sized mug has a capacity of 16oz and is made of good quality ceramic. It can be used in microwave and dishwasher and is only 1.08lb in weight.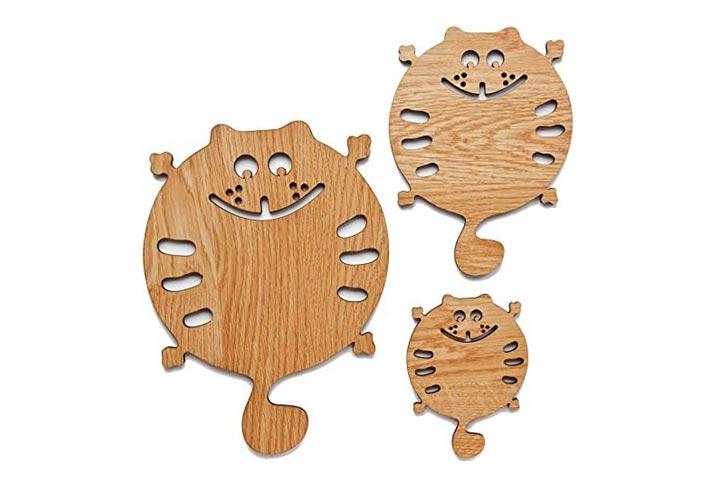 The three-piece designer cat wooden trivet set is a decorative gift for cat lovers. The set has coasters of three sizes: 10x7in, 7x5in, and 5×3.5in and is ideal for placing hot plates and pots on the surface. The laser-cut coasters are made from wooden hardboard and are sturdy. They are heatproof, stain-resistant, easy to clean, and store. The product weighs 9.6oz in total.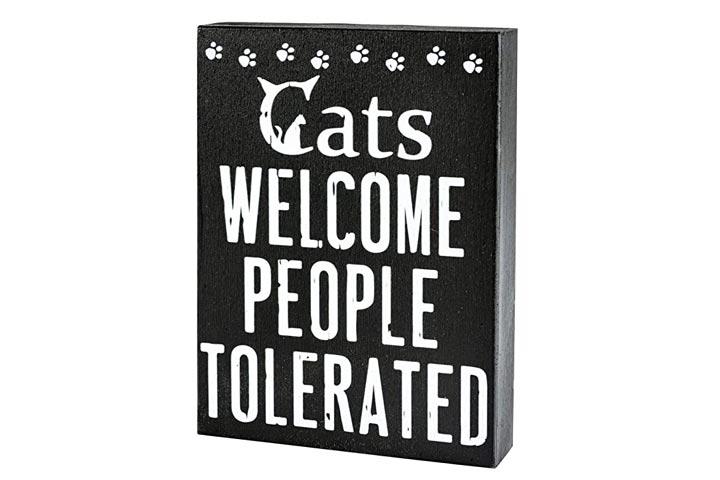 A humorous signboard that says, "Cats Welcome People Tolerated," is just the gift you would want to buy for your cat lover friend. The sign stand is made from sturdy wood and can be placed on a tabletop or mounted on the wall. Its intentional rustic finish and elegant font make it a stylish addition to your friend's home décor. The dimensions of the frame are 8.4×6.5×1.8, and it weighs 6.4oz.
Choosing a gift could be a tedious task, especially for a cat lover friend or colleague. Considering their choices, age, and love for cats, you may want to buy a gift they would love and use. We hope you have identified the perfect gift that makes a cat parent smile.
Recommended Articles: