This year has been quite the ride, and with so much going on, getting the best gifts for couples is like a pat on the back for them for making an effort to keep their relationship healthy and strong. Any personalized gift— whether for an anniversary, Christmas, or Valentine's Day can make a difference in the otherwise mundane life as a couple. If you have a friend who's been locked in the same house with their partner during these times, couples gifts are a great way to cheer for their beautiful journey of togetherness despite the differences that may exist.
You can either look for practical gifts that would make the everyday life of the couple easier or select something unique to encourage them to spend some time together. Whatever it is, we're here to make it easier for you with our list of the 18 best gifts for couples. Give our list a read, and you'll certainly find a unique gift to celebrate your partner or surprise a couple you know.

Top Products From Our List
18 Best Gifts For Couples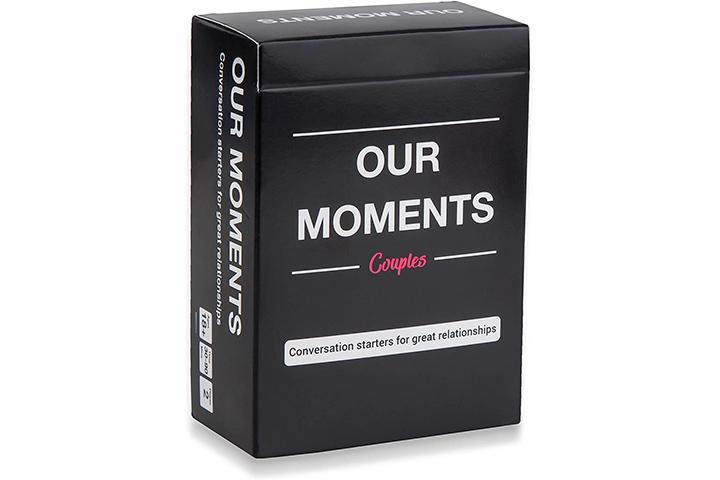 An amazing thing about relationships is how couples constantly explore something new about each other every day. What better way to make it more exciting than a conversation starter with 100 question cards? This thoughtful gift can be a gentle reminder for couples to take time off their busy schedules and find time to get to know each other better. These thought-provoking questions will help illuminate similarities and differences and put things into perspective— which is crucial for a happy, everlasting relationship.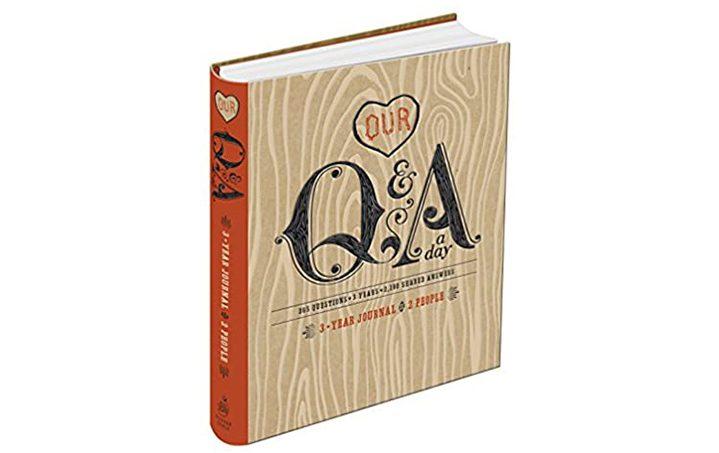 Whether you plan to bring home a Valentine's gift or a New Year's present for your partner, you can't go wrong with this Q&A diary. You'll find a question for each day for a whole year with enough space for both you and your partner to jot down your answers in the diary. You'll find questions related to the relationship, about each other, and so much more to give you better insight into each other. You can take your own time to write your heart out and not miss out on anything. And the best part is getting to go through each other's answers and knowing so much more in the most fun and innovative way.

The Cruise Luggage Tags set includes 2 ID badge holders, 4 pack cruise tags, and 2 black lanyards. The bag tags are ideal for printed paper cruise tags. The badge holders come with a stainless steel loop that ensures secure tagging. These tags can be used for adding flight information, identification tags, and luggage tags.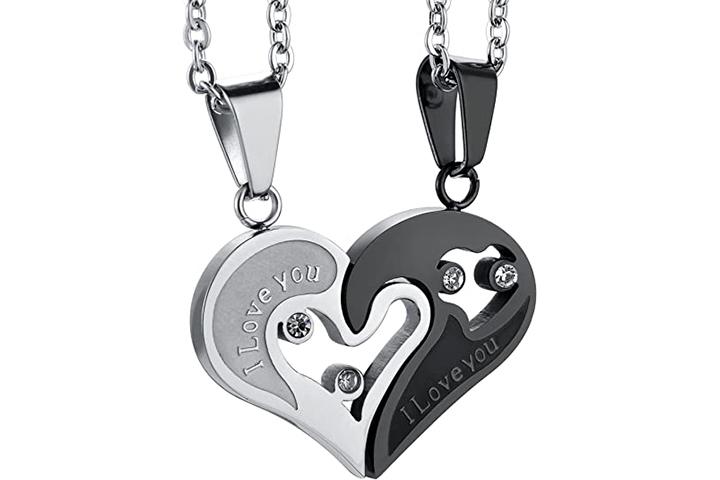 What makes this heart pendant necklace set special is how it beautifully depicts a relationship. Just like 2 imperfect people coming together to make a perfect relationship, these pendants are 2 pieces that come together to form a heart. The set consists of 2 20 mm x 23 mm pendants in black and silver that feature 22-inch chains. Both the pendants are decorated with delicate diamonds and have "I love you" etched on them. The pendants are hand-polished and pass through a 3-level quality control check so you can be relieved that these necklaces will stay strong just like your relationship.

Cruise Luggage Tag Holder With Zip Tight Seal has a set of 4 tags. These tags have zip-top seals that protect the paper tags from drenching in water or being torn. The tags also support storing a folded A4 size document conveniently. It comes with a stainless steel wire which helps to attach and detach the tag from your bags.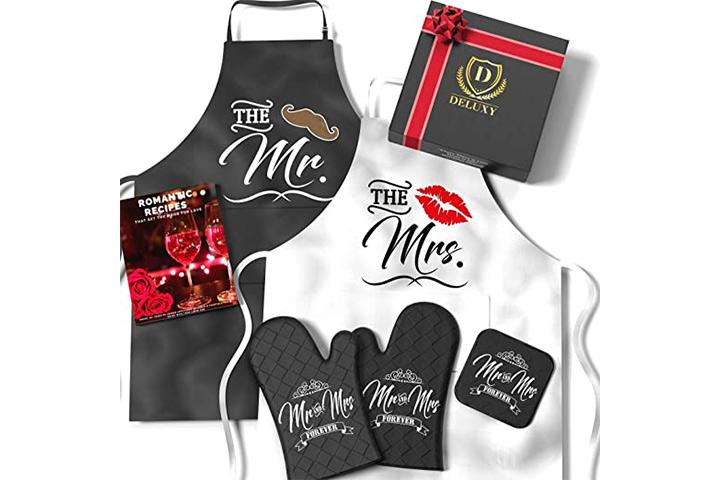 If you're looking for a bridal shower gift for couples, this set of Mr. and Mrs. aprons and mitts might be the right pick. The couple can discover exotic flavors and decadent recipes in style while wearing these matching aprons. The aprons are made from 50% cotton and 50% polyester for added comfort. The package consists of a pair of oven mitts, a potholder, a recipe book, along with 2 aprons, all packed in an award-winning gift box. The aprons feature peel-proof graphics, are machine-washable, and resist wrinkling.

Highwind Blendable Luggage Tag is ideal for school bags, gym bags, golf bags, briefcases, baby strollers, and musical instrumental covers. The tag allows you to conveniently fasten it to any bag. It showcases a 3D embossed alphabet. These tags are made of PVC material and come with a privacy flap. It comes with 3 cards which are helpful to write the information needed. Heavy-duty stainless steel ensures that the tag is not ripped off easily.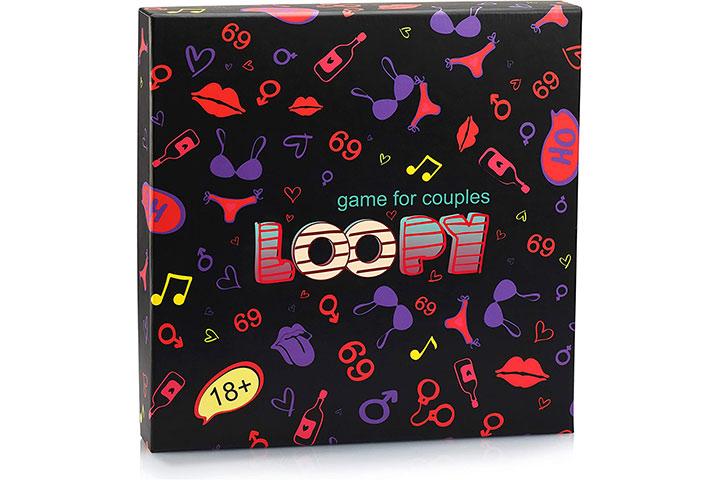 Anniversary date nights can become monotonous over the years if you've been to all kinds of restaurants, taken trips, and have done every possible thing you could think of. One of the best wedding anniversary gifts for couples are those that rekindle the love and excitement after all the years of being together. This date night box from Loopy features 150 playing cards, a playing board, and a satin blindfold. All you have to do is spin the arrow and see where it takes you and your partner. You're sure to find fun and sizzling tasks to get you and your partner closer in every way.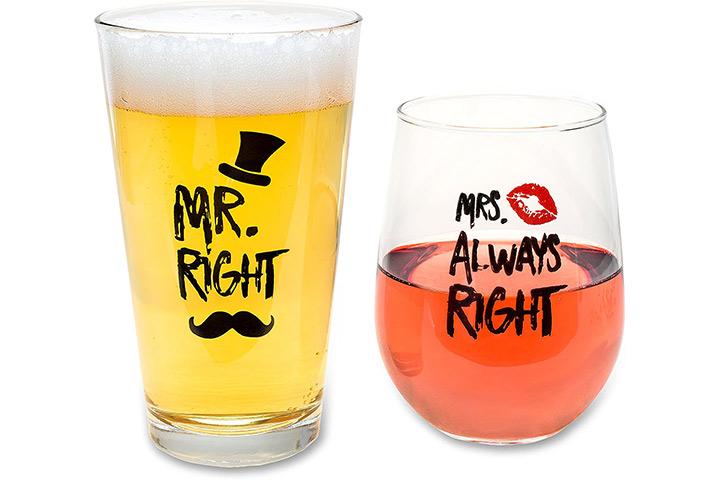 If you're all about flattering your spouse and acknowledging how flawless she is, you can never go wrong with this set of beer and wine glasses. While the beer glass reads Mr. Right, the wine glass has Mrs. Always Right printed on it. This set of glasses also makes for one of the good gifts for couples that you can gift your friend and their partner on their wedding anniversary. The capacity of the beer glass is 16 oz while the stemless wine glass stands at 17 oz. If you're a teetotaler, you can as well serve chilled mocktails in the glasses.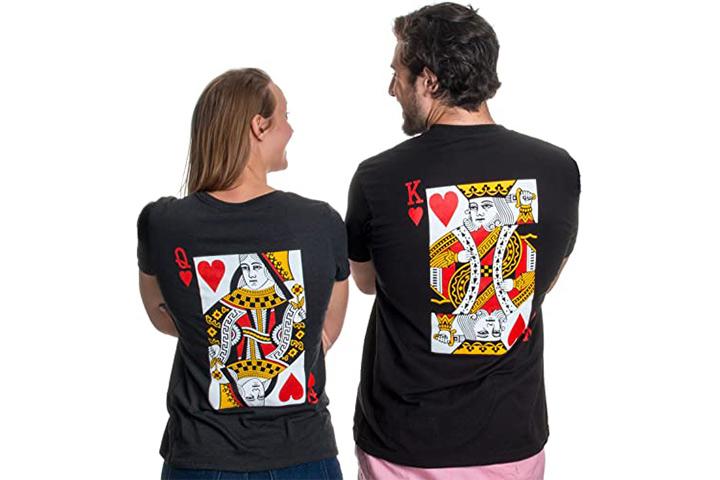 One of the most practical gifts for couples are T-shirts, because let's be honest— "too many t-shirts" is never a thing. There's a reason why these couple's T-shirts are among bestsellers— Michigan artists and illustrators have created these designs. You'll find the king and queen card printed on the back along with Mr. and Mrs. printed on the front to the left on the tees. Both the T-shirts are black and are made from a tri-blend fabric— a mix of 50% polyester, 25% ringspun cotton, and 25% rayon. They fit snugly, aren't see-through, and feel super soft.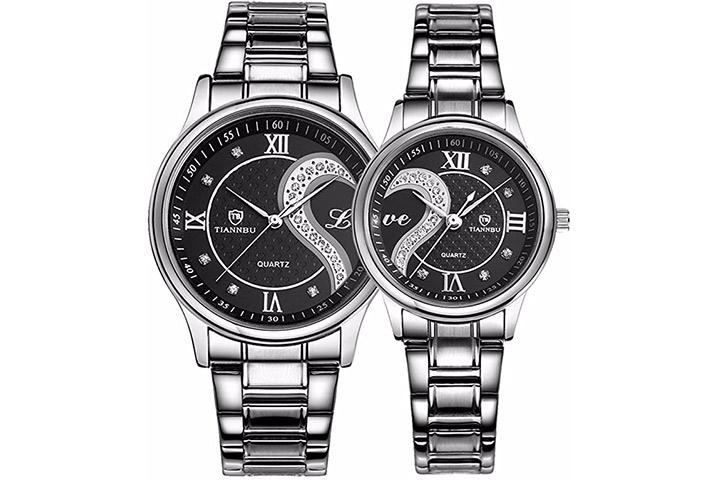 If you're looking for the best anniversary gifts for couples, you should consider this couple's wristwatch set. What sets these watches apart from regular ones is that each of the dials have half of a heart embellished in diamonds, and when you bring the watches closer, you'll see a whole heart. The dials are black with silver stainless steel straps. Each time you check the time, you'll be reminded of your loved one.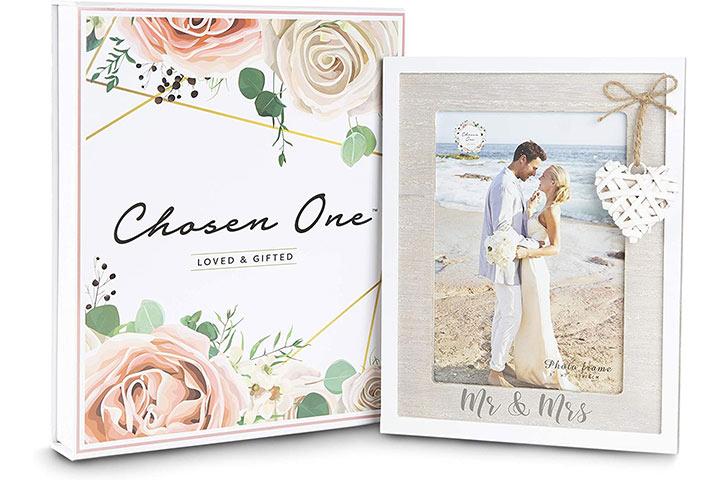 When you're out of ideas while exploring couple gift ideas for Christmas for your friend and their partner, a picture frame is a safe choice. This 5×7-inch frame is ideal to house a wedding picture that your friend can keep in their living room. This beachy wooden picture frame has white and off-white accents, which is why it is suited for almost all kinds of interiors.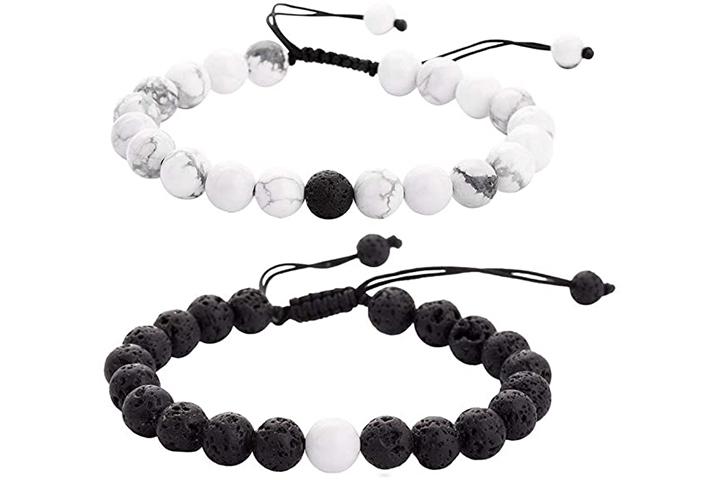 If your partner suffers from frequent stress and anxiety, helping them deal with these issues can be the best way to tell them that you deeply care for them. These matching diffuser bracelets make for one of the most unique gifts for couples as they're designed to absorb essential oils. The set consists of 1 black and 1 white bracelet, and both bracelets have 1 bead of the opposite color, which will always remind your partner of your concern for them. The beads are made from lava stone and howlite, known for their healing, pressure-relieving properties. All you have to do is apply a few drops of essential oil to your wrist and let the beads help you relieve signs of anxiety and stress.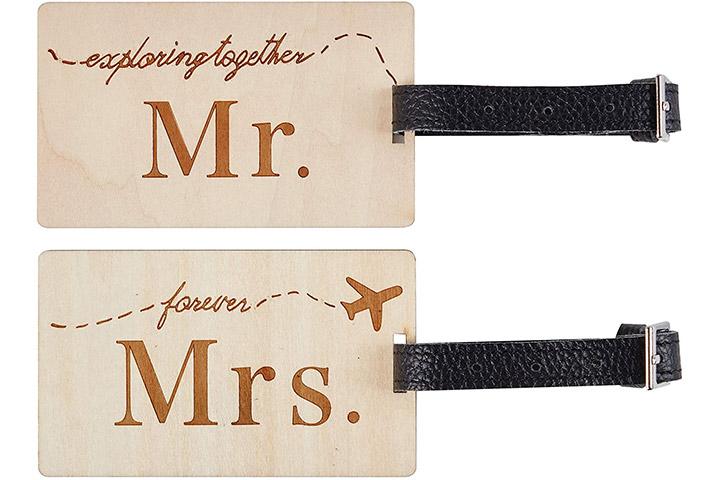 If you're about to embark on your honeymoon, these matching luggage tags are an ideal gift for newly married couples that are worth setting your hands on. The Mr. and Mrs. luggage tags come with "exploring together" and "forever" engraved on them, respectively. The tags are made from wood and feature black leather straps that are classy and durable. These wooden tags are so much more than just luggage tags as they symbolize how you're about to embark on the journey of life together, forever.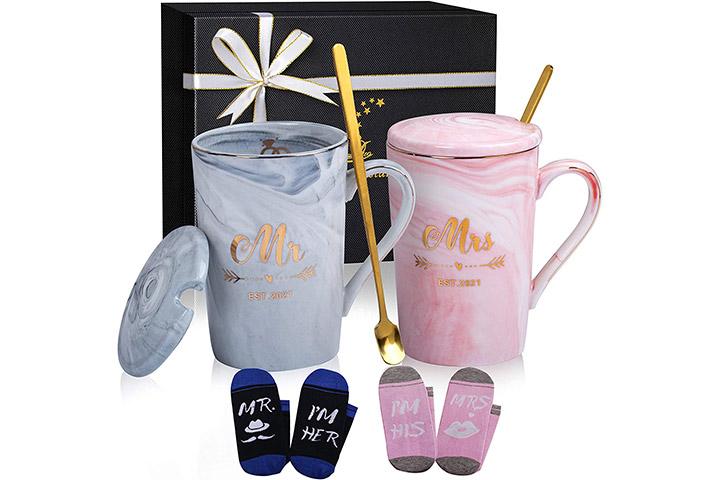 Clink your way to your first morning together as a married couple with these Mr. and Mrs. coffee mugs. The set features a grey mug for him and a pink one for her, and features marble accents. The package also includes other cute accessories like matching mug lids, 2 golden spoons, and 2 pairs of socks with "I'm hers" and "I'm his" printed on them. This mug set also makes for an infallible anniversary gift idea for couples if your friend's special day is around the corner.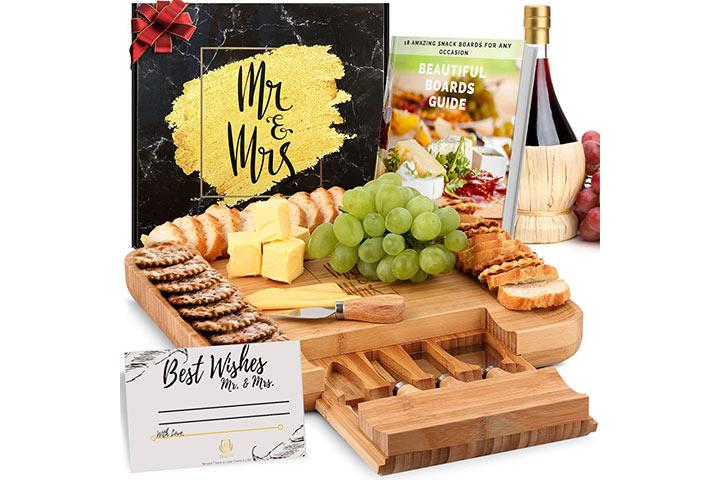 If you and your special person are fond of wine and cheese, you should invest in a cheese board right away. This award-winning gift set is also an ideal couple's Christmas gift choice if you're visiting your friend for the occasion. The wooden cheese-board is handmade from bamboo. It is durable and easy to clean and care for. The board also features 4 professional slicing and serving tools to equip you completely. You can stow these tools away in a secret compartment that's a part of the board when not in use.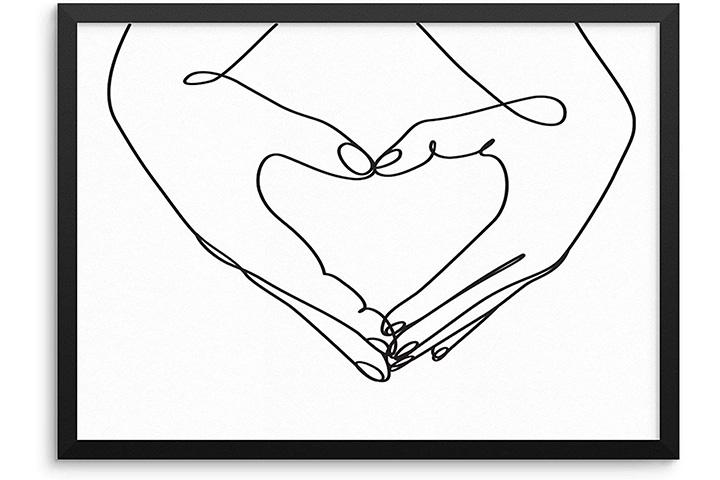 When you're entering another year of togetherness, there's no better way than to hang a breathtaking artwork of a couple holding hands in your living room. If you're a minimalist, you'll fall in love with this simple yet articulate drawing. This one-line abstract artwork measures 11×14 inches and is ideal for all kinds of interiors. This modern drawing is printed on a premium heavy card stock art paper with a black frame.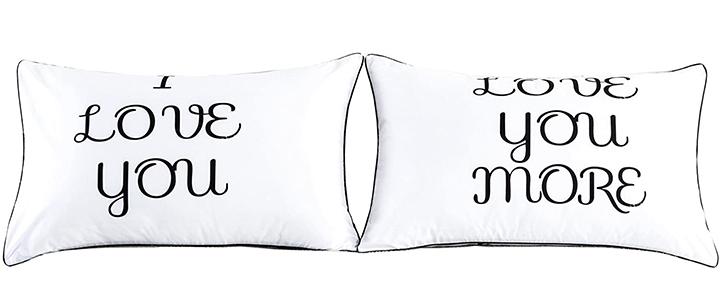 Gifting a set of comfy, cozy pillowcases with "I love you" and "I love you more" printed on them is a nice shift from the typical ones. These white pillowcases are made from polyester and microfiber. The dimensions stand at 29 x 19 inches, which can comfortably accommodate standard size pillows. Your partner is going to thank you for a good night's sleep that this pillowcase would induce since it is made from gentle, 1500-thread count cotton. This pillowcase set for couples is a suitable long-distance relationship gift or anniversary present.
That was our list of some quirky, unique, practical, and even some funny gifts for couples. It can take days worth of contemplation to find a present that flatters your partner or a couple you know. But we hope that we've saved much of your time. Did you find the right pick out of our list of 11 best gifts for couples? If yes, our job is done! Happy Gifting!