An engagement gift is a thoughtful gesture that can show your love for the couple. However, finding the perfect gift may be more difficult than you think, because gifts should be useful for the couple and make both the individuals happy. Whether the gift is for both of them and the bride/ groom-to-be, they will appreciate your effort to find a special gift that suits them. We have compiled 23 best gifts for engagement parties that you can pick from to express your love and best wishes.
23 Best Gifts For Engagement Party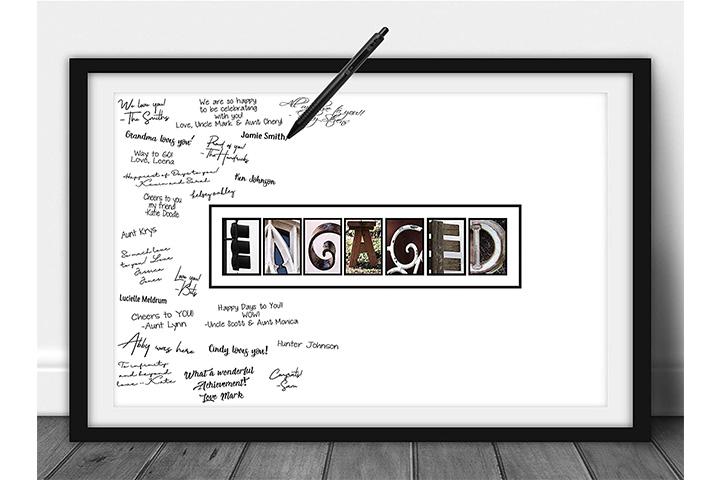 This excellent 11×7-inch poster from Katie Doodle is a wonderful addition to your engagement party decoration. The doodle makes a special memento for the couple once the guests have signed it. This poster is a creative core of the party and a great alternative to the guestbook. This must be a fit that a couple will always remember.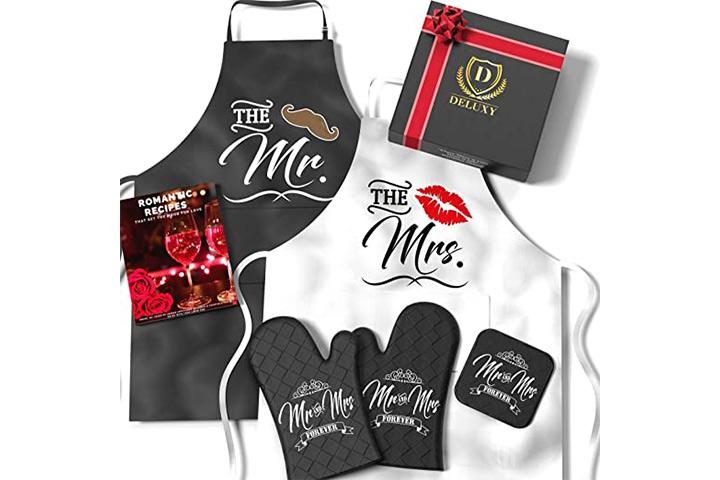 Mr. & Mrs. Aprons is an ideal gift for the happy couple who like to spend time in the kitchen. These aprons are made of 240gsm cotton and polyester to resist grease, spills, and shrinkage. This multi-function kit includes matching potholders and oven mitts, which are flame-resistant and protect your hands and arms from burns. Besides, the "50+ Romantic Recipe" book sets the scene for a relaxing and private evening over food, creating a perfect atmosphere for love.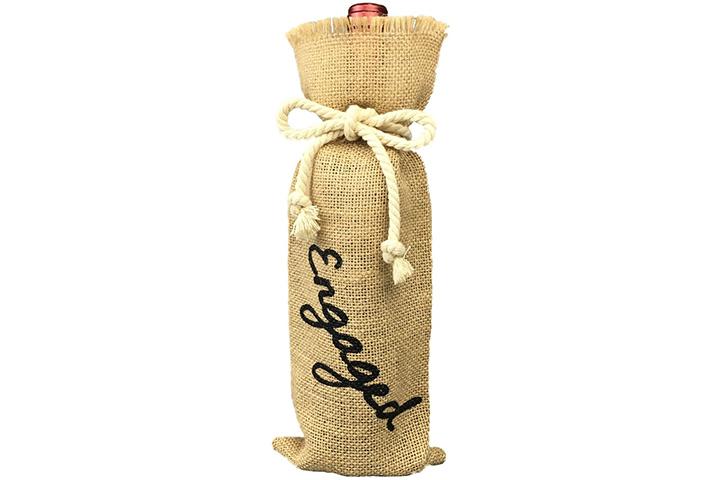 This handmade burlap wine bag by Oyamihui can perfectly match a standard-size wine bottle. The word "engaged" is hand-painted to make sure your gift stands out. The bag measures 5.8×14 inches, which is a very classic size for an ordinary bottle of wine. It even comes with gift tags to add your blessings to the couple.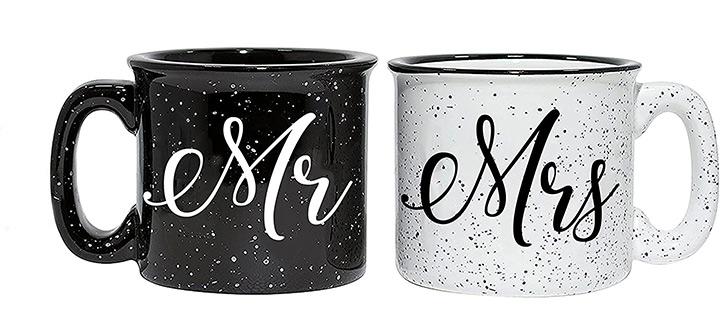 The ceramic coffee mug is a long-lasting gift perfect for a long-lasting relationship. Mr. and Mrs. are printed on both sides of the mug. Made of high-quality materials, the coffee mug is printed with a high-quality ceramic ink that does not fade, ensuring a pleasant camping coffee experience for many years. Each set is packed in a sturdy white gift box, eliminating the hassle of gift packaging. They are made of 100% ceramic and are safe to use in microwave ovens and dishwashers.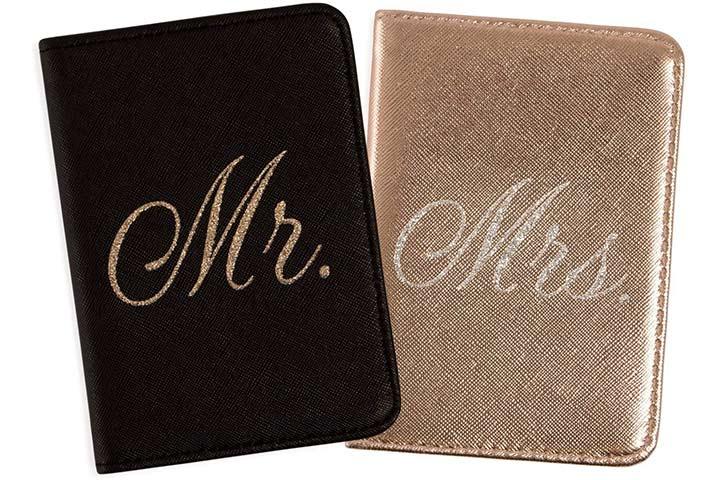 These stylish matching passport covers are made of high-quality PVC and are ideal for durability or water-resistance, making them an ideal gift for vacation. The cover is black and gold, and the words "I do" are printed on the exterior. The interior of the bride's holder has a special black and white wedding ring design, while the groom's holder is pure black. These passport holders are smart and practical and are highly appreciated and well-used gifting options.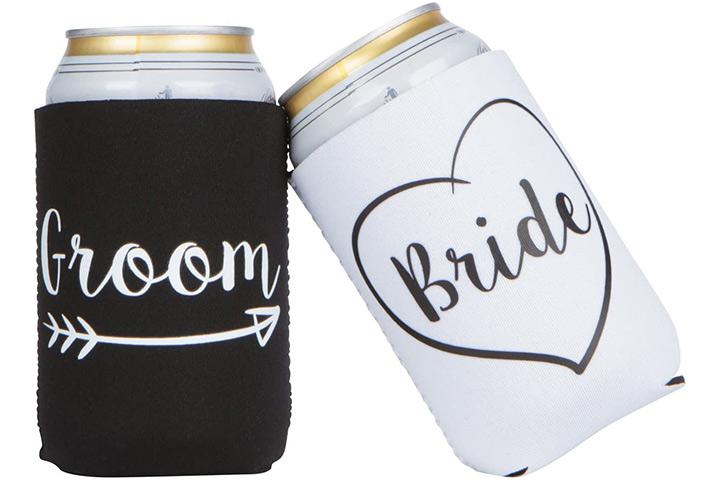 If you are looking for an affordable option, choose the Plympton Company's bride and groom novelty kettle. Made of high-quality neoprene foam, the novelty product can work effectively to insulate beverages and will also prevent your hand from getting wet and cold. A 12oz can fits perfectly in this can holder, which is sure to make the couple smile. With Bride and Groom printed in cute lettering, these make a fun gift for the lucky couple.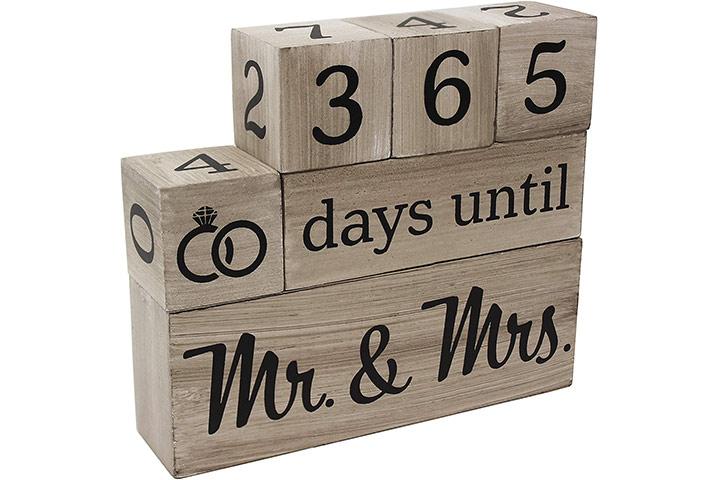 These innovative Pulse Wedding Countdown Calendar Blocks provide the couple with exciting engagement gifts to last until the big day. The black numbers and letters give the blocks a rustic yet crisp modern appearance. With this calendar, you can countdown from one-and-a-half years to the wedding date. The combination of these six blocks also constitutes a lovely tabletop decoration.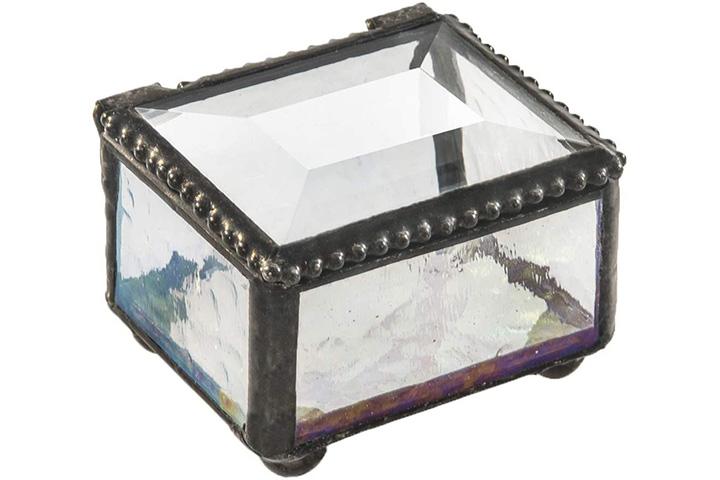 This small ring box is an original design by J Develin and will become a gift she cherishes and loves to use. The box has polished beveled glass and a clear rainbow surface, which can store small jewelry items. The top of the sturdy hinge is fully open for easy access to jewelry.
Made with lead-free solder, it is also environmentally-friendly. The ring box measures 2¼x1⅝x1½ inches and available in water Windsor blue. This mini-engagement gift box,decorated with beads, adds elegance to the dressing table or any occasion.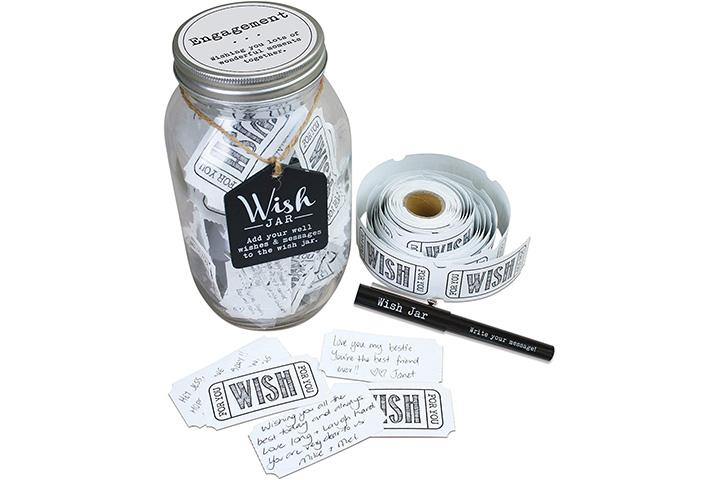 Choose this unique and thoughtful gift, which can be filled with good wishes from friends and family. The Top Shelf Engagement wish jar is equipped with a decorative cover, 100 wish tickets, and a stylish plaque hung by twine. This jar is an excellent memorial for special occasions and spreads joy every time it is dipped into. The couple can read all the tickets together orenjoy them at their leisure on the wedding day.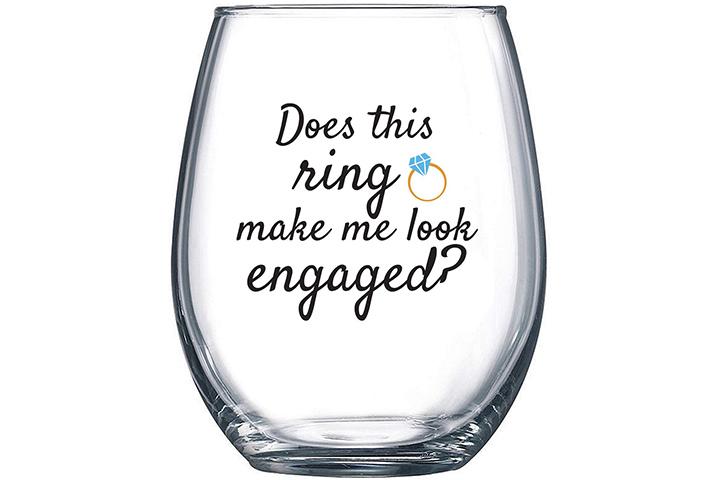 This stemless wine glass from Funny Mugs, LOL,will become a favorite gift for the bride. The wine glass reads,"Does this ring make me look engaged? "This interesting engagement gift is made of high-quality materials and printed with an exceptional ceramic ink that can burn at high temperatures to prevent fading. This glass is durable and is packed in a sturdy gift box, eliminating the hassle of gift packaging.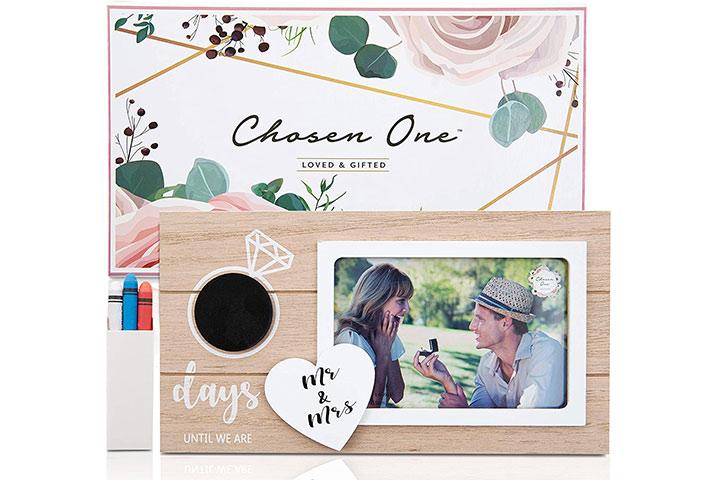 This wedding countdown photo frame made by Chosen One uses natural wood veneers to share the excitement of the countdown with the bride and groom. The photo frame comes with a small chalkboard and three mini-chalks to write the number of days, and a photo frame to commemorate each wedding anniversary in the future.
The sturdy frame measures 10.6×5.65×1.3 inches,with brackets and hooks, so it can be easily placed anywhere. The beautiful box comes with an exquisite packaging box and can be given away at any time.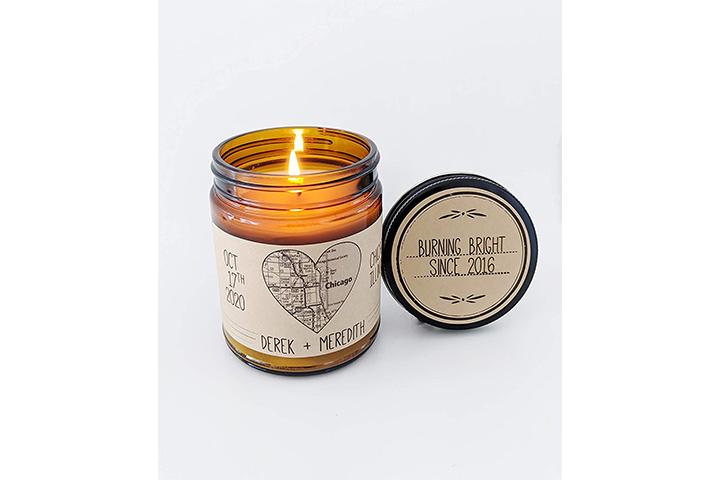 If you want to determine which option to choose, you can select this personalized custom candle from Define Design 11. The custom candle is made by hand with poured soy wax and is available in two sizes. The lid and container label can be personalized using the heart map of any city in the world.
This upgraded set also has a"Love" Matchbox, the "I Love Us" ceramic coffee mug, the Gold Foil "All In" playing cards, and the "Mr. & Mrs." Lumbar Pillow, and a congratulations card.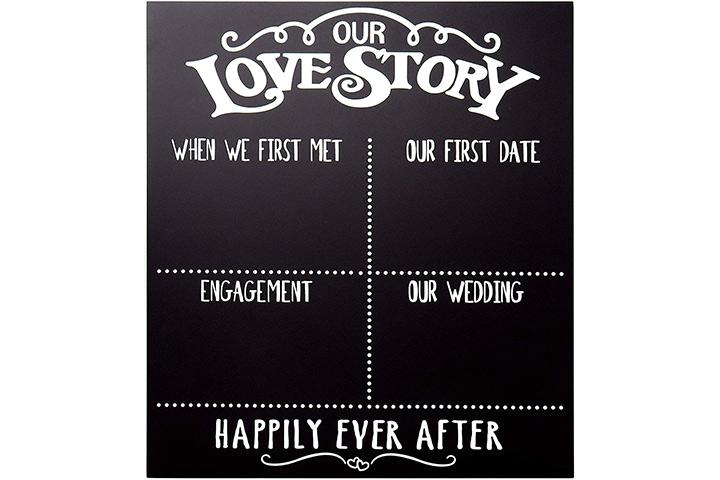 Our Love Story Chalkboard is perfect for taking photos to record the date and location of the love story. This novel gift enables the couple to mark brilliant achievements or important information such as their first date, engagement, and wedding day. The board measures 14″ x16,"and it can be easily hung on the wall to display it, or it can be placed on a table using a stand. The board adds a personal touch to any milestone.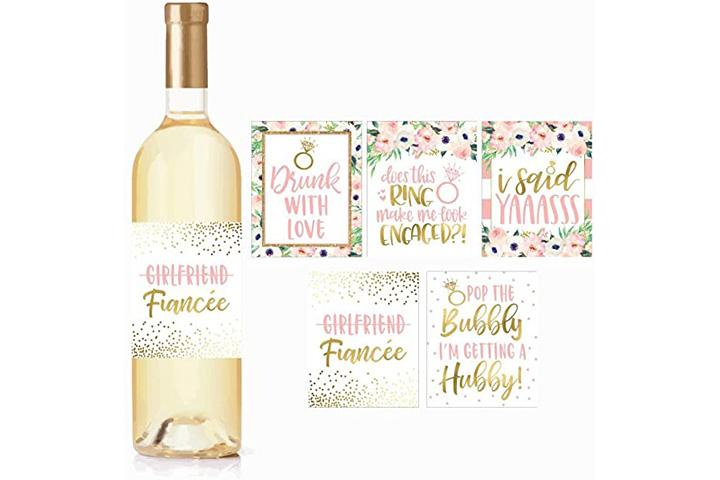 These wine label stickers from Hadley's Design are the perfect complement to an engagement party. They are waterproof and easy to stick on wine bottles. As a bonus,the label also carries five lovely and unique messages. These labels provide an extra touch of excitement to the party.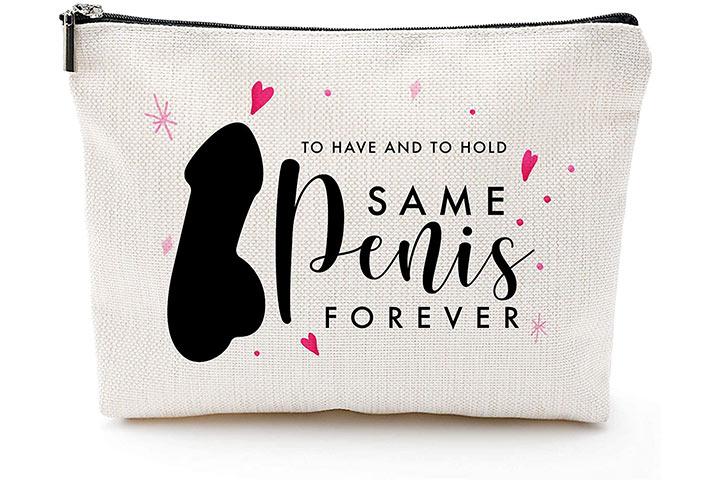 On the day of engagement, give the blue leaves makeup case to your best friend.The bag is professionally printed with lovely and vivid messages.This natural beige handbag is made of cotton linen,has a waterproof layer, and has a stylish black zipper. Easy to clean, this is an affordable gift can hold all your makeup products.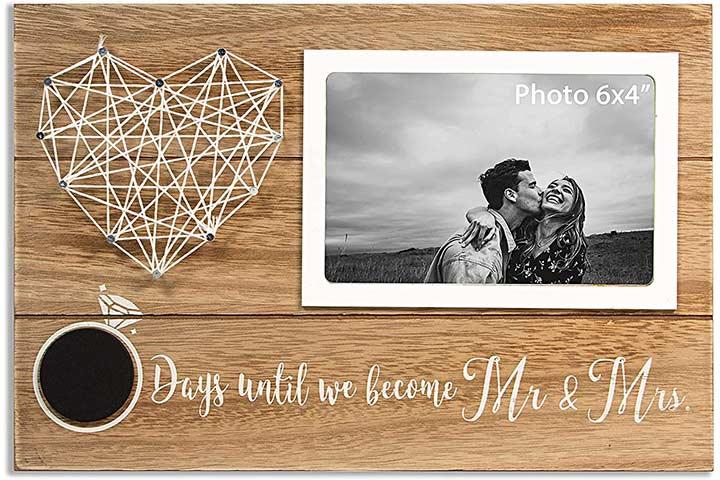 Any couple will love the Vilight photo frame, which has a countdown blackboard to make it a perfect gift. Coupled with a handmade string-shaped heart-shaped artwork, this frame is an elegant complement to your wall or desktop decoration. It comes with three washable chalks for easy replacement during the day. Put on the photo of the couple to add a personal touch.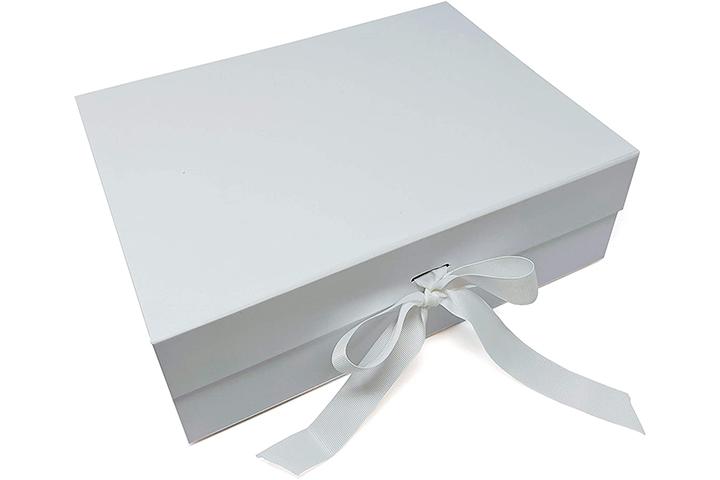 Personalize your gift with these gift boxes from Make It. These boxes fold flat and are very easy to assemble into a sturdy, stylish box. With ribbons and magnetic closures to increase the style, they can meet all your gift packaging requirements for gifts of any size and type. They are blank on the top.By adding a name and message, you can easily add a personal touch to the gift.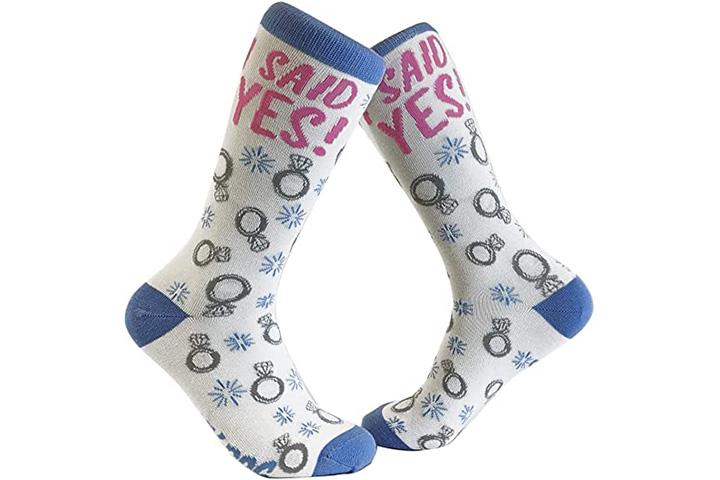 This stylish and lightweight "I Said Yes" socks from Crazy Dog T-shirts are affordable gifts for the bride. Made of super-soft materials and professionally embroidered,this product can fit close to the body. The high thread count and tight knitting can make these socks durable. The ultra-fine stitches ensure high-resolution patterns, which will not fade during washing. With all patterns of the engagement ring, this is an ideal gift she will use frequently.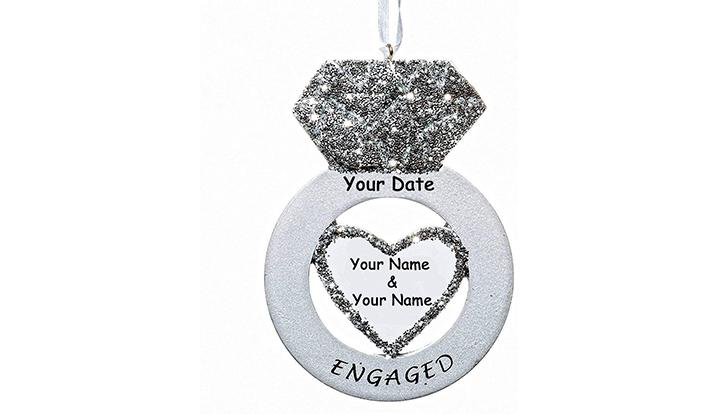 Gifting this personalized Christmas ornament ensures that your gift will be appreciated and enjoyed for years. The Rudolph and Me engagement ring ornament is sure to be a cherished memento after it has been customized with names and the date of the special occasion.
Each piece is made of durable resin and is equipped with a ribbon,easily hung on the tree. This novel gift adds a nice touch to the Christmas tree and will be used repeatedly.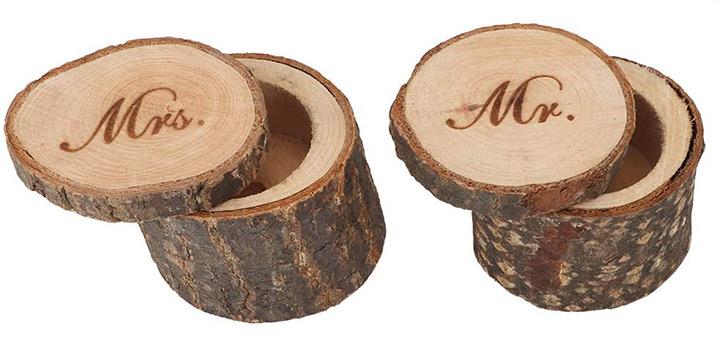 This pair of vintage wedding ring boxes from Aunmasare the perfect keepers of the important pieces of jewelry to complete the ceremony. Made of high-quality wood and designed like log branches, these are meaningful gifts. With Mr. and Mrs. lettering in a stylish font, they add a rustic look to match country-style ceremonies.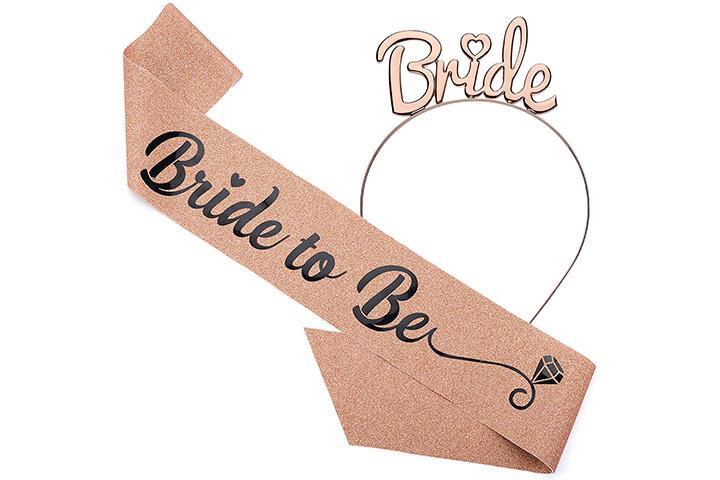 This Sash and Tiara from Corrure make the bride feel extra special. The shiny belt and sparkling tiara headband make her feel like a queen on special days. The belt is made of high-quality glitter fabric with hand-pressed foil letters that fit perfectly. The tiara is sturdy and can be worn all night without discomfort. They are durable and reusable,can last the chaos of the evening. Corrure 'Bride to Be'is a wonderful keepsake for her.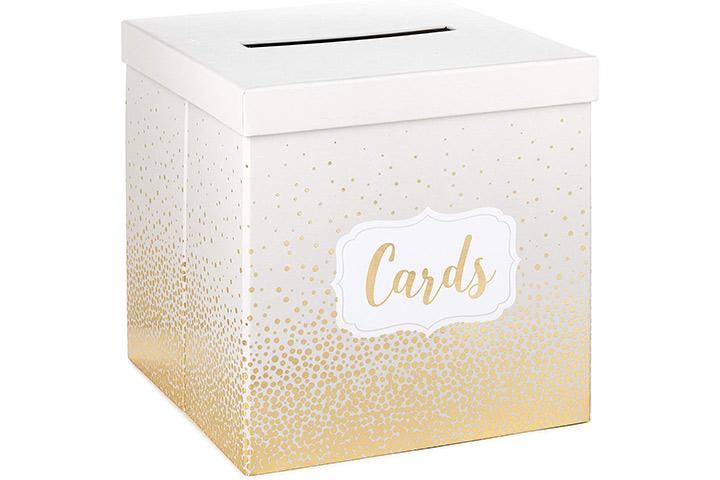 This elegant card storage box from Hallmark is perfect for the rest of the party decor. This ivory-colored pearl box has an elegant design with cascading golden dots, a "card" engraved on the gold hand-lettering,and a convenient slot on the top that can be easily placed in the card.
The box can be folded into a flat shape for easy +storage and transformed into a well-made container, making it an ideal place for guests to put cards in. This decorative box can also be used as a storage box for storing pictures, notes, and souvenirs on special occasions.
The box is made of high-quality materials and is also environmentally-friendly. Think ahead and make life easier for the couple by gifting this handy box.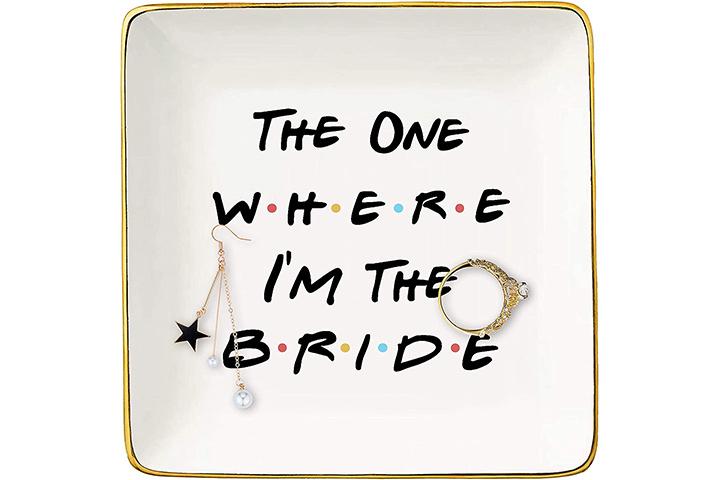 This ceramic jewelry holder from Top Think is specially designed for her, reminding her of special occasions while keeping the jewelry neatly. This unique tray is made of high-quality glazed white ceramics with golden edges. It is a practical and thoughtful gift. The bold lettering on the base reads "The One Where I'm the Bride" and is sure to bring a smile to her when she uses it. Place this ring on the dressing table, bedside table to make sure your jewelry is not misplaced.
Keep the big-ticket gifts for the wedding day once you have a registry to choose from and you know what the couple really wants. For engagement events, it is best to choose something that commemorates a special day. Whether you choose a personalized gift or a practical gift, the couple will cherish them for years to come. Choose from our carefully selected list of the 23 best engagement party gifts to make the happy couple happier.
Recommended Articles: