The relationship between grandparents and grandchildren is among the most emotional association after the bond between parents and children. Despite the age difference, they make one of the best partners in crime. Their love for each other knows no bounds, and the best way to show your love for them is to buy them something that can express your love in the most heartfelt way.
To help you find one, we have a list of the best gifts for grandparents. These are a blend of practicality and thoughtfulness.
15 Best Gifts For Grandparents

The necklace from Efytal expresses the eternal love between you and your grandmother. The interlocking circles in a delicate but strong chain are made of 925 sterling silver, making it a timeless piece of jewelry. The thoughtful gift for your grandma is free from harmful chemicals and packed in a gift bag with a notecard to put your thoughts on.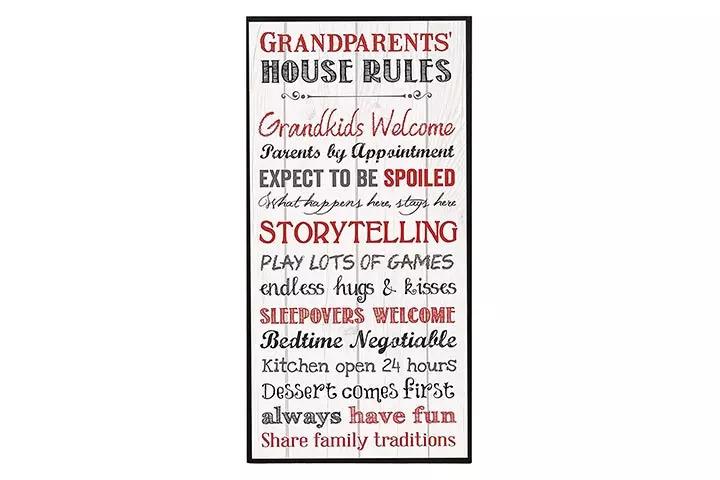 The wall art can be a cool surprise for your grandparents on their special day. A unique 'Grandparents House Rules' sign measuring 12x6x0.5in makes a thoughtful addition to their house. It is made of MDF wood and printed with an overlay art. The board comes with a keyhole hanger and a built-in easel.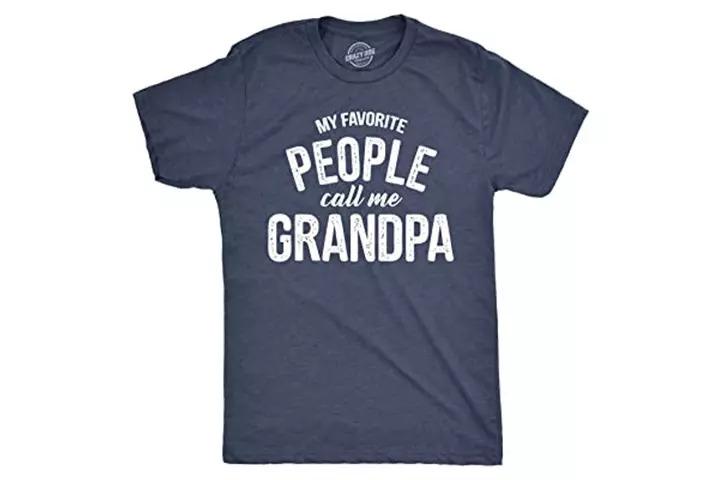 The thoughtful gift is designed for cool grandfathers. This graphic tee is made of a durable and soft mix of poly and preshrunk blends. The lovely quote on this vintage fitted tee adds a personal touch to make the perfect gift for grandpa and make him smile.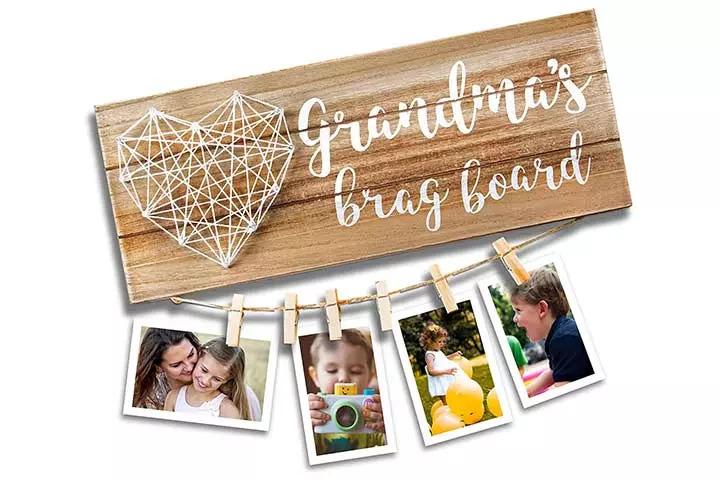 If you are searching for a Christmas gift for your beloved grandma, this string art brag board attached with photo holders makes an awesome choice. It comes with a handmade heart pattern designed using cotton lines and is easy to hang on the wall with its in-built hardware. You can cherish some beautiful memories with your grandparents with the photo holders and celebrate the bond you share with them.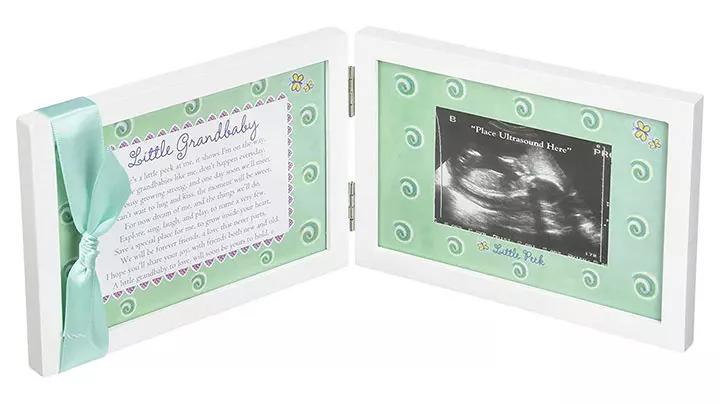 Announce the good news of your pregnancy to the grandparents-to-be with one of the most thoughtful sentimental gifts for grandparents. This ultrasound or sonogram frame with a poem on "Little Grandbaby" is designed like a book. When opened, it displays the pregnancy announcement and makes the best gift for grandparents.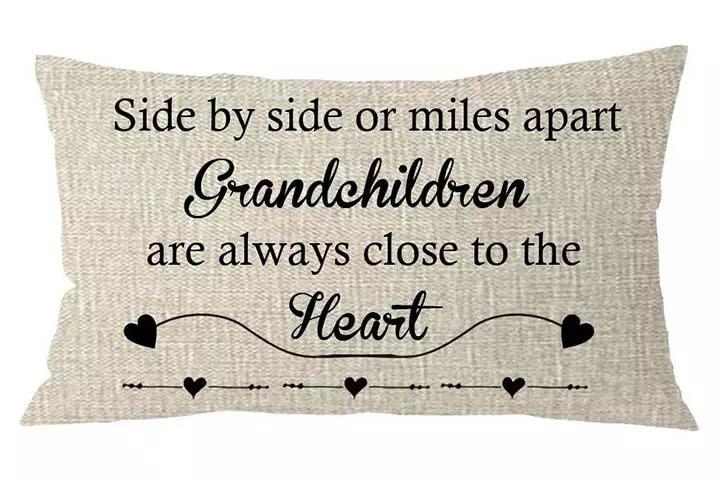 The throw pillow cover measures 12x20in and has a warm quote on grandchildren, making a great gift for grandparents. This cushion cover will remind the grandma and grandpa of their grandchildren every time they look at the pillow in their bedroom or couch. Such personalized gifts for grandparents will surely make them happy.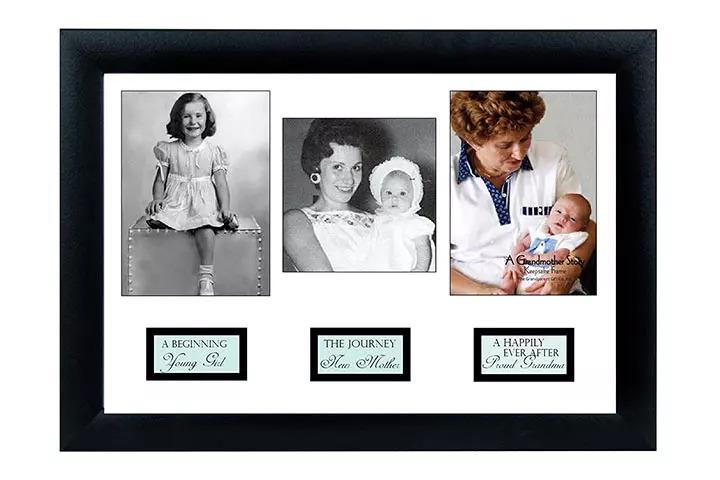 The warm keepsake frame makes one of the best grandmother gifts. It is a white frame with three spaces for pictures and three captions highlighting three significant times in your grandma's life. Be it a baby shower, Mother's Day, pregnancy announcement, or any other important occasion, this 8x12in table frame makes a personalized gift for grandmothers.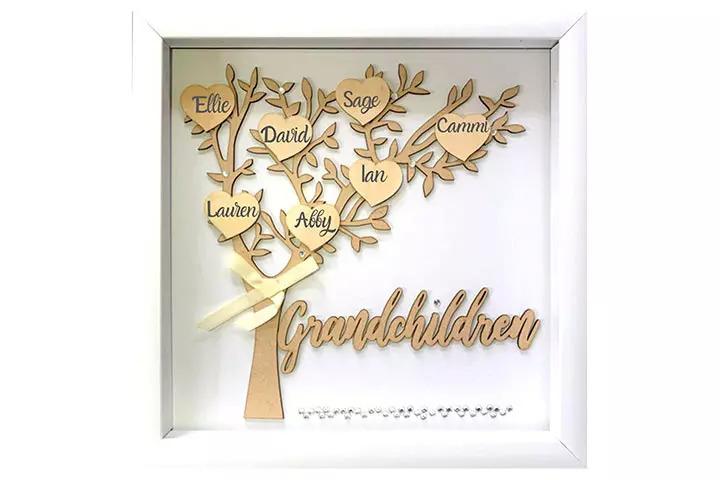 The thoughtful and best Christmas gift from Tasse Verre is created for the most loving grandparents. The 'family tree shadow box kit' is one of the most sentimental gifts. It lets you create your family tree with the names and photos of grandchildren using seven wooden hearts and 40 gems that add to its uniqueness.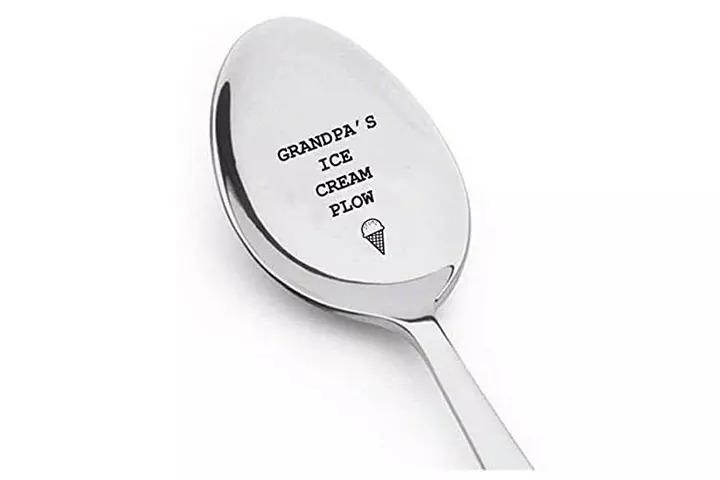 The ice cream spoon measuring seven inches has an engraved message 'Grandpa's ice cream plow' on it. You can give it to your parents to reveal your pregnancy news and put a wide grin on their faces as soon as they open the present. The high-quality engraving ensures that the impression stays forever, making it a cherished gift for life.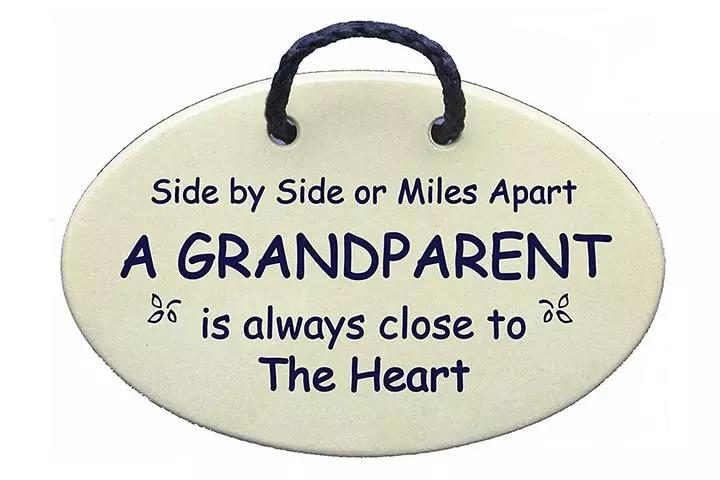 The 4x6in plaque with a beautiful grandparent quote in dark blue makes an exceptional traditional present. It is made of natural colored clay with a glossy finish and a blueberry floral design. The grandparents would love to have this artifact, which makes one of the best Christmas or birthday gifts.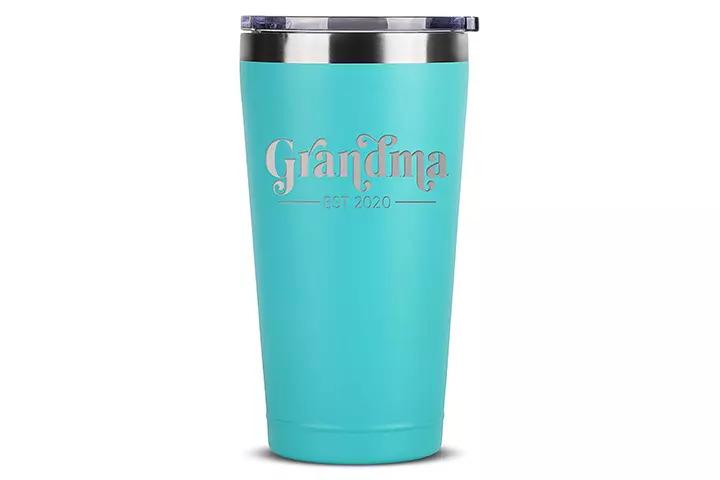 Be it a pregnancy announcement or Christmas gift, surprise the grandma with this special double-walled, vacuum insulated tumbler made of 304 18/8 stainless steel. It can hold 16oz water and is designed to keep hot drinks hot and cold beverages cool. The laser-engraved artwork that never fades makes it extra special. The tumbler is a functional and timeless gift for a grandmother who travels or goes out often.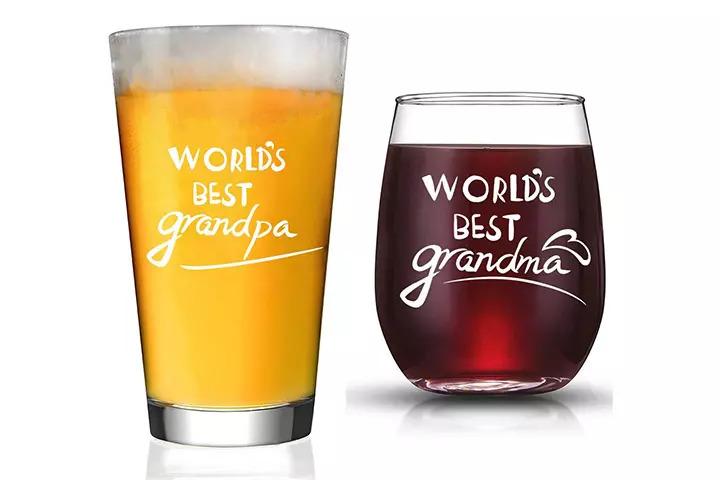 Add more fun to the celebrations with this functional gift for grandparents. The 16oz beer glass for grandpa and the 15oz wine glass for grandma are made of high-quality glass and printed with premium ceramic inks that will never lose the glow. Surprise your grandparents with these unique gifts that are specially created for them.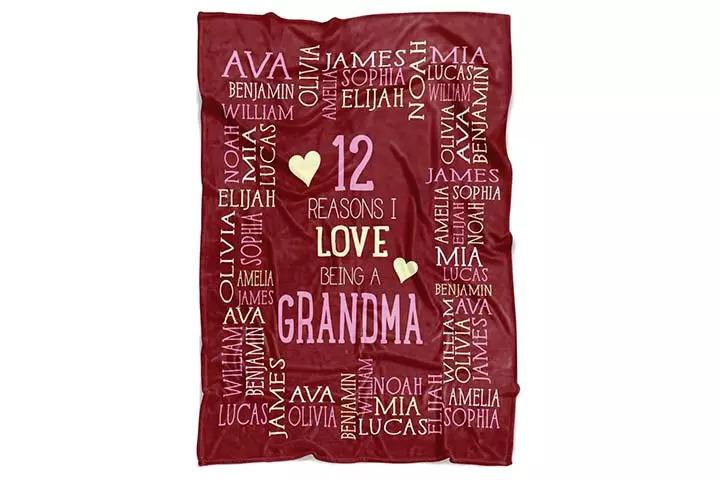 Just like the warmth of her love, the personalized blanket for a grandma is cozy and soft. It is made of fleece material to ensure a comfortable sleep. The blanket is made of durable and premium fabric and is designed for Christmas, birthdays, and other special occasions. You can also get it customized for grandparents and include up to 50 names. Surprise your grandparent with this machine-washable blanket made with love.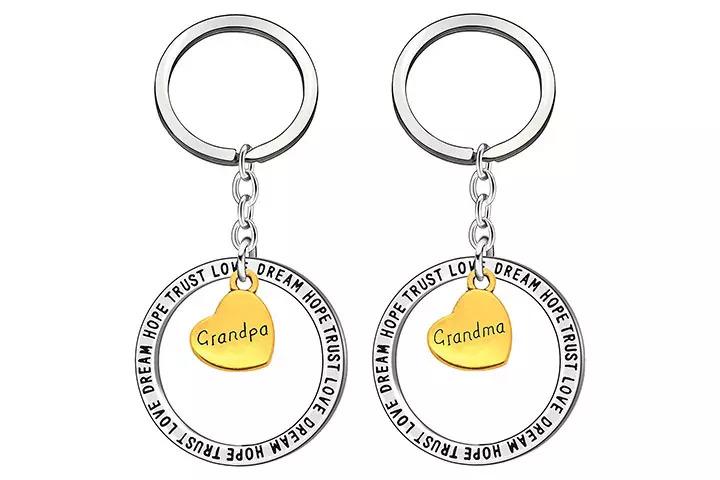 The set of grandma and grandpa couple keychain rings make cool gifts for grandparents. With pendants made of alloy and a keychain made of iron, these keyrings have a unique look. They come with a golden heart pendant engraved with the words 'grandma' and 'grandpa,' letting you express your love for the two most special people in your life.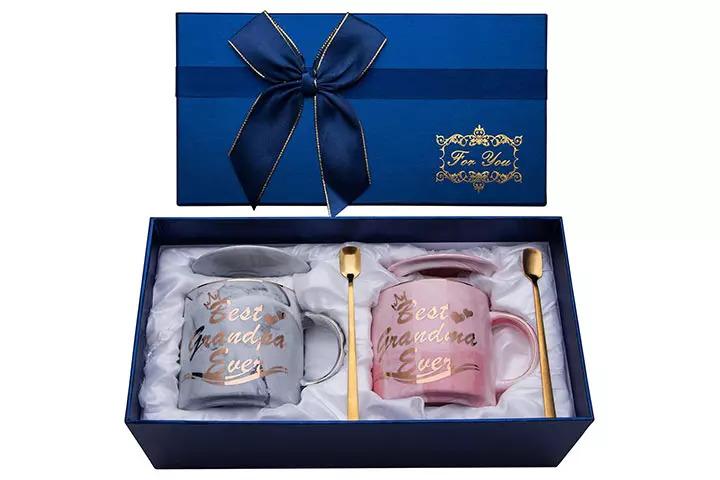 The set of one grey and one pink mug printed with the text 'Best Grandpa Ever' and 'Best Grandma ever' are packed in a beautiful box. It also includes two cup lids, two spoons, and a greeting card to pen down your feelings for your grandparents. These ceramic mugs are durable and have a sparkling design with golden fonts.
With such beautiful options as the best gifts for grandparents for different occasions, you will never find yourself short of choices. Select from these unique gift ideas that are functional, appealing, and promise to make your grandma and grandpa happy and content.
Recommended Articles: