Picking the right gift for someone who loves music is not such a difficult task. But there are so many music-themed gifts that we don't know where to start. The confusion lies in the thought that our chosen present may not be appreciated and liked by the receiver.
But if you do know important things like the kind of music your loved one likes, what excites them the most about music, and what song puts a smile on their face, you've won half of the battle. To make the rest easy, we have curated a list with some of the best gifts for music lovers. Check them out and go through the buying guide to choose the most suitable one.
17 Best Gifts For Music Lovers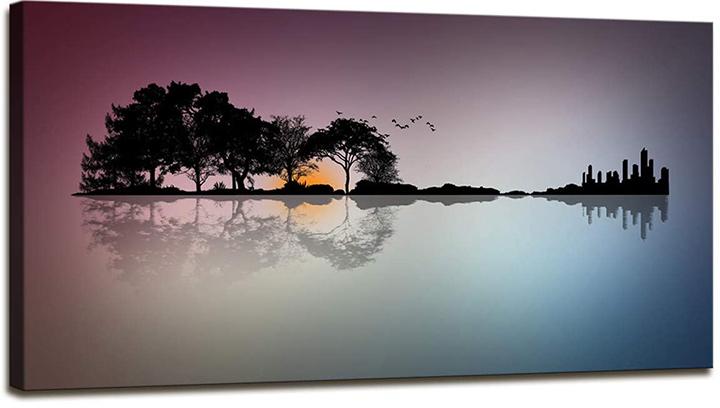 The guitar wall canvas can be the best gift for music lovers as it is a classic artwork that can enhance the aesthetics of a music lover's room. It is ideal for decorating a living room, bedroom, or office without damaging the wall as it comes with non-trace nails that can keep your wall neat and clean.
The high-definition image with a thick quality canvas gives you the feel of an original painting. It comes in a wooden frame with hooks on each panel that lets you hang it directly. The side margins of the canvas are printed to give a decorative effect. The size of the canvas is 39.75x20x1in, and it weighs 2.94lb.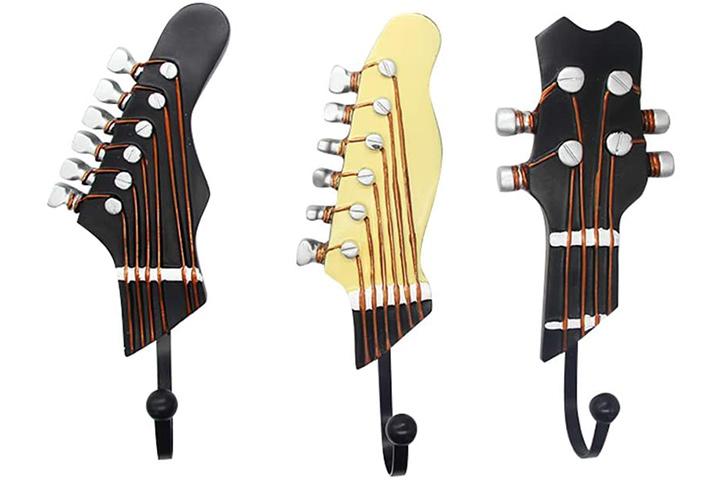 Add a groovy vibe to a music lover's room by gifting them a set of three guitar-shaped coat hooks. They are made of heavy-duty metal and resin materials and are sturdy enough to bear a weight of 55lb. The set makes a practical gift for hanging keys, coats, bags, and clothes. The dimensions of the hooks are 7×4.8×3.8in and weigh 12.8oz.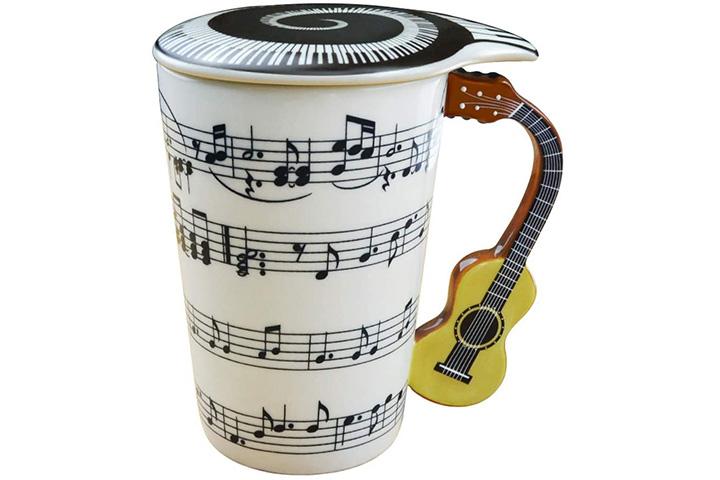 Make your loved one's day even more musical by gifting them a uniquely designed mug with musical notes printed all over. Their morning coffee or tea can become more pleasant when they have a smart ceramic mug with a spiral keyboard lid and a 3D guitar as the handle. Its capacity is 13.5oz, with7.75×6.37×5.07in dimensions, and 1.36lb weight.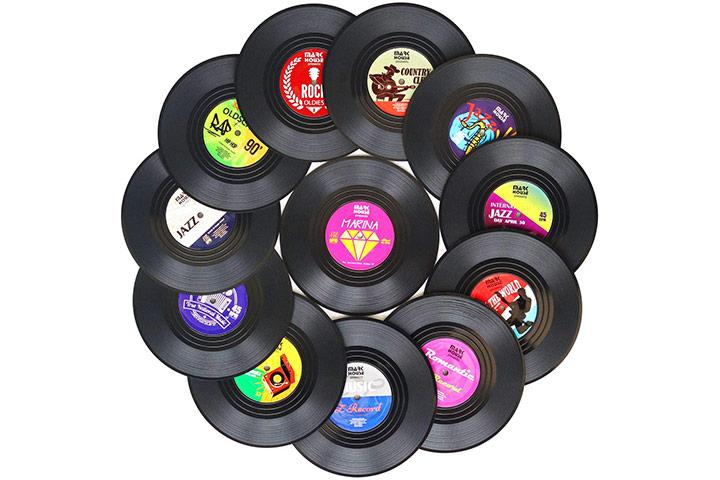 The creative set of 12 coasters shaped as retro vinyl disk records is the most suitable gift for someone in the music industry. The coasters are made of silicon, and so are insulating and safe for every surface. The small rubber disc at the bottom of each coaster prevents slipping from any surface. The coaster measures4x4x0.1in weighs 7.2oz, and comes with a 90-days free replacement or refund guarantee.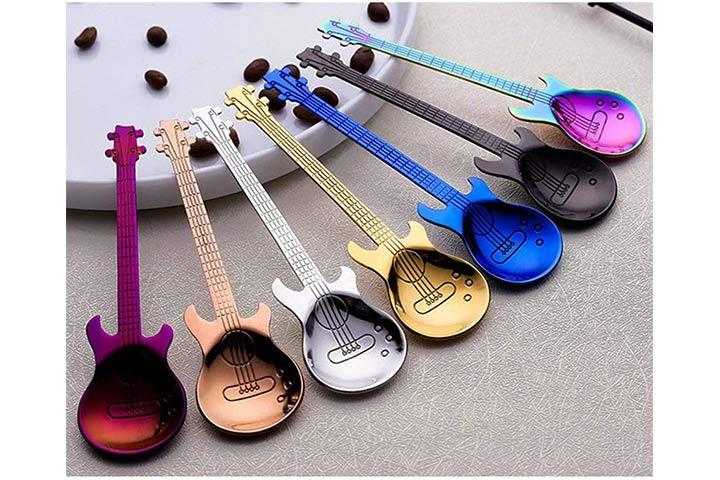 The set of seven rust-free and durable stainless steel guitar-shaped spoons from Eddieson can be the best gifts for music lovers. The unique, colorful, and musical addition can be the highlight of your friend's crockery. Its handles are frosted with mirror-polished heads fora vibrant look. The spoons are portable, light in weight, and easy to use and wash. Each spoon measures 4.7×1.2555in and weighs 4.8oz.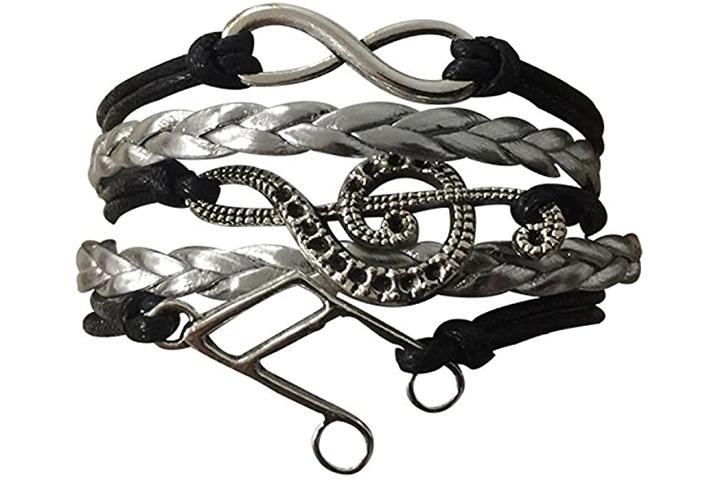 For your music lover friend who loves jewelry, the music charm bracelet from Infinity Collection can be the right gift. The silver and black colored multiple bands in the bracelet have silver-tone metal charms of music notes. It has an adjustable strap that fits 5in to 8in wrist size and has a two-inch adjustable clasp. The dimensions of the bracelet are 7.91×2.36×0.28in, and it weighs 0.35oz.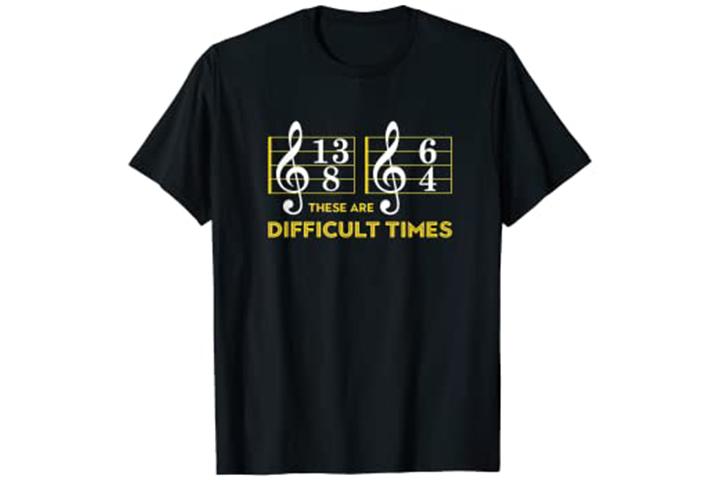 The high-quality tee shirt with 'These are difficult times' and musical notes printed around it is ideal for your music lover friend who enjoys wit. The tee is made of 100% cotton and has a double-needle sleeve with a bottom hem, making it a lightweight and classic fit tee.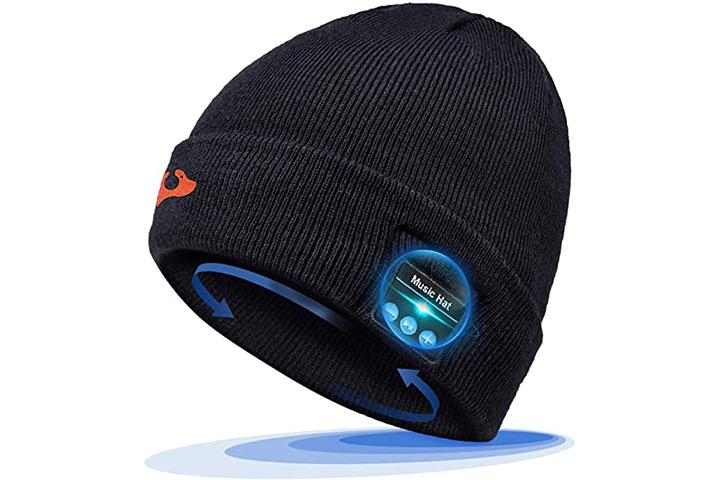 The Bluetooth winter hat is the coolest gift made for a music lover. It not only helps you stay warm in winters but also has advanced in-built Bluetooth 5.0 technology. The wireless hat can be paired with any smartphone, tablet, or electronic device and works in a range of 33 to 65ft.
It consumes low power and has an in-built rechargeable battery that lasts up to 10 to 12 hours with 1.5 to 2 hours of charging. The three-button control panel allows you to answer phones, adjust volume, and play songs. With such great features and high-performing loudspeakers with up to 110DB HD stereo sound, this Bluetooth hat is a unique present.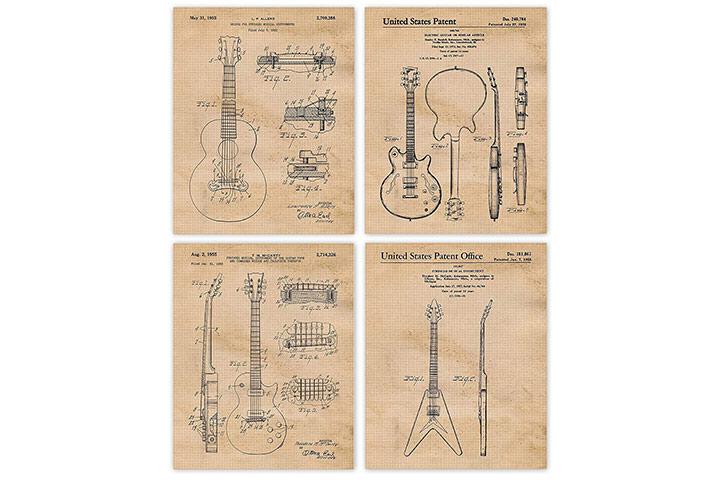 The vintage guitar patent wall art can be a thoughtful present for someone who enjoys music. The set includes four poster prints of the original patents of the Gibson electric bass guitar. The high-quality Fujicolor crystal luster paper prints have a glossy look and can be framed and customized to suit your home décor. The prints come with a 30-day guarantee and measure11.5×9.21×0.24in.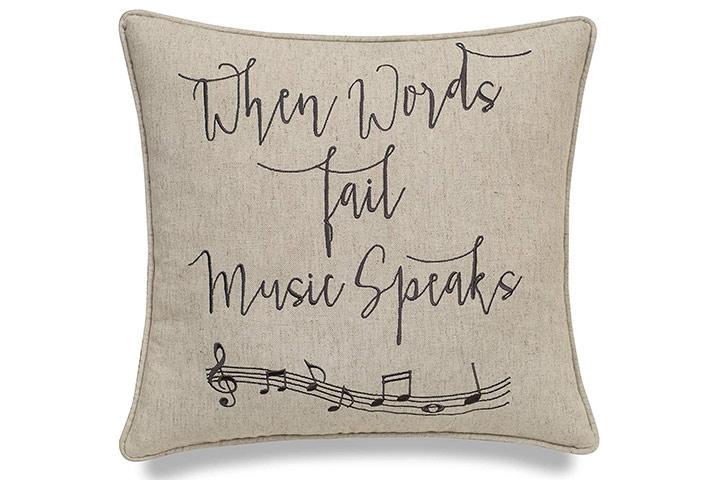 A music lover who enjoys a décor inspired by music would love this pillow cover with a beautiful saying and music notes embroidered on it. It is made of pure cotton and is available in various colors, including grey, navy, and smoke. The size of the cushion cover is 18x18in and has a hidden zipper on one side.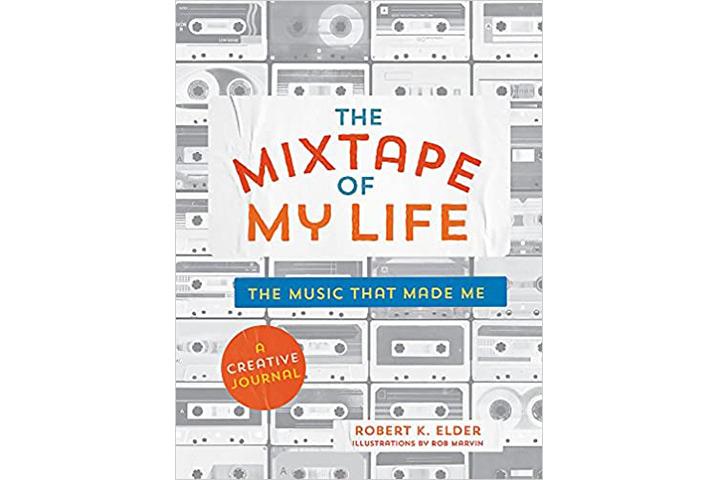 The 'mixtape of my life' is a guided journal with more than 200 questions that help readers identify their favorite songs' playlist. Irrespective of the music generation you belong to, this memoir will be the perfect way to reminisce the songs you enjoy the most and help you prepare a musical playlist. It has 192 pages, measures 6.5×0.63×8.5in, and weighs 9.7oz. Every music lover would enjoy this gift as it can bring back memories associated with the songs.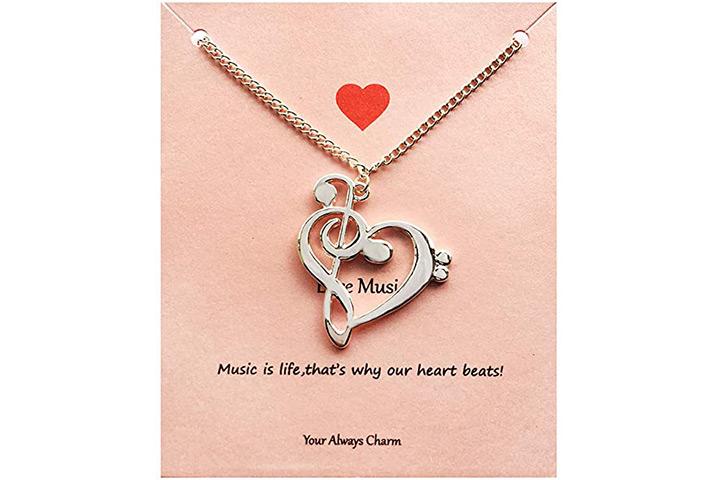 If your female friend is a diehard music lover, this delicate necklace can be an elegant gift for her. The adjustable chain is made of copper and has a beautiful pendant with a heart-shaped musical note. The silver finish necklace is 16in in length and can be adjusted to two inches, making it suitable for women of every age group.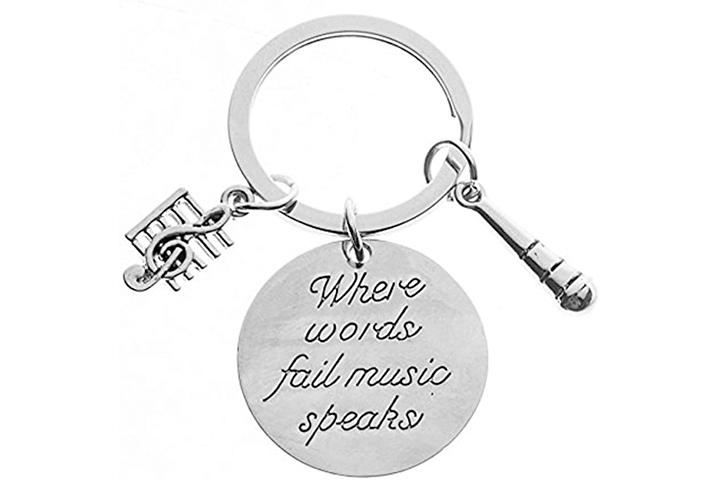 The silver-plated keychain with three charms attached to it can be a cute gift for a music lover. It has 'Where words fail music speaks' engraved on it, along with a musical note charm and a little microphone charm. The keychain measures 3x3x0.4in weighs 0.01oz, and comes in a jewelry pouch.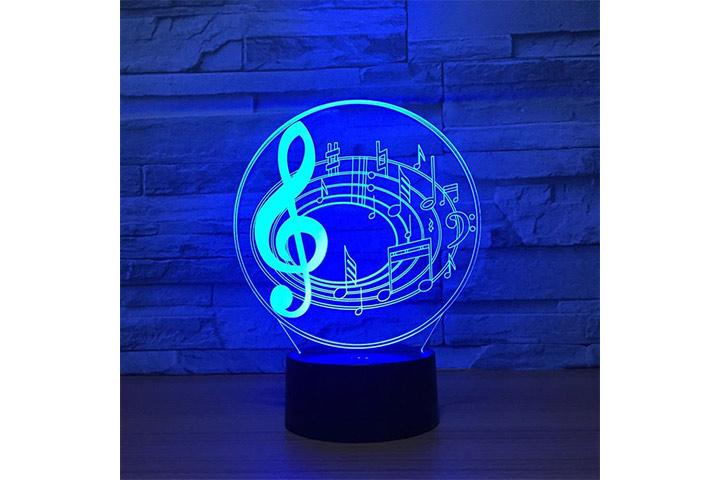 The 3D music note lamp is a beautiful home décor item with seven changeable colors, and an energy-efficient LED illuminating a uniform light. It emits low heat and has a life span of 10,000 hours. The lamp's flat acrylic board is lightweight, convenient, and has 2D graphics engraved. The touch button helps change color each time when pressed and can be put to auto-mode.
Long-pressing the smart sensor button switches the lamp off. It also has a sturdy base with ten LED beads and is powered by a 5V USB cable. It weighs 5.6oz and is 8.66×5.91×2.2in in dimensions.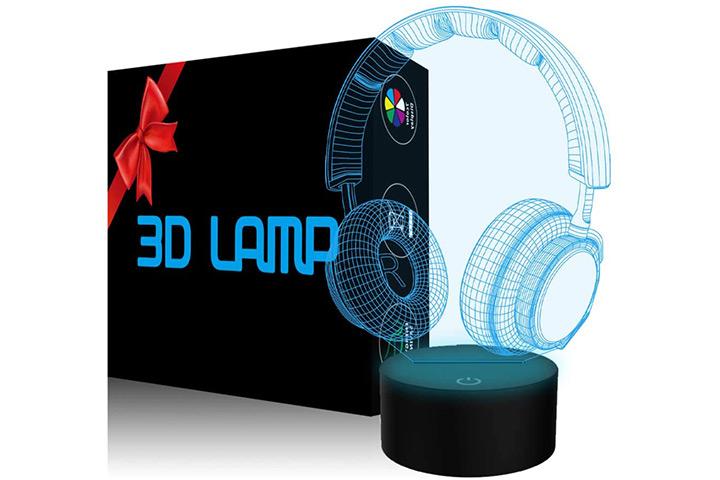 The 1.05lbLED desk table lamp with seven color-changing feature forms a 3D optical illusion effect of an earphone on the sturdy acrylic surface. It lights up the area with beautiful colors and can be operated with one button. The lamp has a USB cable as a power source with0.5W input and is safe to touch. The lamp's base has nine LED beads, which are energy-efficient and doesn't overheat.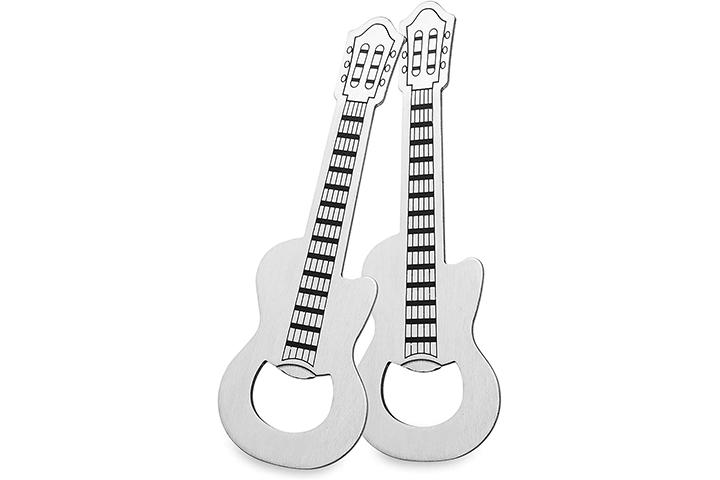 The set of two silver-colored stainless steel guitar-shaped openers are sturdy, durable, and well-designed to conveniently open bottles. They are light in weight, easy to carry, and compact. The bottle openers measure 6.1×2.17×0.2in and weigh 3.84oz.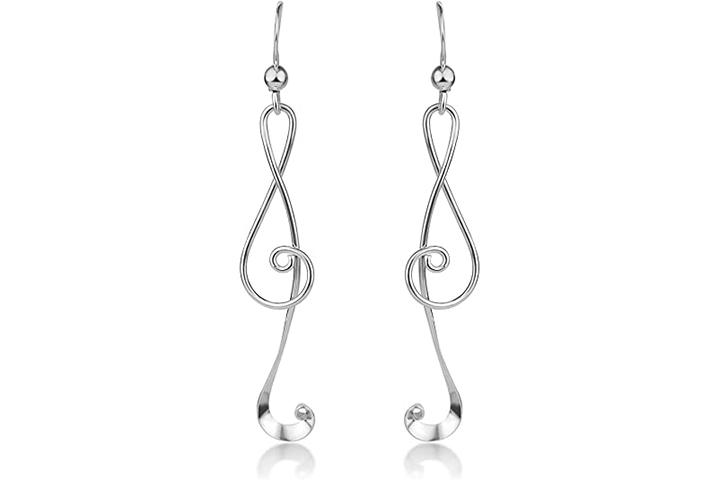 Your friend will love these beautiful dangle hook earrings as they are lightweight and elegant in design. The 1.96-inch earrings made of 925 sterling silver are a perfect piece of versatile jewelry that goes well with every attire. They measure 3.8×3.6×0.5in and weigh 0.32oz. The simple and graceful earrings can be a practical gift for any special occasion.
We hope you have found the most suitable present from our list of the best gifts for music lovers. Figure out your friend's choice, favorite music genre, instrument, and band to figure out the best gifts for them on special occasions, or just to show them you care.
Recommended Articles: