Your sister-in-law becomes your partner in fun when you develop a good rapport with her. But how do you do that? You may ask. Well, for this, you first need to know her well; and to know her well, you need to make efforts to strike up a close friendship with her.
You can start by making her feel special with a gift that holds some meaning for her. In this post, MomJunction brings you a curated list of best gifts that can be given to a sister-in-law. These gift items are meaningful and unique and will bring a smile on her face.
25 Best Gifts For Your Sister-In-Law

This beautiful hand-painted box comes with the carvings of two women in a sitting position looking at each other. Even without facial features, the figures look deeply engrossed in an intimate conversation like that between close friends or even sisters. Your sister-in-law can use this box for storing tiny but important items. And the two figures will always remind her of the bond between the two of you.

A gift holds a sentimental value for the receiver. But if you do not want your sis-in-law to find your gift too corny, you can instead buy her a mug, just like this one. This mug comes with a message written on it that initially looks like a typical emotional message but changes its track and offers the most unexpected ending. The high-quality ceramic ink used for printing themessage can last a ton of washes and is microwave-safe.

If you learn that your sister-in-law is fond of journaling, or if you want her to start jotting her thoughts on paper, then this pretty pink journal might be the right choice for her. This faux leather journal comes with a spiritual message written on it that can help lift her spirits even during the darkest of times.

After a long day at work, the first thing a person longs for is the warm comfort of their couch. Gifting this throw blanket to your sister-in-law signifies that you care for her and want to ensure that she stays warm and comfortable. Also, the blanket has positive words written on it that can help motivate her or just bring a smile to her face.

For a lady who loves wine, a pair of cute wine socks is what she needs but does not expect. These socks come packaged like a cupcake, so when she realizes what her gift actually is, she is going to be pleasantly surprised. The socks come with an interesting message written on the sole. Also, the anti-slip and non-skid rubber letters make the socks safe for wearing and moving around the house.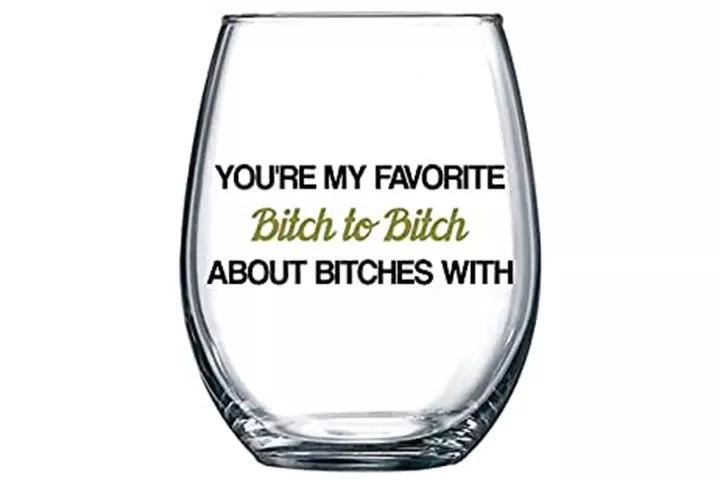 If your sister-in-law is someone who appreciates eccentric gifts, why not gift her this wine glass that comes with a quirky message written on it? Its ceramic ink does not lose shine even after multiple washes, so your message is safe for a long time. It is a good gift when you know she enjoys her wine. And yes, this stemless glass is safe to wash in a dishwasher.


This classy glass cup is for a lady who loves hot beverages. It comes with an elegantly decorated arm and base that makes drinking coffee or tea an exciting experience. It comes with an equally beautiful spoon and coaster, as well as a cleaning cloth. Your sister-in-law can even use it for her guests because it is a beautiful glass that should be showed off.

Life takes a toll on everyone. If your sister-in-law seems low or tense lately, and you want to cheer her up, gift her this bracelet cuff bangle. It has a motivational message written on the inside—visible only to her—so she can read it anytime she needs some power to go on. The bracelet comes with arrow markings at both ends to remind her that life sometimes pulls you back like an arrow only so you can move forward with greater strength and passion.
A wine tumbler with a sarcastic message on it can bring a smile to your sister-in-law's face each time she uses it. Its stainless steel body comes with double-wall vacuum insulation that helps maintain the temperature of the beverage. The ergonomic design makes it easy to hold and use anywhere—indoors or outdoors. It is available in a variety of colors, so you can pick one which your sister-in-law might like best.

A lover of cheese and wine will drool over this gift. This cutting board cum serving tray is made of premium quality bamboo that is stain- and odor-resistant. Its knives come stored in the drawer attached to the cutting board. Made of high-quality stainless steel, these knives come with bamboo handles and easily cut through cheese. It is perfect for serving snacks when guests are around or during a recreational family get-together outdoors.
Drinking out of mason jars is the in thing. Gift your sister-in-law this 12-set drinking jar mugs, and she might just go for that second serve every time she takes her favorite drinks. Each jar comes with a sturdy handle and can easily be washed in a dishwasher. And if need be, she can even use the jars as flower vases to decorate her living room
Buy Now
Jewelry makes women feel special. And a pendant like this, which explains the place your sister-in-law holds in your life, can become all the more special for her. This pendant necklace is free of nickel and cadmium and is hypoallergenic. Its elegant design is a gentle reminder of what she means to you.

Diet-conscious people swear by their health juices. Hence, they require a good water bottle. This fruit infuser water bottle is for those who enjoy sipping on their favorite fruit juices. This bottle is leak-proof, shatterproof, BPA-free, and recyclable. Its parts are easily detachable and washable in a dishwasher. And the lightweight body makes it easy to carry to the gym or just about anywhere.

For a lady who owns a gazillion accessories and jewelry items, a jewelry box can help her keep things organized. And if your sister-in-law complains about not being able to find her accessories all the time, buy her this CLOUD City jewelry box. Made of soft lint, it comes with two layers and has 27 slots to sort and organize all kinds of jewelry items.

This electric wine opener set is for the independent woman who likes to hold parties and enjoys her wine. The box includes a corkscrew, a charger, a foil cutter, a wine pourer, and a vacuum wine stopper. The corkscrew runs on batteries and can open around 80 bottles in one complete charge and one bottle in seven seconds.

If you are considering to gift your sister-in-law a classy piece of jewelry that is special but not too sentimental, Monily Initial Charm Bracelet ticks all the right boxes. It comes with a tiny heart pendant engraved with an alphabet. The bracelet is made of stainless steel and is fastened with a lobster-claw clasp that is easy to close and remove.
If you want to gift your sister-in-law an unconventional and distinctive bracelet, have a look at this anxiety-relieving essential oil diffusing bracelet. This aromatherapy bracelet allows you to add a few drops to the pad of the bracelet, which then releases a pleasant scent that lasts all day long. The set comes with eight pads in different colors so she can keep changing them to match her outfit for the day.

Women love pampering themselves, and no lady is an exception to this universal fact. So, why not gift your sister-in-law this spa set that includes some luxurious bath and body items. It contains a shower gel, bath salt, body mist, potpourri, and all that can leave her feeling relaxed and refreshed. And guess what? The gifts come packaged in a lovely handcrafted basket.

Bracelets become more than regular accessories when someone gifts them with love. This bracelet features little dangling heart pendants engraved with loving messages for your sister-in-law. It comes with a two-inch extension, so it can be adjusted and worn however she wants.

Bonsai plants look great in anyone's house. And when they come in such cute owl-themed pots, they only add to the beauty of the surrounding. These ceramic pots come with a hole at the bottom and can hold tiny plants. And not just plants! Your sister-in-law can use them to store office supplies, candies, or other cute tiny stuff.

If your sister-in-law loves decorating her house with fresh flowers, gift her this double ear glass vase made of high-quality quartz sand. This hand-blown flower vase comes in three different sizes so you can make a choice based on what she might prefer. You could also opt for either the bubbles design or the raindrop design.
We live in the age of pictures, and our phones have made us all photographers. Since pictures have become an important part of our lives, why not gift your sister-in-law a simple and elegant picture frame like this one. It is designed to create an Instagram-like collage. And if she is an Instagram addict, she will know how to use this frame the best.

A comfortable pillowcase with a heartfelt message can not only convey your feelings for your sister-in-law, but also remind her of you each time she rests her head on it. She can use this pillowcase for her bedroom, car, or office. And do not worry about the quality—the pillowcase is pilling- and abrasion-resistant and does not fade easily.
This is a special wind chime. Why? You may ask. Well, it runs on conserved solar energy. It comes with a solar panel that charges during the day and can be used throughout the night. It does not consume battery or electricity. It is waterproof, and so, it can be kept out in the lawn or garden without any worries.

If you have absolutely no idea about what your sister-in-law might like, opt for a safe bet, like the AIMASI scented candles. The best thing about these candles is that they come in gorgeous jars that can add beauty to the décor. These aromatherapy candles can change the mood of a room with their soothing scents.
Tips For Buying A Gift For Your Sister-In-Law
Though choosing a particular gift item is an entirely personal choice, there is no harm in considering certain important points before making a choice. So, allow us to offer you a few tips to help you find that perfect gift.
A simple gift backed by a good thought holds a lot more meaning than an expensive gift given without any love or feelings.
If you are not quite close to your sister-in-law and are not sure of her likes and preferences, try to find out through relatives who would know her choices better.
If talking to relatives does not help you make a choice, then go for something useful. Gifts like bath items or cosmetics are things that everyone uses. Anything that you feel she might use on a daily basis is an ideal and safe choice for gifting.
Lastly, whatever you gift her, ensure that it brings a smile to her face. Get a gift that will remind her of you and make her happy.
We hope this comprehensive list helps you buy the perfect gift for your sister-in-law, and your bond grows stronger. Which of these gifts would you consider buying for your sister-in-law? Do share your answer with us in the comments section below.