We know you are on the internet looking for the best gifts for your girlfriend. Be it a gift for an anniversary, Valentine's day, birthday, or just to apologize for something that you might (or might not) have done, it is never easy to settle upon something, isn't it? Sometimes it does not matter how long you have been with her, buying a gift can become very tricky. We understand that most people do struggle when it comes to choosing a gift and for this reason, we have made a list of the best 19 gifts to impress your better half.
Our Picks: 19 Best Gifts For Your Girlfriend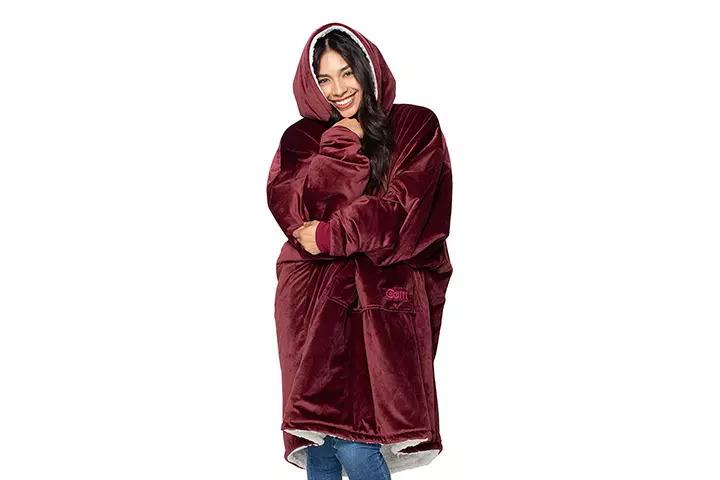 Ever since it aired on Shark Tank, wearable blankets have become a raging trend. Be it on your couch or at the camp on a hilltop, this oversized wearable blanket will keep you and your partner warm and cozy. It is made from an extremely comfortable and luxurious material that feels elegant to touch. It has a hood to cover your head and big pockets where you can rest your hands easily. You can either select the size that fits you or just select the One-size fit to drown yourself in this cozy blanket. The One-size can easily cover the whole body when cuddled up.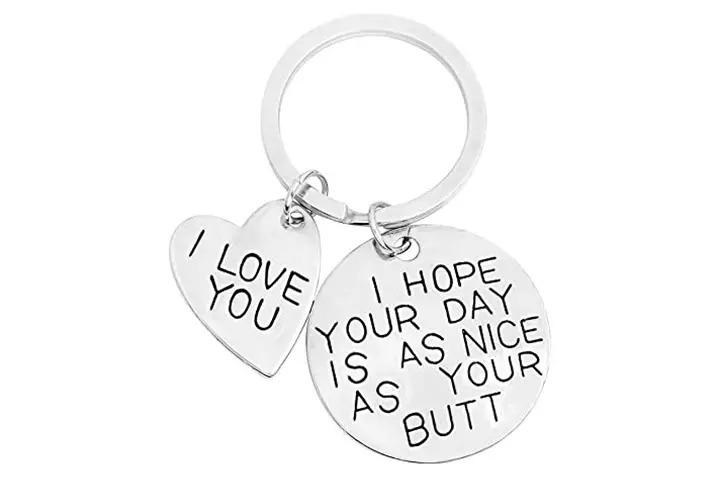 If you want to bring a smile to your partner's face, this keychain is probably what you need. If your partner laughs at your naughty jokes then this is the perfect gift for her. But if she gets offended instead, maybe you should scroll to the next product. This is a 2.5×2.5cm keychain which is made from alloy. The words "I Hope Your Day Is As Nice As Your Butt" are engraved on one of the pendants and the other one is a heart-shaped one with the words "I Love You". We are pretty sure, you are not going to regret this one.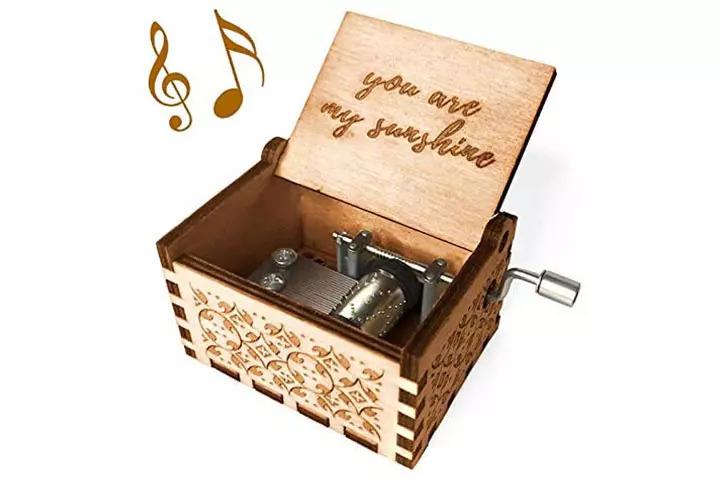 If there is one way by which you can melt anyone's heart, that without a doubt, is with music. If your girlfriend loves music, then she will love this too. Be it an apology or you just want to express your feelings, this beautiful music box is the way to go. It is a lever-based music box and it doesn't require any batteries. Just rotate the lever to play the music. The box is made from pure wood with a beautiful design on the sides. It is pretty compact and will fit in your palms easily. It has a lovely message that is laser engraved on the inside and is sure to tug a heartstring or two.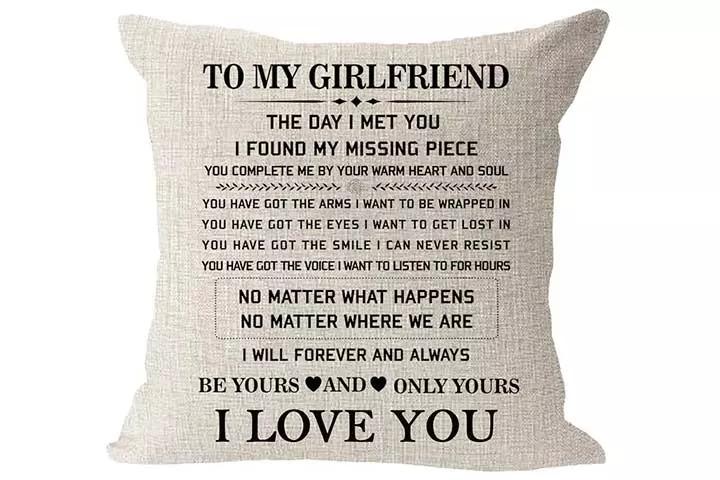 If your girlfriend is moving houses or having new furniture come in, then gifting her a pillow cover with a love quote is pretty thoughtful. The quote is catchy, well printed, and is sure to last a long time. This pillow cover is made from eco-friendly cotton linen and is extremely durable. It has a double-stitched invisible zipper which improves the overall look. If you are wondering, yes they are washing machine-friendly. However, this is just a pillow cover and does not include the inserts.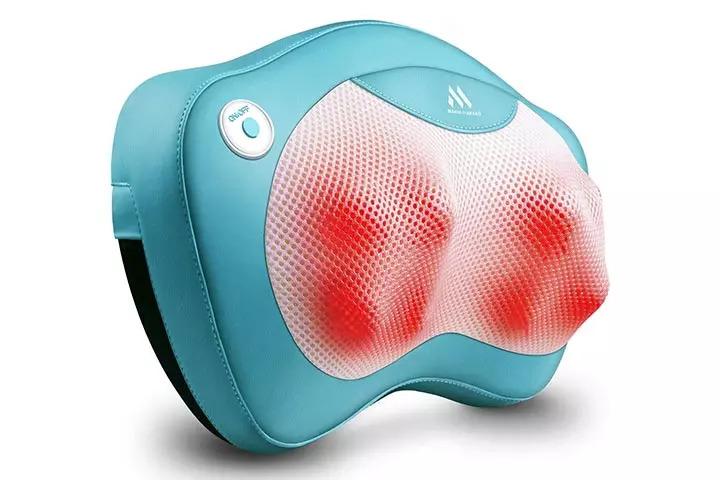 We all know how stressful our lives can become. Having to deal with stress at work, traveling in that horrible traffic, and so much more. During all these, the body also takes a toll. Maybe you were thinking of taking her out for a couple's massage therapy, but given the current global pandemic, that is not a safe option. So, bring the massage home with this personal massager from MagicMakers. It is an ideal option to relieve her from body pain. This has a stretchable strap that locks on to a chair or car seat and has a 3D fabric mesh that distributes the heat evenly. It has features like 15-minute auto-shutdown and overheat protection too.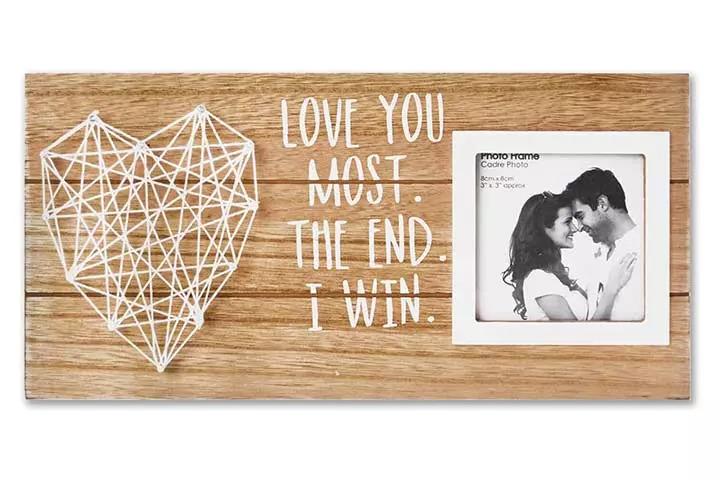 When it comes to gifts, you can never go wrong with giving a photo frame. But having said that, you cannot just give an ordinary frame; having a human touch always takes it up a notch. This photo frame is extremely pleasant and has a heart design that is handmade using cotton threads. It has an inscription that reads "Love You Most. The End. I Win", and a 3×3-inch photo holder. You can either use the hanging thread to hang it on the wall or use the stand to place it on your table. In any case, it just looks lovely!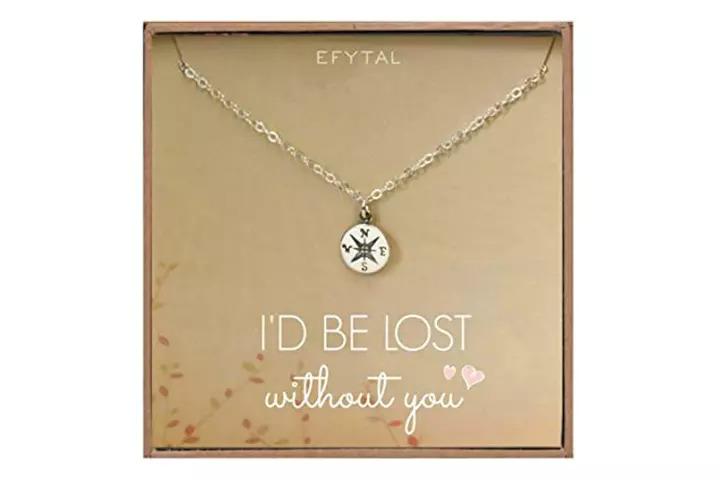 Let's be honest, you would definitely be lost without your better half. So, why not just let her know that? Here is a necklace that does just that in a cutesy and more importantly, a subtle way. EFYTAL understands that cheap metal causes skin rashes and irritation, so they have used genuine metal that is hypoallergenic and does not contain nickel. The necklace is completely handcrafted by the artists at EFYTAL who are extremely meticulous to ensure it is just the way you want it. The chain hangs about 18-inches which is suitable for most people but if that is not enough, it can be altered as required. Not only is the necklace pretty, but the packaging is beautiful and contains extra goodies too. You will have everything in the package to present this gift in the most gorgeous looking manner. EFYTAL also claims to have great customer service too!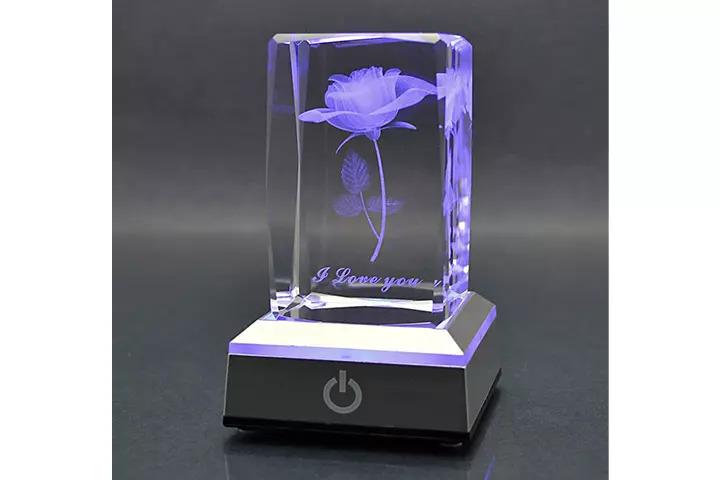 If you are thinking about unique gifts for your girlfriend, then this is what you exactly need. Made from the highest quality of the K9 crystal, it is clear and brilliantly transparent with a glossy finish. It has a picture of a rose and the words "I Love You" 3D engraved on the crystal and has a base with special LED lighting with 6 light modes. You can either set it on a static color that you like or let it automatically change the color and make the crystal come to life with multiple colors. The base also has a tactile power switch that turns on the lights. It comes in a well-cushion and classy-looking box. You can either power it with AAA batteries or use the USB cable that is included in the package.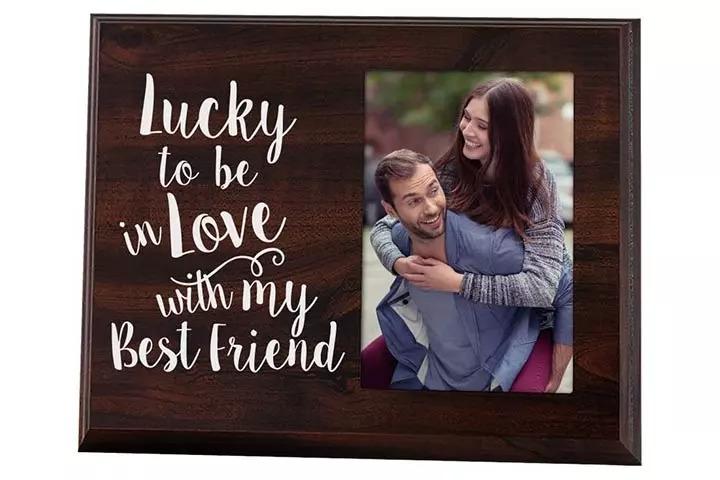 Falling in love with your best friend is not something that works out for everyone, but when it does, it becomes something special. So, why not let that special someone know how lucky you really feel to be with them? Here is a picture frame that lets you put those words on the table, quite literally. The words "Lucky to Be in Love With My Best Friend" is written with high-quality ink with a beautiful finish. It is an 8×10-inch frame and has a holder for a 4×6-inch picture. The photo holder is covered with a clear acrylic sheet to protect it from dust.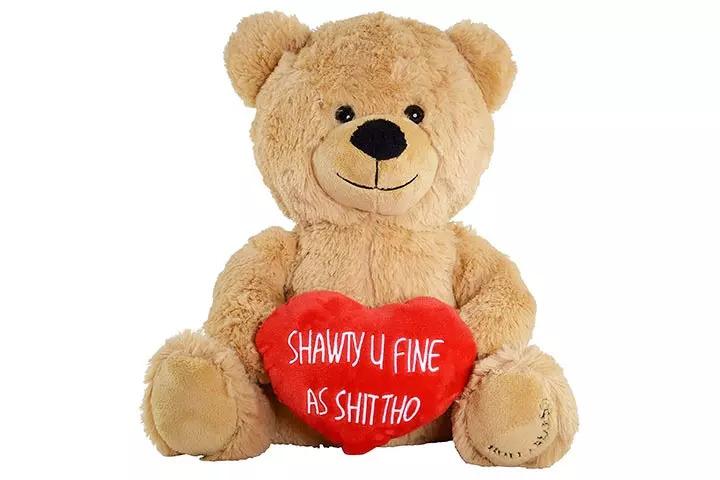 We are pretty sure every love story has a teddy bear involved at some point in the relationship. Don't worry, fighting a teddy bear is not a cliché. Gifting snugly teddies is one of the best ways to express your love and this teddy bear from Hollabears takes it a notch higher. They use high-quality materials that are super soft, cozy, and are made to last a long time. And the best thing? This adorable teddy holds a heart that has the words "Shawty U Fine As Shit Tho" on it (you know, just to make sure the message is very clear). If nothing else, it is sure to make you both laugh.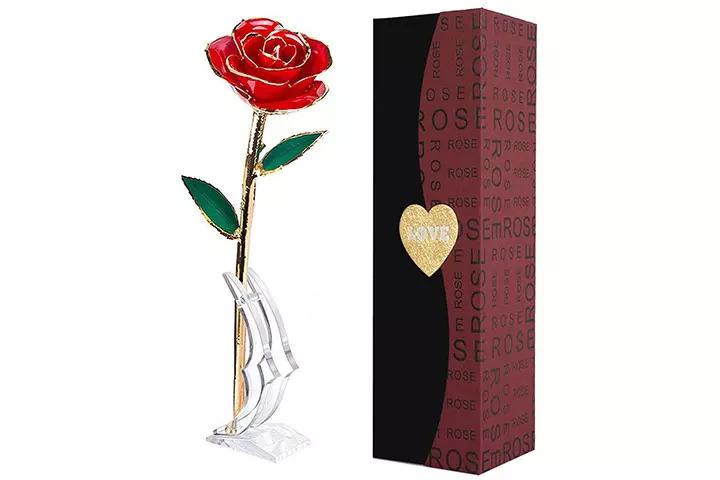 Nothing says "I Love You" like flowers and especially a rose at that. As vibrant and pleasant a rose can be for the eyes, it also symbolizes strong emotions. This handcrafted 24k gold-dipped rose is to represent those unwavering relationships. These are made from handpicked real roses and it takes up to 4 days of handwork to make each one of them. So, you will be gifting your partner a rose that is like none other out there. These roses do not corrode and are made to last, just like your relationship is meant to be. They come in a charming gift box and are packed with extreme care to ensure that the rose is unharmed.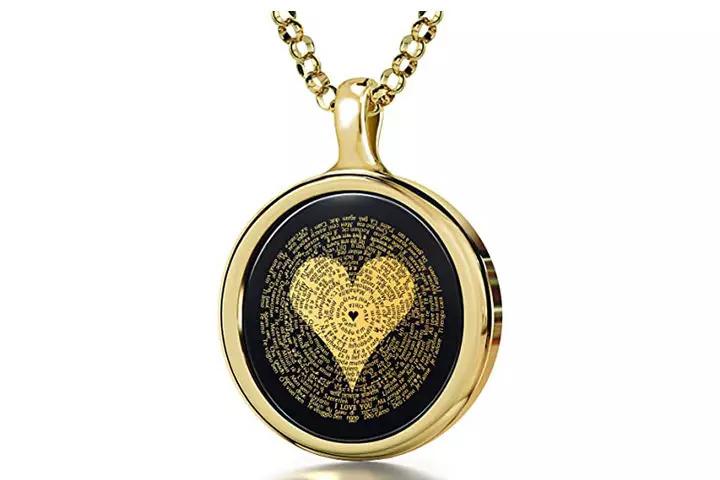 When it is time to celebrate a special occasion with that special someone, it is obvious that you need something special. Well, how about something that says "I Love You" in 120 languages? This necklace, at the core, has a black onyx stone that uses 24k gold to inscribe the words "I Love You" in 120 languages which also includes braille and sign language. The pendant is suspended with an 18-inch, high-quality, Italian-made gold-plated silver rolo chain. It is NanoStyle jewelry that uses innovative technology to imprint tiny texts on objects. The package also includes a magnifying glass that will help you read the inscription on the jewelry.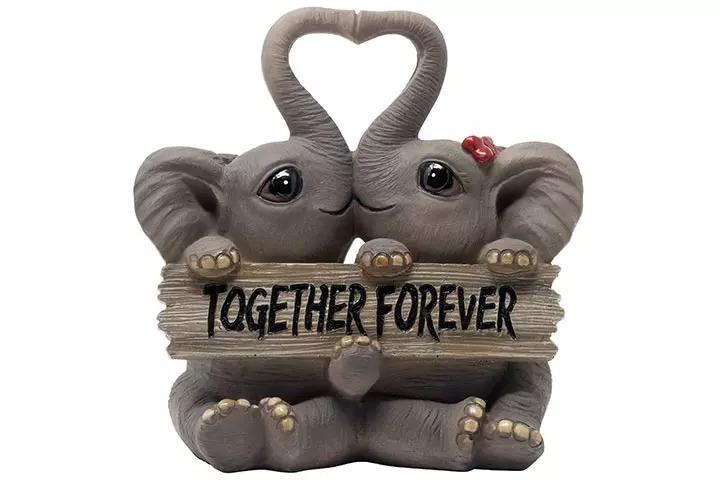 It is strongly believed that having elephant imagery at home brings good luck. So, wish your loved one some luck with this adorable elephant couple figurine. The figurine shows two elephants holding a "Together Forever" sign and share a shyly kiss with their trunk which forms a heart. Each figurine is handcrafted from cold cast resin and may slightly vary in color from the picture. May these elephants not only bring good luck but also take your relationship to the next level.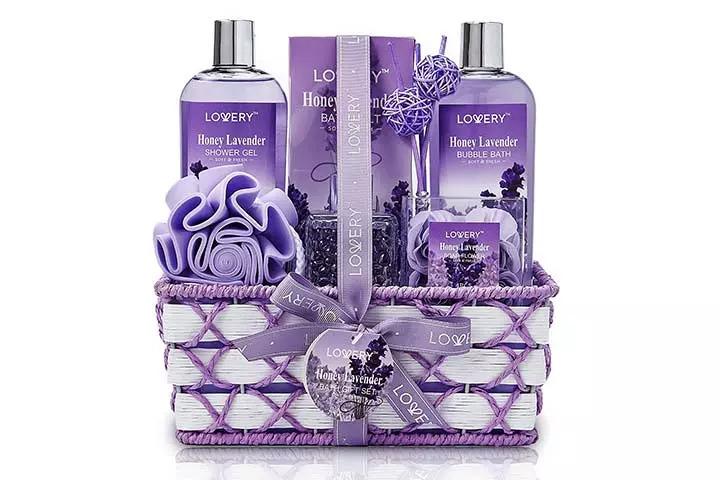 With the whole world-wide pandemic situation, maybe it is not the best time to take your partner for a spa treatment. So, gift her with Lovery's Honey Lavender Bath and Spa Set. Lavender is great for skin and all the products in this set are made from Shea Butter and are enriched with Vitamin E Oil. The fragrance of lavender not only soothes the body but also the mind. This set has everything that is required to soothe your skin and relax your muscles starting right from the head to toe. It includes shower gel, bubble bath, diffuser with purple sticks, bath salt, soap flower, and bath pouf, all in a purple basket. The basket is reusable and works as great decor too.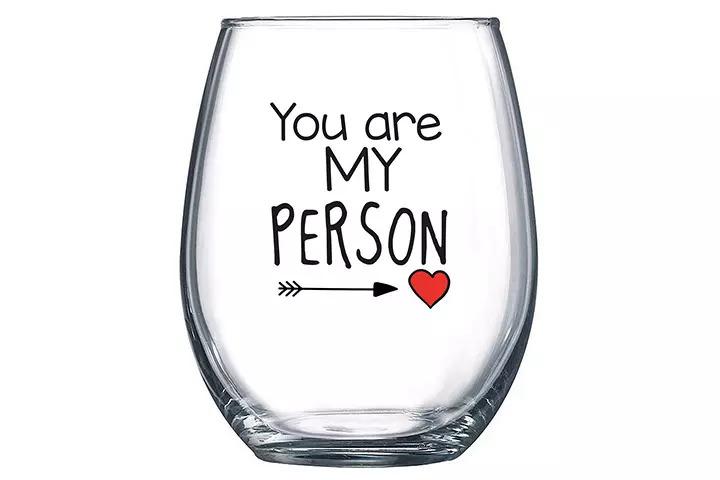 They say that a wine glass has the ability to enhance the flavor of the wine, so if your partner loves wine then this becomes an instant no-brainer. Wine lovers not only choose their drink carefully but also their glass. It is made from 100% clear glass material and is dishwasher-safe. This 15-ounce glass is inked with the words "You are MY PERSON" using ceramic ink and is sure to never fade away. Every time she takes a sip, it will remind her of you. It arrives in a safely packed and durable gift box.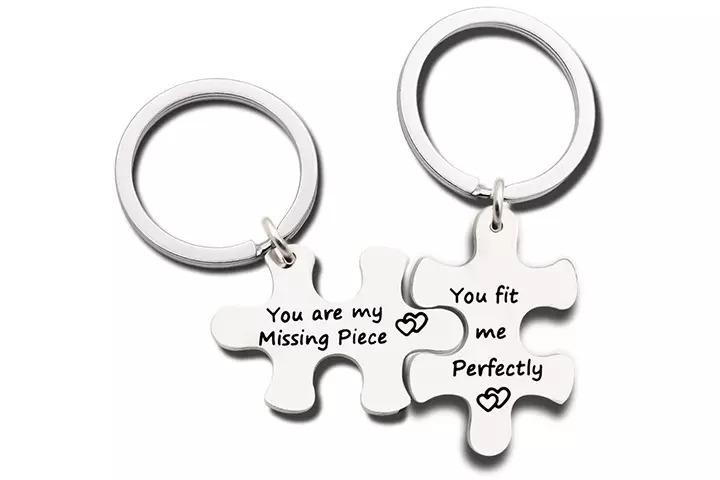 This jigsaw couple keychain works great as a reminder for you and your partner. If you are not sure what exactly you want to say, we highly suggest you start here. Both the keychains have engravings; one has "You are my missing piece" and the other has "You fit me perfectly". They are made from stainless steel and the engravings do not fade. It comes packed in a black velvet pouch. Owing to its non-allergen properties, it is okay to gift it to people who have sensitive skin.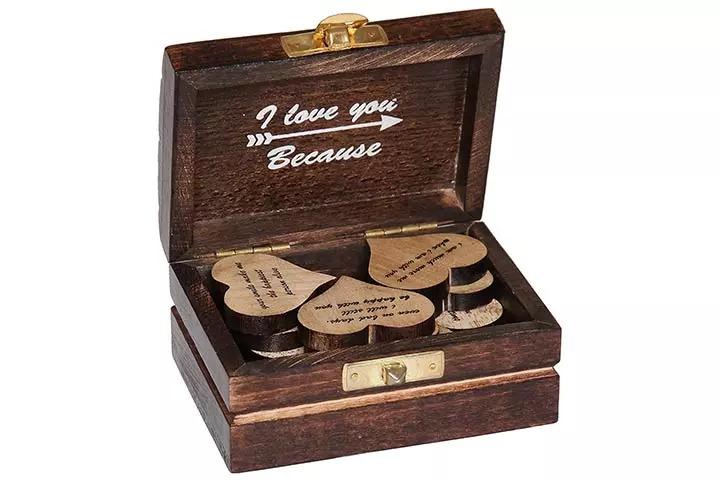 This definitely tops our list of the most unique ways to express love. This is a box of 15 handmade wooden hearts that have their own unique love quotes printed on them. Each heart in the box is laser cut and lacquered for a smooth finish. The print on the hearts is etched and will not fade away. With this, you can give your partner 15 reasons why you love her. No matter the occasion, this gift is a great option.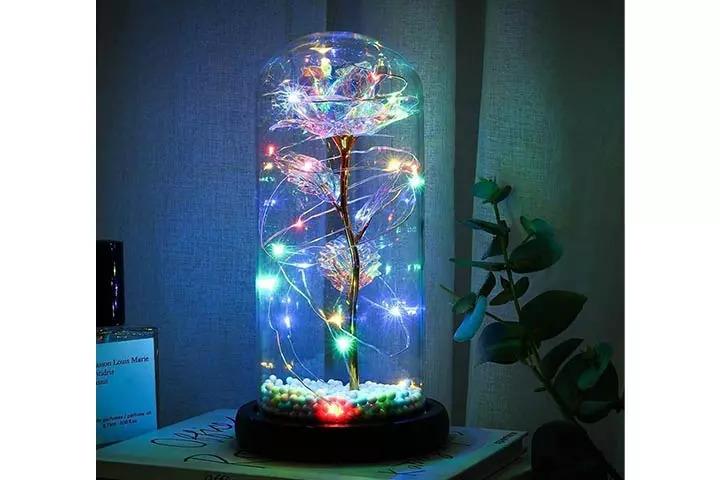 Fairy tales are a wonderful thing and most girls do expect some level of fairy tale experience in their life. So, here is a chance to be her Prince Charming— a rose in a glass jar that is right out of Beauty and the Beast chapter. This galaxy enchanted rose is to symbolize the love that will never fade away. The petals of the rose are embedded with small LED lights that shine through the glass dome. It truly is an enchanting view from all 360°. The glass is made from borosilicate glass which is extremely durable. It might run on small batteries but is sure to light up the whole room to create a romantic atmosphere. It comes in a pretty pink gift box too. This is one of the best Christmas gifts for your girlfriend.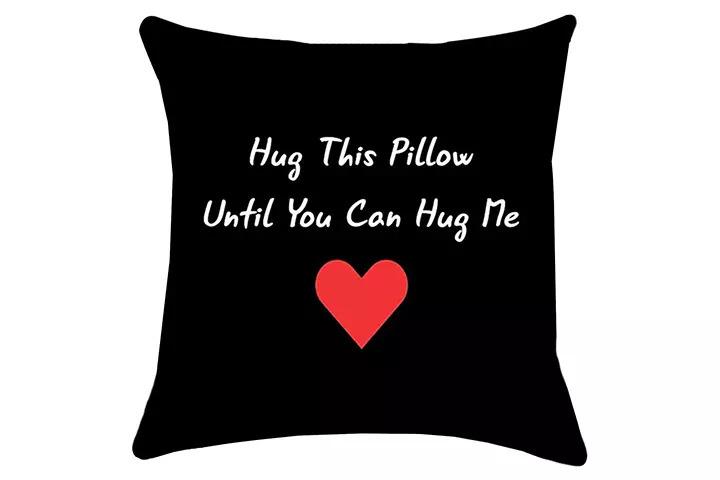 There is no perfect going away gi— oh wait! We believe we might have found something. This pillow cover just might be what you need to gift your woman if you are going away or are in a long-distance relationship. We understand that long-distance relationships can be hard and we are sure that this pillow cover makes it a little more bearable. It is made from superior-quality linen fabric and has a concealed zipper at the bottom. Both sides of the cover are printed with the words "Hug This Pillow Until You Can Hug Me" with a red heart. The prints are very vibrant and clear. This is just a pillow cover and does not include any inserts.
There is never a bad time for gifts when it is for that special lady in your life. But choosing the best gift for your girlfriend might be a little difficult. Remember, gifts do not necessarily mean you have to go all-out and buy expensive things, sometimes even simple gifts will take you a long way in your relationship. We are very sure these gifts are going to light her face up with happiness. And when that happens, you can take all the credit, even if you are away. Good luck!