If you love to kickstart the day with a steaming cuppa, tea kettles are a blessing for you. Glass tea kettles are see-through and give a great brewing-appetizing experience. These kettles are made up of borosilicate glass that is BPA-free, stain-resistant, heat-resistant, and dishwasher-safe. Being smooth and non-porous, it does not retain the tea flavor and helps you savor a cup of tea.
There are several glass tea kettles available in the market with a modern look and versatile functions. With appealing designs and tons of features, we have put together a list of the best glass tea kettles for all the tea addicts out there.

Top Products From Our List
15 Best Glass Tea Kettles
The Megawise electric kettle works with 1500W power and has a capacity of 1.8-liter. It has a safety auto-shut feature that shuts off automatically after boiling. The inner base is made of food-grade 304 stainless steel and a hollow lid that makes it lightweight. It is made of heat-resistant borosilicate glass with a low thermal expansion coefficient. The BFA-free material gives a no-plastic touch. It has a double-protection feature, making it safer and better than the stovetop kettles. The kettle also includes a handheld sponge brush for easy cleaning.
The Aicook tea kettle has a 1.7-liter capacity and six smart temperature preset settings to meet different needs. It has an LED indicator and a digital display with red and blue indicators. You can always control the working status. It takes about three to five minutes for the water to boil. The wide mouth facilitates easy cleaning. The tea infuser has a separate lid for filling with tea leaves. Equipped with an NTC temp sensor, the tea kettle automatically shuts off when it reaches the desired temperature. The kettle is 100% BPA-free and has 60 minutes auto keep-warm function. You will also get tech support for two years with this product.
Made of high-quality borosilicate glass and food-grade stainless steel material, the Brightown kettle is safe and eco-friendly. It has four color indicators for different temperatures and can keep the tea warm for two hours. You can also detach the glass kettle from the heating base and adjust it to the desired length. It has a 1500W heating element equipped with British Strix thermostat technology. You can rotate the electric kettle at 360° on the base. It has a one-button switch-off function ensuring convenience. The kettle can boil water faster in comparison to a microwave.
Made of healthy food-grade material, this electric tea kettle has 304 stainless steel and borosilicate glass with a low thermal expansion coefficient. The British Strix thermostat technology enables the kettle to shut down automatically within 30 seconds of the water boiling. It can boil the water fast and has an LED indicator of different temperatures that works on 1500W power. The 4.3-inch-wide opening makes it easy to fill and clean the kettle. It is cordless and keeps the water warm for two hours.
The Milin electric kettle has six-level temperature control for optimal brewing. With 1500W, water boils quickly, and it has a 1.7-liter capacity. This electric glass tea kettle has features, including the British Strix thermostat technology, anti-boil-dry, auto shut-off, and is energy-efficient. The wide spout enables easy cleaning. It is made of 100% BPA- free, durable materials.
Featuring smart looks, Decen borosilicate glass is resistant to high temperatures, scratching, and scuffing. The six preset programs and the custom temperature are ideal for making oolong tea, delicate tea, white tea, and green tea. The wide spout makes cleaning easy. With 1200W power, it has 120 minutes to keep the water warm and a safety lock function. The two years support with 24/7 services gives a risk-free purchase.
The elegant-looking tea kettle has a transparent design and indicator technology that lights up after the water boils. It is equipped with auto shut-off technology for maximum convenience and safety. Made up of borosilicate glass with a low thermal expansion coefficient, the kettle is resistant to thermal shock. The bottom and the inner lid are made up of 100% stainless steel for safety. It has a two-liter capacity, and you also get efficient customer service with the product.
The borosilicate glass body makes it possible for this glass kettle to sustain high temperatures. Equipped with 1000W power, it has a modern look with a streamlined design. It has a cordless design and is built with a 360° rotating body that allows easy serving. It can hold two liters of water, and the plastic-free design makes it a healthy option. The safety features include boil-dry protection technology, a three-prong plug, and a cool-touch handle to prevent any burn injury.
With a seven-cup capacity, the Zeppoli electric kettle boils your water in six minutes. The blue LED indicates the proper functioning of the kettle. Its auto-shut-off mechanism turns off the kettle automatically after the water boils. It has an anti-slip heat-resistant handle, a removable mesh filter, and a 360° rotating body. You can easily prepare ready-to-eat meals, such as oatmeal, coffee, and pasta.
If you want to retain the charm of the traditional kettle's whistling sound, this Café Brew glass kettle could be the right choice. It is meant for stovetop use and compatible with electrical gas tops, glass, and steel gas stoves. It is made up of borosilicate glass and is dishwasher-safe. You will need to take off the top to pour, which can be a little inconvenient. All the components are lead-free, BPA-free, and dishwasher-safe for easy cleaning.
The Aigostar glass electric tea kettle is made from high-quality glass with a stain-resistant and durable body. With a 1.7-liter capacity and 110W heating element, your brew gets ready in no time. Featuring a blue-ray, you can see-through the boiling process to know when the water is ready. The cordless technology ensures hassle-free pouring. You can easily clean it with vinegar or lemon water. The auto shut-off feature and non-slip handle makes it a perfect choice.
With a compact design, high-quality glass body, and stainless-steel components, the Hamilton Beach kettle could be an ideal choice for your office, home, or dorm kitchen. It holds a 1.7-liter capacity and has large stay-cool handles. With 1500W power, it can boil the water faster, and the boil-dry protection feature ensures the heating element does not function unless there is water inside. There are an auto shut-off feature and a manual switch.
With high-quality borosilicate glass, the Cosori electric kettle is resistant to scratching and scuffing. This could be the perfect choice if you want a kettle with bells without whistling. Cosori can heat 1.7-liter water quickly in three to seven minutes. The blue LED ring concealed inside the glass indicates the water boiling process. It is safe and durable, and the kettle rotates 360° for convenient pouring and serving.
HadinEEon electric kettle has six preset temperatures for your optimal brew. It can boil up to eight cups of water and is ideal for large households. You can boil up to 1.5-liter water (50oz) in six minutes. The additional features include boil-dry, 360° rotation, and auto shut-off. It keeps the water warm for up to four hours and is equipped with a British Strix thermostat control for safe and stable performance.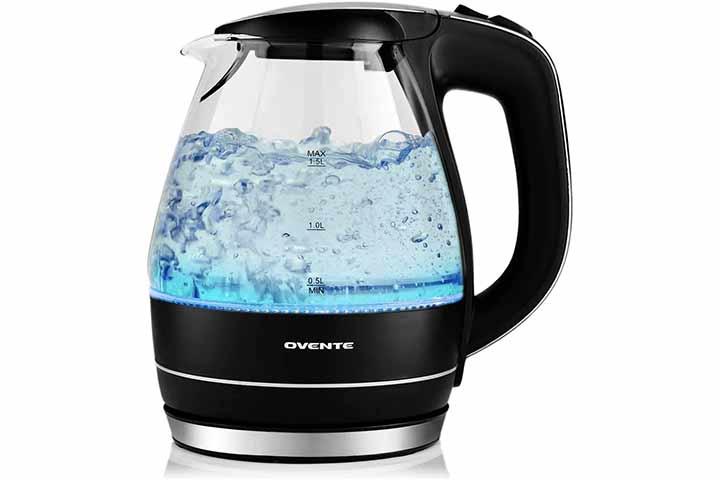 The Ovente portable glass kettle is the best choice for a durable kettle. It is made up of a stain-resistant borosilicate glass body and can boil full pot water in seven minutes. It has auto-off technology and a boil-dry feature ensuring complete safety. The product is made of eco-friendly materials and offers a two-year limited warranty. 
Features To Consider While Buying A Glass Tea Kettle 
Here are some features you should consider before buying a glass tea kettle.
Design: While you may spot many vintage collections or modern designs, it is best to choose the one that will complement your kitchen aesthetics.
Durability: Choose a durable glass kettle so that it lasts longer. Kettles made of borosilicate glass are durable and do not crack easily. 
Size: If you are a family of two, a small-sized glass tea kettle can help and is also easy to store. You can opt for a large one if you are a joint family or a large family.
Handle: The electric kettles are equipped with non-slip handles to reduce the spillage risk saving you from injuries. Consider buying a kettle with a stay-cool handle and not a metal handle as it can burn quite quickly. 
Size of the spout: A bigger spout will facilitate the easy serving of coffee or tea and is easier for you to clean. Opt for a kettle with an automatic spout cover so that you won't have to remove the hot flap every time while using it.
The above-mentioned glass tea kettles are convenient with their versatile functions, energy, and temperature setting modes.  We have made sure to assist you in investing for the right product. Though it is not a life savior, buying the most suitable glass kettle can make life a little easier.
Recommended Articles: