Hairspray is one of the popular hair styling products that both men and women use. It is useful to fix your hairdo and add volume to it. If you want to add some glam and radiance to your hairstyle, then glitter hair sprays would be the best fit.
Picking the most suitable hair spray could be tricky if you don't know much about it. Keep reading this MomJunction post, as we give you a list of 15 best glitter hair sprays. We also tell you how to choose the best one for your hair.
15 Best Glitter Hair Sprays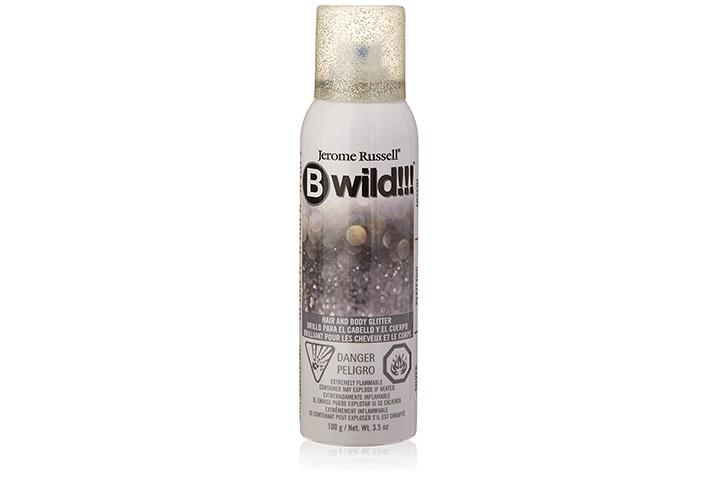 This temporary spray has been specially formulated to add shimmer to your hair. It can also be used on your body, is easy to spray, and can be washed out conveniently too. This hair glitter won't damage your hair and allows for a mess-free application. Want more glam? You can add it to your clothing too! There is no need to bleach or tint your hair when using this spray.
Rubie's Costume Glitter Hairspray is ideal for festivals, dress-up play, events, and parties. The glitter shines gold and stays until you wash out your hair. This glitter makes your hair glow in the dark. It comes in an easy-to-use spray bottle. Word of caution – the contents in the bottle may explode if heated.
It is a head-to-toe mist spray made of micro-sized particles that can be used on the hair and the body for a bright, shimmery effect. It is a super sheen mist that adds a light, subtle, and beautiful effect to your hairstyle. It also contains aloe vera to moisturize your skin. It can be used for highlighting features on the face too. You can spray this all over your hair for a dramatic effect. But if you want a mellow effect on your hair, then just spray a little bit of it at the bottom hair strands.
It comes in 16 different colors, including sterling gold, silver, Kelly green, and light purple, to name a few. Each color is bright and unique in its own way. The non-aerosol shimmer gives a non-sticky finish to your hair. It can be applied to the body and clothing and can be washed away quickly also. It adds a natural-looking shine to your hair and body. You may spray one or more colors as per your requirements.
This rose gold hair shimmer is formulated with 100% natural plant extracts.  It also contains sea salt to give a natural shiny look to your hair. It is paraben-free, non-GMO, vegan, and cruelty-free. The spray also adds strength and life to your locks. The hair spray is suitable for all hairstyles and is gentle too. This shimmer spray is also safe to use on delicate and fragile strands of hair too. Just a little bit of this rose gold spray can enhance your overall style.
This pack brings you three hairspray bottles of golden shimmer. The spray offers a fine sparkle on your locks, giving your hairdo a beautiful party look. Each bottle contains 100ml of golden hair spray. The bottle contains 24KT of golden hair spray, which can highlight your hairstyle and make it unique for any festivity or special occasion.
It is a super shiny glitter hair spray that gives your hair a shimmery sparkle. This temporary hair shimmer can also be used on the body. It contains argan oil and Keravis that help in nourishing your hair and help prevent breakage of hair. The lightweight and non-sticky spray can be used for that instant shimmer effect on your hairstyle. It can be used on a casual day or for special occasions.
It is a premium, professional formula made in Germany. The super-concentrated spray is mess-free and easy to use. One bottle is enough to be used for six to eight times. The glitter is temporary and comes in four different shades, including silver, multicolor, gold, and iridescent. It is suitable for any type of hair and contains good-quality glitter. It can be used on any hair color or shade of the hair.
It is a rose gold glitter that can be used on hair, body, and face. The glitter is in the form of a silky and smooth powder, and it offers a radiant shine to the hairstyle. It contains light-reflecting pearls, which provide a light yet bright finish to the hair and highlights it too. It comes in a cute bottle with a golden press. Just spray lightly, and the shimmer will enhance your hairstyle. It is suitable for any skin tone and hair texture.
It is a specially formulated spray that can be used on any type and any shade of hair. You do not have to bleach or tint your hair before using the spray. Also, it does not damage or break your hair. It is a temporary color and can be washed away easily. The silver spray can be used on any hair color to enhance the overall hairstyle.
This golden glitter hair spray, which can also be used on the body, is suitable for special occasions and parties. This glitter is a temporary spray. It is easy and convenient to use and can also be washed off whenever you want. Add a sparkle to your hairstyle and enhance your hairdo by spraying just a little of this. The golden shimmer goes perfectly well with any party outfit or costume. One spray is enough to heighten your overall look.
It is a temporary hair spray that can be used on any hairstyle. It comes in different glitter colors, including silver, blonde, natural blonde, copper-gold, darkest warm brown, and multi glitter. Pick any color, and your hair would look bright and shiny, suitable for any occasion. The color shimmer goes well with any hairstyle and blends with any hair color, without damaging the hair.
It is one of the best glitter hair sprays that adds platinum shine to your hair. It can be used on your hair, body, and clothing too. It adds a subtle shimmer to your hair, making it look delicate and beautiful. It is suitable for any type of hair and shade. Fora delicate yet shining look on your hair or your body, this shimmer offers effective results. The spray provides a mess-free application.
It is a silver-colored glitter that can be used on both hair and body. It comes in a 5.2oz bottle and helps you have bright and shiny locks. It is suitable for all types and colors of hair. It is safe and would not damage your hair. The temporary color can be sprayed on the hair for special occasions and can be washed away easily without any damage to the hair.
It is a vegan and cruelty-free glitter that can be used on hair and body. It is a mix of shiny colors such as baby blue, lavender, and candy, thereby giving a unicorn effect to your hairstyle. The hair glitter can be used by both children and adults. The glitter is approved by the FDA and is safe on human skin and hair. It blends well with all types of hair and all tones of skin. It can also be an ideal gift to someone who enjoys makeup and a glam look.
How To Choose The Right Glitter Hair Spray?
 A regular spray may tend to damage your hair. Keep some tips in mind when purchasing the best glitter hair spray for yourself.
Color: There are plenty of glitter hair colors available, so look for one that compliments your hair color. For instance, gold and multicolor glitter are suitable for all hair shades. Make sure that the hair glitter color is not the same as your hair shade.
Ingredients: If you have sensitive or fragile hair, then it is essential to have a look at the ingredients on the label. In case the label indicates the presence of any chemical substances, then it is better to avoid such hair sprays. Avoid products with parabens, denatured alcohol, polyvinyl, and such harmful substances. Sometimes, even added fragrance may spoil your hair.
Travel-friendly bottle: Some bottles may explode over 120 degrees F temperature. Therefore, check the bottle carefully for any instructions.
Also, check if the temporary color can be washed away just by rinsing. Some hair glitters may not go even after washing the hair twice or thrice. You may also do a patch test by spraying the glitter on a few strands of hair or skin before full application. If you find no adverse effects for 24 hours, then you are good to go. Pick your favorite glitter hair spray and flaunt your hairstyle wherever you go.
The following two tabs change content below.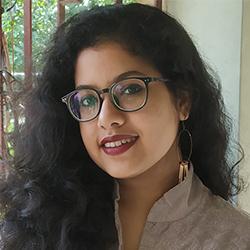 Poulami Nag
Poulami Nag is a writer and associate editor at MomJunction. She did her MA in English from Miranda House, University of Delhi and has qualified UGC-NET. Her journey as a content writer began in 2017 and since then she has garnered diverse interests along the way. Her knowledge of literature and language has given her an eye for detail and...
more