In this day and age, diabetes has become more of a common disease than it was many years back. While it may not be reversible, it can be controlled and contained through medication and the right kind of diet. When it comes to a disease like diabetes, testing the level of sugar in your blood becomes crucial. Many diabetics test their sugar levels over 10 times a day. For many, it isn't possible to waste time traveling back and forth from a hospital. This is where the use of glucometers comes in.
Glucometers allow you to test your sugar levels at home. Most kits include a lancing device, a glucometer, and testing strips. These blood sugar devices provide a clear picture of the blood sugar levels of diabetics throughout the day. Are you tired of waiting long for the results of your blood sugar levels? If so, change that by investing in a glucometer. Here's a list of the 11 best glucometers in India.
11 Best Glucometers In India
An easy and reliable way to check your blood sugar levels is through this neat blood glucose monitoring system by Dr. Morepen. The machine is compact and the display is big enough to view the essential information. Included with the machine are 50 test strips. The minimum blood sample to be placed on the test strip is 0.5 microlitre. This blood sugar machine can provide you fast results, saving you the wait.
Features
Large memory
Auto code monitor
Biosensor technology
Stores 300 test results
Meeting ISO standards and gaining a lot of popularity, the Accu-Chek blood sugar home test kit occupies a formidable position on our list of the 11 best glucometers in India. The machine itself is small and portable and the screen displays all the necessary information. Along with the main unit, 10 test strips and a lancing device for drawing a drop of blood are provided. The ease of operation makes it a worthy competitor and its 1-year warranty sweetens the deal.
Features
Target range indicator
Clutter-free screen
1-button navigation
Quick results
BeatO has stepped it up and transformed the home glucometer kit into something even more convenient. This wonder in the form of glucometer can be connected to your smartphone via a 3.5 mm jack to read your glucose levels. The entire kit consists of a compact device, 50 RGB Sinocare Safe-Accu 2 test strips, and 50 lancets. The readings are viewable through the app on your smartphone and can be easily shared with your daily doctor online.
Features
Works on Android and iOS
Works with BeatsO app
Automatic alert system
Accurate readings
This all-in-one kit is an ideal solution for anyone suffering from high or low blood sugar. The clutter-free screen provides for easy readings and helps avoid any confusion. The machine allows you to choose from 4 different testing modes, including any time, before meals, after meals, and control solutions. Packaged with the device are 10 testing strips, a lancing device, 2 AAA batteries, a user manual, and a carry case.
Features
Fully automatic
Reminder alarm
Ketone detection
Smiley indicator
Testing your blood sugar levels cannot get any easier as this small-sized glucometer simplifies the entire process. The fashionably designed meter bears a screen for displaying the necessary information and has a buttonless design. This virtually painless process provides instant results in a matter of seconds. The box includes the glucometer, lancing device, 10 testing strips, OneTouch Delica Plus lancets, and a card that shows the reference range level for blood sugar.
Features
ColorSure technology
Accurate results
One-touch usage
Automatic adjustment
This glucometer by Arkray is a blend of precision and portability. The small cylindrical device is easy to use and has a small screen that displays blood-sugar related information. The 2 navigation buttons on the device make it convenient to operate it. The state-of-the-art lancing device provides for a painless experience. This kit includes the glucometer, a lancing device, and 20 testing strips for quick and accurate results.
Features
Auto coding
Result flagging
Mobile app for regular review
Adjustable lancing device
Are you looking to purchase a reliable glucometer offering expert results? If yes, this one from AccuSure is worth considering. The portable design and navigation buttons make it convenient and user-friendly. The test results stored on the device can also be accessed on a PC, making it easier to keep track of regular results. A tiny blood sample of 0.5 microlitres is required for testing. Once testing has been completed the strip can be ejected at the press of a button. The company offers a lifetime warranty on this glucometer.
Features
Test light indicator
1000 memory space
LCD backlight display
2 presets
Meeting ISO standards and aiding in maintaining the health of thousands of individuals, this ContourPlus Glucometer is a one-stop solution for your glucose level monitoring needs. The advanced technology incorporated into the device eliminates errors and produces quick results. A small blood sample of 0.6 microlitres of blood is required for the blood to be successfully tested. The glucometer is packed with 25 testing strips.
Features
Underfill detection
No coding technology
Clutter-free display
Accurate readings
The Smart Care pen glucometer is rightly named as it is in the shape of a pen and has compact design. This makes it convenient to carry when you're traveling. Each lancet has a removable twist cap to ensure safety. The super-fine lancets draw blood without causing much discomfort. This kit consists of 100 pieces of 30-gauge lancets.
Features
Multi-purpose tool
Adjustable lancets
Medically certified materials
Quick results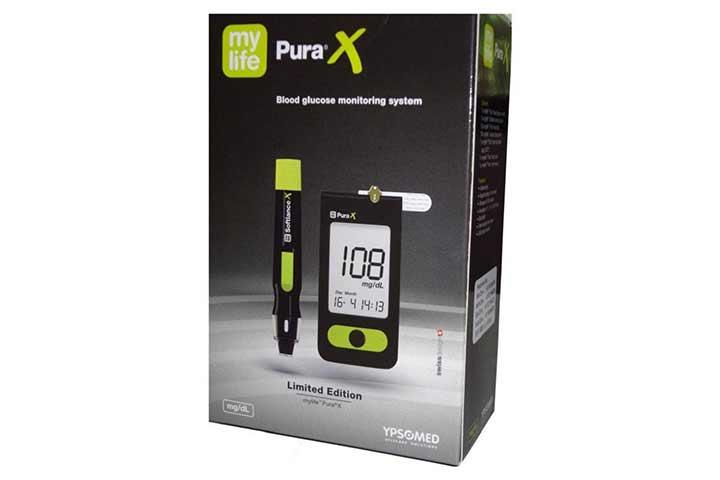 Like most other glucometers, this too has a similar manner of operation. It requires a minimum blood sample of 1.5 microlitres to be placed on the testing strips provided in the kit. The kit includes the lancing device that is not only simple to use but ensures a painless experience. Along with the device, the company includes 10 free testing strips, disposable lancets, a user manual, and a carry case.
Features
Auto coding
350 memory space
Backlight LCD
10-second testing time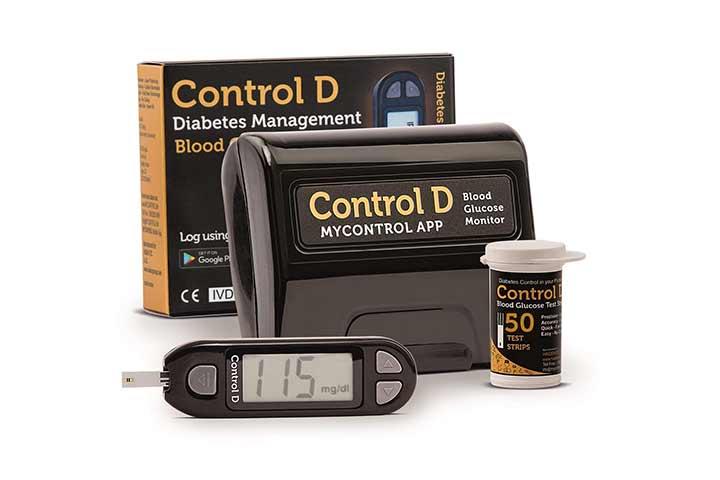 The slim and small glucometer features the necessary information that any diabetic needs. The device has buttons for navigation and is easy to use. The testing methodology is quite simple and requires you to draw blood through the lancets included in the kit. A minimum blood sample of 0.5 microlitres is needed for reliable testing. Once the testing strips are inserted into the device and blood is placed on the testing kit, the glucometer fires up and displays a precise reading. 50 test strips have been provided in this kit.
Features
Adjustable lancets
Accurate readings
No coding
Fast results
Have you decided which glucometer to purchase? If you have, hold your horses as there's a little more you need to know before you make that important decision. Here are a few things that you need to bear in mind when purchasing a glucometer.
How To Choose The Right Glucometer In India?
This will depend upon the quality of the glucometer and the testing strips. It's best to invest in one that has been clinically tested and approved. Most blood sugar home kits are expected to vary from 10 to 15% on average. However, anything more than that, and the accuracy of the test is compromised. To reduce errors in testing, a glucometer that uses automatic coding is preferable.
While testing time may only take a few seconds, it can become cumbersome for those who are on insulin and are recommended to test their sugar levels several times a day. Some glucometers that provide detailed information take a little longer than a couple of seconds and are tedious to use numerous times a day. It is best to purchase the one that takes the least amount of time.
This refers to the amount of blood required on the testing strip for an accurate result. Many detest the sight of blood while some are sensitive to the continuous pricking of the finger. Keeping this in mind, it is desirable to purchase a glucometer that requires less than 1 micrometer of blood per test. It also reduces the chances of wastage and spillage that takes place when placing more than a microlitre of blood on a testing strip.
It's widely known that blood sugar levels tend to rise and fall throughout the day based on the tasks you are performing. These sudden changes need to be recorded. Markers or flags allow you to record the time that the reading was taken. This becomes crucial in blood sugar monitoring. Therefore, getting a glucometer with the markers feature becomes important.
Some glucometers are equipped with a memory chip. This allows one to store blood sugar readings from various tests so that they can be accessed at a later date. Blood sugar devices that incorporate this feature prove to be time savers as they eliminate the need for manually recording the results of tests. A few glucometers even allow you to share the stored information directly with your physician or download the data through a computer.
Having a glucometer that displays test result data is crucial because what's the use of doing the test if you can't see the results, right? That's why it is so important to purchase a glucometer with a display that is large enough to view all the displayed data.
Glucometers come with either rechargeable or changeable batteries. The ones that include changeable batteries require the batteries to be changed after five hundred tests or so. While that isn't a bad deal, buying one with rechargeable batteries will be a better alternative. When it comes down to the choice of battery, it's more of a personal preference.
Frequently Asked Questions
1. How accurate blood glucose meters are?
According to the FDA, most blood glucose meters are 95% accurate within 15% of all readings and 99% accurate within 20% of all readings. Simply put, while they may show a slight variation, the difference will be between 15 to 20% at the most. This is enough to give one an accurate enough reading of their blood sugar levels.
2. Can we reuse glucometer lancets and test strips?
While lancets can be reused if disinfected and stored well, their lifespan is also limited. This is because the lancet will at some point in time become dull and will require a lot of force to draw blood. This could lead to a painful experience. Test strips should not be reused and a new one should be used for each test. Reusing test strips may lead to inaccurate results.
3. How often should you check blood sugar levels?
This will entirely depend upon the level of severity. For diabetics suffering from type 1 diabetes, a doctor usually recommends testing between 4 to 10 times a day. In the case of type 2 diabetes, testing several times a day is required if you take insulin. However, if one is treated without insulin, testing several times a day or testing daily isn't required.
4. Can 2 different people use the same glucose meter?
While this can be done, it is not advisable. Sharing the same glucose meter exposes individuals to different infections and diseases that are carried by the blood. Avoid sharing a blood sugar meter as it could be the cause of various health hazards. Glucose meters should also be disinfected regularly and stored in a clean place.
A glucometer is a handy device that lets you keep track of your blood sugar levels in the comfort of your home. And if you have diabetes, you will need to use this device several times a day. The best glucometers are portable, compact, easy to use, and provide you with fast and accurate readings. These devices come with good displays and markers and require very little blood sample. When choosing one, ensure it has enough testing strips and lancets, good memory space, and rechargeable batteries. Also, ensure it is compatible with your devices. Get your hands on a reliable kit and reduce the need to visit your healthcare provider constantly.
Recommended Articles: 
The following two tabs change content below.

Lidiya holds a graduation degree in technology from the GITAM University and has over three years of experience in content writing. She uses her writing and strong research skills to bring out the most useful content to her readers. Her product articles on MomJunction reflect her knowledge in technology and present the information that the buyers need to make an...
more