Gold chains make women look classy, fashionable, and stylish. Besides being fashion accessories, gold chains are also believed to increase positive energy, reduce anxiety, and boost immunity. Whether you want to buy a gold chain as an accessory that ups your look or you believe it is good for you, we got you covered. Here, MomJunction lists some of the best gold chains for women to wear every day or to flaunt at parties and weddings.
10 Best Gold Chains


Hollow chains are light in weight and sometimes may look like artificial chains. But this one from LoveBing is different, as it is made of pure gold. Pair the hollow box chain with a pendant or use it as a stand-alone chain, its finely polished look makes it attractive.
Features:
Secured with lobster clasp.
Is sturdy and durable.
Both men and women can wear the chain.
Has a 14k metal stamp.

The twisted rope chain design makes it look attractive and elegant while extending the longevity of the necklace. The white gold chain is available in different lengths and designs that appeal to most women.
Features:
Comes with a 10k gold stamp, which means it is made of 41.6% gold mixed with alloys for strength and durability.
Has a spring-ring clasp.
Nine design and length options to choose from.

The chain is fully made from 14k gold and is not just plated or coated in gold. The round box design helps in establishing strong links in the chain, making it durable and suited for everyday use. Also, the chain is strong enough to be paired with a pendant.
Features:
Crafted and stamped with 14k gold.
Comes with a lobster claw clasp to secure the chain.
Has a shine and is attractive for party wear as well as daily use.

How about a customized chain? If that's what you are looking for, this name pendant chain is worth looking at. It is also ideal for gifting to a loved one or a friend. It is crafted with Singapore chain design and has interlinked segments.
Features:
Has a spring-ring clasp.
Made of 10 Karat gold.
Sturdy and durable.
Customizable up to eight letters.

Look stylish and fashionable with this classic chain! The Figaro design makes the chain strong and durable and can be paired with a charm pendant or worn without one. It is a versatile chain that can be worn daily or on special occasions.
Features:
Is made of 14k gold.
Both men and women can wear it.
Secure the chain with a spring-ring clasp.
Available in seven length options.

This US-Shopsmart chain covers the neck well and makes an excellent piece of jewelry to wear at parties or weddings. The design, with the flat texture, is simple yet elegant enough to give you a royal look. The sturdy design of the chain also makes it durable, long-lasting.
Features:
Secure the chain with lobster clasp.
Flexible chain necklace for women.
Comes with a 10k metal stamp.

If you want an adjustable chain, this one from Rita Stephens is a good pick. The Tree of Life necklace with a pendant is beautifully crafted and comes in a cable chain adjustable design. The attractive gold tree pendant is very attractive, and the uniform cable chain design helps in hassle-free wearing.
Features:
Secure the chain with lobster clasp.
Comes with a 14k metal stamp.
Hypoallergenic and nickel-free.

Enhance your looks with a classy, elegant chain. The thin, rope chain can be a great pick if you want to highlight your locket. Its simple design makes it ideal for everyday use, and the rope design makes it durable.
Features:
Made of 10k gold metal and has a stamp verifying the same.
Secure the chain with a spring-ring clasp.  

The chain is crafted with 14k gold and can be worn alone, or with a lightweight pendant. The cable link style of the gold chain makes it durable and more robust. The beautiful shiny look of the chain makes it attractive.
Features:
The cable link chain comes with a lobster clasp.
Has a polished finish.
You can decrease the size of the chain by adjusting the internal links.
Made of pure gold.

The Wellingsale rope chain has a polished look to grace the gold. The simple yet elegant chain is well crafted to meet the standards of Wellingsale. The Singapore rope chain design makes it stable with even texture.
Features:
Has a 14k metal stamp.
Lobster clasp to make it more secure.
Hassle-free and durable.
Even after exposure to air, the chain does not change its color.
How To Choose The Right Gold Chain For Women?
Karats: Don't get confused when you see 10k, 14k, 16k, 18k, 22k, or 24k while buying a gold chain. Karats are the measuring units for pure alloys. A 24k gold is soft and pure gold. Gold ornaments with fewer karats are mixed with other alloys.
Designs: If you prefer to wear the chain daily, go for anchor, rope, or cable chains. If you want a chain to wear on special occasions, go for a thin snake, wheat, and ball chains. Anchor chains have an interlocking oval design, rope chains look similar to a twisted rope, and cable chains are connected to one another and look identical to iron chains. Box chains are more durable as they are connected with box links.
Strength: Chains in Figaro, cable, and anchor designs have links and are strong as they are joined individually. Though these chains are thicker, they possess the flexibility and do not break, fold, knot, or twist.
Texture: The chain's texture is another important thing to consider when you're shopping for gold chains. Rough-textured chains may cause rashes to the skin. Also, your dress might get ruined because of the rough texture. Smooth textured chains move smoothly along your skin and do not damage your skin or clothes.
Thickness: Consider the thickness of the chain if you want to add pendants to it. Heavy-weight pendants should be restricted to thick chains, while lightweight lockets go well with both thin and thick chains. If heavy-weight pendants are used with a delicate chain, there may be a chance of breakage. Also, delicate chains are more susceptible to getting tangled.
Clasp: The chain you choose needs to have a non-breakable clasp that is easy to secure the chain around the neck. An s-hook catches the clothes and needs to be checked for proper closing. Also, it might slip from the ring. Fishhooks come with a metal ending and an oval box. A toggle clasp works well with heavier chains, while a lobster clasp is a self-closing clap and is more secure when compared to fishhooks and s-hook clasps.
Gold chains add elegance to your attire and last for life. They may be a bit expensive compared to other jewelry, but the investment is worth it for gold lasts a long time. So, make your choices carefully and pick one that you are likely to use often, and one that gives you value for money even years after purchasing.
The following two tabs change content below.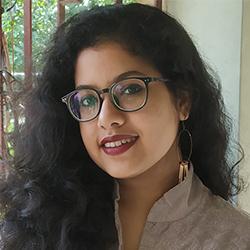 Poulami Nag
Poulami Nag is a writer and associate editor at MomJunction. She did her MA in English from Miranda House, University of Delhi and has qualified UGC-NET. Her journey as a content writer began in 2017 and since then she has garnered diverse interests along the way. Her knowledge of literature and language has given her an eye for detail and...
more