Keeping your granite countertops and stone walls in good shape is essential. Over time, they may get dull, stained, and lifeless, and therefore, finding a good granite and stone cleaner is an essential part of their maintenance. The cleaner not only removes spills and marks but also dissolves stuck-on food, grease, watermarks, etc. It seals and protects the precious stones from discoloration and damage and adds a polished glow. Here are the best granite cleaners that will leave your counters and walls sparkling.

Top Products From Our List
15 Best Granite Cleaners
The Trinova Daily Cleaner works well on stones, including quartz, soapstone, marble, granite, and quartzite. The effective cleanser does not damage or leave the stones dull but cleans the superficial spills and messes as well. It enhances the shine and leaves no residue behind. Providing a mirror-like surface, Trinova can be used to clean Corian, Formica, Silestone, travertine, slate, laminates, and more.
Pros
Non-toxic
Neutral pH
Safe for every stone surface
Enhances shine
Cons
If you are looking for a 2-in-1 cleaner for your kitchen or bathroom slabs, the Black Diamond Granite Plus works as a cleaner and a sealer. Its ready-to-use formula can effectively clean marble, limestone, travertine, and granite by removing coffee, wine, food, and oil spills. The sealer in this formula seals the stones and protects them from absorbing oils and dirt. The cleaner-cum-sealer keeps the counters fresh and sparkling clean.
Pros
pH neutral cleaner
Built-in sealer
No-rinse formula
Hypoallergenic
Cons
May not work well on quartzite
Method Daily offers a plant-based surface cleaner that restores shine to granite, marble, and stone counters. The non-toxic cleaning spray leaves no residue and provides a streak-free gleaming surface. It cleans and polishes the stone tops and is available in fruity scent, Apple Orchard.
Pros
Naturally derived product
Cruelty-free
B-Corporation certified
100% recycled plastic
No harsh chemicals 
Cons
No antibacterial properties
Therapy  is specially formulated for granites, quartz, marble, limestone, slate travertine, terrazzo, and other stone surfaces. The powerful formula dissolves any dirt, grime, oil, or grease within seconds, leaving a sparkling clean, glossy finish. It comes with a premium-quality microfiber towel to spray and wipe away the dirt, giving the counter a fresh, shiny appearance.
Pros
Streak-free and haze-free formula
Plant-based cleaning agent
Non-toxic
Has a pleasant scent
Cons
Might not clean old stains
The water-based formula of StoneTech Revitalizer requires no rinsing. It works for surfaces, including granite, ceramic tiles, slate, and sandstone. The product cleans everyday messes and spills and reinforces the protective layer of your stone slab. 
Pros
Two-in-one formula
Built-in sealer
Neutral pH
Ready to use
Leaves a pleasant citrus fragrance 
Cons
Might not work on slate countertops
With ioSeal technology, Supreme Surface cleans and protects the stone surfaces at the molecular level. The fine mist spray cleans, polishes, and shields the surface from stains, water spots, and mineral deposits. It fends off the damages from UV fading and provides extra protection to your stone counter without any chemicals and toxic smells. The wax-free formula removes grime without leaving any residue. Its simple spray-and-wipe mechanism works great on granite, limestone, travertine, quartz, and marble. It also cleans faucets and fixtures.
Pros
Time-saving
Streak-free
Protective
Reflective 
Cons
Does not clean old stains
CLR brings you an aerosol spray to clean your stone, marble, Corian, tiles and granite surfaces. Specially formulated to clean and offer protection against food, spills, dirt, and grime, you can spray it and wipe it with a dry cloth or paper towel. It can clean and restore shine to the kitchen countertops, fireplaces, bathroom slabs and tiles, headstones, gravestones, or any other stone surfaces.
Pros
Streak-free
Maintains the luster
Cleans and protects in one step
Easy to use 
Cons
May not clean hard water stains
The Saltbox Cleaner And Polish is suitable for granite, quartz, onyx, marbles, and non-porous surfaces. It does not contain any smelly chemicals and instantly cleans your countertops while protecting from further staining. It takes one spray and a wipe to take out dirt, grime, oil, and grease to give your kitchen countertops a protective gloss along with a clean, fresh scent.
Pros
Non-toxic
Solvent-free
Dissolves grease and oil
Two-in-one formula
Cons
May leave some surfaces dull
Bar Keepers cleaner is specially formulated to remove grease, grime, and stains from natural and manufactured stones. You can use it on quartz, soapstone, Silestone, and granite. The spray-and-wipe solution cleans the surfaces without damaging the finish.
Pros
Gentle formula for everyday use
Does not etch or mar the surface
Free of harmful chemicals
Removes the dullness
No heavy scrubbing required 
Cons
Overspraying might steak the stone
The Stainmaster Granite Cleaner works on marble, quartzite, quartz, Corian, laminate, limestone, concrete, and tiles. It removes dirt, grime, and grease from sealed surfaces and protects the stone from further staining due to kitchen spills. The cleanser can remove stuck-on grease, oily smudges, and fingerprints. 
Pros
Easy to use
Fresh and clean scent
Defends against further staining
Food safe
Cons
May leave streaks on some surfaces
Weiman cleaner is specially formulated for natural stone surfaces that have faded and become dull. It provides streak-free cleaning and protects the stones from further staining and deterioration. Suitable for various stone tops, the polish enhances the beauty of the natural rocks. It helps remove watermarks and grease stains and is suitable even for delicate and expensive countertops.
Pros
Specialized formula
Reverses dullness
Chemical-free
Stain-resistant
pH neutral formula
Non-acidic 
Cons
Does not work on glass surfaces
Formulated for deep counter cleaning, Miracle Wipes remove grime, dirt, and stuck-on food from the surface while giving it a protective coat. The pH-balanced disinfectant wipes provide a brilliant shine to the slabs. Specially designed for stone surfaces, including granite, quartz, soapstone, and marble, the miracle wipes are gentler than the regular chemical cleaners. They restore the color, sheen, and beauty of your stone counters.
Pros
Disposable
Streak-free polish
Protects stone surfaces
Quick-pull canister
Multiple use 
Cons
Not suitable for wood or porous surfaces
The non-abrasive formula of Rock Doctor removes stains and soils from sealed surfaces and leaves a residue. The solution is safe for stone surfaces, such as Corian, porcelain tiles, Silestone, quartz, marble, travertine, and granite. It restores the lost sheen and luster of the stones and protects the surfaces from further discoloration, dullness, and fading. The spray cleaner penetrates the surface and requires wiping off with a soft cloth.
Pros
Multi-surface cleaner
Streak-free formula
Low pH formula
No chemical odor
Eco-friendly
100% recyclable steel can 
Cons
May not clean stubborn old stains
The food-safe formula of Better Life can be used to clean kitchen slabs and stone tables. It can easily clean and offer a glossy finish to high-end surfaces such as granite, quartz, terrazzo, slate, limestone, Silestone, marble, travertine, soapstone, and concrete. The solvent-free formula protects the surface from further staining and discoloration. It also contains botanical extracts and scented oils and is free of petroleum, VOCs, and alkylphenol surfactants. It is packaged with recyclable materials. 
Pros
SLS-free
Free of synthetic fragrances
Alcohol-free
Free of petroleum solvents
Dye-free
Ether-free
Paraben-free
No animal testing 
Cons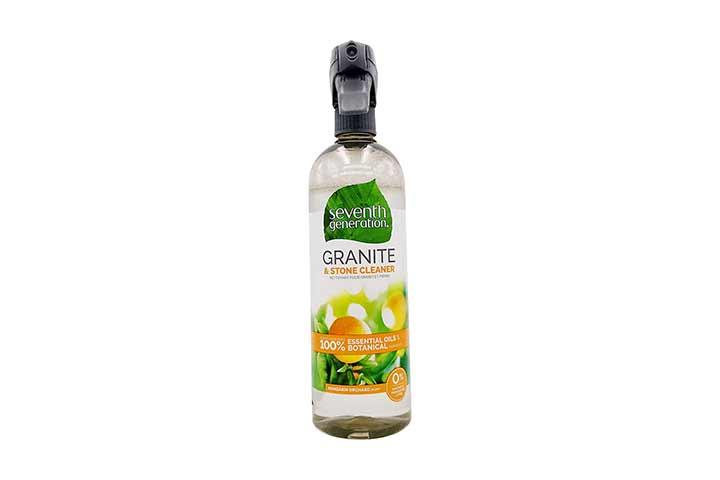 Seventh Generation's septic-free formula comes with a mandarin orange scent derived from botanical extracts and essential oils. The formula is safe for hard, non-porous, and wood-treated surfaces, and does not emit any harmful fumes. It cleans the surface with a simple spray-and-wipe formula and restores shine and a renewed glow to granites and sealed stones.
Pros
Phosphate-free
Bleach-free
Biodegradable
No strong chemical fumes
USDA–certified
Cons
May leave residue on the surface
How To Choose The Right Granite Cleaner?
Here are some features you should consider before buying a granite cleaner.
Sealed or unsealed: Most granite cleaners are suitable for sealed surfaces. In case your granite or other stone tops are unsealed, a liquid cleaner may damage the surface. In that case, you will need to look for a cleaner with a sealer or a separate sealant protector.
Neutral or pH: A high-quality granite cleaner should be neutral pH or pH balanced to give your stone a long life.
Eco-friendly: If you prefer to go the natural way, choose cleaners certified 'green' and made with botanical extracts.
Daily-use cleaners: These cleaners can be used daily and are made of natural or lighter ingredients, and have a pH neutral formula. This prevents damage to your granite or stone countertops, if you intend to clean them every day.
Cleaner+polisher+sealer: The all-in-one formula provides a clean and sparkling look to the counters. A sealer seals the stone so that it does not absorb oils and food-water stains. A polisher will give your countertop a fresh shine and new look.
Frequently Asked Questions
1. Is hydrogen peroxide safe on granite?
Hydrogen peroxide is not harmful when used occasionally. But it may cause etches and dullness to the granite slab and make it susceptible to scratches and stains on regular use.
2.  Does a granite cleaner leave streaks or residue?
Some strong cleaning formulas may leave streaks or residue once dried. It could also happen when an excessive cleaner is used. You should use a microfiber cloth to help eliminate streaks.
Granite cleaners are an essential item for homes and workplaces with granite, marble, quartz, or other expensive stone counters and surfaces. Regular detergents and solutions may leave a hazy film on the surfaces or contain harsh chemicals that destroy the stones over time. Granite cleaners clean, seal, and polish the stones, keeping them hygienic, protected, safe, and glossy. Choose from the above list of the best granite cleaners and give your surfaces the care they deserve.
Recommended Articles: 
The following two tabs change content below.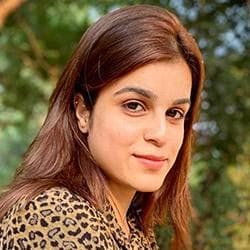 Sakshi John
Sakshi did her graduation in Journalism from the Madras Christian College, Chennai, before starting her career as a freelance writer. She is into blog writing and for MomJunction, she covers various topics, including products to buy for your kitchen, furniture, and other home requirements. Previously, she interned as a content writer in a cyber security firm. As a content writer, Sakshi...
more