If you enjoy grilled food, we have created a list of the best grill presses to help you choose the right one. They are available in round or rectangular shapes compatible with meat or flat food items. These grill presses spread the heat evenly on the food, making them delicious and retaining the rich flavor. They ensure the meat remains flat and doesn't curl up while grilling and keep the food close to the heat source. So, if you wish to upgrade your backyard barbecue setup, a grill press can be a good addition. So, explore our list to learn more about the various available options and choose one that suits your needs.
11 Best Grill Presses
A long press that works well with a relatively large skillet. It is heavier, weighing around 2.8lb, and can be used on 12-inch frying grill pans. It lets you press out the unwanted fats and oils from meat or any other food being grilled. The wooden handle offers an ergonomic grip and adds a stylish touch to the press. It can cook two burgers, pork chops, bacon, or hot dogs in place. You could also use it for panini sandwiches or grilled food.
This round grill press, weighing three pounds, looks classic and features a stay-cool handle. It distributes the pressure evenly to trap all the flavors within the food. Constructed from heavy-duty cast iron, it can be seasoned like skillets to make a non-stick surface. Pre-heat the press on a pan, and then apply pressure to the food. It is sized suitably to fit any area you cook in. The handle needs no cooking gloves, and you may lift or press it without any worry. This is not suitable for working with smaller pans.
Known for offering innovative and high-quality cookware, Norpro offers this 8.75-inch round bacon press that can flatten and evenly cook the best cut bacon curl. It is suitable for ham, hamburgers, quesadillas, and grilled sandwiches. The wooden handle stays cool and is safe to touch. This cast iron round grill press measures 8.75×8.75×3.25in and comes with an instruction manual for cleaning and storage.
Lightweight and comfortable to hold, this grill press is an ideal choice for first-time users. The simple design is useful for pressing patties, bacon, and other meats. It features a wooden handle that keeps it cool while cooking, and it is available in two different sizes. It cooks your food evenly and faster and also squeezes out the extra fat to make delicious foods healthy.
The Lodge LGPR3 features a 7.5-inch round surface, which is versatile enough to be used on top of grills and ovens. It offers consistent cooking temperature and speeds up the cooking to make delicious grilled bacon, steak, or other foods. The spiral handle has a cool-grip that is comfortable to hold. It comes pre-seasoned and ready to use. You can wash it easily by hand.
The Victoria barbecue tool is constructed from heavy-duty cast iron and is of high quality. This ready-to-use press with 100% non-GMO flaxseed oil seasoning can be used to cook panini, bacon, burgers, and quesadillas. It measures 8.3×4.4in and weighs 2.15lb, with a textured bottom surface to prevent sliding or slipping while in use. It has a cool-touch handle that is sanded for a comfortable grip. It could also improve the grilling by cutting down the cooking time for thin meats by half an hour.
Made of heavy cast iron, this Charcoal Companion rectangular grill can put impressive grill marks on the food with its raised ridge bottom surface. It locks in the meat moisture, giving juicier and delicious food. It weighs around 2.75lb to press the extra fats and oils from the meats and comes with a cast-iron handle for a comfortable grip. It measures 8.75x 4.5in and can be used on flat top cook surfaces or grill plates.
This hamburger patty maker and grill press measures 4.6 inches and gives you the perfect patties with no cracked or broken edges. The grill marks allow even heat distribution while making burgers. The mold is constructed from tough but lightweight aluminum, which is sturdier than plastic molds. It is easy to use, clean and is dishwasher-safe. You can stuff your hamburger with any kind of vegetable, cheese, and topping and press with this to make delicious patties.
The GadgetWiz grill press can be used on many surfaces, including grills, griddles, and even electric induction or gas stoves. The enamel coating on this durable press needs no seasoning, making it easier to use. There is no need to worry about rust formation or material contamination with food. You can use a dishwashing soap for cleaning and leave it to dry after washing. The wooden handle comes with a stylish touch-cool feature, so there is no need for cooking gloves.
The Jim Beam cast-iron press with a stainless steel handle could be an addition to your classy kitchen interiors. It is available with pre-seasoned vegetable oil and is ready for use. You can cook all kinds of meat, like pork, beef, chicken, and fish. It can be used to prepare seafood, hamburgers, steak, and also vegetables. The spiral steel handle stays cool and is comfortable to hold while pressing. It can be hand-washed and is easy to clean.
The stainless steel grill press could be an ideal solution for grilling or frying thicker cuts of steak or patties. You can enjoy healthily cooked meats thanks to its even heat penetration effect. The red silicone handle remains cool and can resist heat up to 230°C (450°F), to give you comfortable cooking experience. It is made of high quality 18 / 8 stainless steel that is sturdy and durable for long term use. It measures 4×7.5in and is designed to speed up the grilling process. You may use it for cooking sausages, bacon, burgers, and hash browns. This grill press also features a stylish and unique design.
How To Choose The Best Grill Press?
Here are a few aspects to keep in mind while planning to purchase a grill press.
Press material: Most grill presses are made of cast iron, which is better at retaining heat and searing the top of the foods deeper when compared to stainless steel. A stainless steel press is a good option, too, as it does not require maintenance, and is easier to clean up.
Weight: The grill press should weigh at least a pound, and anything less would not give satisfactory results. Ideally, it should weigh somewhere between 1.5lb and 2.5lb.
Handle: The handle should be either wooden or silicone, as they do not absorb the heat. They are more comfortable to hold and give a proper grip. Also, the handle should ideally be placed high above the press.
Ease of wash: Go for a grill press that is plain and simple so that it does not collect dirt or grime in the corners, thus making it easy to wash.
Know what type of press is best for the grilled foods you intend to prepare. Compare the features and prices to buy the top grill press. The above list and the buying guide should help you make the selection process manageable.
Recommended Articles: 
The following two tabs change content below.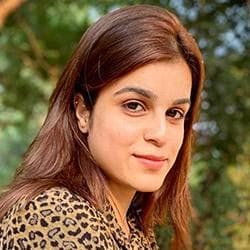 Sakshi John
Sakshi did her graduation in Journalism from the Madras Christian College, Chennai, before starting her career as a freelance writer. She is into blog writing and for MomJunction, she covers various topics, including products to buy for your kitchen, furniture, and other home requirements. Previously, she interned as a content writer in a cyber security firm. As a content writer, Sakshi...
more