Sitting on your bed to practice the guitar for long hours is not great for your posture. That's why you need the best guitar chairs and stools to be comfortable in your creative space. Playing the guitar is as much about the performance as it is about the music, and a comfortable guitar stool or chair can make all the difference to your performance.
Good-quality guitar chairs and stools are adjustable and lightweight and have a padded seat for extra support. So, whether you're new to the instrument or a frequent performer, the guitar chairs and stools we have listed here will allow you to make the most of your practice hours.
11 Best Guitar Chairs And Stools In 2021
This modular Torin Swivel Bar stool features heavy-duty, durable components. The stool is made using premium quality stainless steel and can easily handle weight up to 250 lbs. This 29 inches tall stool comes with a soft padded cushion. The seat of the stool is 14.5 inches in diameter and is filled with high-density foam. The best thing about the stool is that the top swivels 360 degrees for better accessibility.
Pros
Ball bearings offer smooth movement
Anti-slip protective caps
Professional after-sale services
Chrome-plated steel frame for footrest
Easy and quick assembly
Cons
Fabric quality may not be up to the mark.
Here is an ergonomic guitar chair for guitarists who look for durability and comfort in a chair. Gator Frameworks Guitar Seat with Padded Cushion features a high-quality, sturdy, padded seat with a removable backrest. The chair also features a guitar stand (fold-out) that can hold electric as well as acoustic guitars. Plus, this chair has a convenient footrest for you to perform with ease. 
Pros
Collapsible design and construction
Easy to store
Contoured cradle
300 lbs weight capacity
Easy to assemble
Built-in safety pin for stability
Cons
Some may find the chair too tall.
Bar stools with back support are excellent for guitar lovers who spend a lot of time practicing. This Pneumatic Swivel bar stool comes with back support and features a durable steel tubing frame with a bright black powder-coated finish. Plus, the seat is furnished with foam padding and leather cover for style and durability. The seat swivels 360 degrees with a quick movement. 
Pros
Adjustable from 26 inches to 30 inches
Seat diameter is of 14inches
Pre-assembled wide foot stool
Weight capacity of 300 lbs
Doesn't make any noise 
Cons
The casters may lock up too-often, obstructing movement.
If you are looking for a highly adjustable guitar seat, this Quick Lok Musician seat is the one for you. The height, footrest, and backrest of this seat are adjustable. The stool is built well and is packed with a great padded seat for extra comfort. Plus, when you lean forward or backward, the seat tips forward easily. It's lightweight and compact and easy to stow away when not in use. 
Pros
Collapsible design
Comfortable for long hours
Anti-slip and durable legs
Sturdy design
Wide seat with soft padding
Cons
You may find the backrest, small.
Here is one of the most versatile and heavy-duty guitar chairs that offers maximum comfort regardless of the venue. The chair is engineered with a small and soft backrest along with a padded, wide seat. What makes this chair more impressive is its height adjustment feature. You can adjust the height of the backrest, footrest, and seat for a comfortable playing experience.
Pros
Offers wide footrest for support
Slim frame design
Easily assembly and foldable
Heavy-duty metal construction
Tear-resistant seat
Storage and transportation are easy. 
Cons
You may find seat padding hard and uncomfortable.
If you prefer a large and roomy seat, this chair is the ideal option. The chair features a bike style seat and an ergonomic backrest. The seat can be easily adjusted from 20 inches to 28 inches and offers plenty of legroom. The chair also comes with a super-lock seat fastening system and a memory lock height adjustment feature to provide a secure and relaxing experience.
Pros
Double-braced leg base
Anti-slip seat fabric
Lightweight and portable
Sturdy design and solid build.
Ideal guitar chair for back pain.
Rubber feet offer a secure and solid foundation.
Cons
Doesn't come with a footrest.
Nothing is more comfortable and functional than a guitar stool with wheels. The wheels allow you to maneuver anywhere in the room with the utmost comfort. This durable stool features a seat with a puffed stitch that makes the seat more cushiony and stylish. Plus, the stool features shiny chrome-based wheel covers for a classy look. The seat is 15 inches in diameter and, thus, is broad and convenient for long hours.  
Pros
Supports 300 lbs weight
Adjustable from 20 inches to 27 inches
360 swivel rotating stool
Lightweight and storage-friendly
Wheels move quickly over tiles and wood flooring
Cons
Makes a creaky sound while sitting.
This guitar throne offers flexible and enjoyable hours of practice sessions. The chair can be assembled easily and comes with an adjustable backrest. The 12 inches vinyl seat comes with padding to avoid any discomfort while sitting. The chair is designed for versatility and, thus, comes with a height-adjustment feature. 
Pros
Comfortable and easy to clean seat
Comes with a convenient footrest
High-quality faux leather seat
Braced and sturdy legs
Capability to hold 240 pounds weight..
Easy to assemble and store
Cons
Some may find the seat a little narrow.
This guitar chair comes with 5 adjustment levels from 19 inches to 33 inches for you to sit with ease while playing. The chair allows you to sit comfortably without applying any pressure on your legs and back. This seat comes with a soft padded seat with removable and adjustable backrest.  
Pros
Supports up to 300 lbs weight
Footrest offers knee-support
Professional and sleek design
Sturdy construction
Foldable and portable
Cons
Some may find the seat pad thin.
This foldable stool features an industrial design and comes with a wide and comfortable seat for better posture. The foldable design makes it easy to store and pack the stool. If you have compact storage areas, you can fold the stool and accommodate it quickly. The stool doesn't have extra thick cushioning but still feels soft. The legs of the stool are made using heavy-duty iron and come with an anti-slip base. 
Pros
Comes with a metal bar footrest
Features in-built guitar stand
2 inches seat diameter and 25.4 inches tall in height
Elastic straps to hold the guitar
Easy to clean and lightweight
Cons
May not work on uneven surfaces.
Footrest bar is small
The collapsible design of this stool makes it a storage-friendly, portable tool. The stool features an ergonomic and highly functional guitar stand to hold the guitar when you are not playing it. The stool features a cushioned seat with soft padding and an inbuilt-footrest for added comfort. The protective Eva-foam protects your guitar from damage and holds it securely. 
Pros
Non-slip rubber feet
Cradle and yoke with detachable latch
Assembly is not required
Weight capacity of up to 300 lbs
Stylish black coated finish
Occupies little space
Cons
You may find loosely fastened screws.
We have discussed some of the best guitar stools which you can buy as per your budget. Now, it's the time to guide you on how you can choose the best guitar stool out of several options.
How To Choose The Best Chair For Playing Guitar
If you want a practical and efficient guitar stool or chair, here are the things you need to keep in mind:
1. Height
The best chair is the one that makes your feet touch the floor easily. However, these days you can find chairs and stools with adjustable seat height. These models offer flexibility and will prevent your feet from fatigue and pressure. Thus, consider the chait with an appropriate height. 
2. Seat padding
Guitar chairs are used for hours, and thus, the seat needs to be cushiony and soft. It is advised to choose a guitar chair that features a thick and cushioned seat. Such chairs are ideal if you want to play without worrying about pain due to long seating. Ideally, the best chair for guitarists would be the one with good quality seat padding that does not flat out in due course of time.
3. High-quality materials
A well-built chair is ideal and safe, so look for the chairs or stools that are made using quality materials. Most of the stools have legs made of high-quality metals to withstand the weight of the user. Also, look for the stools that have a seat with high-quality foam padding and a sturdy leather cover.
4. Backrests and footrests
A stool with a backrest and footrest is a great choice if you want added comfort while playing. There are plenty of models that feature a removable and adjustable backrest. So you can easily lean back and relax when you are no longer playing. Plus, the models with a broad footrest are also great and support superb posture, especially if you are tall.
Benefits Of A Guitar Stool
If you are wondering how a guitar stool can benefit you, here are some advantages of a guitar stool that'll change your mind.
1. Guitar stool offers more comfort
You'll feel fatigued if you sit in a straight position for hours without any support. The guitar stools and chairs help you to sit in a comfortable position and play guitar with ease. The cushioned and padded seats and a versatile backrest make the stool even more worthy.
2. Long-playing hours
If you want to become professional guitarists, you will require a lot of practice. When you have a comfortable and relaxed chair, you'll be able to play longer and learn efficiently.
3. Easily portable
The guitar stools can be carried to different venues, so if you are playing at a bar or want to practice at your classes, you'll be able to carry the stool with you. Most of the guitar stools are lightweight and compact. Thus, just fold your stool and carry it wherever you are going to play.
Effects Of Bad Posture For Guitar Players
Professional guitarists and practitioners play guitar for hours at a time, and repeating this procedure for months and years can hurt the back and cause injuries. This is the reason why posture is crucial for playing guitar. When you play the guitar comfortably, it'll prevent the risk of injuries. Thus, looking for comfortable chairs for playing guitar will be a good choice which can help you maintain a healthy posture while playing.
A guitar chair or stool is an essential accessory for guitarists. These chairs prevent long-term injuries and exhaustion. Thus, choose a high-quality chair for guitar practice with a comfortable seat, good quality padding material, and adjustable height. With the right guitar chair, you will be able to play your instrument comfortably and ace it!
Frequently questioned answers
1. Why is it important to maintain the right posture when playing guitar? 
When you play for hours in an uncomfortable position, your back will ache, and you'll feel fatigued. This is because a poor posture will strain your muscles. This is why you need a high-standard chair that comes with a padded seat, a backrest, and footrest for maintaining good posture.
2. Do I need a guitar chair or stool? 
A dedicated guitar chair for guitar players is highly recommended. These chairs offer back support, leg support, maneuverability, relaxation, and much more for those who play guitar for hours. Thus if you are passionate about playing the guitar, you need a guitar chair to play it peacefully.
3. How are a guitar chair and ordinary chair different? 
The design of a guitar chair is way different than that of a regular chair. The guitar chairs do not have armrests and offer more flexibility. Chairs for guitar practice have a soft padded seat and are adjustable on lumbar and upper front. Some chairs or stools have wheels and can swing or rotate easily.
4. Does the size of a guitar stool depend on the guitar size? 
No. The size of the chair should be as per the size of the player and not the guitar. Short guitarists choose short stools while tall guitarists may choose taller chairs. In fact, most of the stools these days come with the height-adjustment feature, so all artists can use them easily.
5. Is it better to play sitting or standing? 
If you are playing guitar for a short while, you can play in a standing position. But, if you are playing the guitar for long hours, standing will hurt your legs and back. Thus, it is recommended to sit on a guitar chair and play.
6. How to choose the right height for my guitar stool? 
For proper guitar playing, pick a stool that allows your feet to rest comfortably on the floor. If the stool of your height is not available, you could opt for a stool with adjustable height. These are versatile chairs and will offer a good amount of flexibility.
Recommended Articles: 
The following two tabs change content below.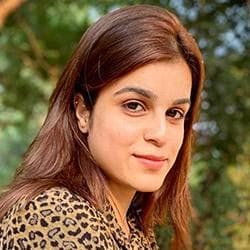 Sakshi John
Sakshi did her graduation in Journalism from the Madras Christian College, Chennai, before starting her career as a freelance writer. She is into blog writing and for MomJunction, she covers various topics, including products to buy for your kitchen, furniture, and other home requirements. Previously, she interned as a content writer in a cyber security firm. As a content writer, Sakshi...
more