Gummy vitamins resemble gummy candies in texture and taste and are available in different colors, fun shapes, and delicious flavors. Kids and adults equally love these chewable vitamins. Rich in minerals, vitamins, and various other nutrients, they make yummy multivitamin supplements for those who may not be comfortable swallowing pills.
If your child is a picky eater who doesn't eat enough to meet the body's nutrient needs, you can include gummy vitamins in the diet. These vitamin supplements for kids are formulated, keeping in mind the daily needs of children. However, these gummies do not entirely fulfill the daily nutritional requirement of children and are only alternatives. You should consult the pediatrician before buying a nutritional supplement for your child.
This post lists some of the best gummy vitamins for kids that appeal and meet their growing bodies' nutrient needs.
11 Best Gummy Vitamins for Kids
The products listed in this post are for informational purposes only. The benefits mentioned are claimed by the manufacturer, and MomJunction does not hold any liability for the effectiveness of these products. We suggest that you consult a pediatrician before trying any formula.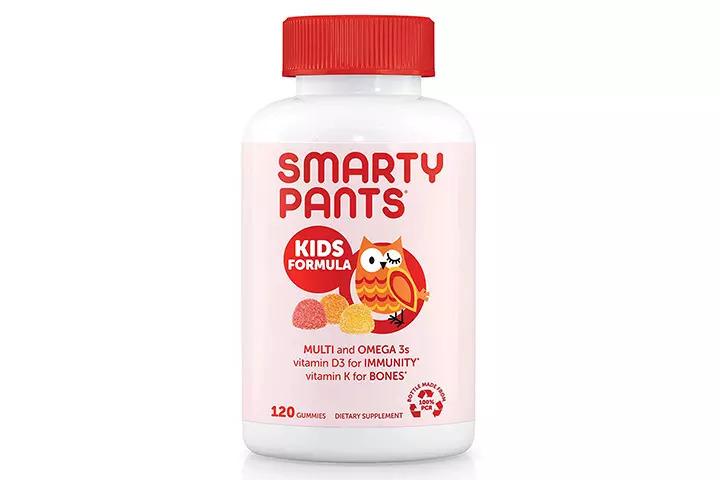 The SmartyPants gummy vitamins contain a wide range of essential vitamins and no artificial sweeteners or flavors. They are a perfect combination of taste and nutrients that children would never say no to. These contain beta carotene, vitamin K2, B6, and choline, among other nutrients known to fulfill the daily vitamin needs of children aged four years and above.
Features
Rich in 15 essential vitamins for immunity and bone development
Include essential fatty acids such as omega-3 EPA and DHA
Sourced from wild-caught small fish
Non-GMO formulation
Don't require refrigeration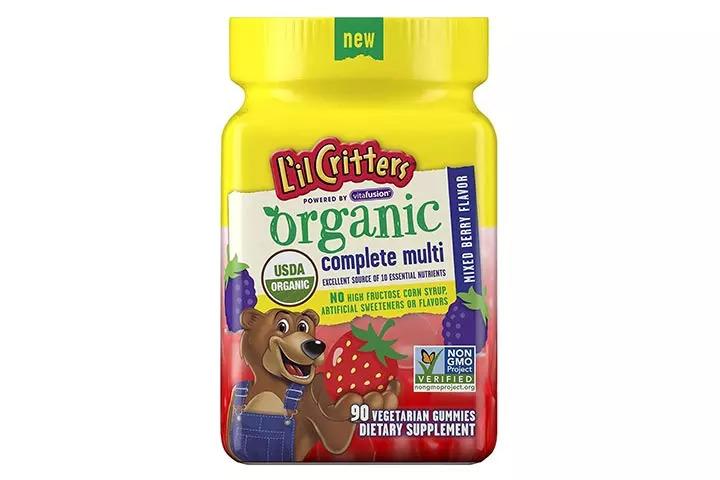 The organic gummy vitamins for children are a mix of necessary vitamins that are free from gluten, dairy, food dyes, artificial flavors, and colors. Curated for healthy growth and development of children, they are rich in vitamins that empower bone and teeth and boost immunity.
Features
Non-GMO verified
Delicious mixed berry flavor
Contain certified organic ingredients
Combo of essential vitamins—A, B12, B6, C, D, and E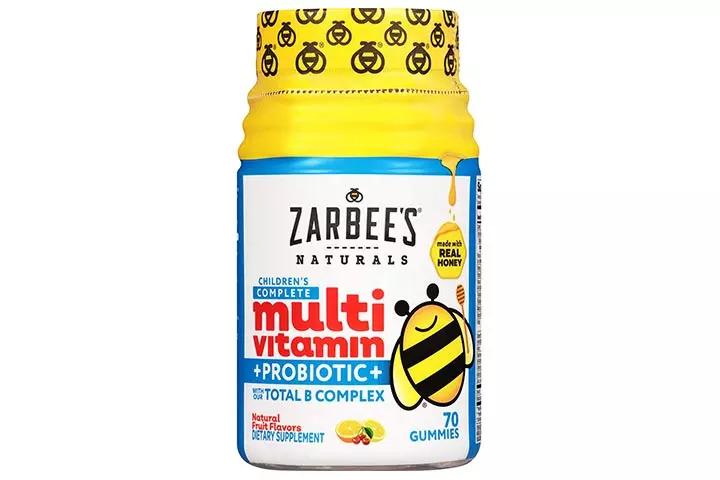 Fulfill your child's nutritional needs with these gummy supplements that are a combination of multivitamins and Bacillus Coagulan probiotic. These gummies are known to be ideal for the overall growth and development of children. Induced with the real honey's sweetness, they are free from gluten, corn syrup, and artificial colors and flavors.
Features
Vegetarian and easy-to-chew
Rich in vitamin A, C, D3, E, B12, B6, folic acid, and B-complex
Made with elderberry, dark honey, and agave
Suitable for children aged two years and above
Curated for better intestinal health
Contain pectin, a vegetarian gelling agent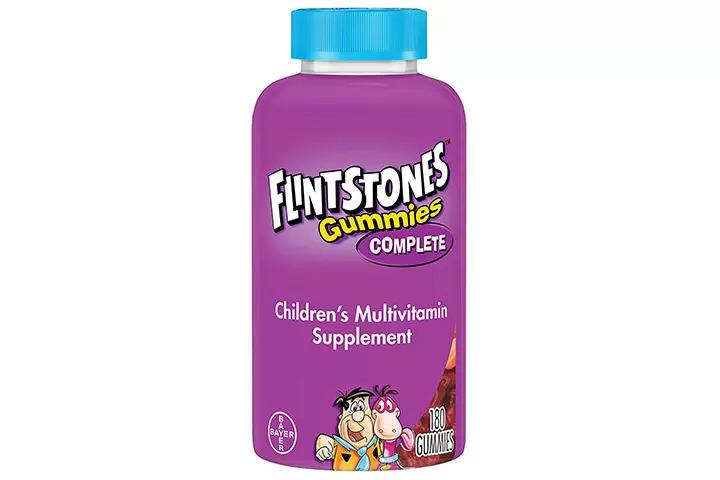 Loaded with essential vitamins, these are among the best gummy vitamins that offer strong nutritional support to children. These multivitamins make reliable supplements for toddlers, children, and teens. The fun Flintstone character-shaped gummies are free from dairy, egg allergen, high fructose, and aspartame.
Features
Contain 11 key ingredients, including vitamin A, B6, B12, C, D, E, folic acid, and zinc
Immune health, energy, and bone support
Designed for better eye health
Available in cherry, strawberry, and orange flavors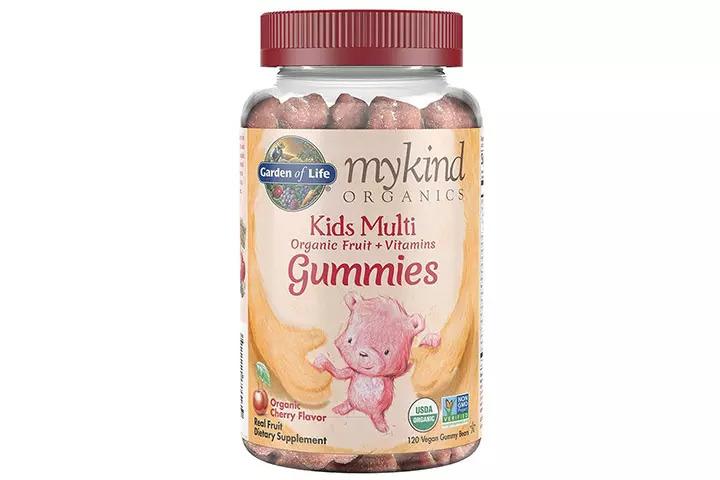 The children's gummy vitamins are packed with nine organic whole fruits. This vitamin formulation provides antioxidants and nutrients for the kid's overall health. With no candy ingredients, these make the most delicious and best gummy vitamins for children that can be equally enjoyed by adults.
Features
Vegan and non-GMO
Free from synthetic ingredients, flavors, and colors
Free from gelatin and cornstarch
Involve no animal testing
Available in fruit and cherry flavors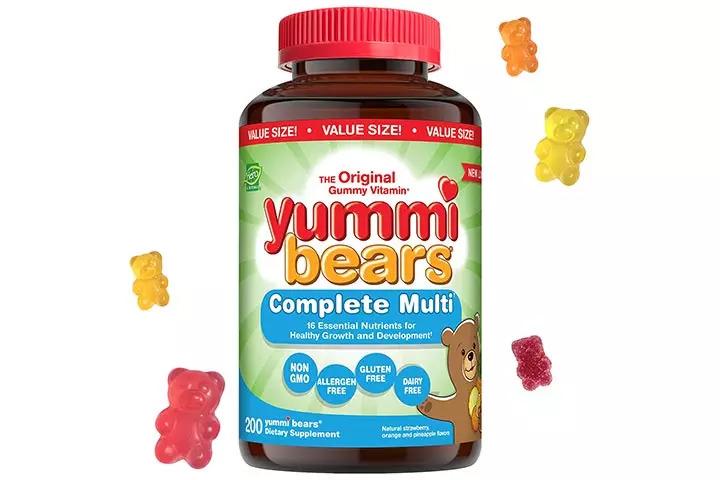 The Yummi Bears vitamin supplementations are induced with the delicious taste of fruits and B-complex vitamins for healthy conversion of food into energy. A bottle with 200 gummy bears is packed with vitamins, biotin, and zinc, known for promoting better skin and health. You can give this high-potency formula, including vitamin A, C, and E plus antioxidants, to your children for enhanced health.
Features
Comprise 16 essential vitamins
Contain natural flavors of orange, pineapple, and strawberry
Free of gluten, allergen, and dairy
Do not contain artificial colors and sweeteners
Non-GMO composition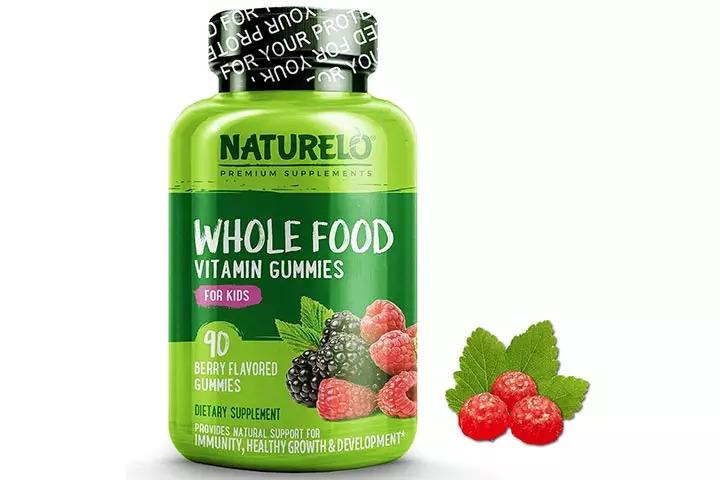 The Naturelo gummies are loaded with natural ingredients and raspberry, blueberry, pomegranate, and orange extracts to offer taste and nutrients. A wholesome combination of 14 essential minerals and 13 vitamins is made to take care of children's overall growth and development.
Features
90 vegan and non-GMO gummies
Contain natural stevia leaf extract
Free from synthetic ingredients
Rich in vitamins and phytonutrients
Vitamin A, C, D, E, B12, and folate, iodine, calcium, and zinc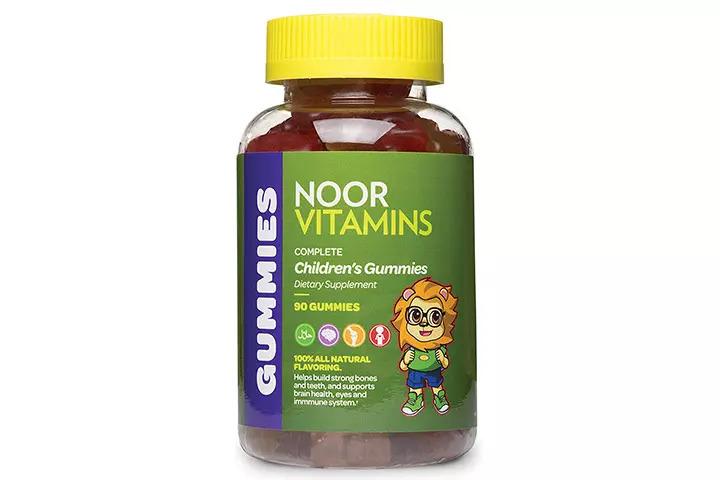 Formulated for children aged two years and above, the Noor Vitamins gummies are clean and free from gluten, nuts, dairy, allergen, and other artificial ingredients. One bottle includes 90 gummies, and they are known to offer better growth and immunity. The brand claims it has a scientific combination to take care of the nutritional needs of kids.
Features
Loaded with vitamin A, C, E, D, and B
Made with natural flavors of strawberry and orange
Help empower bone and teeth
Support blood health and immunity
FDA-certified and non-GMO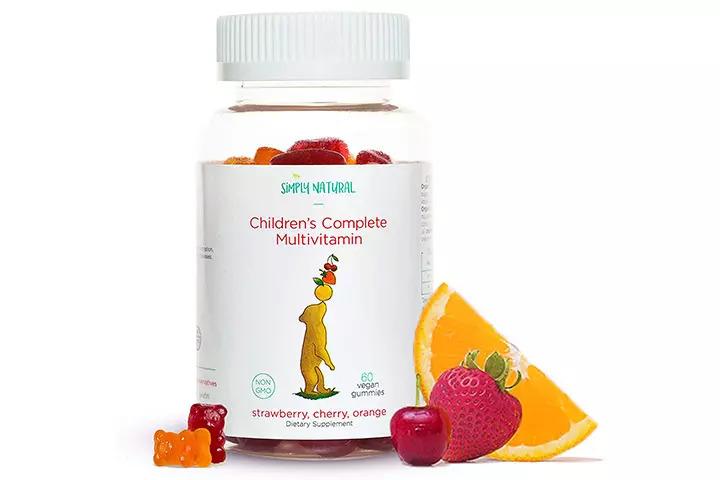 Made with natural ingredients, these multivitamin gummies are low on sugar and high on vitamins and minerals. These chewable gummies contain vegetarian-friendly pectin and organic tapioca syrup. With no gelatin and gluten, these gummies are perfect supplements for children aged two years and above.
Features
Formula with 13 vitamins and minerals
Designed for bone and eye health
Helps boost immunity
Contains folic acid to support blood cells
GMP-certified formulation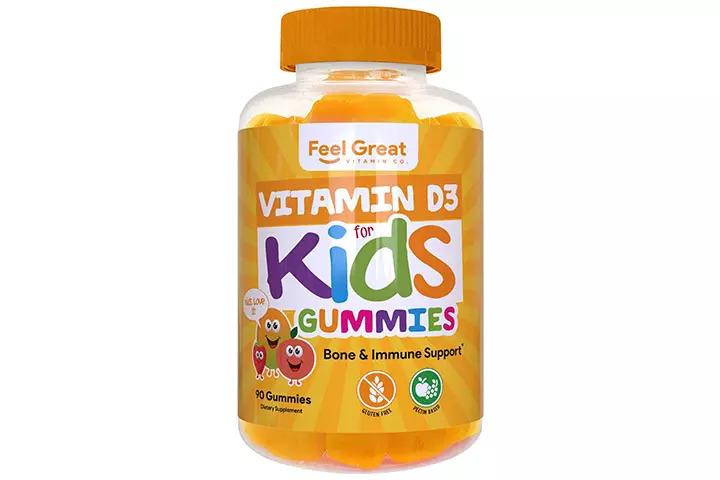 Give your children a daily dose of vitamins and nutrients with these delicious chewable gummies formulated for better health and immunity. These advanced supplements contain pectin and goodness of orange, peach, and strawberry flavors, which children love. One bottle contains 90 gummies, ideal for 45 days.
Features
GMP-certified
Rich in vitamin D
Gluten-, GMO- and dairy-free
Support brain health and immunity
Regulate mood and sleep patterns

The Garden of Life gummies are packed with vitamin C, D, and zinc, keeping in mind the seasonal immune changes in children. With no gelatin or high fructose corn syrups, these sugar-free, organic, and delicious immune gummies have cherry flavor and are free from harmful additives.
Features:
Contain no gelatin or artificial flavors
Made with non-GMO citrus pectin
Sweetened with organic monk fruit extract
Support overall development
How To Choose The Right Gummy Vitamins For Children?
If you want to select the right gummy vitamins for kids, here are some points that can help you.
Identify nutritional needs: Talk to the pediatrician to find out about the child's dietary needs. Some kids may need more of certain vitamins and minerals, while others may need a regular dose of all. The dietary requirements can be identified after a thorough nutritional checkup.
Look for allergies: Some children are allergic to specific elements, such as gluten, nuts, eggs, or dairy. Find out your child's sensitiveness and buy the gummies without such ingredients.
Composition: Read the gummies' composition to know what vitamins and minerals are included and ensure they are made with premium-quality natural ingredients.
Flavors: You can find fruity flavored gummies, including cherry, strawberry, and orange, to name a few. Choose the one your child likes the most.
Artificial ingredients: Do not go for gummy vitamins that include artificial flavors and colors as they are not healthy for a child.
Consult a specialist: It is always a good idea to consult a specialist or a pediatrician to know if you can give to your child multivitamin gummies. Remember that gummy vitamins are only nutritional supplements, you cannot depend entirely on them for your child's health.
Parents are always worried about their children's nutritional needs, especially when they do not eat well. In such a scenario, gummy vitamins can be used to meet the nutritional requirements not fulfilled by the regular diet after a doctor's consultation. These gummies are delicious, easy to chew, and rich in different minerals and vitamins, known to support children's overall growth and development, making them ideal supplements for children.
Recommended Articles: