If you want to plan a princess party for your little princess, you have to consider getting her more than her outfit. You can enhance her appearance with hair accessories that alter her entire appearance. The best hair clips for girls are accessories you can use to deck your little one. Whether it's for school, a party, or a picnic, you can choose from the various patterns and designs available on the market.
We present a range of hair clips with features that make your purchase easier. They can go well with any outfit and for any party.
15 Best Hair Clips For Girls
Hair clips can be elegant, cute, jazzy, or plain, but they can change the little girl's overall look just like that! Here is a list covering them all, so that you can pick what is best for your girl.
The tiny bow hair clips from Ruyaa are elegantly designed for infants and toddlers. These hair clips are available in assorted colors and are the perfect hair accessories to wear on birthdays or other occasions. The clips are well designed and hold the hair together well.
Pros
Made from high-quality grosgrain ribbon
Non-slippy clip
Clip wrapped in soft fabric
No sharp edges
Cons
Might rust if exposed to too much water
The brooch flower hair clips from QandSweet make a perfect hair accessory for any special occasion. It comes in a pack of assorted colors that match with almost all the outfits your little princess has.
Pros
Handmade flower bows
Easy to attach and holds the hair throughout the day
Can be attached to woven headbands
Good-quality material
Cons
Flowers might fall off with fidgeting
This assorted pack of pinwheel hair bow clips from Babymatch is beautiful and available in 20 different colors. They go well with almost all the attires and are perfect for daily wear as well as special occasions. They can be used by little girls and even teens.
Pros
Handmade with grosgrain ribbon
Holds the hair firmly
Ribbon ends are heat-sealed
Made from high-quality material
Cons
Ends might fray over time
Might have sharp edges
It is a set of 40 bow-shaped hair clips in a variety of colors to match most of your little one's outfits. The design is very cute and goes perfectly with casual or party dresses. It offers a great look if worn on a ponytail or clipped on the sides of the head.
Pros
Handmade grosgrain ribbon
3 inches of bow attached to 1.77 inches of alligator clips with teeth
Holds the hair firmly
High-quality product
Cons
Metal clip might be slightly sharp
These simple, but colorful clips can be used every day or occasionally. They come in pairs and go well with casual outfits like shorts and tops, frocks or jeans and tees. The colors are not too bright but add to the little girl's cuteness.
Pros
An assorted pack of 20 bow-shaped alligator clips
Handmade
Comfortable to wear
Plain design for daily wear
Cons
Might be slightly big for short hair
The butterfly hair clip pair from Gejoy comes in a pack of eight pairs of assorted colors. Each pair is beautifully designed to match a child's outfits perfectly. Let your princess wear it with her desired hairstyle and flaunt stylishly.
Pros
Colorful wings and shimmering butterfly body
Wings are made of fabric
High-quality metal clips and are lightweight
Cannot rip or break easily
Cons
Might not be true to size
Butterflies might cause tangling
It is a pack of 10 handmade clips in floral design, attached to non-slip and lined prong clips. It holds the hair firmly but gently and gives an adorable look when worn on a ponytail or the sides of the head.
Pros
Skin-friendly fabric
Handmade design
Does not slip off the hair easily
High-quality hair clips
Cons
Might not be suitable for thicker hair
Can be hard to clip
It is a pack of 40 assorted hair bow clips that go perfectly with any hairstyle. These boutique ribbon hair bow clips match every outfit that your princess wears. It is a great hair accessory to pull off an adorable look for your daughter.
Pros
High-quality grosgrain ribbon
Ends are heat-sealed to prevent fraying
Properly holds even thin hair
Easy and comfortable to use
Cons
Metal fastener might clamp too tight
Add some colors to your little one's hair clip collection with the Ceelgon hair bows. Available in ten colors, these classic bow clips are large-sized. You can style your child's outfits by adding these hair accessories while also ensuring their hair is never unruly.
Pros
Made of high-quality velvet fabric
Suitable for children and adults
High-quality alligator teeth to keep them in place
Suitable for both thick and thin hair
Cons
Bows may not be properly glued to the clips
Some may find the bows a tad too shiny
It is a pack of 36 pairs of clips in assorted colors and designs. These snap-close hair clips are easy to wear and can match most outfits. The paint does not peel off, the clip edges are polished, and it is very gentle on the hair.
Pros
Clips made of high-quality metal
Suitable for thick hair
Paint is environmentally friendly
Non-slippy clip
Cons
Not all colors and patterns might be appealing
May be too big for fine hair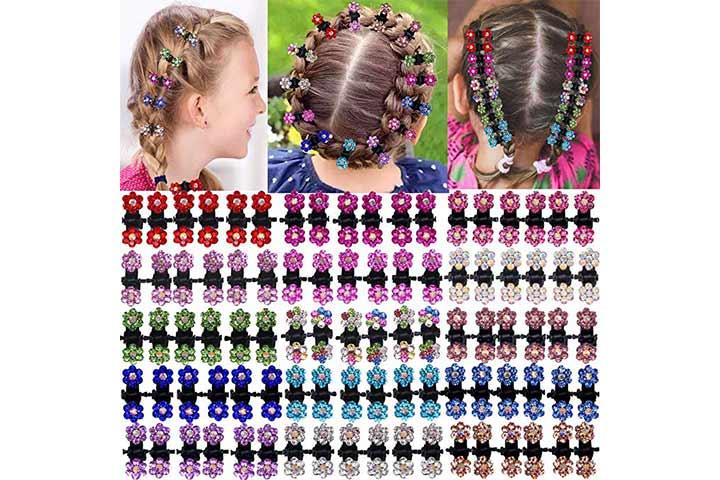 It is a pack of 90 pairs of hair claw clips in 15 different colors. These eye-catching hair clips have a floral design made from colorful rhinestones. It is an excellent hair accessory to beautify your little one's hair style and is ideal for wearing on special occasions.
Pros
High-quality product
Metal clip holds the hair tightly
Durable and kid-friendly
The clip does not slip off
Cons
Ends might be too sharp
Claw might be a bit small
The glittery hair bow clips from Yeaplike are uniquely and elegantly designed to match every outfit of your little princess. These boutique bow hair clips make an excellent hair accessory. Be it a party or any other occasion, pair up your little one's attire with the matching hairpiece.
Pros
Glitter ribbon made of good-quality fabric
Non-slip clips
High-quality metal
Durable and handmade
Cons
Clips might snag on hair sometimes
The pinwheel bow snap hair clips from Hipgirl are cute hair accessories that your girl can wear with all her outfits. It is a pack of 17 clips in different colors. It is ideal for daily wear as well as for special occasions.
Pros
Printed grosgrain ribbon
Durable metal clip
Firmly yet gently hold the hair
Ribbon ends are heat-sealed to prevent fraying
Cons
Exposed metal requires careful handling
Might not be suitable for thick hair
The snap hair clips from Habibee comes in a pack of assorted colors and designs. These clips go well with their casual as well as party wear dresses. It holds the hair properly, being gentle and comfortable on the hair.
Pros
Non-slip hair barrettes in pairs
Easy and comfortable to wear
Durable and premium quality
Metal clip is wrapped by a fabric
Cons
Might not be suitable for thicker hair
It is a set of metal snap-close clips with assorted pattern prints. The pack contains ten pieces of plain clips, six pieces of fruit pattern print clips, six pieces of star pattern print clips, and 13 pieces of animal pattern clips. The variation in the colors and the pattern gives the clips a trendy look.
Pros
Easy to use
Comfortable to wear
Good-quality metal clips
Firmly holds the hair
Cons
Might not be ideal for fine hair
Might not snap easily
Why Trust MomJunction?
Poulami Nag is a fashion enthusiast who loves researching the latest trends and products in the fashion arena. In this article, she has listed the best hair clips for girls and clearly mentioned their features to help you pick the right one. Her review process involves going through the features and user reviews of each product with an analytical perspective. These hair clips are a trendy accessory that will compliment your little girl's hairdo.
Do you have any tips on buying hair clips? Share them with us in the comment section below.
Recommended Articles: