If you are looking for a lighter hue on your locks to rock the perfect summer look, the best hair lightening spray is what you need to buy. It helps you tone down the present shade of your hair without putting in a lot of work or spending much on salon color applications. Also, it has lesser chemical content that protects your hair in the long run. So before you head out for permanent color, you can use such temporary color options to understand what suits you the best. To help you, we are here with a list of the best hair-lightening sprays to flaunt your favorite hair color whenever you want.
5 Best Hair-Lightening Sprays
This blonde brightens your locks with natural ingredients such as lemon and Hawaiian Lehua honey. This paraben-free sun hair-lightening formula enhances the sun's natural effect by adding subtle highlights and tones. It is ideal for color-treated and natural hair, as it protects against humidity, frizz, dullness, and UV oxidation. Take a look at this video to learn more about this product.
This hair lightener with botanical ingredients, such as chamomile flower extract, lets you achieve natural highlights or flaunt your blonde side. The ammonia and paraben-free home hair-lightening solution is ideal for direct application by gently running your fingers on the hair, giving you the perfect hair tone of a lovely blonde. This review video helps you know more about the product.
This is one of the best hair-lightening products, rich in aloe, chamomile, flaxseeds, and marigold, designed to brighten blonde to medium brown color hair. You can achieve natural highlights with this sun-lightening spray that promises lighter hair color using the sun's heat. Check out this video to learn more.
The honey and chamomile-infused natural hair-lightening spray adds brightness to the hair while also lightening the locks. This DIY hair lightener spray, free of bleaching agents and high in conditioning ingredients, offers a fantastic sunny look. The silicone-, paraben-, and hydrogen peroxide-free formula instantly gives you smooth and silky strands.
This hair-lightening spray with citrus and chamomile can lighten and brighten your hair. The hair brightener adds a natural shine to your locks and provides natural-looking highlights in three to four uses. This hair color product is rich in conditioning polymers and is effective for gradual highlighting.
How To Choose The Hair-Lightening Spray?
We have compiled a list of factors to assist you in selecting the best hair-lightening spray.
Duration of results: If you want a fast outcome, go with an instant result spray. However, if you are not sure what hue you want, go with a progressive spray.
Hair condition: Whether your hair is bleached or dyed, you will need to buy a product that matches your hair's current state.
Paraben-free formulations: To protect your hair from damage, choose hair lighteners that are free of parabens and chemicals.
Why Trust MomJunction?
Taking good care of hair while getting the right blonde tone is quite tricky with changing trends. Therefore, Poulami Nag, the author of this post, has done thorough research based on her vast experience writing product articles on haircare to compile a list of the best hair lightening spray. She also added the product description and a buying guide to help you consider your pick based on duration of results, hair condition, and paraben-free solutions. She also answered some common queries on hair lightening spray products so that you can make a well-informed decision.
Frequently Asked Questions
1. Does a lightening spray work on dark hair?
Yes, it could work, but it depends on the tone and shade of the hair.
2. Is it safe to use hair-lightening spray on my hair?
While lightening sprays are safe to use, some ingredients may cause allergic reactions or skin irritation in some individuals.
Therefore, it is good to choose a hair-lightening spray that does not contain chemicals and allergens.
It is not always possible to go to a salon to get your hair colored. But, you can achieve your dream light-haired look with hair-lightening sprays that are easy to apply and convenient. However, consider the duration, your hair type, scalp health, and application process for your convenience. These sprays do not damage your hair and give you a natural lightening effect that lasts long. Also, choose a chemical- and paraben-free product to avoid irritation and allergies. We hope our list of the best hair-lightening sprays can help you understand the available options.
Infographic: How To Use Hair Lightening Spray?
It is crucial to read the instructions on the packaging before using hair lightening sprays. The instructions may differ from one product to another, but some steps are standard. This infographic describes an effective way of using a hair lightening spray.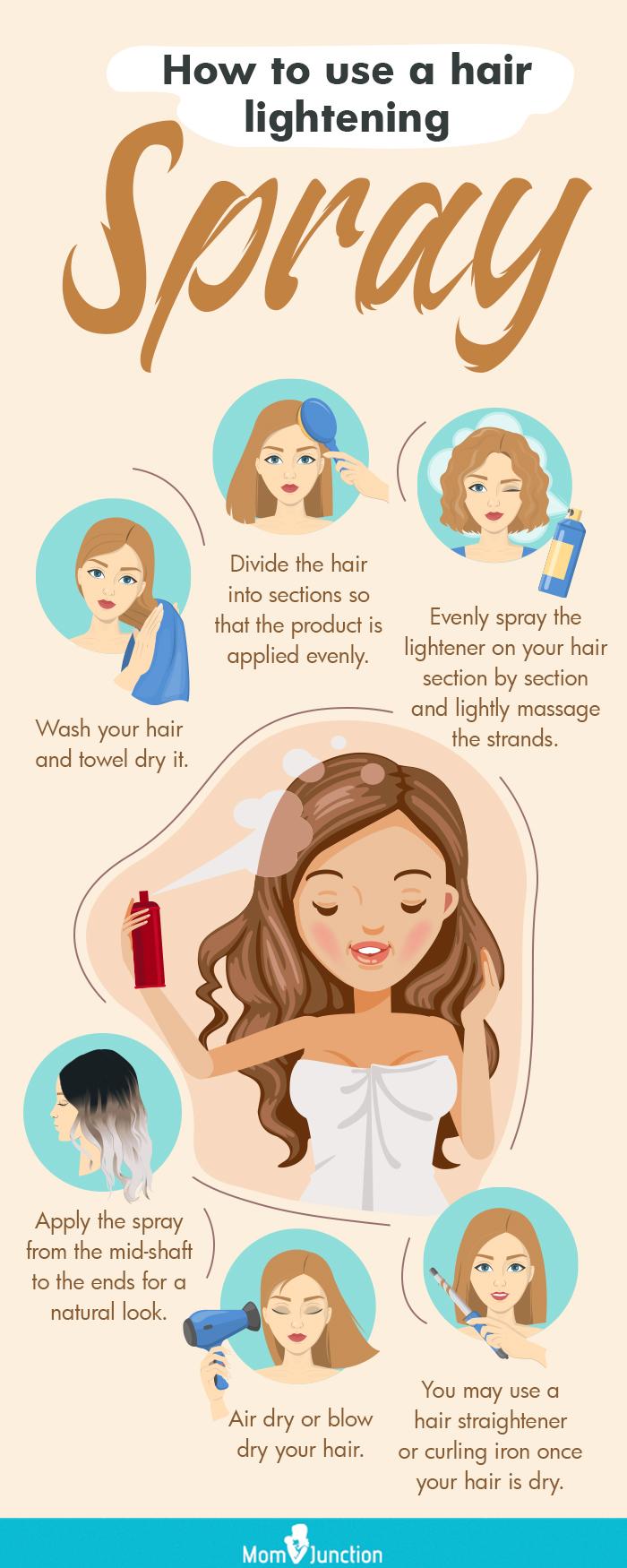 Recommended Articles:
The following two tabs change content below.

Poulami Nag is a writer and associate editor at MomJunction. She did her MA in English from Miranda House, University of Delhi and has qualified UGC-NET. Her journey as a content writer began in 2017 and since then she has garnered diverse interests along the way. Her knowledge of literature and language has given her an eye for detail and...
more