Grey hair can be really pesky. But luckily there are several ways to deal with it. One way is coloring your hair. But when your hair starts to grow, grey hair becomes visible once again. And to cover these little bits of gray, there are hair root touch-up products.
These touch-up products are meant to hide just the roots and can be temporary as well as permanent. MomJunction has looked through numerous coloring products online and has managed to boil down a list of the 13 best root touch-up products for you.
13 Best Root Touch-Up Products

This touch-up hair color by Clairol is quite popular and claims that it gives long-lasting coverage that is resistant to sweat, touch, and rain. This permanent hair color can blend easily with your current hair color and work well even with salon hair color.
Pros
Color lasts up to 3 weeks
Takes barely ten minutes to complete the coloring process
Available in a variety of color shades
Cons
Strong odor may irritate the sensitive nose
Glove in the package may be too small


You may be waiting for your hair to grow out so you can try new hair color. But you may need a temporary fix to cover your gray hair before the next appointment with your hairstylist. This concealing powder can help cover the graying roots until you color it.
Pros
Covers single strands and wider hairline
Can be used for eyebrows too
Resistant to water
Washes off easily with shampoo
Cons
Light shade requires multiple coats to look dark
Leaves behind residue after every application
No products Found


This root touch-up powder not only helps cover grays, but its powder formula also helps add volume to the hair. Its direct applicator allows mess-free use, so you can use it even when on the go.
Pros
Mineral-based, non-sticky formula
Helps tone down brassy hair
Large Kabuki style brush enables faster coverage over a larger area
Comes with a detail brush to cover smaller areas
Cons
Large brush does not allow control over the amount of powder used
Makes hair look dull


If finding your exact color match has been difficult, have a look at this fill-in powder with two shades in one box. Along with graying hair, it can be used for thinning hair and bald spots too. Additionally, the brand claims that the product contains the patented component Procapil that can boost hair growth and reduce hair loss.
Pros
Does not mat or clump
Powder comes in two shades
Resistant to rain and sweat
Easy to wash off with water
Cons
Contains paraben
Brush in the package seems to be of poor quality


This touch-up powder comes with a dual brush stick, one used for application, and the other end helps dust off excess powder. It lasts till you shampoo your hair.
Pros
Reflective pigments keep hair from drying
Resistant to water and sweat
Helps maintain hair's natural shine
Can be used on eyebrows too
Does not leave an oily residue
Cons
Powder is likely to stick to the scalp instead of hair
May not be suitable for coarse hair
Not long-lasting


Easy to apply, easy to remove, this instant hair color helps cover gray roots in no time. This tiny stick can be taken anywhere and used anytime.
Pros
Cons
Makes hair greasy
Brand offer a very limited range of shades


If you are most comfortable using a stick for lining your eyes or lips, have a look at this stick-style root cover-up. It makes hair touch-up quick, easy, and mess-free.
Pros
Non-sticky formula
Does not transfer to clothes
Resistant to water
Free of ammonia and peroxide
Safe to use for any hair texture
Cons
Can make hair look greasy
Wipes off easily and need frequent reapplication


Using this instant root concealer is as easy as applying lipstick. One swipe and you get the color you are looking for. This moisturizing formula comes with a soft fragrance and is easy to clear off with shampoo.
Pros
Easy to spread over a wider area
Thick applicator makes application easy
Stick lasts long
Cons
Makes hair sticky
Rubs off easily


This touch-up color comes in a compact powder form and can be used to eyebrows too. Color lasts until you shampoo your hair.
Pros
Resistant to rain and sweat
Product offers around 60 applications
Multiple swipes help darken the color
Does not contain titanium dioxide, parabens & gluten
Cons
Can stain hand when touching the scalp
Difficult to apply


Besides gray hair, even hair thinning can be covered up with this fill-in powder that helps cover up the widening hairline. The brand claims that the product contains the patented component Procapil that can boost hair growth and reduce hair loss.
Pros
Helps conceal bald spots
Covers gray hair
Can rejuvenate hair
Rain and sweat resistant
Easy to wash off with shampoo
Does not clump
Matte finish enables easy blending with current hair color
Cons
Available shades may be too light
Brush may be of poor quality


Here is yet another quick-fix hair solution. The caked color is easy to pick in a brush and apply over your grays. It comes in a variety of shades so you can easily blend it with your current color.
Pros
Lasts till washed off with shampoo
Powder form does not make hair greasy
The pocket-sized box makes it travel-friendly
Ideal for an emergency, quick solution
Free of palm oil, talc, and mineral oil
Cons
Powder tends to smear excessively


When you have lots of gray hair, and absolutely no time to visit the salon, you can count on this touch-up stick. This lipstick applicator is broad, so that you can cover maximum hair in less time. It is temporary and lasts for a day.
Pros
Quickly covers a large area of gray hair
Does not mat or clump
Easy to wash off with shampoo
Travel-friendly packaging
Available in 8 different hair colors
Cons
Makes hair slightly sticky
May be ineffective on thick hair


Imagine you have just returned from work and have to head to a party in no time. One last check into the mirror, and you notice a nice long line of grey hair. Is it possible to fix it in a jiffy? Yes. With this brush-in wand, all you have to do is twist open the applicator, apply the color, and you are good to go.
Pros
Blends with other hair colors
Does not require water or mixing
Ideal for a temporary, quick fix
Can be used for sideburns and single strands of grey hair
Cons
Formula can be thick and sticky
How To Use Hair Root Touch-Up Products?
If you scroll through the products above, you will notice that these touch-up products come with different application methods depending on the type of product.
Liquid base: This is similar to a regular hair color that comes with tubes containing color and a developer that has to be mixed and applied to the roots with a brush.
Powder base: Like an eyeshadow, this powder-based product comes with a brush to apply the powder directly to the roots.
Brush-in wand: Similar to mascara, the applicator wand comes attached to the lid while the liquid color comes in the bottle. Dip the applicator in the bottle and swipe over gray hair for instant coverage.
Stick color: It looks and works like a regular lipstick. It comes in a roll-up tube with a thick semi-solid color that can be swiped over hair to cover grays.
Do Root Touch-Up Products Cause Any Side-Effects?
Like any other makeup item, these coloring products also are made of several chemicals, and it is rare to find a chemical-free root touch-up product. These chemicals may or may not necessarily suit every user. So, you must check the ingredients of a product before buying it. Do a patch test before applying the product to your scalp. This becomes imperative if you are allergic to specific makeup components.
Important Safety Tips Before Using Root Touch Products
Since these products are handy and easy to use, buyers are likely to overuse them, which is not advisable. Remember that these products contain chemicals, and the fewer products you use on your hair and scalp, the healthier it will feel and look.
A lot of coloring products can cause allergies, which is why a patch test is compulsory before, especially before using liquid base colors. If you are not sure about a product's safety, you can also seek your dermatologist's advice before buying it.
How To Choose The Right Hair Root Touch-Up Product?
As mentioned above, these touch-up products are available in a variety of bases. If you are comfortable using a powder base, then go for it. If the lipstick applicator seems easy to use, then you can select that for yourself. Each of these product types offers different coverage.
For instance, if you have a wide area to cover, then you can opt for the powdered type or the stick applicator. But if you have a few scattered strands to cover, then you can try the brush-in wand.
Frequently Asked Questions
1. How often should I use these touch-up products?
Touch up products are mostly used between your hair coloring sessions. It is meant for the newly growing hair that needs to be covered before you can visit the salon. However, applying too much chemical to your hair can prove damaging in the long run. It is best you use these products occasionally and not daily.
2. How should I clean my hair after applying the touch-up product?
Most of these touch-up products are water-resistant, so to clear it out completely, you have to wash your hair with your regular shampoo. These products offer temporary coverage, and the residue comes off easily with shampoo.
Gray hair can be a real eyesore. And we totally understand the need to cover it. And these quick-fix root touch-up products often come to our rescue to maintain hair color. These were some of the most popular products available online.
Have you ever used a root touch-up product before? Do share your root touch-up tips and tricks in the comments section below.
Recommended Articles: 
The following two tabs change content below.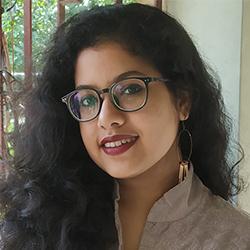 Poulami Nag
Poulami Nag is a writer and associate editor at MomJunction. She did her MA in English from Miranda House, University of Delhi and has qualified UGC-NET. Her journey as a content writer began in 2017 and since then she has garnered diverse interests along the way. Her knowledge of literature and language has given her an eye for detail and...
more