If you are someone whose hair takes a long time to dry, or you hate dealing with frizz, the best hair towels can solve your problem. These towels are designed with extra-absorbent materials that prevent the hair from breaking and reduce frizz. They help make your hair care routines smoother and stay intact on your head while you move so that you don't have cold water dripping down your back. Hair towels are soft and do not require you to twist your fragile wet hair too hard. You can even apply your treatment or leave-in conditioner before wrapping the hair towels to get soft silky hair. Keep scrolling to find some of the high-quality hair drying towels that help dry your hair faster without causing any damage.
Top Products From Our List
15 Best Fast Drying Hair Towels
This large towel measures 20 x 40 inches, which is suitable for long, curly, or thick hair. The soft microfiber helps in absorbing the moisture easily and in less time. It saves your time and prevents the use of a blow dryer. Both children and adults can use this hair towel. It is lightweight and can be conveniently tied into a turban. It comes in four colors – white, grey, pink, and purple.

This hair towel measures 45 x 25 inches, which is larger than a regular towel. The microfiber dries hair gently without causing any frizz. It is bigger, but still light and compact when tied over the head. The cloth is stretchable, soft, odor-free, and highly absorbent. The hypoallergenic fabric is made of fine waffle weave, which ensures the durability of the towel. It comes with a loop for easy tying of hair and is suitable for all types of hair.

This luxurious women's towel is made of bamboo viscose (70%) and cotton (30%). The material is highly absorbent and absorbs moisture in less time. It is odor-free and stays fresh for a long time. This hair towel also comes with one elastic loop that keeps the hair secure when tied up. Bamboo viscose is a hypoallergenic material that is soft and regulates temperature. It is biodegradable and eco-friendly and comes in 11 different colors.

This hair drying towel is made of 100% natural cotton material that reduces frizz. The material is similar to a t-shirt material, but it helps in drying the hair without any damage. This anti-frizz hair towel is soft, light in weight, gentle, and suitable for all types of hair. The towel comes with an elastic band that lets you make a turban and secure it. This towel measures 29 x 45 inches, which is long and suitable for large or curly hair too.
This soft and large-sized hair drying towel is best suited for curly and long hair. It is ultra-lightweight, made with extra-absorbent microfiber, and has strong stitching. Wrapping the towel around your head helps in drying the wet hair in less time. The material is extremely soft and does not pose any risk to wet, fragile hair. It is 42 x 22 inches in size, which is suitable for curly, thick, or long hair.
This pack contains three microfiber hair towels in three different colors. Each towel is made of good quality material and is super light. It is suitable for short, long, curly, straight, coarse, and fine-textured hair. It is light-weight and compact and can be taken to the gym and spa too. It can be folded easily as a turban to absorb moisture from wet hair and reduce the time taken to dry your hair. The three towels come well-packed in a box and can be used for gifting purposes too.
It is a lightweight and soft microfiber hair towel that absorbs water quickly from the hair. The cloth is gentle and suitable for all types of hair. It allows you to dry the hair without creating frizz. The stretchy towel comes with a button and loop, which makes it easier to tie your hair. It is much lighter and convenient than using a regular towel. This pack has three different colored towels. You may choose between pink, blue, and purple, and pink, white, and purple options.
This premium fast-drying hair towel is made of bamboo fiber and polyester and is free of any chemicals or substances that could harm delicate or fine hair. The manufacturer claims this towel to be odor-free, super-soft, and bacteriostatic. It helps in drying the hair naturally and reduces the need to use a hairdryer. Also, this towel is known to minimize any frizz. It measures 10 inches x 26.5 inches in size.
This super-absorbent hair towel is made of premium bamboo fiber that is extremely soft, plush, and highly absorbent when compared to regular towels. The manufacturer claims that harmful substances that can damage the hair have not been used in the making of this towel. It comes with an elastic loop and button that makes sure that the towel doesn't slip. This eco-friendly and hypoallergenic hair towel can be used for all types of hair and comes in a pack of two.
This microfiber towel absorbs moisture from your hair in less time. The gentle, soft, and super stretchy towel is suitable to dry any type of hair, be it thick or thin, fine or coarse. The towel is made with lisse crepe fabric, which is quite durable and can be used daily. It comes in two sizes – 41 x 19 inches and 41 x 24 inches. The flexible seam of the towel makes it stretchy, allowing you to tie a turban easily.

This fast-dry hair towel is made of Aquitex microfiber, which is known to dry hair faster than the regular cotton towels, removing the need for an electric hairdryer. Drying hair using this towel makes it less frizzy and makes styling easy. The fabric is gentle and makes your hair smoother without damaging the wet, fragile hair. It is ultra-light in weight and can be used regularly for all types of hair.
The manufacturer claims that this towel is made using microfiber technology that absorbs moisture in less time and dries the hair quickly. It is made using an ultra-soft, deluxe microfiber that prevents split ends and breakage. It also makes your hair less frizzy. It comes with a wooden button and can be washed in a machine as well. This fast-drying hair towel is durable and can be used by anyone, be it children, teens, or adults. It is 26 x 10 inches in dimension and comes in two colors.

One pack contains two hair drying towels or headwraps and four hair clips. The towels are made of super-absorbent microfiber that absorbs the moisture or water from wet hair in less time, minimizing the need to use a hair blower. The hair towel is soft, comfortable, and gives you no smell of any chemicals. It can be washed in a machine also.
14. Microfiber Bath Towel Cap
This hair towel is designed in the shape of a cap with two ears on top and tiny whiskers to make it look unique. It is made with premium, eco-friendly material that dries the hair in less time. The manufacturer claims that the super absorbent hair wrap is ultra-soft and minimizes the hair damage caused by using electric dryers. It is also a multifunctional product that can be used while bathing, washing face, or when doing makeup. It comes in a pack of two — pink and blue.
The microfiber absorbs moisture or water of the hair in less time and in a gentle way. The fast-drying hair towel wrap also helps in reducing hair breakage and makes the hair less frizzy, making your hair look shinier and smoother. The dimensions of this soft towel are 10 x 26.5 inches, suitable for people with all types and lengths of hair. The double stitch and button and loop make it convenient to tie a hair turban as well. It comes in a pack of two.
How To Choose The Best Fast-Drying Hair Towel?
Using an electric hair blower may tend to damage your hair in the long run. Also, a regular towel may do the same. Make a careful choice by following a few tips.
Fabric: Microfiber and other eco-friendly materials such as bamboo or organic cotton can be the ideal choices for a fast hair drying towel. These are durable, light, and limit the frizz. Also, they are known for drying your hair in less time than the regular towels.
Size: If you have long or curly hair, then you may need a towel of large size. Check the dimensions of the hair towel before you buy one. However, if you have short hair, then pick a small-sized towel, as a bigger one may not be convenient to use.
Weight: You may want to tie the hair towel as a turban for quick drying. In such a case, you would need a light-weight towel. Also, a heavy fabric may increase the chances of hair breakage.
Multipurpose: This is an optional tip. There are hair towels that can be used for various purposes. For instance, a light hair towel with a button and loop may help you use it for quick drying, while doing makeup, and also in a spa. You may use it or just get a simple hair towel.
Frequently Asked Questions 
1. Can hair towels be used to dry the body? 
Ideally, you should not use a hair towel to dry your body. Hair towels are made using a specific fabric, keeping in mind its intent. It is made light and in a particular size so that it fits well with the purpose of drying hair.
2. Does washing a hair towel in hot water ruin its absorbency?
Too hot water should never be used to wash any towel. As hair towels are light and soft, you should use warm water to clean them. Too hot water may damage it from every aspect. Also, the towels may turn scratchy, and even the color may fade.
While picking up the best hairbrush and shampoo to have healthy hair, make sure to choose the right hair drying towel too. Go through the list again and find the best fast drying hair towel that can prevent you from using the hairdryer and give you frizz-free and healthy hair.
Recommended Articles: 
The following two tabs change content below.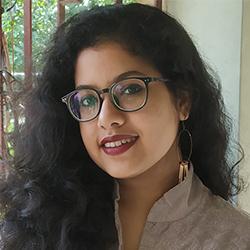 Poulami Nag
Poulami Nag is a writer and associate editor at MomJunction. She did her MA in English from Miranda House, University of Delhi and has qualified UGC-NET. Her journey as a content writer began in 2017 and since then she has garnered diverse interests along the way. Her knowledge of literature and language has given her an eye for detail and...
more