If you are someone whose hair takes a long time to dry, or you hate dealing with frizz, the best hair towels can solve your problem. These towels are designed with extra-absorbent materials that prevent the hair from breaking and reduce frizz. They help make your hair care routines smoother and stay intact on your head while you move so that you don't have cold water dripping down your back. Hair towels are soft and do not require you to twist your fragile wet hair too hard. You can even apply your treatment or leave-in conditioner before wrapping the hair towels to get soft silky hair. Keep scrolling to find some of the high-quality hair drying towels that help dry your hair faster without causing any damage.
15 Best Fast Drying Hair Towels
Save time and avoid blow drying your hair by bringing home this hair towel. This large towel measures 20 x 40in, which is suitable for long, curly, or thick hair. The soft microfiber helps in absorbing moisture easily and in less time. Both children and adults can use this hair towel. It is lightweight and can be conveniently tied into a turban. It comes in four colors – white, gray, pink, and purple. Before buying, have a look at this video for more details.
Pros
Plush
Dries the hair strands quickly
Ideal for thick and long hair
Large in size
Machine-washable
Cons
May be less suitable for short hair
May attract mold if not dried after each use
Are you looking for a hair towel that is larger than a regular towel? Lay your hands on this hair towel that measures 45 x 25in. The microfiber dries hair gently without causing any frizz. It is big, but still light and compact when tied over the head. The cloth is stretchable, soft, odor-free, and highly absorbent. The hypoallergenic fabric is made of fine waffle weave, which ensures the durability of the towel. It comes with a loop for easy tying of hair and is suitable for all types of hair.
Pros
Locks essential moisture
Fast-drying
Firmly sewed
Breathable fabric
Cons
May be large for some
Elastic hanging loop may be fragile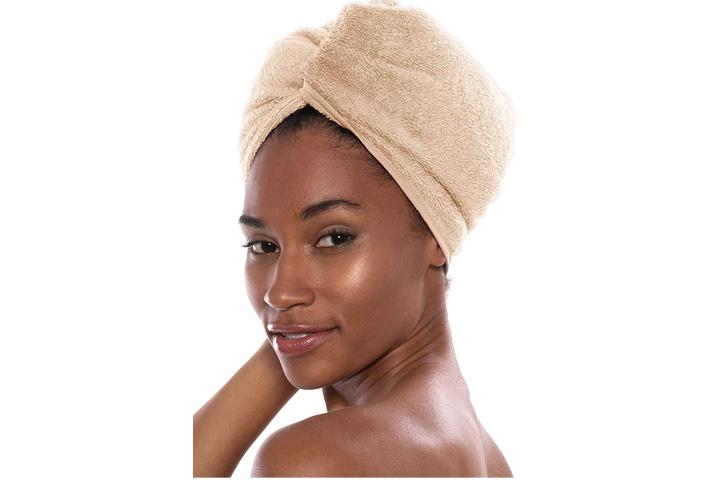 Try this luxurious women's towel made of bamboo viscose (70%) and cotton (30%). The material is highly absorbent and stays fresh for a long time. This hair towel also comes with one elastic loop to keep the hair secure when tied up. Bamboo viscose is a hypoallergenic material that is soft and regulates temperature. The towel is biodegradable and eco-friendly.
Pros
Keeps you dry and comfortable
Odor-free
Versatile
Machine-washable
Available in 11 different colors.
Cons
May be less suitable for thick and dense hair
May not be quick-drying
Reduce frizz with this hair drying towel made of 100% natural cotton. The material is similar to a t-shirt material, but it helps in drying the hair without any damage. This anti-frizz hair towel is soft, lightweight, gentle, and suitable for all types of hair. The towel comes with an elastic band that lets you make a turban and secure it. It measures 29 x 45in, which is long and suitable for long or curly hair.
Pros
Scrunch for frizz-free beach waves
Helps define curls
Prevents hair damage
Available in three different sizes
Cons
Fastener loop may be fragile
May not be very absorbent
Bring home this soft and large-sized hair drying towel that is best suited for curly and long hair. It is ultra-lightweight, made with extra-absorbent microfiber, and has strong stitching. Wrapping the towel around your head helps in drying the wet hair in less time. The material is extremely soft and does not pose any risk to wet, fragile hair. It is 42 x 22in in size, which is suitable for curly, thick, or long hair.
Pros
Ideal for long hair
Multi-functional
Comes in a ziplock bag
Stretchable
Elastic- and button-free
Cons
Size may be small
Fibers may shed
Dry your hair with this microfiber hair towel made of super absorbent material to reduce frizz and hair damage. The towel is lightweight and can be put on with ease without the need for readjustments, thus allowing you to take care of your hair without much hassle. The elastic loop helps secure your hair and prevents the towel from falling off. In addition, this towel is travel-friendly and suitable for all age groups.
Pros
Minimizes friction
Ideal for curly hair and short hair
Moisture-wicking
Comfortable and easy to use
Cons
May be a bit thin
May be less suitable for thick hair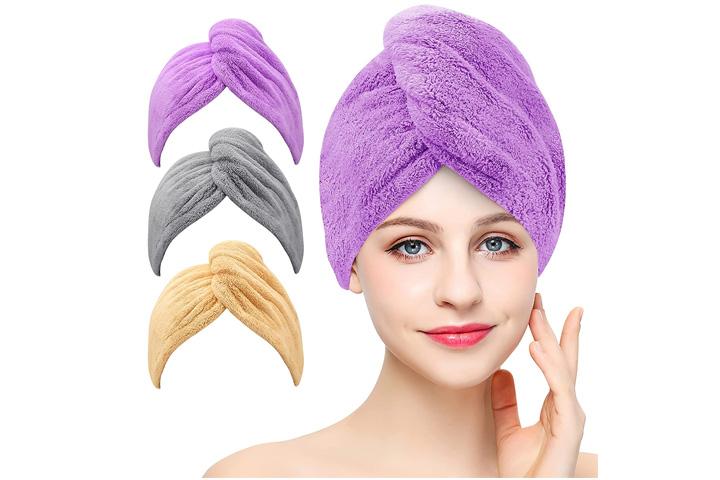 Here is a lightweight and soft microfiber hair towel that absorbs water quickly from the hair. The cloth is gentle and suitable for all types of hair. It allows you to dry the hair without any frizz. The stretchy towel comes with a button and a loop, making it easier to tie your hair. It is much lighter and more convenient than a regular towel. This pack has three different colored towels.
Pros
Breathable
Moisture-wicking
Firmly sewed
Fade-resistant
Prevents shedding of fiber
Cons
May be slightly thin
Elastic loop may not be durable
This premium fast-drying hair towel is made of100% EVA and is free of any chemicals or substances that could harm delicate or fine hair. The towel is waterproof, odor-free, and super-soft. It helps in drying the hair naturally and reduces the need to use a hairdryer.  It measures 10x 26in in size.
Pros
Lightweight
Tear-resistant
Folds compactly
Super-absorbent
Has a button and elastic loop
Cons
May not be suitable for those with very long hair
Laluztop brings you this hypoallergenic hair towel ideal for sensitive skin. The super-absorbent hair towel is made of premium bamboo fiber that is extremely soft and plush. No harmful substances have been used in the making of the towel, and it comes with an elastic loop and button to make sure the towel doesn't slip. This eco-friendly hair towel can be used for all types of hair and comes in a pack of two.
Pros
Lightweight
Firmly stitched
Versatile
Ideal for home use and traveling
Machine-washable
Cons
Color may vary
May not be super-absorbent
Reduce hair drying time with this microfiber towel that absorbs moisture effectively. The gentle, soft, and super stretchy towel is suitable for drying any type of hair, be it thick or thin, fine or coarse. The towel is made with lisse crepe fabric, which is quite durable and can be used daily. It comes in two sizes, and the flexible seam of the towel makes it stretchy, allowing you to tie a turban easily.
Pros
Comes with a drawstring closure bag
Ideal for fine, thin, coarse, or medium hair
Minimizes blow-drying time
Ideal for home and professional use
Cons
May not be suitable for very long hair
May be slightly slippery
This fast-dry hair towel is made of Aquitex microfiber, which is known to dry hair faster than the regular cotton towels, removing the need for an electric hair dryer. The fabric is gentle and makes your hair smooth. It is ultra-lightweight and can be used regularly for all types of hair.
Pros
Great absorbency
Anti-frizz
Helps you plop or scrunch hair
Long-lasting
Protects hair from breakage
Cons
Size may be slightly small
May be less suitable for very long hair
This towel is made using microfiber technology that absorbs moisture in less time and dries the hair quickly. It is made using an ultra-soft, deluxe microfiber that prevents split ends and breakage. It also makes your hair less frizzy. This fast-drying hair towel is durable and can be used by anyone, be it children, teens, or adults. It is 26 x 10in in dimension and comes in two colors.
Pros
Suitable for all hair types
Comes with a wooden button
Can be washed in a machine.
Can be used daily
Gentle on the hair
Folds compactly, making it travel-friendly
Cons
May feel heavy for some
Button may not last long
One pack contains two hair drying towels or headwraps and four hair clips. The towels are made of super-absorbent microfiber that absorbs the moisture or water from wet hair in less time, minimizing the need to use a hair blower. The hair towel is soft, comfortable, and gives you no smell of any chemicals. It can be washed in a machine also.
Look stylish while drying your hair. This hair towel is designed in the shape of a cap with two ears on top and tiny whiskers to make it look unique. It is made with premium, eco-friendly material that dries the hair in less time. The super-absorbent hair wrap is ultra-soft and minimizes hair damage caused by using electric dryers. It is also a multifunctional product that can be used while bathing, washing face, or applying  makeup. It comes in a pack of two.
Pros
Minimizes split ends
Foldable for convenient storage
Fashionable design
Keeps your head warm
Quick-drying
Cons
May be tight for plopping
May be less suitable for long and dense hair
The microfiber towel wrap absorbs moisture or water in less time and in a gentle way. The fast-drying hair towel wrap also helps in reducing hair breakage and makes the hair less frizzy, making your hair look shinier and smoother. The soft towel measures 10 x 26.5in, making it suitable for people with all types and lengths of hair. The double stitch and button and loop make it convenient to tie a hair turban as well. It comes in a pack of two.
Pros
Offers great stability even for curly hair
High absorbency
Ideal for everyday use
Reduces blow-drying time
Cons
May smell if not dried completely after each use
Button may not withstand rough usage
How To Choose The Best Fast-Drying Hair Towel?
Using an electric hair blower may tend to damage your hair in the long run. Also, a regular towel may do the same. Make a careful choice by following a few tips.
Fabric: Microfiber and other eco-friendly materials such as bamboo or organic cotton can be the ideal choices for a fast hair drying towel. These are durable, light, and limit the frizz. Also, they are known for drying your hair in less time than the regular towels.
Size: If you have long or curly hair, then you may need a towel of large size. Check the dimensions of the hair towel before you buy one. However, if you have short hair, then pick a small-sized towel, as a bigger one may not be convenient to use.
Weight: You may want to tie the hair towel as a turban for quick drying. In such a case, you would need a light-weight towel. Also, a heavy fabric may increase the chances of hair breakage.
Multipurpose: This is an optional tip. There are hair towels that can be used for various purposes. For instance, a light hair towel with a button and loop may help you use it for quick drying, while doing makeup, and also in a spa. You may use it or just get a simple hair towel.
Why Trust MomJunction?
Poulami Nag is a seasoned writer with experience in reviewing skincare, haircare, and fashion products. Here, she has listed the best fast-drying hair towels after carrying out extensive research. The options listed here are made of premium material and are lightweight, gentle, soft, and stretchable. She has also added a buying guide mentioning the factors you should consider when choosing a hair towel.
Recommended Articles: