We frequently wash our hands with soaps or sanitizers, which may leave the hands dry. Dry hands are also common during winters, and they require special care. Frequent moisturizing the hands with a regular body cream could leave them greasy and sticky. Therefore, you need lightweight and non-greasy creams that are specially designed to moisturize the hands.
These creams also keep your nails healthy. We have compiled the 13 best hand creams in India to maintain your hands' moisture and keep them soft.
13 Best Hand Creams In India
If you are looking for a cream to lock in moisture and make your hands softer, try Palmer's hands cream. Rich in coconut oil and Tahitian monoi oil with moisturizing properties, the hand lotion for dry skin can make your hands softer if used two to three times a day. Tiare flower extracts will leave a lasting fragrance.  It does not contain sulfates, parabens, mineral oils, gluten, dyes, and phthalates, making it safe for the skin.
With milk and shea butter, Khadi pocket-friendly hand cream for dry skin has moisturizing properties. It uses natural herbal ingredients that are soft to most skin types. The cream is rich in saffron, which can be used to revive any tan. The moisturizing cream comes in a compact, travel-friendly, and easy-to-scoop-out container. The fast-absorbing cream adds a natural shine to nails and prevents them from splitting and chipping.
Neutrogena hand cream is ideal for people with severely dry hands because it can heal dryness from inside the skin instead of forming a layer around chapped skin. Even a small drop of this highly-concentrated formula can make your skin smooth and soft in winter. Since glycerin is its main ingredient, the cream can lock in moisture and keep your skin soft throughout the day. You can use the hand cream on the face, lips, elbows, and knees, and it is a one-stop solution for most dry skin problems.
The balanced formula of Himalaya anti-aging hand cream reduces dryness and repairs the skin. It contains cocoa butter, which rejuvenates your hands and makes them soft. Rose Myrtle reduces wrinkles on the hands, making them look younger. It also has a non-greasy texture and can be distributed well on the skin. The pocket-friendly hand cream comes in an easy-to-squeeze tube.
Dot and Key brings you the benefits of a sanitizer and a hand cream. Since it is made of non-alcoholic compounds, the cream can make the skin clean and soft simultaneously. Lavender and peppermint have antifungal properties to ensure overall skin health. The pocket-friendly hand cream also contains shea butter and jojoba oil, which are essential moisturizers due to their humectant properties.
If you are looking for a non-greasy cream for all skin types, mCaffeine lightweight hand moisturizer is your ideal choice. The quick-absorbing cream has ground arabica coffee beans extracts, which seals the moisture making your hands smooth and soft. Shea butter and almond oil make the inner skin healthy, while white water lily provides a gentle fragrance. It does not contain parabens, SLS, and mineral oil and is safe to use.
The Face Shop hand cream brings you the benefits of rose water and is a must-have skincare product. The cream has a pleasant fragrance that lasts all day. It is light and non-greasy, with a smooth texture that does not leave a thick layer on your hands. The cream moisturizes and regenerates the skin, and you can see the effect just after a few applications. It is available in several variants and is suitable for normal skin types.
If you are dealing with an uneven skin tone on your hands, you can try Mamaearth vitamin C hand fairness cream. Vitamin C can reduce tan and help brighten the skin naturally. The natural humectant properties of glycerin have been used to lock in moisture, while shea butter provides smoothness. The fast-absorbing cream is an ideal hand cream for travelers because it has anti-microbial and anti-inflammatory ingredients that can kill bacteria. It does not contain silicones and parabens, making it safe for all skin types.
Dove is known for its moisturizing skincare ingredients and includes highly effective handcare products. Dove's unique product offers the advantages of calendula extract and avocado oil to reduce skin irritation caused by dryness. The moisturizer comes in an easy-to-use squeeze tube, which is pocket and travel-friendly. It is one of the non-greasy creams that can improve skin health over time. Glycerin acts as the main humectants, which immediately softens and moisturizes the skin after the first use.
Colorbar's hand cream can form a barrier around your hand skin to protect them from environmental damage. This hand cream uses purely vegan ingredients and does not contain parabens, so it is safe to use. The addition of apples, kiwi, grapefruit, and carrots makes this natural moisturizer rich in antioxidants, strengthening and rejuvenating the skin.
Bare Body Essentials 2-in-1 hand cream uses the sanitizer's disinfectant power to kill bacteria while making the hands soft and moisturized after use. This natural moisturizer does not contain any alcohol and is pocket-friendly. The non-greasy cream spreads and gets absorbed well into the skin. The ingredients used are cruelty-free and purely vegan, so it is safe to use on combination skins.
Lotus Organics hand cream for dry skin mainly uses herbal ingredients to make your hand feel soft. The product uses the rose as the primary moisturizer and fragrance agent. Since it contains natural products, you don't have to compromise on quality. It also includes various natural oils, vegetable extracts, and bioactive ingredients that will make your skin soft and smooth. The travel and pocket-friendly hand cream comes in a squeezable tube for a mess-free application. It does not contain parabens and is cruelty-free.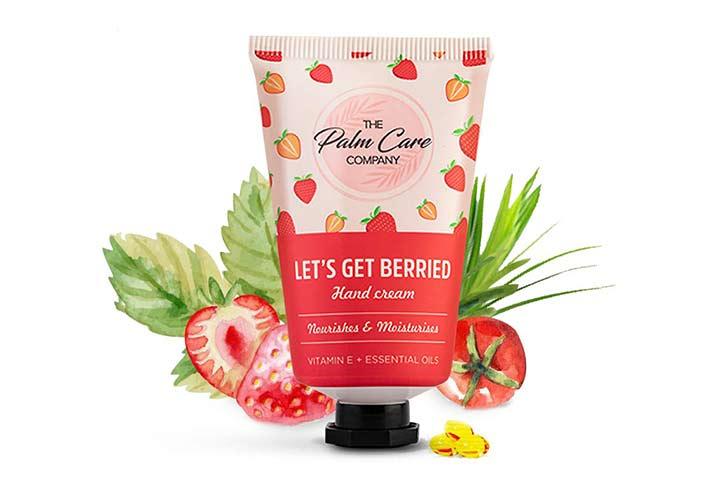 Palm Care is a non-greasy cream with strawberry as the primary moisturizing ingredient, suitable for all skin types. The natural ingredients in the cream will reduce dryness in your hands. This anti-aging cream contains vitamin E and vitamin C to make your skin young and soft, while licorice root oil has anti-inflammatory effects. It comes with an easy-to-carry tube, which also makes it a good travel companion.
How To Choose A Suitable Hand Cream? 
Below are some factors to consider while choosing a suitable hand cream for your skin.
Ingredients: You must choose between a moisturizer with natural and herbal ingredients or synthetic ones. Natural moisturizers are safer on the skin than synthetic ones. Ensure that the product does not contain ingredients that cause allergies.
Skin type: It is important to choose skincare products according to skin type. Refer to the manufacturer's instructions to ensure the cream you choose is suitable for your skin type.
Texture: Greasy creams will leave a thick layer on your palms and may even make your skin oilier than required. Try to choose a light cream that absorbs quickly.
Absorption: If the cream is non-sticky, it will penetrate well into the skin and provide you with a complete and long-lasting moisturizing experience. Therefore, choose a product that is easy and quick to absorb.
Price: If the product uses all-natural and herbal ingredients, it could be expensive than other products.
Quality: It is safe to use well-known products that have been dermatologically tested and proven to be safe for the skin.
The best lactation supplements may help improve your breast milk supply when chosen carefully. To pick a suitable option, look for those that are vegan-friendly, safety-certified, and free of artificial preservatives, gluten, or flavoring. Also, before zeroing in on a product, you may take the advice of a lactation expert or a doctor. And when consuming the supplements, do not forget to observe any changes in your body—if you notice any adverse effects, discontinue using them.
Recommended Articles: 
The following two tabs change content below.

Poulami Nag is a writer and associate editor at MomJunction. She did her MA in English from Miranda House, University of Delhi and has qualified UGC-NET. Her journey as a content writer began in 2017 and since then she has garnered diverse interests along the way. Her knowledge of literature and language has given her an eye for detail and...
more