If you enjoy starting your day with fresh juice, a hand juicer could help you obtain your daily dose of nutrients. It can simplify your juice-making process and is not time-consuming. With various juicers available, choosing the right one might be a difficult task. Here is a list of the best hand juicers to help you make delicious, fresh juices.
Top Products From Our List
11 Best Hand Juicers
Drizom manual squeezer is space-saving and can grate, zest, and separate egg yolks. The garlic grater also works for potatoes and ginger. It has a one-cup capacity and a flip-top design. The juicer and cup's durable, food-grade plastic design can withstand frequent usage and are dishwasher-safe for easy cleanup. It is travel-friendly and ideal for fresh juice marinades, flavoring dishes, mixed drinks, and craft cocktails.

The lemon squeezer's 2.75-inch bowl does not leave a mess of seeds and pulp in the juice and does not require chopping the lemon. Measuring 9.05×2.95×1.96 inches and weighing one pound, the device is resistant to moisture, heat, and stains, and its enamel coating will not rust or react to the citrus acidity. The set includes a lemon squeezer and a lemon zester made of food-grade stainless steel.

OXO two-in-one citrus juicer can squeeze lemon juice for cocktails or oranges for juices. With two reamers, the dishwasher-safe, BPA-free device's contour design is easy to hold, and the easy-to-read measurement mark is up to 1.5 cups. The pouring spout is drip-free, and the reamer is detachable for easy cleaning.

This hand juicer has a strainer to remove seeds, thick pulps, and citrus rinds from your juice. Its 12-pin fixed position lid design offers easy squeezing without splashing or getting your hands sticky. With a capacity of nearly two cups, it can keep approximately five oranges' juice at a time. It is easy to store and clean, and travel-friendly.

Sunhanny manual hand squeezer has a 12-tooth reamer for extracting maximum juice. Made of food-grade PP material, its flip-top design can save space and works as an egg yolk separator. With a capacity of 17 ounces, it can store a considerable amount of juice and is ideal for camping trips. Its top cup can support you in holding the orange and later serves as a drinking cup.

The manual juicer can swiftly extract juice from lemon, lime, orange, and other citrus fruits. You can carry it with you for camping or picnics. However, you must split the lemon in half before squeezing and rotating the top. If the edge feels sharp, smooth it with sandpaper.

The squeezer measures 9×3.14×4.3 inches and weighs 20.8 ounces, and is ideal for citrus fruits such as lemons, oranges, limes, grapes, watermelons, and others. It is composed of non-toxic, lead-free, food-grade 304 stainless steel and comes with a two-year warranty. The device is dishwasher-safe, space-saving, and comes with 50 filter bags.

Mueller citrus juicer has a lockable squeezer to keep seeds and pulp out of your juice without using a separate filter. The removable lid makes cleaning easier, and the non-slip silicone strip at the base helps stabilize the base for easy operation. It measures 6.38×5.63×4.09 inches and weighs 3.84 ounces, suitable for traveling or camping.

With a well-designed stainless steel body, the Etinslant citrus juice squeezer is robust and can extract huge quantities of juice. The container includes two-sided handles and two spouts, allowing easy pouring without removing the upper section. The lockable and detachable sieve allows for quick juice drain while catching the sediment.

With this juicer machine, you can make juice from soft or pulpy fruits, including mandarin oranges, Persian limes, Eureka lemons, poms, clementines, grapefruit, and more. The stainless steel filter collects pulp and seeds and is detachable for easy emptying and washing. Its funnel keeps everything together in any sink or dishwasher. The ergonomic handle's rubber grip makes operation easy, sending the juice straining through the central cone into your glass. This machine's 15 pounds of reinforced cast iron strength provides long-lasting power, withstanding up to 2300 psi of pressure.

The two-in-one juicer squeezes juice without seeds or sediment and works with lemons, limes, oranges, and cherry tomatoes. It includes a double-layer splint design for increased pressure and comfort. The juicer is made of die-cast aluminum and has a non-toxic, lead-free coating. After each use, you can clean it in the dishwasher or by hand.

How To Choose The Right Hand Juicers?
Consider the following factors when buying a hand juicer.
Durability: Choose high-quality hand juicers with durable and sturdy parts to withstand frequent usage. Ensure it has a strong side handle for a tight grip.
Materials: Ensure the hand juicer is composed of food-grade ABS materials and is free of BPA and other harmful components. It should be resistant to moisture and heat, and the enamel coating should not rust or react to the acidity.
Cleaning: Make sure the hand juicer is easy to clean and is dishwasher-safe.
How To Use A Manual Juicer?
Follow these steps to extract juice with a manual juicer.
Wash the fruit's skin and cut it in half to extract the juice with minimal pressure.
To allow the juice to flow into the sieve, cut off a bit of the skin on one side, place your manual juicer, and fill in half a slice of fruit.
Place the plump side of the citrus fruit down towards the cone.
Apply strong pressure, rotate it back and forth, and push it to extract the juice. Continue the same process with the other half of the fruit.
Pour the collected juice into a glass. Clean the juicer according to the manufacturer's instructions.
Frequently Asked Questions
1. Is the juicer easy to operate?
A juicer is easy to operate and can extract juice from orange, lemon, limes, pomegranate, watermelon, mangoes, and vegetables. The ergonomic design of these juicers enables simple squeezing while the strainer filters out seeds and pulps.
2. Does the juicer extract juice effectively?
A hand juicer can extract a good amount of juice, around one to two cups, while keeping the nutritional value intact.
A citrus juicer is a must-have tool for extracting fresh juice from fruits while being space-saving. Manual juicers are popular because they are compact, quiet, easy to clean and store, and hassle-free. You can carry the hand juicers when traveling, camping, etc. So, choose from our list of the best hand juicers and enjoy tasty fruit juice.

Recommended Articles:
The following two tabs change content below.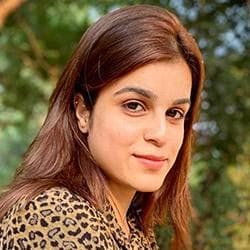 Sakshi John
Sakshi did her graduation in Journalism from the Madras Christian College, Chennai, before starting her career as a freelance writer. She is into blog writing and for MomJunction, she covers various topics, including products to buy for your kitchen, furniture, and other home requirements. Previously, she interned as a content writer in a cyber security firm. As a content writer, Sakshi...
more