A relaxing, leisurely bath can truly change the course of your day, uplifting your mood and making you feel refreshed. But if you want to add some more flexibility and comfort to your daily showers, getting the best handheld shower head installed can do wonders. Wall-mounted showers are a convenient way to bathe, but they lack the adjustability, flexibility, and comfort that hand showers provide. Handheld showers also make it easier to wash hard-to-reach places, are super-easy to operate, function at different temperature settings, and are fun to use.
If you want to turn everyday showers into an even more pleasant and revitalizing experience, read on our list of the top handheld shower heads. Pick the right one to get into an enjoyable and luxurious shower experience.
15 Best Handheld Shower Heads To Buy
This chrome-plated work of wonder by HO2ME instantly shoots a powerful spray of water. Despite low water pipe pressure, this handheld shower head is capable of delivering a steady supply of water. The entire body and mounting brackets are made of strong ABS engineering grade plastic. The hose is made out of stainless steel while the fittings are made from solid brass to avoid cracks and leakages. The soft rubber jet nozzles on the shower head protect it from dirt and mineral build-up. This unit comes packed with a water flow regulator to reduce the pressure of water when needed. This can help you conserve water and, in turn, reduce your water bill. Included with the shower head are all the necessary fittings.
The AquaBliss 6-Spray hand shower has a nickel body with a chrome finish and is quite compact in terms of its form factor. The shower head is equipped with 6 different therapeutic massage combinations to relieve you of stress and lethargy. These 6 therapeutic combinations include rain, pulsating massage, mist, rain and mist, rain and pulsating massage, and water-saving mode. The water-saving mode reduces the water flow by 80% and thereby maintaining the efficient use of water. The hose is extra-long to avoid tangles and uses a 360° rotating technology for easy and independent operation. Much of the popularity of this product comes from its great functionality and easy installation process. The main unit comes with all the necessary fittings needed for installation. This video will provide you with added insights about the product.
The brilliance of this shower head is in its multiple adjustable modes. With 7 different settings to choose from, one can comfortably relax, unwind, and enjoy a relaxing spray of water. To ensure durability, the hand shower is made of high-quality ABS material with a chrome finish. No toxic materials have been used in its construction. This well-polished and shimmy stainless steel shower will enhance the looks of your bathroom. Keeping it user-friendly, the company has ensured an easy and tool-free installation. The durable plastic holder is adjustable and will allow you to control the flow direction of the water. Last but not least, the hose is relatively long, making it useful for reaching hard to reach spots.
The Hammerhead shower head is made from premium 304 stainless steel with a chrome finish. The sleek and slender design makes it look visually appealing. The shower head is capable of delivering 2.5 gallons per minute flow rate and is compatible with numerous shower arms. The long 72-inch shower hose is made out of stainless steel and is versatile enough to reach most spots. The adjustable holder can rotate 360° to provide an ideal and flexible spray angle. The shower holder as well as the shower hose are corrosion and rust-free. To avoid leakages, the company has used solid brass connectors. Take a look at this video to know more about the product.
The brilliance of this shower head lies in its 15-stage maximum filtration system. It eliminates dirt from the water and turns it into pure, chemical-free, and odorless water. Apart from this, the advanced filtration system also enriches the water with vitamin C and E. This results in softer and cleaner skin. The entire body of the shower head is made up of ABD plastic and aluminum. The universal joint is flexible, allowing one to adjust the direction of the flow of water. The AquaHomeGroup shower head delivers a consistent flow of water with close to no scale build-up. It can be used for bathing children as well as pets such as cats and dogs. You may check more about this productin this video.
The DELTA FAUCET shower head offers unrivaled performance owing to its 2-in-1 operation system. This faucet is stylish, sleek and the chrome finish gives it a classy touch. The handheld shower head can be used separately with the hose or can even be docked for a versatile experience. Equipped with numerous spray settings, this handheld shower delivers what you need. The rubber spray holes on the shower allow for easy removal of calcium and lime deposits. The shower head also has a water-saving option through which you can use 20% less water and still enjoy your bath. Furthermore, the ease of installation makes it one of the worthy competitors on our list of the 11 best handheld shower heads to buy. 
This handheld shower head is a classic blend between art and quality. Elegantly designed with ABS material, the shower head has a brushed finish and is a work of exquisite craftsmanship. The stainless steel hose is extra-long and the brass fittings are flexible, durable, and reduce the chances of any leakages. To ensure safety and durability, the company has made use of a copper swivel mounting ball bracket. The shower head consists of 48 medical TPE nozzles that prevent corrosion. The installation of this handheld shower is seamless and almost effortless. Equipped with 6 different spray settings and a water flow limiter, this handheld shower is one worth considering.
This 2-in-You may check more about this productin this video.1 combination of a fixed shower head with a smaller handheld shower head is the layout of this work of art. Its unique and space-saving design makes it possible to fit it in almost any bathroom. The brushed nickel finish gives it a classy and fancy touch. The shower heads are made out of strong ABS material that is heat resistant and durable while the stainless steel hose features an exquisite nickel finish. Each shower head has 2 different spray settings that allow for a relaxed and comfortable bath. The brass connector on the shower head has a 360° adjustment, making it flexible and easy to use. 
Both the shower head and the handheld shower from Taiker are the definition of beauty and refinement. The wall-mounted shower head is constructed from ABS plastic luxury chrome and is rustproof. It is capable of delivering a high-pressure spray of water to cleanse your body and calm your nerves and senses. The handheld shower head is chrome plated and has 3 different modes of operation. The 60-inch hose is long enough so you can move it around when bathing. It features self-cleaning nozzles on the shower heads that make it easy to remove dirt and mineral deposits. Installation is also made convenient as the company provides a step-by-step guide on how to install it by yourself.
The unique design of this handheld shower head will transform any bathroom into a modern and feature-packed one. The glossy silver finish is reflective and will lighten up any bathroom. The shower head features 4 different operating modes and self-cleaning nozzles with a flow rate of 2.5 gm for water conservation and lower water bills. The long 74-inch stainless steel shower hose is durable and boasts of resistance to heat and leakages. As expected, the shower bracket is fully adjustable via a swivel ball for easy rotation. To add more to its features, the kit doesn't require the expertise of a plumber for the installation and can be simply done at home.
This 8-inch shower head is a blend of performance and beauty, delivering a consistent flow of powerful sprays even with low-pressure pipes. Both the wall mounted shower head and the shower handle have a matte black finish. The detachable shower handle has 3 different operating modes to best suit your mood and bathing preferences. The company has made use of an anti-scald pressure balance valve to protect against cold shocks and scalding. All the fittings are made out of solid brass, adding durability to the shower system. This also minimizes the possibility of unwanted leakages and wastage of water. If a complete shower kit is at the top of your priority list, look no further than the GABRYLLY shower system.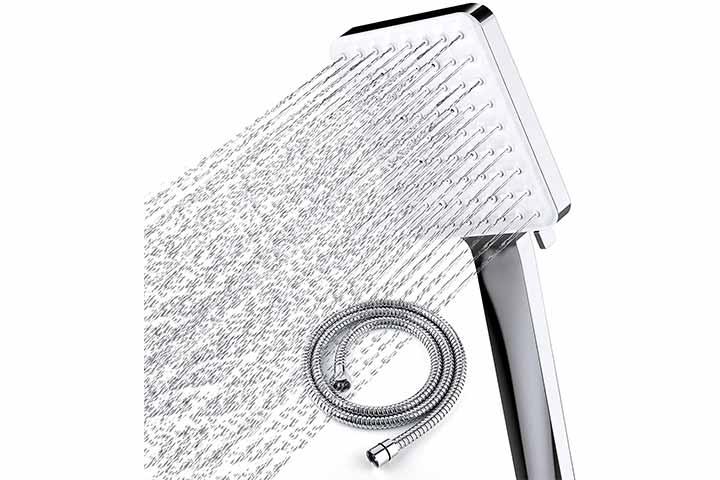 The Newentor handheld shower head features a scratch-resistant ABS pearlescent panel with a shiny finish. One of the standout features of this handheld shower head is a switch that is strategically located at the side of the detachable shower head. This switch allows you to switch seamlessly between 6 different spray settings. The square-shaped shower head allows for an even distribution of water without sacrificing water pressure. The hose is further reinforced with a nylon braided inner hose to protect against leakages. The angle-adjustable shower arm bracket provides for a 360° adjustability. Needless to mention, the shower unit does come with all the necessary fittings for self-installation. 
The 8-inch square-shaped rainfall shower head is wall-mounted and provides a steady spray of water. Constructed from 304 stainless steel, the shower head features a leak proof design and self-cleaning silicone nozzles. The 180° height adjustability is the icing on the cake. This chrome-plated handheld shower head has a water regulator to adjust the water pressure according to your liking. That's not all, as you can also choose from 3 different and convenient spray modes. Adjustability, flexibility, and class is what this kit boasts of. 
The all-white design with a gold rim finish makes this shower head look elegant and exquisite. Designed for operation with low water pressure, this shower head will provide good water coverage. The stainless steel shower head with its fantastic self-cleaning nozzles is built for long time use. The 360° swivel head is flexible and adjustable, contributing to a luxurious and relaxing bath. With a total of 5 spray modes, users can choose from a soothing spray of water all the way to a strong spritz of water. You can quickly shut off the water supply with the easy-to-access on and off button. The 60-inch shower hose is long enough for bathing purposes and will reach difficult to reach spots conveniently. 
This wall-mounted shower head has a smooth polished chrome finish and uses the air-induction technology. A premium meta construction of the shower head ensures its durability and offers a leak-free experience. Owing to this technology, the water drops are larger and also retain their heat for a longer period. Kohler has done a fantastic job by incorporating its Racetrack technology to deliver the right amount of water at an optimal water pressure. This shower head has been optimized to conserve water and reduce water bills without compromising on water flow. Courtesy of a slide bar bracket, the height and angle of the shower can be easily adjusted. 
Now that you've had a look at a wide range of handheld shower heads, it's time to take that leap of faith and purchase one. However, before you do, there are a few considerations to bear in mind.
How To Choose Best Handheld Shower Head? 
Size and shape of the shower head
2 of the most common shapes when it comes to handheld shower heads are circular and rectangular. Circular shower heads seem to be the most popular choice in recent times owing to their flexibility and adjustability. Size also has a great impact on the flow of the water. Smaller shower heads tend to offer a more direct flow of water whereas larger shower heads spray water over a larger surface area.
Most handheld shower heads offer different spray modes for convenience and a luxurious bathing experience. Some of the most common spray settings include rain, pulsating massage, mist, rain and mist, and water-saving modes. However, this will change from manufacturer to manufacturer and from one model to the other.
For a shower head to be effective, it requires a certain PSI level. This means if your water pressure isn't good enough at home, your handheld head shower head will not be able to perform effectively. This will affect not only the strength of the flow but also the consistency of it. Commonly, most shower heads require anything between 40 to 60 PSI. It's crucial to check the water pressure at your home before investing in a handheld shower head.
Simply put, the energy level increases with an increase in the level of water pressure needed. On average, a shower head uses approximately 2.1 GPM. If you're looking to save energy, investing in a showerhead that has the WaterSense label on it is a good idea. If you're wondering what WaterSense is, it's an EPA-sponsored program initiated to allow customers to find energy-efficient products.
This will entirely depend upon your taste and preference and mainly on the color scheme of your bathroom. Commonly, shower heads are either white, black, or gray. Choosing one keeping in mind the color of the tiles and other fittings in your bathroom is highly advisable. 
Frequently Asked Questions
1. How do you replace a handheld shower head hose? 
The process is relatively easy and can be done at home without any expert assistance. Before attempting to remove the shower head hose, turn off the lever to switch off the water flow. Once this is done, turn the nut and remove it from the hose and fitting. Unpack the new hose and attach the hose to the fitting by carefully screwing the nut in place. While screwing in the new hose, make sure that the washer on the hose is secured and tightly fitted.
2. How high should a shower head (or holder) be? 
While there are no exact regulations when it comes to the height of a shower head, a rough estimation is around 80 inches. However, this is subject to different conditions such as the type of shower head. Do bear in mind that rainfall showers are usually installed at a higher height when compared to handheld shower heads.
The invention of handheld shower heads has revolutionized the way one looks at showers. They offer a great advantage over traditional wall-mounted shower heads and make life in the washroom a lot easier. Apart from convenience, they are elegant and slender and add to the overall beauty of a bathroom. The advantages of investing in a handheld shower head are endless and worth the investment. If you've been holding back on purchasing one, take a good look at our well-researched list of the 15 best handheld showers to choose and use the one that you like the most.
Why Trust MomJunction?
We have searched through numerous websites to understand people's showerhead requirements and criteria. This list of the best handheld showerheads is curated keeping your convenience in mind. The showers presented in the list are efficient with adequate water pressure and offer easy handling. We have also included each product's specifications so you can compare them before picking the right one for yourself.