Sometimes, outdoor activities, including hiking, hunting, skiing, or rock climbing, are all you need to beat the monotonous routines. The best hardshell jacket can protect you from harsh weather conditions, such as when temperatures drop or the wind gets intense. These jackets are known to be versatile, lightweight, and durable. They come with a three-layer design and are windproof and waterproof. To compare the best ones available and to select the right one that can keep you comfortable in any weather, we have a list of jackets that you can consider.
11 Best Hardshell Jackets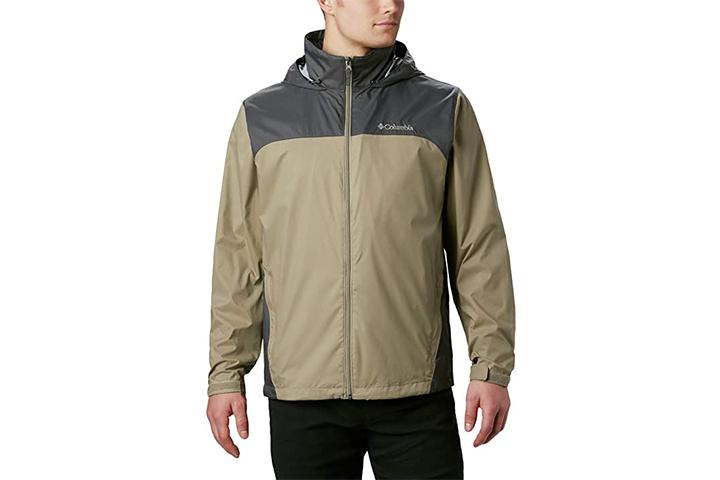 The timeless mountaineering-inspired jacket is made of 100% nylon, making it comfortable to wear on wet and windy days. It has a front zipper closure and an attached hood. Keep yourself protected wearing this stylish hardshell jacket designed with waterproof technology.
Pros
Machine-washable
Lightweight
Compact and handy
Hand pockets with zipper
Has adjustable cuffs and hemlocks
Cons
Waterproof feature may not last long
If you enjoy spending time outdoors, this men's waterproof shell jacket from Wantdo makes a reliable pick. It is made of stain and water repellant 75Dx150D polyester, suitable for skiing, mountaineering, and snowboarding for the best protection. The jacket is designed to keep you warm and comfortable in every weather condition.
Pros
Soft and warm
Windproof and waterproof
Unique three-structured design
Quick to dry
Stretchable gloves with a thumb hole
Includes an adjustable and detachable storm hood
Has several pockets
Cons
Stitching may not be durable
Zippers may not last long
The good quality hardshell jacket for women is made of 100% polyester and has a front zipper closure. It has a relaxed fit design and comes in a wide range of appealing colors. This is one of the best waterproof jackets for women in a contemporary style. Stay sorted with this easy-to-pack jacket and enjoy your outdoor adventures.
Pros
Lightweight and breathable
Wind and water-resistant
Comes with elasticized cuffs
Includes adjustable shock drawstrings
Dries faster
Cons
The soft mountaineering jacket with a fuzzy lining to keep you warm is designed especially for women. It comes with generous cotton padding to prevent heat loss. The collar hook and large-sized pockets add to this jacket's functionality, making it suitable for outdoor adventures. The water-repellent design makes it ideal for wearing on wet and misty days.
Pros
Lightweight and soft
Comes with an adjustable and large hood
Windproof design
Comes with YKK zippers
Includes lots of pockets
Has adjustable cuffs and high collar
Cons
May have leakage issues around cuffs and back
The Marmot jacket is made using the unique NanoPro technology and has tightly packed pores to prevent water droplets from entering. It is one of the best hardshell jackets with PreCip, which promises taped seams that prevent leakage. Stay protected even in harsh weather conditions with this nylon jacket, which has a front zipper closure.
Pros
Comes with Driclime chin guard to protect the chin
Includes Pitzips for ventilation under the arms
Comes with angel-wing movement
Machine-washable
Comes with full-length zippers on the sides
Has elastic waist for a comfy fit
Includes side pockets and back pockets
Cons
Lining may not be durable
The premium-quality jacket is a blend of DWR-treater outer fabric, a waterproof membrane, and a breathable inner lining. It is a durable coat designed with a membrane that keeps the water molecules locked outside, thereby keeping you dry and comfy inside.
Pros
Waterproof and windproof
Breathable and lightweight
Suitable under harsh weather conditions
Designed for exceptionally long activities
Ensures comfort in hot and cold conditions
Cons
The stylish men's hardshell jacket is made of 210T nylon with a professional water-repellent coating. It comes with a polyester mesh lining for breathability. The jacket has waterproof levels of 10000mm to protect you from rain. Itis one of the best shell jackets with a humanized design that takes care of your comfort.
Pros
Comes with taped seams
Has an adjustable hood
Includes standing collar and Velcro cuffs
Quick to dry
Easy to pack
Offers decent storage to carry stuff
Cons
Stay protected with this three-in-one skiing jacket that makes perfect outerwear for outdoor activities. The waterproof jacket has a fleece liner and removable polyester liner that makes it all-season wear. Made of 100% dacron shell, itis one of the most comfortable snowboarding shell jackets that promise multi-functionality.
Pros
Waterproof and windproof
Lightweight and breathable
Has ten pockets with nylon zippers
Has an adjustable and detachable hood
Includes adjustable smart cuffs
Has a built-in zipper under the armpits for breathability
Cons
Front zipper may not be smooth
The durable hardshell jacket is made of 1000D Cordura and is covered with two layers of fabric around shoulders, elbows, and cuffs. It comes with four interior pockets, two with zippers and two with hook and loop closure. Featuring an interior flashlight pocket inside the chest pocket and arm gear pocket, it can be highly useful during outdoor adventures.
Pros
Has a windproof collar design
Offers great storage options
Comes with adjustable waist
Has durable YKK zippers
Wind-resistant design
Cons
Too many buckles included
Enjoy hiking, skiing, hunting, and other outdoor activities comfortably wearing the best waterproof rain jacket from Little Donkey Andy store. It is an advanced three-layered coat with an optimized fit and 100% waterproof shell. The jacket has multiple pockets for convenience and an inner mesh lining that keeps moisture away.
Pros
Breathable and lightweight
Waterproof and windproof
Has adjustable cuffs
Includes windproof hood and standing collar
Comes with a drawstring hem
Cons
The Moon Shine Camo jacket is made of 100% polyester and designed especially for women preferring fashionable wear. Its comfortable and stylish outerwear locks the heat to ensure the best of comfort while you are hiking, skiing, hunting, or mountaineering. Designed to take care of your comfort in harsh temperatures, it makes a versatile jacket.
Pros
Lightweight design
Includes a chest pocket with zipper
Durable and soft
Water and wind-resistant
Cons
How To Buy The Right Hardshell Jacket?
Here are some features to consider when buying a hardshell jacket.
Resistance against water and wind: A good quality hardshell jacket should protect you in different weather conditions. Look for a jacket made of premium materials that can protect you from rain and wind
Breathability: A jacket that can keep you ventilated all the time, especially during intense physical exertion, is what you should go for. Pick a coat made of breathable membranes for more comfort.
Pockets: A quality hardshell jacket with enough pockets lets you store small stuff and keep your hands warm. It is better to have zippered pockets for added convenience.
Mobility: Look for a jacket that offers enough strength and free movement so that you can move quickly and easily on different terrains.
Hood: Most hardshell jackets come with a hood. However, you should look for hoods that can be adjusted and are waterproof for better protection.
Frequently Asked Questions
1. Is a hardshell jacket warm?
A hardshell jacket is designed to be breathable, windproof, and waterproof but is not to keep you warm. It protects from wind, snow, and rain but does not offer insulation.
2. How can I clean my hardshell jacket?
Most of the hardshell jackets can be washed in a machine. If they are not machine-friendly, you can clean them with a cloth dipped in warm water and a mild detergent. Do not use harsh products for cleaning and follow the cleaning instructions mentioned on the product.
3. Is it possible to repair a hardshell jacket?
Yes, it is possible to repair your hardshell jacket. You can either give your jacket to the professionals or buy a Gore-Tex repair kit to do it yourself.
4. Which is better: a hardshell or softshell jacket?
The choice of a hardshell or softshell jacket depends on why you need it. If you are going to witness extreme weather conditions, you can use a hardshell jacket. On the other hand, if you are going for a casual outing, then a softshell jacket is a good choice.
Not only a fashion statement, but the best hardshell jackets offer much-needed protection from intense temperatures. These durable and lightweight pieces of clothing are ideal for high-impact activities such as hiking, hunting, and skiing and ensure that they withstand any environmental stressor such as dropping temperatures, rain, and dust. When choosing the ideal jacket, ensure that it is resistant to water and wind, breathable, and has enough flexibility for free movement. In addition, you can buy jackets with more pockets for additional storage.
Why Trust MomJunction?
Poulami Nag is experienced in reviewing fashion apparel and accessories with a knack for curating engaging content. In this article, she has listed the best hardshell jackets and has mentioned the pros and cons of each product to make it easy for the readers to compare each jacket. She has also included a buying guide after researching the essential features to consider when buying a jacket to help you pick the right one.
Recommended Articles:
The following two tabs change content below.

Poulami Nag
Poulami Nag is a writer and associate editor at MomJunction. She did her MA in English from Miranda House, University of Delhi and has qualified UGC-NET. Her journey as a content writer began in 2017 and since then she has garnered diverse interests along the way. Her knowledge of literature and language has given her an eye for detail and...
more