Head lice in your hair can be annoying since they cause itching and irritation. It can be a daunting task to deal with head lice. Head lice sprays help eliminate these tiny insects, which otherwise are difficult to remove from hair strands.
In this MomJunction post, we have created a list of 11 best head lice sprays that could help you get rid of recurring lice in your hair.
11 Best Head Lice Sprays
It is a safe product for daily use to kill lice. It is a spray infused with a healthy mixture of essential oils and natural enzymes to repel lice each time you spray on your hair. It destroys nits and eggs on the spot. It is recommended to use until you see no lice on your head and up to ten days after too.
It is a non-toxic and efficient hair spray to destroy all the nits and lice in your hair. Use this on dry hair and use a nit comb to comb out all the dead lice out of the hair. Apply the spray on the scalp if you see an infestation of lice or if you start scratching your scalp too much. Use even after the lice is gone and keep your hair clean always.
This product is gentle, chemical-free, and can be used daily without worrying about damaged hair. It is non-irritant and treats lice when sprayed on moist or dry hair. Ingredients include a blend of flower and plant extracts that repel lice and also detangle the hair. The product is dermatologically tested so that there is no irritation on the scalp.
It is a mint spray that helps in controlling lice naturally, safely, and without any chemicals. It has peppermint essential oils that are known to prevent lice. There are no parabens, sulfates, or pesticides and hence can be used on kid's hairs too. The natural formula also smoothens and detangles hair.
A complete formula for lice repellent; SoCozy Boo is infused with tea tree oil, peppermint oil, and rosemary extract. This makes the spray a good conditioner that softens and detangles the hair too. It is non-toxic and hence safe for use with kids.
The Hair Genies have formulated an all-natural lice destroyer and conditioner spray that is free of all chemicals and toxins. This spray prevents lice when used every day. It is made with essential oils, such as peppermint. An added advantage is that it also works as a detangler and a conditioner.
The Ladibugs Lice Prevention Mint spray is long-lasting with a non-toxic formula to keep away lice. This spray has a pleasant smell because of the spearmint and essential oils, thus letting you use anywhere. It comes in an easy-to-carry bottle and can be kept in a purse or backpacks.
It is available in a ready to use spray, this lice eradicator helps prevent lice infestations when applied to hair. This spray is safe for children too and can be applied multiple times in a day to keep away the lice until they are eliminated completely. There is a pleasant smell that comes from peppermint, which is a natural lice repellent. It can be sprayed on furniture, bags, clothes, and anywhere else where you think there could be lice infestations.
It is an effective product to kill the lice and the nits, which have a protective coating. It is a mint formula hairspray that is successful in killing all lice within a few days of application. The product is advised to be reapplied within seven days to kill any new nymphs that might have originated.
The spray is formulated to be effective at suffocating and killing the head lice. It eliminates nits along with adult lice. Since this gel is non-toxic, it can be used repeatedly to prevent the formation of lice further. The gel is pesticide-free and is safe for kids too.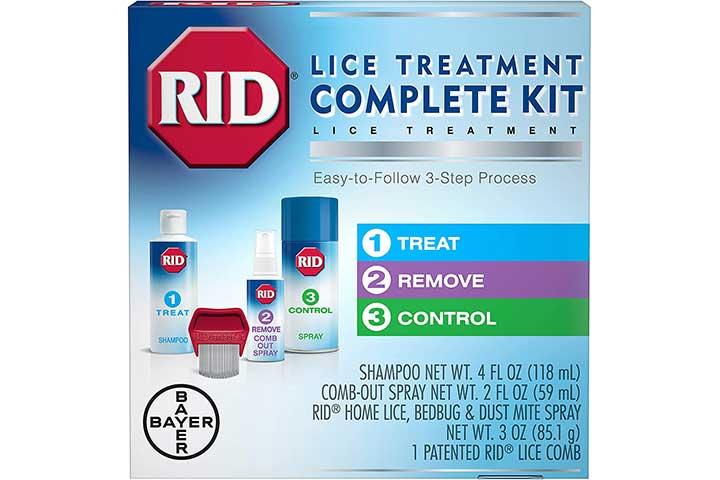 This kit contains sprays and shampoos that can help you get rid of the lice from your kid's hair. You first wash the hair with the shampoo and then apply the comb-out spray followed up control spray. This treatment is effective in eradicating lice from hair completely.
How To Choose The Right Head Lice Spray?
You can keep the following points in mind when shopping for head lice sprays.
Natural ingredients: Avoid sprays with chemicals such as paraben, sulfates, or pesticides. Products made from mint are a better alternative.
Easy application: Head lice sprays should be gentle enough to be applied more than once or twice or several times a week.
Condition the hair: Since head lice sprays are likely to be used continuously, you must pick the ones that can also condition and smoothen your hair.
Good odor: There are chances that you will move out of the home with the hair spray on your head. It should have a good odor so that you can carry it all day long.
Kid-friendly: Lice often occurs in kids' hairs. Your head lice spray should be safe for kids, and not cause itching or rashes on their scalp.
Buy the right head lice spray that will keep the lice away for a long time. Follow the instructions mentioned by the manufacturer on the bottle. You can also use head lice spray as per the directions of a physician.
Do you use head lice sprays? How effective have they been? Let us know in the comment section below.