A headlamp for camping is a light source that can be affixed to your forehead so that you can keep your hands free for other activities. The hands-free light allows you to set up a tent, do chores like cleaning dishes and cooking and go on a twilight walk or a night trek without the need to carry a much heavier flashlight.
These headlamps even prevent you from tripping over tree roots and other obstacles in the dark, as they throw a good amount of light ahead of you. This post lists some of the best headlamps for camping and the features to look when buying the most suitable one.
13 Best Headlamps For Camping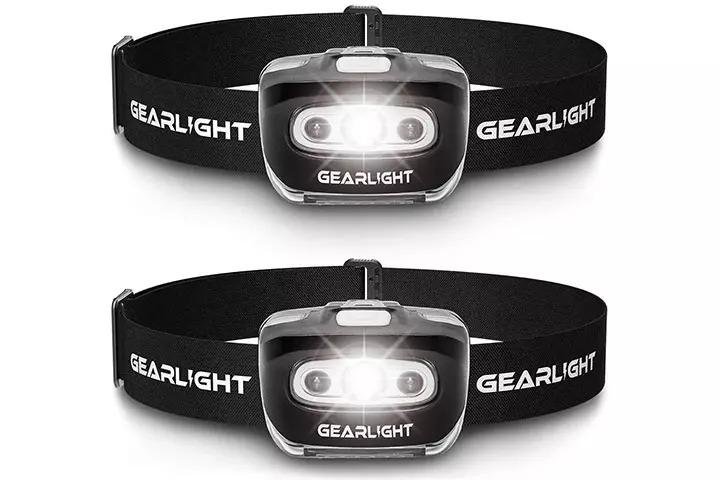 The GearLight LED headlamp is lightweight and powered by three AAA batteries. It is super bright, lasts for up to 45 hours when used on low power, and can be washed easily. You can tilt the headlamp to 45° for convenience when climbing, walking, or reading a book in a tent. The pack of two shock- and water-resistant headlamps lets you explore nature in rainy and snowy weather too.
Pros
Long-lasting and durable
Comfortable with adjustable headband
Seven red and white beam lighting modes
Powerful beam light
Good battery backup
Cons
May tend to break easily
Buckle may not be sturdy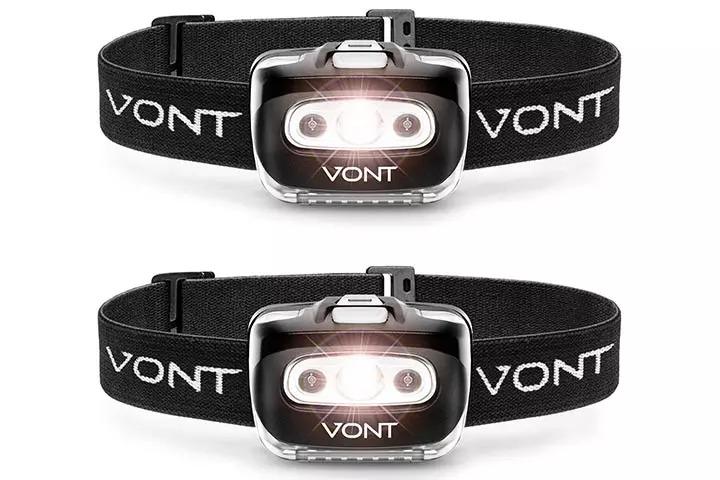 The Vont LED headlamp has an adjustable and comfortable headband that lets you hike and ride smoothly in the dark. Its seven light modes can be switched using a single button for a hassle-free experience during your outdoor adventure. The pack of two headlamps is powered by three AAA batteries and can be tilted to a 45° angle based on your preference. Its ergonomic design minimizes neck strain and gives you an effortless experience.
Pros
Lightweight and super bright
Waterproof and drop-resistant
Versatile, portable, and durable
White and red light mode
Cons
Bulbs may tend to burst
May not last for long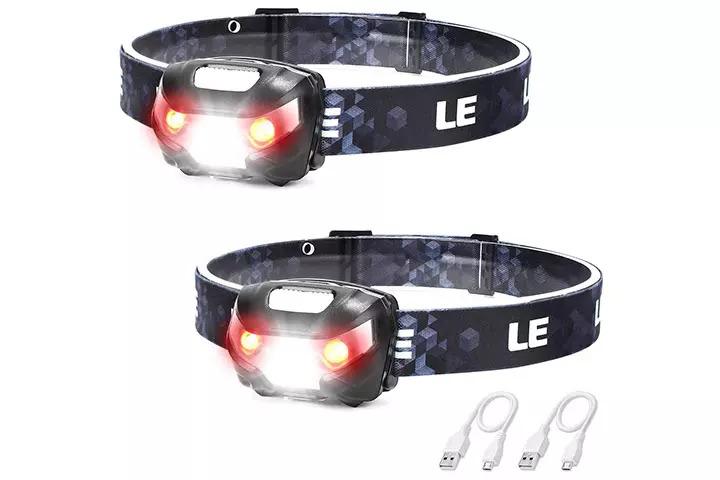 The lightweight, waterproof headlamp provides a considerable amount of brightness, letting you do chores at night when camping. It has a battery that can be recharged using a USB cable connected to a compatible port. It has three white light modes (low, high, and strobe) and two red light modes (flash and stay on). With a brightness of150 lumens, it can light up to 150ft, while its durable headband can set the light to a 45° angle.
Pros
Splash-proof and lightweight
Made of durable materials
Fully charges in four hours
Adjustable red and white light
Works for up to 30 hours
Rechargeable battery
Cons
Charge may run out quickly
Buttons may get stuck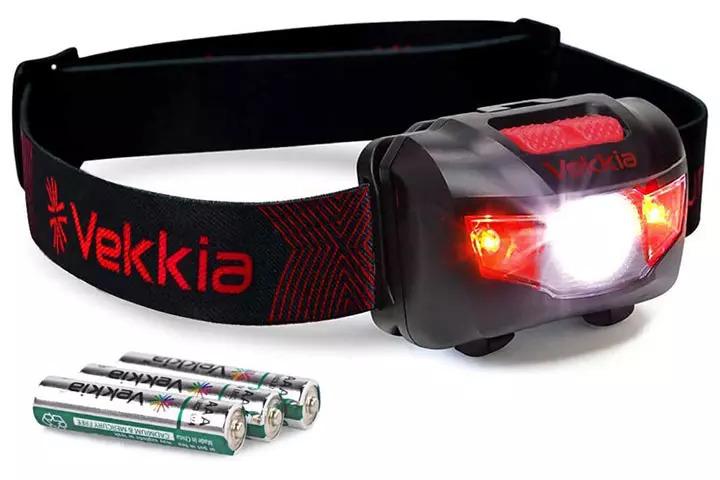 The LED lamp manufactured by Vekkia has a 45° angle adjustable angle, gives an output of 160 lumens, and illuminates an area up to 325ft. It is designed to provide five light modes, including three white light modes and two red light modes. The water-resistant and versatile camping light can improve the camping experience significantly.
Pros
Lightweight headlamp, weighs 2.6oz
Red light improves night vision
Bright light output
Supports soft light output for 60 hours
Powered by three AAA batteries
Cons
Batteries may run down soon
May turn off automatically
Buttons may be hard to press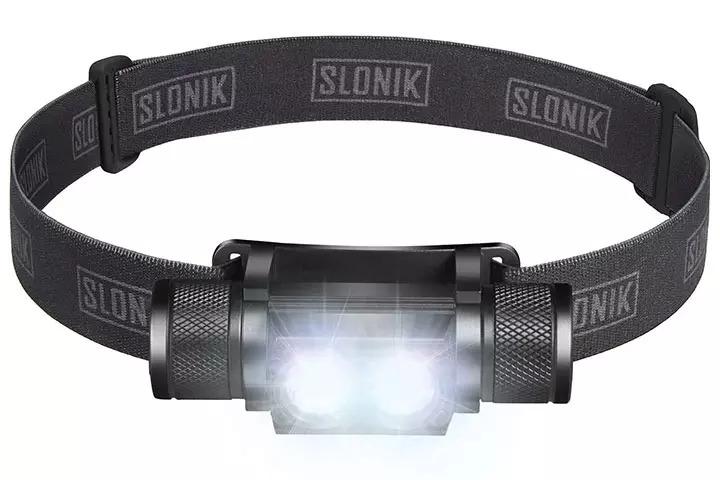 The Slonik camping headlamp provides a powerful beam output of about 1000 lumens and covers a large area of 600ft. It has a 2200 mAh lithium-ion battery that can be charged in two hours using the USB cable. The lightweight and durable LED light has a lifespan of about 100,000 hours and is easy to operate.
Pros
Comfortable and stretchable
Powerful light, weighs 4.19oz
Battery lasts up to eight hours in low mode
Waterproof and dustproof
Six brightness levels
120°angle adjustability
Cons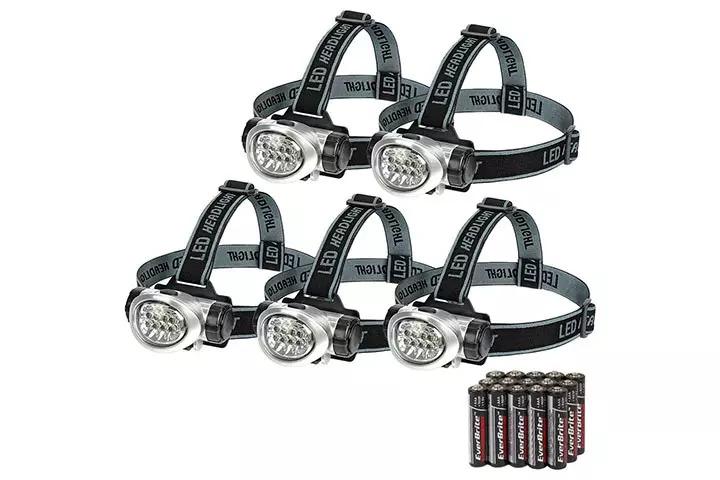 The superior-quality camping headlamp is composed of eight high-quality LEDs with 100,000 hours lifespan. It has four light modes to provide illumination for up to 65ft. The user can choose from two, four, and eight-bulb brightness, with a run time of up to five hours. You can rotate its head up to a 90° angle and use it for fishing, camping, exploring, and hiking.
Pros
Five headlamps included
Powered by three AAA batteries
Adjustable headlamp
Made of durable materials
Simple one-button design
Comfortable and lightweight
Cons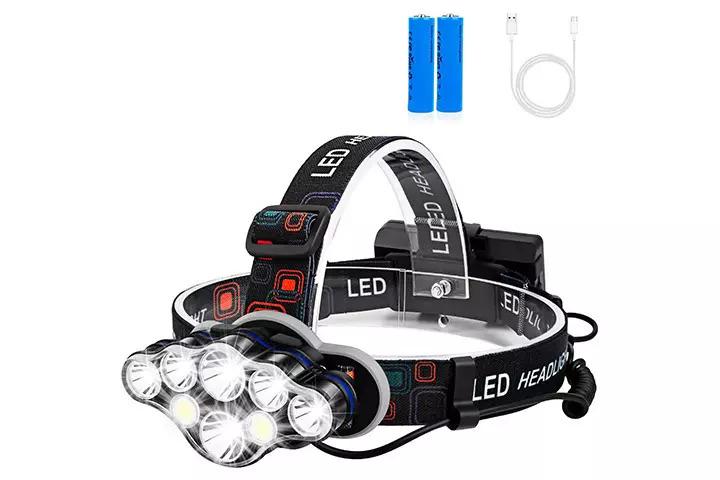 Walk around the camp, repair vehicle, or trek at night using this headlamp with two 1500mAh rechargeable batteries. The headlight has eight LED lights, which can be easily controlled with a single button. It also has white and red SOS strobe modes to provide super bright light wherever you go in the dark. You may charge the battery with a power bank, a laptop, a solar charger, or a wall outlet using an adapter.
Pros
Water-resistant, durable, and long-lasting
Headlamp rotates over 90°
Good battery life
Red rear safety light
Can be charged with a USB cable
Cons
Batteries may be prone to overcharging
LED lamps may fade fast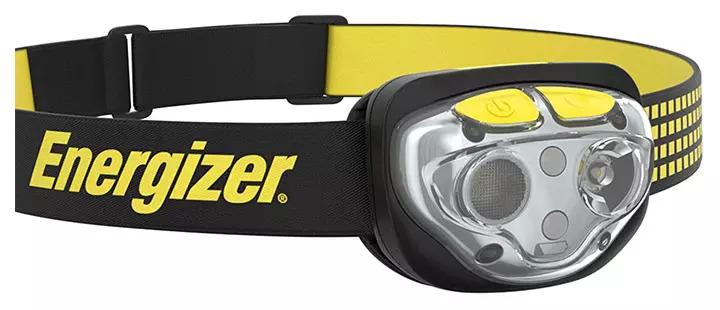 You can illuminate a trail when night hiking with the Energizer vision headlamp. The light quality provided by the camping headlight is 400 lumens and can be adjusted as per your convenience. Its high light output and six adjustable modes make it one of the best headlamps for working during twilight or doing chores when camping at night.
Pros
Washable and durable
Works on three AAA batteries
Water-resistant and shatterproof
Lightweight, durable, and adjustable
Red light warns when the battery charge is low
Cons
May not be easy to adjust the light output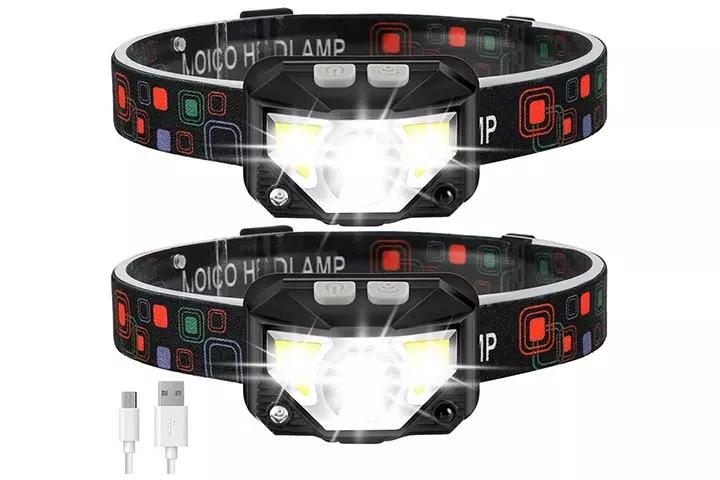 When looking for an ultra-bright headlamp for hunting, this headlight from Moico can be an ideal choice. The rechargeable light has one batterywith1500mAhcapacity. It is lightweight and weighs 2.44oz and has two buttons to control the eight light modes. The headlamp has an indicator to show a low battery and is convenient for camping, trekking, cycling, or running.
Pros
1000 lumens output for a range up to1312ft
Water and snow-resistant
Durable and shockproof
Set of two headlamps
Run time lasts for up to eight hours
Rotates up to 60° angle
Can sense hand motion
Cons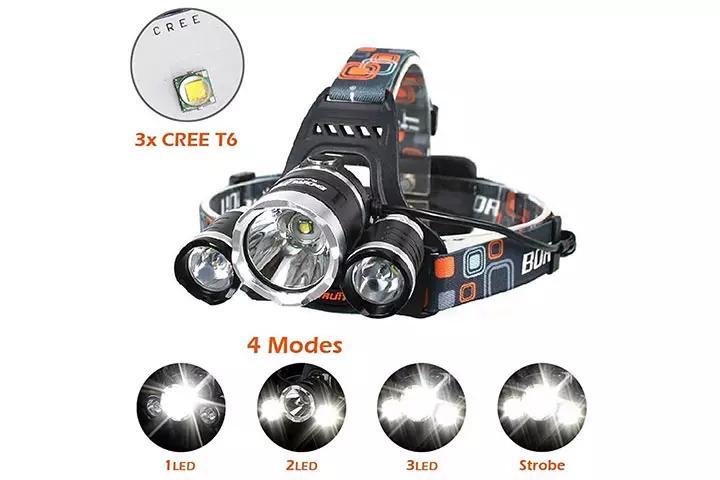 The Ankeca heavy-duty headlamp has three large LED lights to illuminate a distance of up to 2600ftwhen camping or walking outdoors in the night. It is designed to work in all weather conditions, be it extreme heat or cold. The headlamp can be adjusted to a 90° angle and has four light modes with 20,000 lumens. The set includes a charger, a USB cable, two batteries, and a user guide.
Pros
Easily rechargeable headlamp
Battery pack, USB cable, and wall charger included
Water-resistant and durable
Adjustable strap
Cons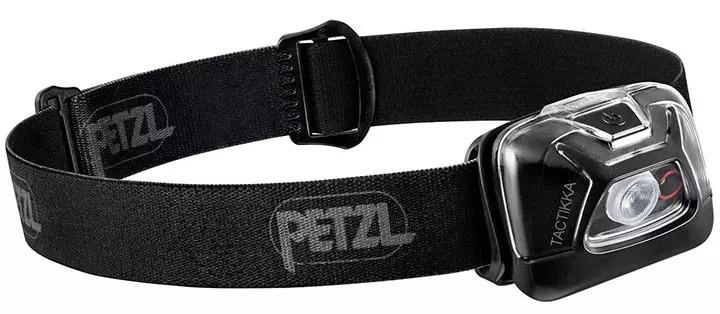 The Petzl headlamp is comfortable and has a compact design. It has a long run time of 240 hours, suitable for all-night use, and a red light option that can be activated when you want a low light. This camping headlight has three batteries and a stretchable headband for improved comfort. Use it for your outdoor trips and explore nature in the dark.
Pros
Compatible with a rechargeable battery
Wide sweeping beam of light
300 lumens output
Water-resistant, convenient, and durable
Ideal for close-range activities
Cons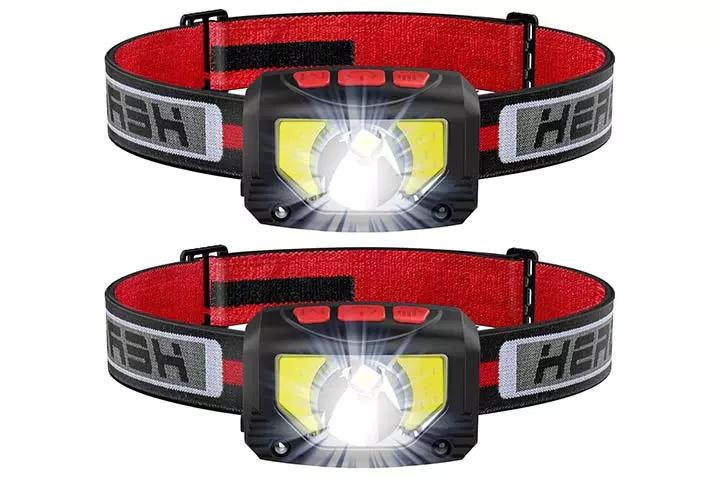 If you spend a lot of time outdoors, this Tinmiu headlampwith1000 lumens light output can be a suitable option. It has six adjustable light modes that can be operated with a single button. It has an appealing red light mode, a rechargeable battery, and a 90° rotating pivot head—ideal for night hiking and other outdoor activities.
Pros
Easily chargeable 1200mAh battery
Provides up to 10 hours of run time in low mode
Two headlamps included
Motion sensor for activating the light
Recharges quickly
Water-resistant and shockproof
Two types of beam angles
Cons
Doesn't turn on when charging
May flicker a lot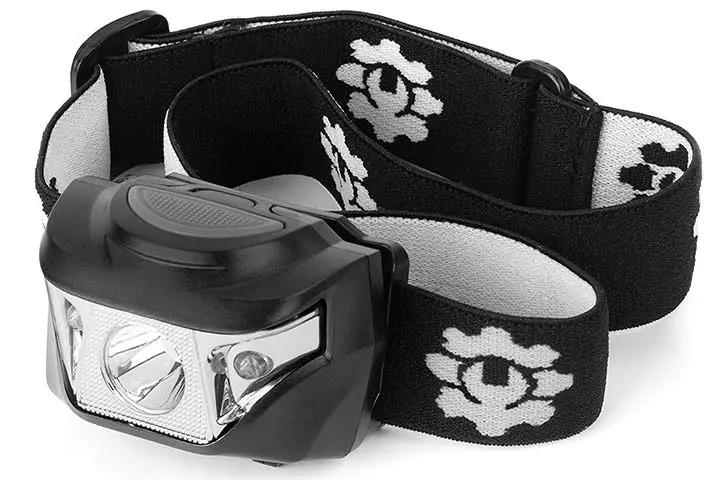 The comfortable and adjustable headlamp from Rough Work operates with a single button and reduces switching through modes. It tilts up to 45° and has a long press to activate the red light mode. It provides a bright light output of 350 lumens, making it the best headlamp for work.
Pros
Water-resistant and weatherproof
Red light option with two red LED
Three AAA batteries included
Comfortable and stretchable headband
Easy to operate and durable
Cons
Buttons may malfunction after some use
How To Choose The Right Headlamp For Camping?
A good quality camping headlamp can be used for various purposes such as fishing, working on a car, or searching inside the attic. Look for these features when selecting the best one.
Lumens output: The brightness of a headlamp is measured in lumen. Usually, those in the output range of 100 to 200 lumens enable adequate vision at a campsite. Using a powerful light source can momentarily blind people and is not preferred during the dark. However, if you are trekking at night or riding a bike, you will need a headlamp that outputs up to 1000 lumens or more as the beam will reach a large area.
Beam of light distance: If you plan on night hiking or walking through a cave, the beam should travel several hundred feet. On the other hand, a shorter beam is ideal for doing chores in the camp.
Light modes and red light output: Ideally, you should get a headlamp with several light modes. If the headlamp also has a red light mode, you can use it to read or watch stars outdoors without compromising your night vision. A headlamp with a strobe mode can be used as a flashing light during emergencies.
Weight and headband material: It is better to consider a lightweight and adjustable headlamp as the heavy option with a large core battery may not fit properly.
Battery type: Choose a rechargeable headlamp that can be charged with a power bank or a portable solar panel. It can help you during long trips.
Others: If you plan to use a headlamp during the entire night or for several hours, pick a headlamp with energy-efficient LED bulbs for longer run time. Also, look for water-resistant and shockproof headlights that have an adjustable tilting angle. Such camping lights can be used for multiple purposes.
If you don't want to carry a flashlight on your outdoor trips, choose a premium-quality camping headlight for ease and good visibility. Look for the desired features and compare the short-listed headlamps to select one suitable for your requirements.
Recommended Articles: