If you are planning to purchase the best pair of headphones, be ready to get bamboozled with the huge variety of them available in the market. Wireless to wired, noise-canceling to stereo bass sound, comfort to high-end, lightweight to a metal frame, and more to choose from, headphone shopping online could be overwhelming.
In this MomJunction post, we bring you a list of some of the best headphones along with their pros and cons to help you choose right.

Top Products From Our List
15 Best Headphones
1. Tozo Bluetooth Earbuds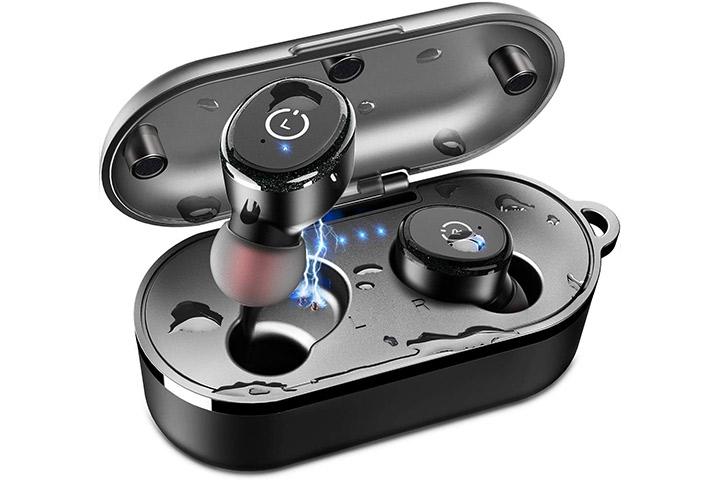 The earbuds are ergonomically designed to offer comfort to the user. They work on the advanced 5.0 Bluetooth technology and offer you a clear and powerful bass sound. They are waterproof and come with a charging case that supports wireless charging.
Pros
Super-light and hassle-free.
Stable and quick transmission.
Has an 8mm large speaker driver.
Available in four colors.
Resistant to water, rain, and sweat.
Cons 
May have connectivity issues.
May not be durable.
2. Cowin E7 Active Noise-canceling Headphones
These lightweight and supersoft headphones come with an active noise-canceling feature.  These are among the high-quality wireless headphones with volume control, call answer, and switch on and on controls at your fingertips. They are available in six colors and give you 30 hours of playtime after one charge.
Pros 
Built-in 750mAh battery.
Comfortable around the ear and could be worn all day.
40mm speaker drivers for powerful and deep quality sound.
Built-in microphone and advanced Bluetooth 4.0.
Cons
3. Bose QuietComfort 35 II Headphones
These are super-advanced wireless headphones that come with three levels of noise cancellation. The headphones are Alexa-enabled to offer quick voice access to play music and access information. They can be connected with the Bose app for smart usage settings. Available in three colors: silver, black, and rose gold.
Pros 
Convenient and quick Bluetooth pairing.
Bose AR-enabled for innovative augmented reality.
The dual microphone rejects noise.
Comes with cables and a carry box. 
Cons
The sound could be distorted sometimes.
Resetting could be complex.
4. Sony Stereo Headphones
These headphones are available in two variations: with and without a microphone. The swivel design makes it easy to fold and carry. The headphones are comfortable and available in three different colors: black, white, and pink.
Pros 
Lightweight and could be worn all day.
Comes with 30mm drivers for full frequency response.
Has Y-type, tangle-free cord.
Cons 
Covers on the ear pads may wear off soon.
May not be long-lasting.
5. Audio-Technica Professional Headphones
These high-quality professional headphones come in wireless and wired versions. The pair is known for the sonic performances and clear sound for DJ use as well as in a live studio. The headphones come with 45mm aperture drivers along with copper-clad wire coils and earth magnets.
Pros 
Swivel headphones for portability.
Professional grade earpad.
Comes with detachable accessories and a carry box.
Comfortable and durable.
Cons
May not be balanced at times, distorted sound.
6. Bose Wireless Headphones
These wireless headphones work on an exclusive technology that gives you deep and clear sound by eliminating the noise. It is equipped with Bluetooth technology that provides easy and quick connectivity. It has a playtime of around 15 hours and runs on rechargeable lithium-ion batteries.
Pros 
Light and comfortable with cushion pads.
Advanced microphone for sound and clear calls.
Convenient controls.
Comes well-packed in sleek covers.
Cons 
May not be compatible with all smart devices.
May not be durable.
7. Sony Wireless Headphones
It is a super-advanced pair of wireless headphones with noise-canceling and soundproof features. It is designed ergonomically and is comfortable to wear. It is Alexa-enabled, which can be used to access information and music. The headphones have touch controls for convenience.
Pros 
Premium quality.
Around 30 hours of battery life.
Touch control enables smart functioning.
Comes with a charging cable, audio cable, and a carry case.
Cons 
May not work properly when used with a laptop.
May not be functional in extremely cold climates.
8. Mpow H7 Wireless Headphones
This pair of headphones is engineered with earmuffs to offer comfort. You may charge it once and use it up to 18 hours to watch videos or listen to music. The CVC 6.0 feature eliminates noise and offers clear communication. Available in four colors of black, blue, rose gold, and light gray.
Pros 
Can be connected to two devices at one time.
The headband is adjustable.
Convenient controls to answer calls and play or pause music.
Rotatable ear cups for carrying. 
Cons 
The quality of the material used may not be good.
May not be durable.
9. OneOdio Wired DJ Headphones
These are professional headphones that provide superior sound with crisp tones and a clear voice. They are equipped with a 50mm large speaker to provide you powerful bass and clear quality sound. It comes with premium-quality cushion pads to offer noise isolation and comfort.
Pros 
Swivel earcups, foldable, and portable.
Comes with 3.5mm and 6.35mm plug points.
Can be used with a DJ player, electronic drum, and studio monitor.
Cons 
Sometimes the sound could be distorted.
May not be compatible with all devices.
10. Bose Noise-cancelling Headphones
These are Alexa-enabled wireless headphones that function with a click of a button. The charging time is short, and one charge of 15 minutes offers a playtime of 3.5 hours. The simple sync technology of Bose provides a better listening and calling experience. It cuts down 11 noise levels and comes in three colors.
Pros 
Optimized for Google assistant too.
Convenient touch controls.
Comes with cables and a sleek case.
Cons 
May experience poor connectivity issues.
11. Cowin SE7 Active Noise Cancelling Headphones
These are high-quality wireless headphones designed to offer more comfort and better sound. They are engineered with advanced active noise-canceling technology to cut down busy office noise, city traffic, or airplane noise and let you focus on your favorite music or videos.
Pros 
Built-in Bluetooth 5.0 and microphone.
Foldable design and professional protein earpad.
Available in six colors.
30 hours playtime.
Lightweight and comfortable.
Cons 
Buttons may be less functional.
Could break easily.
12. Beats Solo3
These are premium-quality wireless headphones that deliver fine-tune acoustics for best balance and clarity. They come with cushioned cups for maximum comfort and fit naturally. The pair is compatible with both Android and iOS devices. 
Pros 
Sleek and streamlined design.
Foldable, portable, and durable.
Can play up to 40 hours.
Comfort fit makes it easy to wear for many hours.
Charges quickly.
Cons 
It is a heavy bass headset that offers crisp and loud audio. It comes with extra pads that are light and comfortable on the ears. It eliminates 85% of the noise and is a recommended headset for isolation. It is adjustable and can be folded as per the need. It is compatible with most Android and iOS devices.
Pros 
Comes with a microphone.
40mm diameter provides a high-quality audio experience.
Quick and convenient controls.
Cons 
14. Microsoft Surface Headphones
It is a comfortable pair of headphones that come with a 30dB active and 40dB passive noise cancellation feature. It is compatible with iOS, Mac OS, Windows 10, and Android devices. The noise can be canceled as per your own convenience. The Omnisonic Audio gives you a clear and crisp sound.
Pros 
Comfortable and lightweight design.
Comes with cable and USB cord.
Has a battery life of 15 hours. 
Cons
The battery may not last long.
15. Philips Wired Headphones
It is a sleek and shiny headset with soft foam cushions for the best comfort. The 40mm speaker drivers provide HiFi stereo sound and bass reproduction. It comes with a single-sided cable that eliminates the mess of any tangling of wires.
Pros 
Noise isolating audio.
Lightweight and stylish over-the-ear wear.
Cons 
May not fit perfectly for some.
How To Choose The Right Headphones? 
Here are a few tips to follow while buying headphones.
Purpose: Do you require the headphones to listen to music or watch movies on your laptop? Or do you need them specifically for calls or other professional purposes, such as audio recording? Based on your requirements, look for other features too. For instance, a high-stereo bass sound headphone would be ideal for someone who is into music, while a simple noise-canceling feature headphone would be enough for a person who requires it for calls.
Types: You could choose from over-the-ear headsets and in-ear earphones and wired or wireless headphones depending on where you want to use them and what experience you are looking for.
Features: Lightweight, comfortable, noise-cancellation, convenient controls, battery life, carry case, Bluetooth, and built-in microphone are some of the common features that you may look for as per your requirements.
Budget: The cost of headphones has a wide range, depending on the features they have. The most inexpensive ones are often the simplest and let you hear music without disturbing others. The most expensive are often those with advanced features such as noise-canceling and more that a musician may require.
Go through the features and see if they fit in your checklist. You may also shortlist a few of them and compare their features and cost. Buy the best headphones and stay focused on your music or video without having to deal with any external disturbances.