Heated car blankets come across as an ideal choice in winters or cold weather to keep you and your fellow passengers warm and cozy during road trips or camping. The blanket comes with a cord that you plug into your vehicle's power outlet (cars, trucks, SUVs, RVs, boats) to generate heat and keep you warm. Heated car blankets are often a part of emergency kits used during rescue missions.
In an endeavor to make your search for heated car blankets easier, we list some of the best heated car blankets that you can buy online. Read on to buy a superior quality, portable, and user-friendly heated car blanket that meets your requirements.

Top Products From Our List
11 Best Heated Car Blankets In 2021
If you are looking for a soft and lightweight, portable heated blanket, then the Stalwart 75-hblanket Electric Car Blanket is worth trying. The 12-volt electric car blanket comes with a 96-inch long cord, ensuring all the passengers, including those at the back seat, get warmth and comfort throughout the ride. The product dimensions are 59in (L) x 43in (W), and the material used is 100% polyester. The heated blanket may also come in handy as an emergency thermal blanket.
Pros:
Easily plugs into any vehicle (cars, SUVs, trucks, RVs)
Comes in a storage case with handles
Easy to fold and store
Cons:
May not warm up the vehicle evenly
Cannot adjust the temperature
A 12-volt electric heated blanket, Car Cozy 2 comes with a seven-foot fused plug that can be easily plugged into any 12V power outlet. The heated travel blanket has many unique features, including a cordless rechargeable spotlight, 12V warmer/cooler, and a rotating carwash brush. Ideal for cars, RVs, or even boats, this blanket is manufactured using 100% superior polar fleece material. The blanket measures 58in x 42in and works well to keep two individuals warm and comfortable. The blanket heats quickly, too.
Pros:
Comes with a patented safety timer (30-45 minutes) with an auto shut-off feature
Comes with automatic temperature settings
Ideal for camping, road trips, tailgating, emergencies
With a low-amp draw (4 amps), the blanket seldom affects the efficiency of the vehicle
Cons:
The blanket may have limited heating/warming capacity
Cannot be machine washed
Heat may not be evenly distributed throughout the blanket
The 12-Volt heated smart travel electric blanket is ideal for cars, SUVs, trucks, RVs, road trips, and camps. It comes with a thermostat and three-level heat control (high/medium/low) to help adjust the temperature level. You can plug this multifunctional blanket into the cigarette lighter socket of your car. The blanket has a dimension of 60in x 40in and is manufactured using 100% soft, superior-quality polyester fleece.
Pros:
Does not drain the battery of the vehicle
Comes with an automatic power off feature for 30, 45, and 60 minutes
Heats up quite rapidly
Comes with a 30-day free return policy
Cons: 
The plug may get heated up at times
Not suitable for machine wash
The heated blanket is ideal for travel, cars, camper, and trucks. The blanket has an eight-foot power cord that can be directly plugged into the vehicle's cigarette lighter socket. Made of 100% polar fleece, the heated travel blanket has a dimension of 58in x 42.5in.
Pros:
The plug is equipped with an LED indicator
The blanket has a low Amp (4.6 amps or 55 watts) draw
The blanket can be folded without any hassle and stored in the zippered bag (comes with the product)
Temperature range between 70–104°F
Cons: 
Not suitable for machine wash
Does not contain a temperature regulator
May take a long time to warm up
Make your winter road trips and travel warm and cozy with the Camco Polar Fleece Heated Blanket. Ideal for cars, RVs, and trucks, the heated blanket is manufactured using 100% polar fleece. The blanket measures 43in x 59in and plugs into a 12V vehicle power outlet directly.
Pros: 
Equipped with a heavy-duty power cord that is seven feet long
Could be a part of an emergency kit
Low amp draw, doesn't drain the battery significantly
Large enough for two individuals
Cons:
May not get heated effectively in some cases
Not equipped with a heat/temperature regulator
May take time to warm up in some cases
If you are looking for a big heated blanket, then MAXSA 20014 large heated travel blanket, with a dimension of 41in x 57in, is worth trying. Manufactured with luxurious fleece fabric, the travel blanket plugs easily into any 12V cigarette lighter socket. The heated blanket comes with a seven-foot-long power cord to ensure that people in the back seat also enjoy the warmth and comfort. The blanket is ideal for cars, RVs, and boats.
Pros:
Turns off automatically after 30-45 minutes
Equipped with automatic temperature control
Requires just 48 watts of power, thereby conserving energy and the vehicle's battery life
Enough for two people
A 10-amp in-built fuse prevents the blanket from overheating or drawing current extensively
Cons:
Has small parts, and not ideal for children under three years
Product may contain harmful chemicals, according to the manufacturer's legal disclaimer
Cannot be bleached or machine-washed
The heated travel blanket is suitable for cars, SUVs, RVs, trucks, and an eight-foot-long power cord that can be plugged into any 12V cigarette lighter socket. Schumacher 1222 12V Heated Travel Blanket is made of fine-quality polar fleece material and has a dimension of 42in x 58in.
Pros: 
Comes at an affordable price
Low amp (4 amps) draw
Warms up quite fast
Durable
 Cons:
May contain harmful chemicals, as per the legal disclaimer
Could be difficult to wash or clean
Not equipped with an automatic timer
Suitable for SUVs, cars, RVs, trucks, the ELUTO Electric Car Blanket can be plugged into any 12V cigarette lighter/power outlet. It measures 60in x 43.5in and is equipped with a temperature control (high/medium/low) system. Made of polar fleece fabric, the blanket goes a long way to keep one warm and comfortable. You can easily fold and store the blanket in the storage bag that comes with it.
Pros:
Comes with one year warranty
Intelligent electronic constant temperature control system
Equipped with a 45-minute automatic timer
Heats rapidly and uniformly
Cons:
Cannot be machine-washed
May not produce the desired heat at all times
If you are looking for a comfortable heated travel blanket for camping and long trips, then Zone Tech car heated travel blanket is worth a look. Manufactured using superior quality polyester, the heated travel blanket comes with optimum durability, comfort, and strength. The blanket has a dimension of 40in x 56in and can be connected to the 12-volt DC outlet of your vehicle for warmth and comfort during long drives. The blanket comes with a low amp (3.85 amps) draw and a built-in heating system to keep you warm and cozy.
Pros:
Fireproof blanket
Equipped with a temperature indicator (up to 110°F)
Can be used as a pillow when folded
In-built Far infrared heating to ensure you feel no lumpy wires
Cons:
Can only be spot-washed (no machine wash)
Not a very big blanket
May take longer than expected to warm up in some cases
Suitable for cars, RVs, SUVs, boats, and camps, the JoyTutus 12V fleece electric car blanket comes with a 70-inch long power cord that you can easily plug into any 12V cigarette lighter outlet. Manufactured using warm wool fabric, the durable electric car blanket has a dimension of 59in x 43in. The blanket comes with three intelligent safety protection features that include 149 °F temperature overheat protection, 45-minute timing protection, and over-voltage protection.
Pros:
Heats up within three to five minutes
Equipped with cigarette lighter protection
Safe and durable
A year-long product quality support
Cons:
Not suitable for direct or machine wash
May not warm up uniformly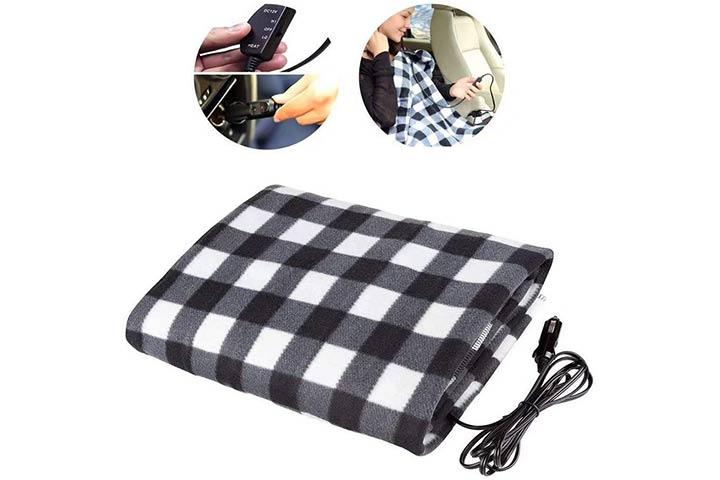 The soft and lightweight heating blanket from Hamosky can be comfortably used in cars, RVs, SUVs, and trucks. The blanket has a dimension of 55.12in x 39.37in (145 x 100cm) and can be plugged into the 12V cigarette lighter adapter. The electric heating blanket is made of lattice fleece fabric and can keep you warm and comfortable on a cold day. The blanket can be easily folded and stored in the trunk or the backseat of the car. The electric blanket comes with an in-built fuse to negate the risk of short circuit and power overload.
Pros: 
Comes with a low and high gear switch for temperature adjustment
Fast heating blanket
Waterproof and leak proof
Consumes low energy (45W)
Cons: 
Not equipped with an automatic timer
Machine wash may not be possible
May not warm up much
How to Choose the Right Heated Car Blankets?
Mentioned below are a few vital points to help you choose the right heated car blanket.
Blanket material: Most heated car blankets are made using superior quality fabric to ensure optimum warmth and comfort. Some of the fabrics used include polyester (lattice fleece, polar fleece) and wool flannel. Choose the fabric that you are most comfortable with, one that is soft, yet strong and durable.
Blanket size: An ideal heated electric blanket is one that is neither too small nor oversized. While buying the blanket for kids, you can opt for a small to medium size blanket. However, for adults, the dimension of the heated blanket should be selected carefully. Ideally, a heated car blanket with the dimension of 58in x 42in should work well to keep an adult warm and cozy.
Cord size: The best heated car blankets come with a long cord, preferably `from six to eight feet, so that people at the backseat can also enjoy the warmth of the blanket.
Automatic timer and temperature regulator: A blanket with an automatic shut-down and temperature regulation settings can go a long way to negate the incidences of power overload, short circuits, and related fire hazards. Care should also be taken to ensure that the heated electric blankets have a safe wiring system, preferably with insulated wires.
Frequently Asked Questions
1. How long does a heated car blanket take to heat up?
The time to heat up may vary from product to product. While some heated car blankets get heated up rapidly, within minutes of plugging in, others may take a little longer than usual to warm up.
2. Are heated car blankets safe? 
In most cases, the heated car blankets are safe to use. However, some blankets may contain chemicals that can trigger certain health problems, including cancer, birth defects, and certain reproductive disorders. Such blankets usually come with a statutory warning highlighting the same.
No more cold feet or rubbing the palms on a cold wintery ride when you have a heated car blanket handy. Every car ride, camping, road trip, or boat ride will be warm, fun-filled, and comfortable. But that is only when you analyze the blankets' features properly before you go for the purchase.
Recommended Articles: