Let's admit it— talking ourselves into getting out of our cozy blankets on a cold winter morning can be daunting. If you have early classes or a 9 to 5 job, the struggle is real, and it feels like the biggest sacrifice to give up the comfort bed provides. If you're looking for winter apparel that can make up for that level of comfort, you must invest in a heated jacket. On cold winter days when the sun just doesn't seem to be doing its job, you can get yourself a stylish yet insulated jacket that offers unparalleled warmth.
We have curated a list of the best heated jackets for women to save you the time and effort of scrolling on your phone as you do your research while shivering. But before that, we want to make sure you know how to take the needed precautions and safety measures when using heated jackets.
Safety Measures To Keep In Mind For A Heated Jacket
Keep the battery away from water at all times, especially saltwater as it may cause a fire.
Don't leave the battery to charge overnight.
Don't wash your heated jacket with other fabrics. Remember to turn it inside out before washing.
Fasten the zipper before you wash your jacket in the machine. The zipper may get stuck in some part of the washing machine if left open.
Ensure that the insides of the jacket are completely dry before you use it again.
Don't charge a damaged battery.
Store your battery at a temperature between 40℉ to 80℉.
17 Best Heated Jackets For Women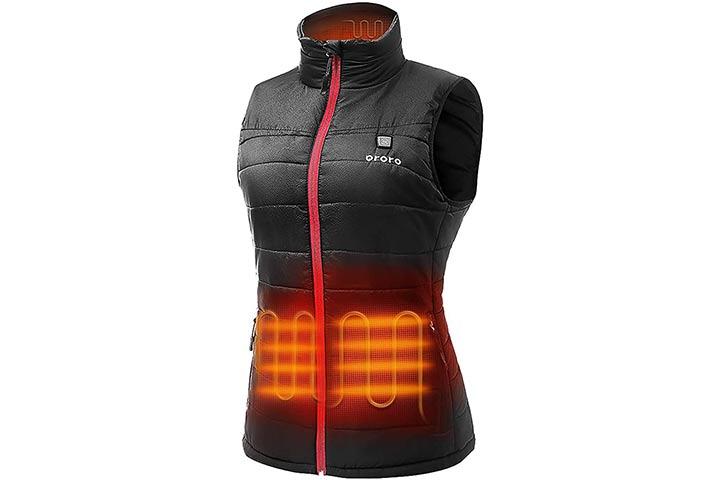 This heated sleeveless jacket stands a class apart for the exceptional warmth it packs owing to 4 carbon heating elements. Based in the Midwest, this brand is a pioneer in tailoring heated apparel. Since it has heating coils in 2 of its pockets, this battery heated jacket will save your hands from freezing. When charged fully, the battery works up to 10 hours and it only takes the jacket a few seconds to heat across the chest, collar area, and pockets.
Pros
Long-lasting warmth
Water and wind-resistant
Can be machine washed
Has 3 heat settings
Features a heated collar
Cons
Some may find the battery heavy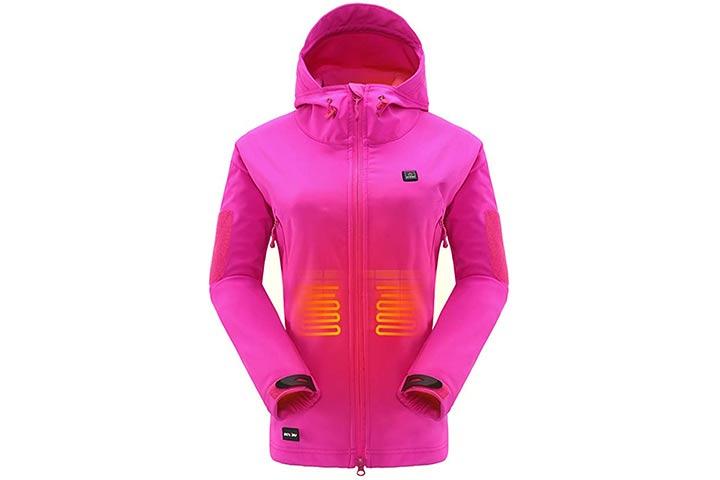 If winters aren't your favorite because of the dreaded icy-cold gusts of winds sending chills to your very core, this rechargeable jacket can help. It is made from a blend of polyester and spandex, which makes it comfy. It is equipped with 3 carbon fiber heating zones to spread heat across the core parts of the upper body. The temperature can be adjusted up to 3 levels by long-pressing the power button. What sets this one apart from others to make it the best heated jacket is that it has high tensile strength and is quite durable.
Pros
Adjustable jacket
Wind, snow, and waterproof
TSA-friendly battery
360° temperature locking function
Multiple pockets
Scratch-proof
Cons
May not properly distribute heat to the arms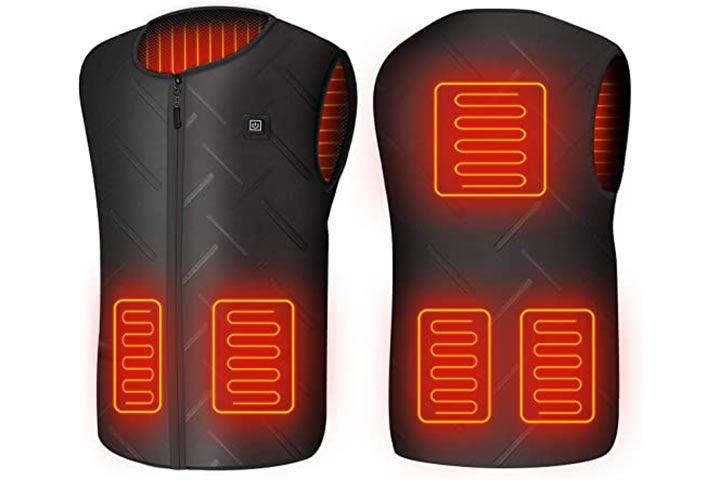 The fall season brings with it a hint of coldness that can still be intolerable for many. As a practical solution, this heated sleeveless jacket brings medium to intense warmth and lets you control the temperature. The inside of the jacket is made from soft materials to give you utmost comfort along with warmth. A good-quality metal zipper and standing neckline are among other useful features of this battery-operated heating jacket.
Pros
Infrared heating technology
Has 5 heating zones
Features LED flash
Elastic edges for proper fitting
Cons
The pockets may be small.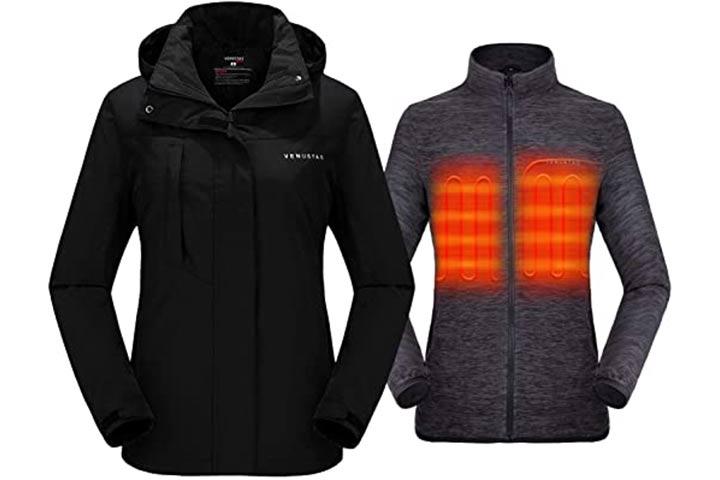 If winters make you compromise on style, this electric jacket warmer is here to change that. This cozy jacket has a hooded waterproof shell and an inner fleece that work great for moderate to cold winters. The warmer features a USB port so that you can charge your phone on the go. It has 3 heat settings from low to high and evenly distributes heat across all areas. The package includes a battery pack and a waterproof bag.
Pros
10,000 mAh Battery
Warms up quickly
Double poly heat system
Combined with a warm-lock fleece inner jacket
Cons
May take a bit of getting used to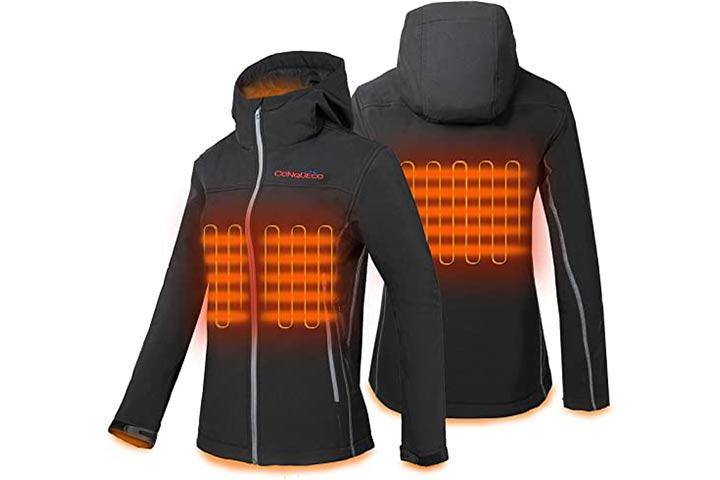 This beautifully tailored heated jacket is an ideal choice for pursuing winter sports and daily use alike. With 3 heat settings and a smart button that lets you jump to the lower temperature automatically at a click, it offers a great amount of control. It also automatically turns off in case of overheating. While it heats the body, it also helps relieve muscle and joint pain and promotes blood circulation.
Pros
Built-in thermal protection module
Breathable material
Waterproof
Features a detachable hood
Has 4 heat stages
Cons
The battery may not last too long.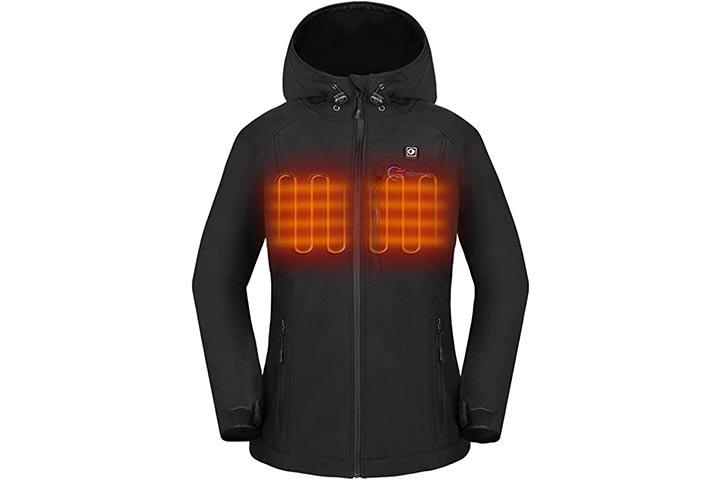 Outdo the icy-colds with the Outcool ladies heated jacket that features an adjustable hood and cuffs with Velcro. It has 3 heat settings and 3 heating zones and can be preheated so that the jacket feels cozy the moment you wear it. As it is made from a durable material, it can be machine washed, which saves the hassle of dipping your hands in cold water. The battery can warm up the jacket and comes in handy when you want to charge your phone.
Pros
Softshell fabric
Up to 12-hour heating
Rapid heating
UL-certified
Windproof and waterproof
Cons
Does not heat the sleeves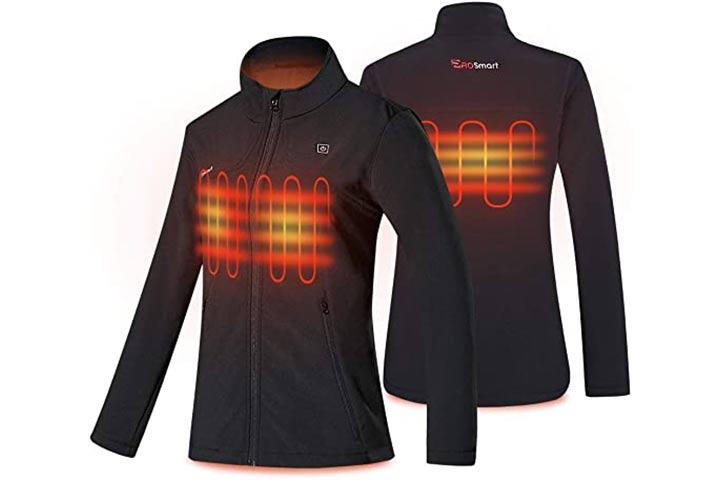 Make some space for the Prosmart heating jacket in your wardrobe when the winters approach. It features 2 heated areas for the chest and 1 for the middle back and uses an advanced carbon fiber far infrared ray heating method. It lets you maintain a temperature between 40°C to 60°C inside the jacket. Some of the health benefits worth taking note of when you use this heated jacket are— relief from rheumatism, muscle pain, improved metabolism, and blood circulation.
Pros
Heats up rapidly
Waterproof and windproof
Up to 16 hours battery backup
Comfortable material
Cons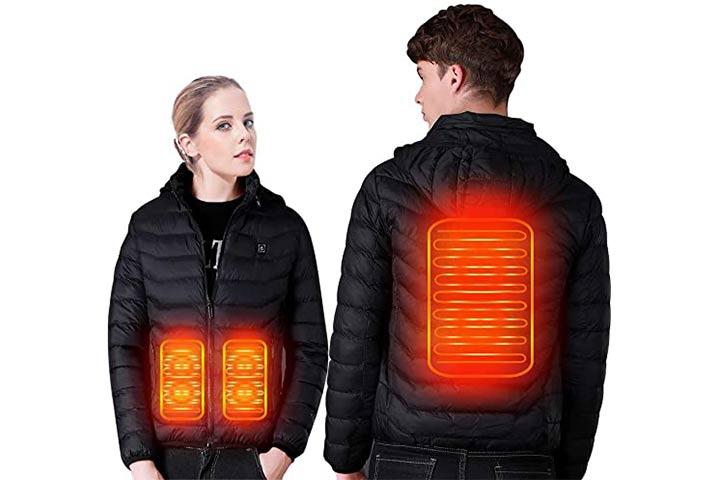 When no amount of layering stops you from shivering in winters, a thermal heated jacket like this one from Suptempo is all you need. You don't have to worry about any harmful radiation as the graphene carbon fiber heating coils are safe to use. It heats the jacket in a matter of seconds as it is equipped with intelligent heating technology. Let the battery charge completely and it'll last you up to 8 to 10 hours to keep you protected from chilly winds when you're outdoors.
Pros
Lightweight
Insulated material
Water and wind-resistant
Promotes blood microcirculation
Relieves pain
Cons
The battery has to be purchased separately.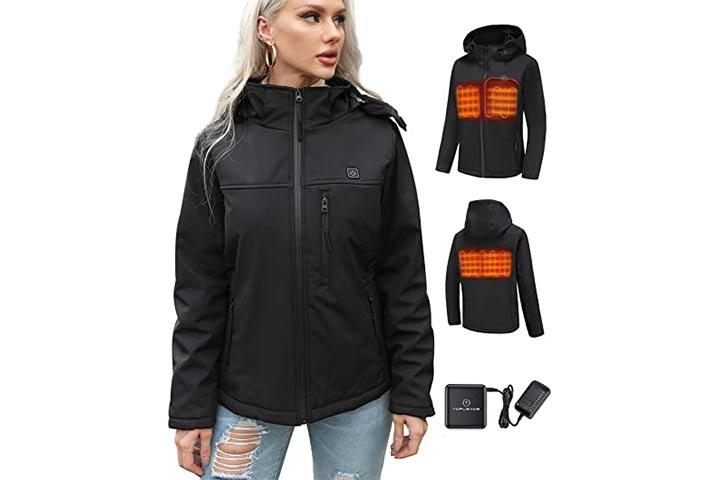 This quick-heating jacket comes with a detachable hood to suit your hood and no-hood outfit preferences on different days. What makes this an impressive heated apparel when winter sets in is that it is 20% larger than usual heating pads and ultra-thin carbon fibers that heat up in seconds. You can wear this on your morning walks or pack them along when you're on a winter vacation.
Pros
Provides pain relief
High tensile strength
Offers rapid heating
Wear-resistant
Adjustable hem
Cons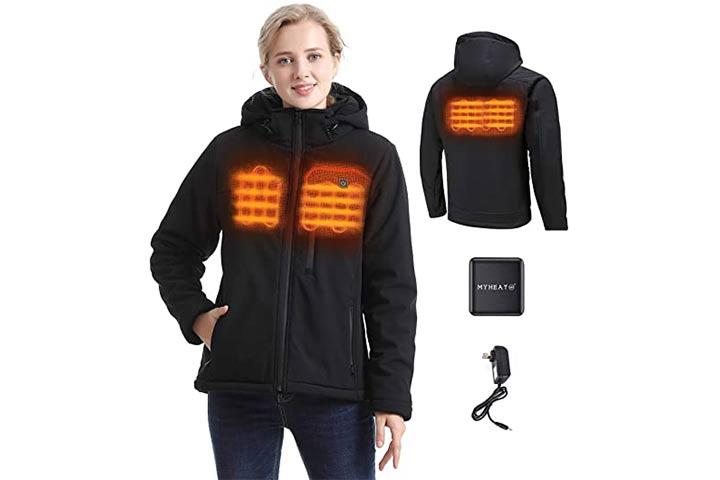 When on a pursuit for a high-performance heated jacket, the Myheat jacket won't disappoint you. It operates for up to 12 hours at low heat and for 3.5 hours at high heat settings. It is made from softshell fabric, which is a mix of 95% polyester and 5% spandex. When you're out for a whole day, you can alternate between high and low to keep the battery going for the entire day. The heating coils are placed across core body areas— left and right chest and the back.
Pros
Comfortable
Slim-fit design
Breathable
Flight-safety
Wide panel spacing to avoid short-circuit
Cons
The jacket is not insulating on its own.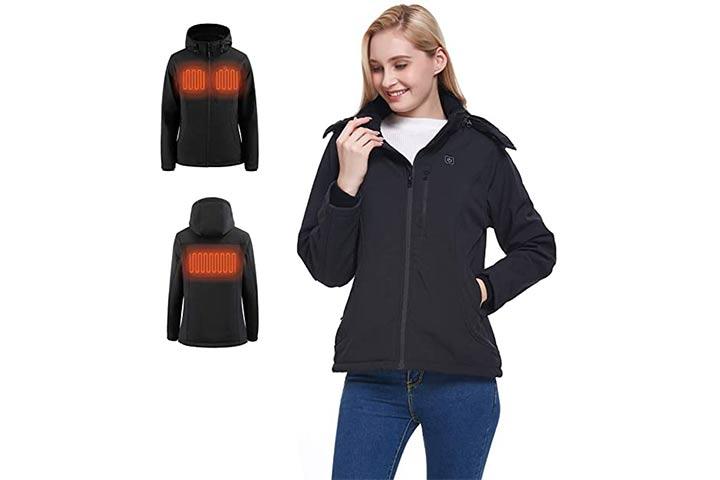 If comfort is your priority numero uno when choosing winter clothing, you don't need to look further than this 100% polyester heated jacket for winters. It is light in weight, which makes it easy-wear for all occasions that will keep you warm. It can even be worn during rainy seasons. Features such as 3-zone heating, easy controls, and the advanced conductive thread heating technology are the reasons why we call it the best-heated jacket for women both in terms of looks and performance.
Pros
Comes with a detachable hood
Offers long-lasting warmth
Resists abrasion
Comes with 1-touch LED controller
Cons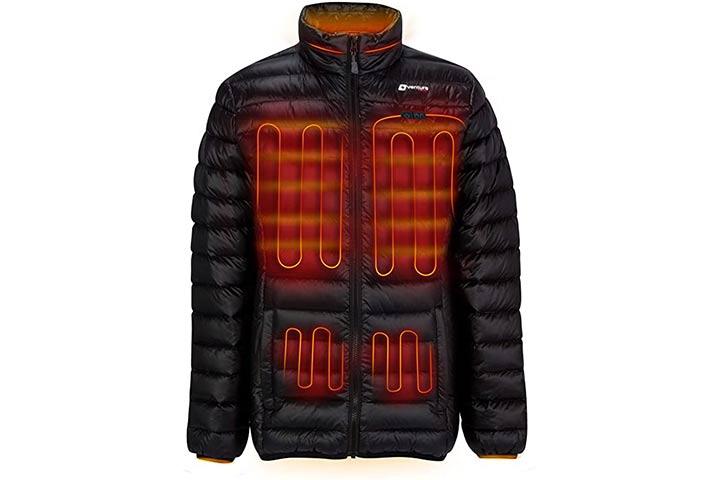 Powered by the proprietary ADDheat technology, this heated jacket features larger heating panels. It has 5 heating zones and 800 down fill power. You can machine wash it and even put it in the dryer as it is made from heavy-duty materials. It is equipped with multi-layer warming technology and comes with a breathable inner liner so that your body generates heat while the heated jacket also provides warmth.
Pros
Features 2 pocket heaters
2 front and 1 back core heating
International safety certified
Built-in LED flashlight
Cons
The battery may not last long.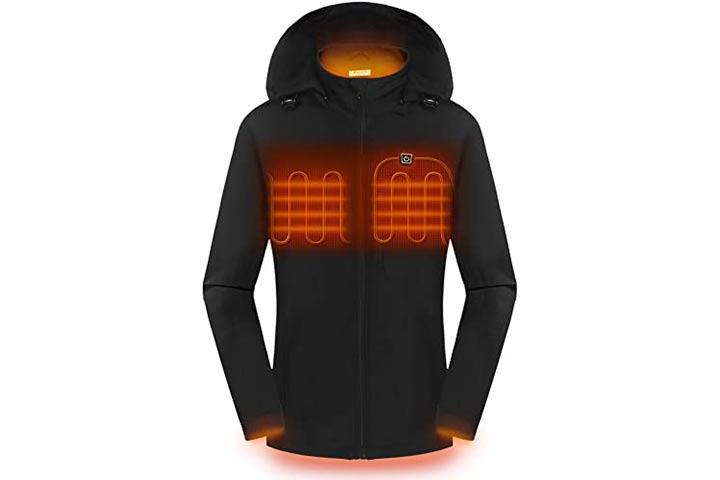 This is by far one of the best heated jackets for winters for the abundance of side pockets, hood, and for being waterproof. It works for up to 7.2 hours when fully charged. It features 3 light colors to indicate the level of heating. While red indicates high temperature, white and blue are for medium and low temperatures respectively. Simply long-press the start button for 3 seconds and wait for the jacket to work its magic.
Pros
Allows free movement
Full-zip closure
Breathable
Windproof
Stylish design
Cons
May not be suitable for extremely cold weather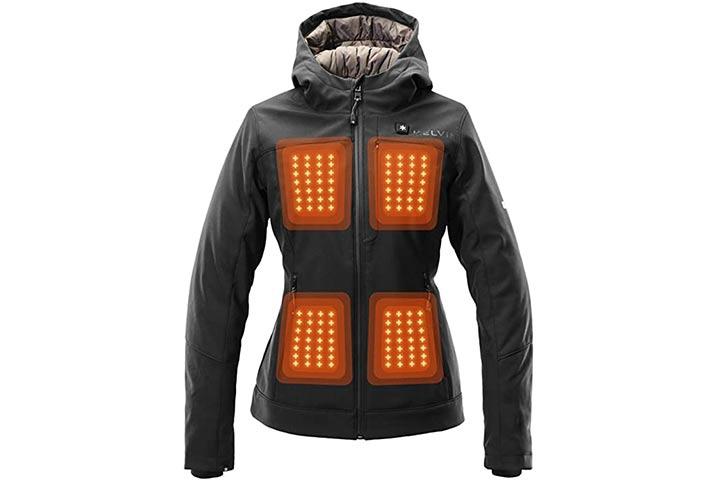 If you're on the lookout for a durable heated jacket that lasts you several winters, this jacket is worth considering. It has 5 heating zones and is powered by a 5200 mAh lithium ion battery. It is made from a water-resistant softshell material and has a hood, which is ideal for extreme winters.
Pros
Tri-layer bonded insulation
Made from sustainable polyester
Lightweight
Has multiple pockets
Cons
Some may find the battery charger heavy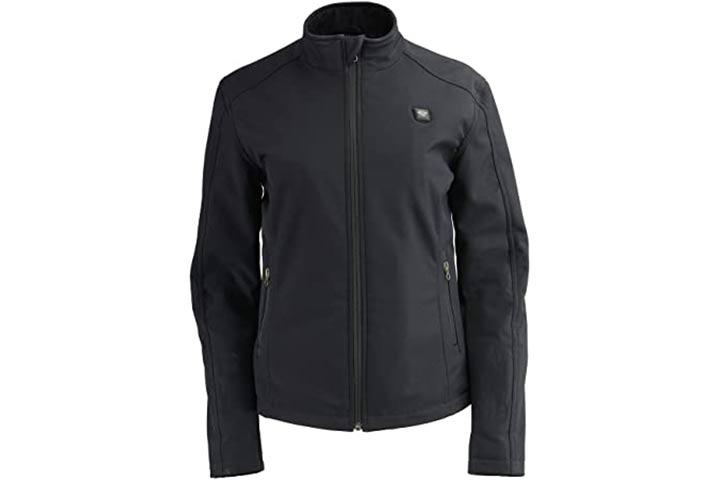 Stay warm and cozy in this sleek heated women's jacket irrespective of the temperature outside. It has front and back heating elements to keep your upper body toasty when you're wandering in the snow. What makes it durable and comfortable is the interior satin lining. When you invest in this jacket, you get a battery and a wall charging kit along.
Pros
Waterproof construction
3 heat settings
Long-lasting battery
Comes in many sizes
Cons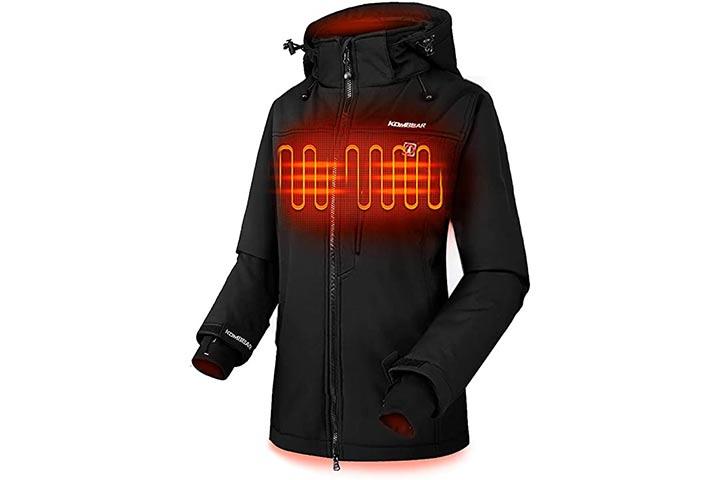 This heated winter jacket is made from 95% polyester and 5% spandex and features a zipper closure for unrestricted movement. This winter apparel's distinguishing feature is its windproof spandex gloves that keep your hands warm when you take them out of the pockets. It is equipped with 4 carbon fiber heating elements which are placed at the collar, mid-back, and 2 pockets. When on the lowest heat setting, it works 12 hours, thanks to its 7.4V system that powers the jacket to stay warm for long hours.
Pros
Neatly tailored design
Allows temperature control
Water and wind-resistant
Machine-washable
Cons
Some may find the collar too stiff.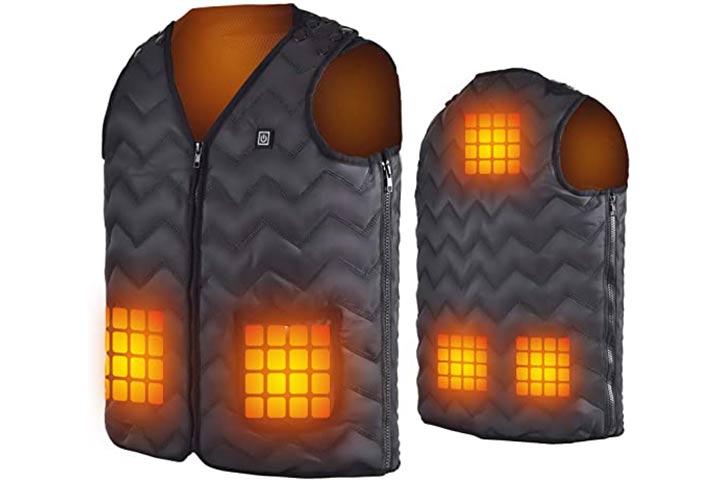 Say yes to this sleeveless heated jacket if you're not a fan of wearing jackets with sleeves. It is made from high-quality materials, so you can pick this jacket every winter season for several years. Give the battery a minute to heat up your jacket and you're ready to step out. You can conveniently place the power bank in one of the pockets and walk without any worries.
Pros
Size-adjustable
Has 5 heating areas
Lightweight
Durable
Skin-friendly material
Cons
If the list of our 17 heated jackets for women gives you too many options, reading about the types of heated jackets might make it easier to arrive at a decision. Give the next section a read to narrow down your options.
Types Of Heated Jackets
Softshell heated jackets are much lighter as compared to other kinds. As a bonus, they're also water-resistant. This gives you added warmth without the heaviness of winter apparel. If you want something lightweight and yet very effective in terms of providing warmth, a softshell heated jacket would be the right choice.
A heated hooded jacket is exactly what the name suggests— it has a hood that you can wear to protect your head and ears during extreme winters or when it is too windy outside. If you'd not prefer to wear a hood every day, you can invest in a heated jacket that comes with a detachable hood.
Sleeveless heated jackets
If you'd want to wear your heated jacket as the inner layer, it is best to settle for a heated sleeveless jacket or a heated vest. These types of jackets make layering convenient. Now that you know what kind of heated jacket you should pick, here are a few features to look for in a heated jacket to ensure it meets your requirements.
How To Choose The Best Heated Jacket?
While many heated jackets may have up to 5 heat areas and are worth buying, the standard number of heat regions is 3— 2 at the front and 1 at the back. You can figure out what suits you better and make a decision based on that.
A heated jacket with at least 3 heat settings, that is, low, medium, and high, helps you optimize temperature and wear them for more months right from the fall to cold winters.
While the heating coils and heat zones have a lot to do with how warm the jacket feels, the right material can add more warmth to it. The ideal type of materials for heated jackets are softshell, polyester, and a mix of polyester and spandex to ensure comfort and warmth.
While some jackets include the battery, some may not. If you're ready to invest in a battery separately, you can buy a heated jacket that does not include it. However, if not, check what is included in the package before ordering.
Most heated jackets run for up to 12 hours on low heat settings and 3.5 hours on high heat settings. This is suitable for occasions when you're outside the home most of the day as you can alternate between the heat level so that the battery lasts longer.
A heated jacket that features a USB port for phone-charging is super useful if you're ever stuck somewhere and your phone is running out of battery. So, this is a feature worth looking for.
Frequently Asked Questions
1. How can a battery pack for a heated jacket charge a phone?
Heated jackets with battery packs that offer the feature of charging phones have a USB port that allows you to plug in the charging cord, which makes it possible to charge your phone using the battery of the jacket.
2. How do I wash a heated jacket?
Almost every heated jacket comes with a detachable battery, which means you can remove the battery before you wash your jacket. Some heated jackets come with a mesh bag to make it easier for a machine wash. While most heated jackets can be machine-washed once the battery is removed, go through the care instructions and check if it can be machine-washed or not.
Pick one of the best heated jackets for women from our list of the top picks and you'll never have to walk with goosebumps from the chilly gust of winds. These heated apparel are quite understated in their usefulness and versatility. But if you know they exist, you can't say no to the kind of snugness they can offer every time you get in them. So, buy the right one and say goodbye to shudders in the icy-cold season.