A greenhouse is a structure with glass walls and a roof used to grow plants in a controlled and supervised environment. Indoor winter plant care necessitates the use of a greenhouse heater. The best heater for the small greenhouse is needed to keep the greenhouse warm even when the outside weather turns cold. The heater's surface is insulated, and fans are needed to distribute the heat throughout the greenhouse. This way, it regulates the inside temperature and protects the plants.
Here, we have a list of the top heaters for small greenhouses to make it easier for you to pick from.
Top Products From Our List
10 Best Heaters For Small Greenhouse

Home Choice Space Heater is an energy-efficient and fully-assembled heater with three heat settings: high heat (1500-watt), low heat (750-watt), and fan-only. The adjustable thermostat will keep the temperature comfortable, and you can set the dial to the desired heat setting for the perfect temperature.
The advanced ceramic heating element provides quicker performance and abundant heat without open coils. For optimum level performance, use the heater on a dry level away from walls.
Specifications
Power source: Electric
Power voltage: 120V AC with 60Hz
Dimensions: 7.29×5.6×9.65in
Weight: 2.94lb
Warranty: One-year
Pros
Tip-over switch shuts down whenever tilted or tipped
Sturdily built for convenience
ETL-certified
Lightweight and portable
Cons

Aikoper Electric Heater has an advanced PTC ceramic heating system with a fan for spreading the heat evenly. It works fast, warming up the area within no time. It features four heat settings of a low, medium, and high and a fan mode. You can set the temperature using the adjustable thermostat, and the advanced overheat protection sensor will shut down the machine if there is any sign of overheating.
Specifications
Power source: Corded electric
Power voltage: 120V with 60 Hz
Dimensions: 6.4×4.8×9.09in
Weight: 2.99lb
Warranty: One-year
Pros
Tip-over switch
Easy-to-use
Durable and flame-resistant material
Compact and sturdy
Cons
Power cord may not be last longer
Noisy

The professional heater with a fan-forced air technology is a reliable heat source for the plants. It uses a permanently lubricated, thermally protected, enclosed, heavy-duty, ball-bearing motor. Its adjustable thermostat lets you set the perfect temperature for the plants by adjusting the dial.
The heater is sturdily built with heavy-duty steel housing with an IPX4 structure for safety against water splashing. This 1500-watt heater with an infrared heating setting can heat around 152 sq. ft with a 5118 BTU/h heat output.
Specifications
Power Source: Corded electric
Power Voltage: 120V
Dimensions: 10x10x15in
Weight: 13lb
Warranty: One-year limited warranty
Pros
Built-in overheat protection shuts down the machine whenever the system is overheated
Made of galvanized steel
Low-maintenance heater
Cons
Noisy
No automatic shut off feature

The Joy Pebble Heater for indoor application is designed for protecting the plants in freezing winters. The fast-heating technology heats the area in two seconds using 1500-watt power. Its heating element has quick heat generation technology along with a high heat conversion rate, saving energy.
There are two heat options of 750w and 1500w to choose from. It is a ceramic space heater with advanced overheating protection, which will shut the heater when parts of it cross a specific temperature threshold.
The heater spreads the heat evenly with the heat dissipation feature, which averts skin problems caused by one-way heating. The lightweight and portable device is quiet, at just 50dB.
Specifications
Power source: Corded electric
Power voltage: 110V
Dimensions: 10.27×7.83×6.96in
Weight: 3.28lb
Warranty: One-year
Pros
Tip-over protection will switch it off whenever it is tipped or tilted accidentally
Made of ABS plastic
Has a carrying handle
ETL-certified
Cons
Heat circulation may not be enough on high heat

Comfort Zone offers a safe, durable, and energy-saving portable heater that works on the forced-air heating method. With a 1500-watt performance,
It has an adjustable rotary thermostat to set the perfect temperature conveniently. It is a portable milkhouse-style fan electric heater that can heat around 1000sq.ft with 12.5amps.
Specifications
Power source: Corded electric
Power voltage: 110V
Dimensions: 10.5×7.6×14.3in
Weight: 5.38lb
Warranty: One-year
Pros
Tip-over protection ensuring safety by shutting down the device whenever tipped or tilted
Power and caution indicator lights for a safe operation
Oversized carrying handle for easy portability
Durable and sturdy built
Cons
Knob is not durable
Casing may get hot easily

The compact unit heater has the original Pic-A-Watt element with several wattage options to fulfill particular heating needs. It has patented smart limit protection along with a built-in thermostat for precise temperature control. There is an option to choose between high and low heating based on room size. The fan delay spreads the heat from the elements while cooling down, which leads to heat exchange at an optimum level.
Specifications
Power Source: Corded electric
Power Voltage: 240V
Dimensions: 13.63×10.38×11.25in
Weight: 24lb
Warranty: Five years
Pros
Long-lasting cast iron motor
Has a universal wall and ceiling bracket
Suitable for residential and commercial purposes
CSA-certifies to USA and Canada standards
Cons
Thermostat may not long last

The Bio Green Heater has an electric heating system with three heat output options: 3412BTU/1kW, 6141BTU/2kW, and 9553BTU/8kW. It has heating and cooling ventilation systems and does not make noise because of the smooth running fan. You will receive hanging chains and floor mounting brackets along with the device. It is a high-end two-in-one heater that will be sufficient for a small greenhouse.
The output is satisfying with convenient temperature controls between 32°F and 79°F due to its precise capillary thermostat. It has a powerful built-in fan and is made of the best quality rustproof steel. It operates at 240V with NEMA 6-20P plug.
Specifications
Power Source: Corded electric
Power Voltage: 240V
Dimensions: 18x15x11in
Weight: 11lb
Warranty: Two years
Pros
Frost detection function
IPX4 waterproof protection
Heating and cooling ventilation setting
Has an indicator for the switch on/off
Optimum heat circulation
Cons
Low output
Does not have automatic shut off

The portable, electric grow tent heater by Agniiman is designed compactly for saving space with an 89-inch-long cord. It is equipped with an adjustable thermostat for setting a comfortable temperature in a small area. The advanced ceramic heating elements effectively produce heat within three seconds. It features three temperature settings of low heat (750-watt), high heat (1500-watt), and a fan to blow out cool air.
The automatic overheat system shuts the device if it reaches the warning line, making it safe for children and pets. It is made for portability and convenience.
Specifications
Power source: Corded electric
Power voltage: 120V
Dimensions: 10.28×9.06×7.6in
Weight: 3.8lb
Warranty: One-year
Pros
90° tilt rotation
Has a carrying handle for easy portability
Convection heating method
Runs quietly
Long-lasting
Cons
May not produce enough heat

LifePlus's Ceramic Heater has three heating systems of 1500-watt, 750-watt, and fan mode. Heat production will happen faster by the ceramic element heating system that gives instant heat. The overheat protection feature will shut down the appliance whenever it crosses the warning temperature.
The automatic thermostat will shut down the heater when the desired temperature is reached and restarts when the temperature drops.
Specifications
Power Source: Corded electric
Power Voltage: 120V, 60 Hz
Dimensions: 7×6.2×9.2in
Weight: 3.41lb
Warranty: One-year
Pros
Compact design
Convenient handle for portability
Comes fully assembled
Cons
Heater might shut down in high heat mode

Stanley's powerful heater is perfect for an office and can heat up to 165sq ft. It has two heat settings along with a fan mode. The adjustable thermostat will set the comfortable temperature for greenhouse temperature controls, heating within seconds. This is a 120V heater with 5100 BTU/hr. with a lightweight structure. It has a 1500-watt capacity.
Specifications
Power Source: Corded electric
Power Voltage: 120V
Dimensions: 8.5x5x10in
Weight: 3.78lb
Warranty: One-year
Pros
Made of good quality
Forced air heating method
Compact and portable
Cons
Low heat setting may not work
How To Choose The Right Greenhouse Heater?
Here are some points to consider before purchasing a greenhouse heater.
Size: Purchase a greenhouse heater based on the size of your greenhouse. A small-sized heater is enough for most greenhouses. Analyze how much power you need to warm up the greenhouse, and then select the perfect size.
BTU/Watts: The quantity of heat produced is measured in BTU or British Thermal Unit. Select the required BTU heater for your greenhouse to avoid overheating. Watt is the electrical unit, and higher wattage means a powerful heater that leads to quicker heat generation.
Power source: There are three power sources – electric, natural gas, and propane. An electric heater is best for a small greenhouse. A natural gas heater can only be used if there is a natural gas pipeline going into the greenhouse. A propane greenhouse heater is economical and useful, but it requires proper ventilation in the greenhouse to work.
Safety: The heater should adhere to advanced safety norms, including overheat protection, automatic shut off, and tip-over switch for protection and averting unfortunate accidents.
Frequently Asked Questions
1. Why does my new greenhouse heater smell like it is burning?
The greenhouse heater might smell like it is burning due to a dusty heating element. The smell usually goes away after a few uses. If it does not go away, you should stop using it and check with the manufacturer.
2. What safety measures should my greenhouse heater have?
The heater must have an automatic shut off feature. If the temperature becomes high, it should shut down, and if the temperature drops, it should restart.
A greenhouse heater does not need to be extremely powerful to heat a small greenhouse. It should be good enough to raise the temperature above the freezing point to keep the plants comfortably warm. So, compare the features of the above list of best heaters for small greenhouse and find the most suitable one for yourself based on your requirements.

Recommended Articles:
The following two tabs change content below.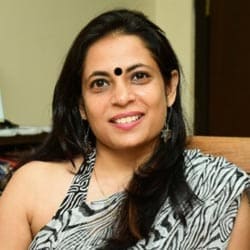 Priti Bose
Priti Bose is a poet, songwriter and blog writer. She did her masters in English, Public Relations and Advertising. Her creative skills and hunger for details make her do in-depth research on the topics she covers. For MomJunction, she writes on product analysis and reviews, especially for kids' products, toys and gifts. Before her association with MomJunction, Priti worked in the...
more