If you're reading this, it means that "that time of the month" is right around the corner or you're just looking to fight pain like a ninja. For days when work seems to just keep piling up, when you have an unrelenting backache, or you sprain your ankle, a heating pad can be all you need to keep the pain at bay.
MomJunction brings to you a list of the11 best heating pads, their benefits, types, safety measures, and how you can choose the best one for yourself.

Top Products From Our List
11 Best Heating Pads For 2021
Body pain can be a thing of the past with this ultraheat technology heating pad. It reaches the highest temperature quickly and maintains consistent heat to provide deep and penetrating relief. Designed especially for arthritis patients, this 12×15 inch heat pad comes with a slide controller along with a large switch. It features 3 heat settings, and the 9-foot long power cord makes it easy to use in different positions and body parts.
Experience the highest degree of heat therapy with this digital moist heating pad. For people suffering from arthritis, muscle spasms, and inflammation caused by strain, this heating pad uses moist heat therapy to provide relief. It comes with a flannel cover that absorbs moisture from the air, so when the temperature in the pad rises, the moisture is released onto the skin. It can be used on the back, shoulder, wrist, stomach, knee, or feet.
Are you slouching while walking because you can't seem to get rid of that backache? With this extra-large heating neck wrap, you will forget that you ever had any pain. It's tailored to provide direct relief to the neck and shoulders, and the magnetic clasps help the pad stay in place. Made of super-soft micromink, the heat in this pad spreads consistently and evenly washes the tension away.
One of the best electric heating pads for the whole body, the entire surface of this mat is infused with untreated and crushed natural amethyst, tourmaline, and obsidian gemstones. The amethyst emits deep-penetrating far infrared rays for a perfect heat therapy session. The pulse magnetotherapy (PEMF) system uses bursts of 7.8 Hz pulse to heal damaged tissues and relieve injury-related pain.
Looking for immediate muscle tension relief? Simply reach out for this extra-large king size electric heating pad. Its microplush fibers are soft to the touch, and the flexible material accommodates your body's shape for maximum effect. The wrap knit fabric makes heat penetration faster, and you can place it wherever you wish – your neck, shoulder, legs, or stomach. It also comes with 3 temperature modes and works both as a dry and moist heating pad.
Let this big, fluffy, warmifying heating pad take all your pain away in a matter of seconds. It takes only 60 seconds to heat up and comes equipped with 6 heat levels, all of which you can monitor on the digital display. It is large enough to fit your entire back. Aside from dry heat, it can also be used for moist heat therapy. Its soft fleece cover is detachable and easy to wash.
This heating pad can be used in two ways. For days when you have mild pain, one can use dry heat therapy to cure aches. However, for days when the pain seems unbearable, you can use the moist heat with an absorbent sponge. The sponge has to be lightly soaked and inserted into the cloth cover to create moist heat. Due to its size (11.5 X 20.5 inches), it heals a larger surface area quickly.
Whether it is menstrual cramps, muscle ache, arthritis pain, or any other form of pain you are going through, this extra-large heating pad will provide you with optimal relief with its maxheat technology. It comes with 4 power heat settings, a soft quilted cover, and a machine-washable pad. It also comes with a 10-foot long cord for easy handling.
Large enough to provide coverage to any part of your body, this pad is ETL certified and water safe. This means that you can use it for both moist or dry heat therapy. The wet heat penetrates your aching muscles quickly without leaving it dehydrated. You can also wrap it around your arms and legs to reduce the soreness. It's so versatile and safe, that you can even use it on your children and pets, too.
Effective for acute and chronic pain, this medical-grade pad uses infrared heat for fast-acting and long-lasting pain relief. With consistent temperature control and moist heat for optimal treatment, it provides professional grade heat penetration. The flannel outer cover is washable. and the pad also comes with a velcro strap for ease of use.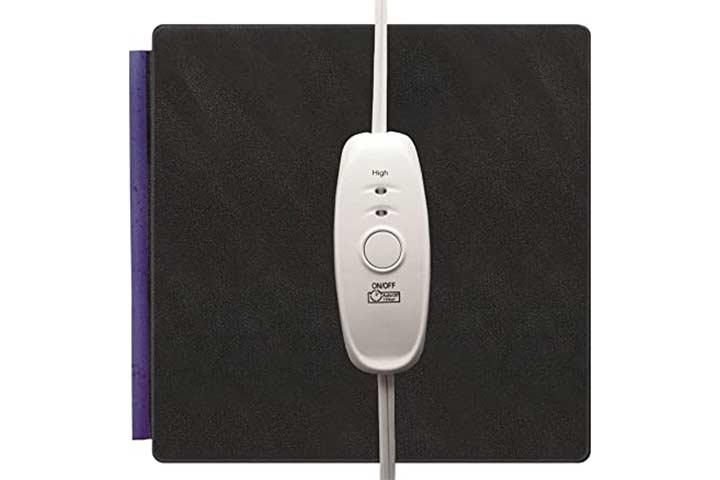 Designed especially for joint pain, this mini pad focuses on smaller, targeted areas to provide instant relief from pain. It heats up in less than 30 seconds and provides fast and consistent heat therapy. It also comes with SmartWire technology for 4 layers of safety  – wire break, wire short detection, local overheating protection, and power short prevention.
Let's move on to our next segment and take a closer look at the different types of heating pads.
Different Types Of Heating Pads
As the name suggests, infrared heating pads use far-away infrared waves that produce heat. The heat can reach deeper than the skin's surface to penetrate soft muscle tissues.
These heating pads use household current to raise its temperature. Most electric heating pads come with 3 heating levels, but the heat from these pads goes only a quarter of an inch below the skin's surface. 
These types of pads have to be soaked in water or filled with water before use. The pads or sponges have to be inserted into the cloth that is provided with the heating pad. They feel soft and gentle on the skin and seldom cause any skin irritations.
Microwave heating pads are those you heat up in the microwave. They are typically made of insulating materials and filled with grains like flax, wheat, and seeds.
Now, let us take a look at the benefits of using heating pads.
Benefits Of Using Heating Pads
Heat therapy can provide relaxation by relieving soreness from the muscles.
It can stop muscle spasms.
Heating pads can soothe body stiffness.
It helps in increasing blood flow in the body, which heals injuries faster.
Releases tension in muscles.
Heating pads can also ease stress caused by day to day activities.
We must also understand the importance of being safe while using a heating pad. Let's look at some precautions we should take while using it.
Safety Measures For Using A Heating Pad
Look out for black or frayed spots in the electric cord. If it is cracked, replace it immediately.
Do not put anything on top of the heating pads when you are using it. When it is covered by other things, it may overheat.
It should not be left unattended or used if you plan on falling asleep without turning it off. If your heating pad comes with an automatic switch-off option, please do choose it.
Use the heating pad for only 15-30 minutes per hour.
Don't use it consistently on high heat.
Placing a soft towel between the pad and skin can help reduce the risk of burns.
Keep out of reach of children
We have reached the end of the article, but before we sign off, we'd like to give you some tips on how to choose the right heating pads.
How To Choose The Right Heating Pads?
The first thing to keep in mind is the authenticity of the product, especially when shopping online. Read the reviews and do your research well.
Choose a size that's well-suited for your needs. If you have chronic back pain or terrible menstrual cramps, buy an extra-large one. You can also use these to wrap it around your arms and legs. However, if you have pain in concentrated areas like your joints, stick to a mini pad.
When buying an electric heating pad, ensure that it comes with several heat settings, and an extra-long cord for extra safety.
Opt for a fabric or material that is eco-friendly and easy to wash. Most heating pads these days come with removable covers that are machine washable.
When in serious doubt, ask your family doctor for a recommendation.
Let's face it. Nobody likes to be in pain, especially for days and days. However, with this helpful list of the best heating pads, we sincerely hope that all your days are now filled with joy and relaxation. Do let us know how you tackle sore muscles or stiffness in your body. Did any of these heating pads impress you? Write to us. Let's have a chat.
Frequently Asked Questions
1. How do heating pads help with pain?
Heating pads use heat therapy to ease sore and stiff muscles. It also promotes blood circulation and releases tension in the muscles, which helps relieve pain.
2. What's the best thing for menstrual cramps?
Extra-large electric heating pads are quickly gaining popularity as one of the best ways to combat menstrual cramps.
Recommended Articles: