Outgrown hedges can spoil the look of your household hedges. That's when you need the best hedge shear to make them look neat and organized. Be it the overgrown bushes or the outward branches; hedge shears can help you tame your garden from going wild. Also, they are the most practical and inexpensive gardening tool that you may find to give a makeover to your garden space. However, the market has several choices with different features and prices. Scroll through our list of the best hedge shears and pick the one that fits your needs.
Top Products From Our List
Types Of Hedge Shears
Before diving into the list, let's learn about the different types of hedge shears available for purchase.
Pruning or hand shears: These shears have twin blades that are synced together. These are the most common types of hedge shears used by garden enthusiasts.
Thinning shears: Gardeners mostly use these scissors-like tools with small blades to cut and trim delicate plants and saplings.
Bypass pruners: These shears feature a sharp top blade and a blunt lower blade. They are gentle on plants and give a nice-looking cut. The uniquely designed blades cut without crushing or damaging the plants.
Loopers shears: These shears are good for cutting and pruning branches or stems that are about a quarter-inch in diameter. They are primarily used for pruning plants such as crepe myrtles, flowering dogwood, sweet tea, and olive tree.
11 Best Hedge Shears
The garden hedge shears from Oara are made with high-quality 65MN carbon steel and are a good choice for cutting and trimming hedges, shrubs, and decorative plants. The sharp edges of its blades are coated with Teflon to prevent rust and make them durable. Further, the soft vinyl cushion grip improves the overall holding experience when pruning, while the shock-absorbing bumpers reduce jarring vibrations and user fatigue in the arms and shoulders.
Pros
Ergonomic and anti-sweat handles
Delicate manual shears are easy on the plants
Optimal cutting angles
Short handles for easy trimming
Cons

Fiskars hedge shears come with compound lever technology that enhances your ability to cut or trim trees and shrubs with minimal effort. Made with precision-ground steel blades, this pair of shears features a self-sharpening blade that ensures a clean and crisp cut each time. It comes with a low-friction coating to keep the blades safe from rust. Also, the shock-absorbing bumpers absorb jarring vibrations while you trim, cut, or shear hedges.
Pros
Heavy-duty steel handles
Non-slip, comfortable grips for optimum control
Eight-inch Gator-Blade serrated blades
Comes with power lever technology
Patented self-sharpening blade design
Cons
Can be a little heavy for some users

The Tabor Tools hedge shears come with long and strong steel handles that come in handy when reaching for far-placed leaves or twigs. The sharp wavy blades allow for crisp and precision cuts, and the pivot bolt allows you to adjust the tension of the blade and prune different types of plants effortlessly. Further, its shock-absorbing bumpers ensure there are no jarring vibrations.
Pros
Wavy blade design to stop twigs from sliding off
Strong metal handles
Adjustable pivots for custom pruning preferences
Comfortable non-slip grip handle
Carbon-coated steel blades
Rust-free design
Cons
Can be heavy for some users

The extendable hedge shears from Corona come with handles that measure 15in when closed and reach about 26in when fully extended. The blades are made of forged high carbon steel, which lets you cut and trim leaves and twigs without much effort. In addition, the shock-reducing bumper built into the blades reduces fatigue from shoulders and arms when pruning thicker branches. Further, the soft rubber pads on the extendable handles help reduce shock and provide a comfortable grip.
Pros
Lightweight hedge shears with steel handles
Made of 8.5-inch, high-quality forged carbon steel
Pivot bolts for smooth cutting
Suitable for pruning hedges of different shapes and sizes
Cons
Blades may become blunt after a few uses

The Okatsune precision shears for hedges have been widely used by professional gardeners across Japan. If you are looking for a sturdy, long-lasting pair of shears, then this tool from Okatsune, weighing at just 1.5lb, could be the one for you. The blades are quite sharp and can easily cut most of the garden twigs and branches. Its lightweight handles are made of slick Japanese white oaks.
Pros
Lightweight
Eliminates crushing of leaves
Blades made of hot hammer-forged "Izumo Yasuki Steel"
Clean cutting with plain, sharp edges
Cons

The 21-inch Colwelt hedge shears are lightweight at 1.8lb only. The blades are pretty sharp and strong as they are made with forged carbon steel and given an anti-stick coating to provide a smooth cutting experience. Moreover, the wavy design of the blades keeps the twigs from slipping off and helps in giving smooth cuts to your plants without crushing the delicate leaves.
Pros
Ergonomic design
Shock-stop bumpers
Reduced jarring vibrations
Minimum load on wrists and shoulders
Rust-resistant blades
Offers the performance of electric hedge shears
Cons
Soft-grip handles may not be anti-slip as claimed

Flora Guard hedge trimming shears come with a wavy blade design to let you prune a variety of shrubs with precision. The hedge shears feature sharp carbon steel blades for smooth and crisp cutting. For maximum grip and comfort, the shears come with a rubberized grip. Further, the enhanced shock-absorbing bumper of these heavy-duty hedge shears helps in reducing noise and eliminating jarring vibrations when trimming plants.
Pros
Enhanced overall holding experience
Fully hardened nine-inch SK5 high carbon steel blades
Sharp blade for precision cuts
Durable, non-slip handles
Elastic blade knob to loosen or tighten the blades
Cons
Handles may be slightly large

The Gonicc hedge shears come with the latest hollow blades technology that reduces resistance when cutting, trimming, pruning, or decorating and shaping your garden plants. The wavy blades made with high carbon steel are quite sharp and strong with durable edges. Furthermore, the shock absorbers reduce jarring vibrations to alleviate arm and shoulder fatigue.
Pros
Comes with adjustable handles
Adjustable blade tension
Prunes different types of plants
Has non-slip handles
Sturdy aluminum handles
Cons

The scissors-like hedge trimmer shears from ARS are extremely lightweight and sharp and made of forged carbon for toughness. The blades are coated with chrome for a lustrous look and to make them rust-free. Further, the shear comes with an adjustable pivot bolt to let you adjust the blades as per your cutting needs.
Pros
Sharp and strong blades
Easily replaceable parts
Perfect shape and balance for prolonged usage
Non-slip handles made of steel
Cons
Metal frames may be thick

The Tosrweil fruits hedge gardening shears come with 23- to 24-inch extensions and are fitted with wavy nine-inch long SK-5 stainless steel blades that are pressure-adjustable for convenient trimming of strong bushes. Further, the shock-absorbing hedge trimmers come with an anti-slip and comfortable silicone handle.
Pros
Helps shape shrubs conveniently
Anti-rust blade coating
Lightweight yet sturdy
Anti-collision and anti-vibration design
Cons
May not be ideal for those with small palms

The Berger hedge shears come with a lightweight wooden handle made of beech wood to keep your palms comfortable. The shears measure 22.44×7.48×2.56in and are lightweight at just 2.27 lb. The pair of manual hedge shears is designed for professional use with blades made of high-grade steel for force-free pruning of hedges and shrubs.
Pros
Comes with integrated dampeners
Shock-absorbing mechanism
Self-cleaning shear blades
Stick-free pruning and cutting
Improved durability with matt chrome plating
Corrosion protection
Cons
Can be heavy for extended use

How To Choose The Right Hedge Shears?
Consider the following points when choosing a pair of hedge shears.
Weight: Ensure the pair of hedge shears is lightweight as you need to lift it high and hold it for an extended time.
Use: The tool's intended use can vary from simple pruning of small shrubs and plants to professional cutting of thick branches. Blades and handles of these tools are thus differently designed to suit varying cutting needs.
Blade length: The suitable length of the blade varies with the intended use. The common blade length measurements for these tools vary between six and 12 inches.
Handle length: Long-handled hedge shears are usually preferred for distance cutting, while short handles allow you to trim hedges closer to the body at an optimal cutting angle.
Blade type: You may choose one with a wavy, straight, or serrated blade depending on your need. Also, choose one that is made of durable stainless steel.
Comfort: Some of the best hedge shears are also designed ergonomically for a comfortable grip, handling, and shock absorption with reduced wrist load.
Frequently Asked Questions
1. How should I clean hedge shears?
Cleaning a pair of hedge shears should not be a problem if you have selected the right tool. All you would need to do is wipe the blades with a soft piece of cloth. You can also oil them after every use to maintain blade sharpness.
2. How thick can a hedge shear cut?
Professional hedge shears can easily cut branches measuring up to ½ inches in thickness. However, this may vary depending on the shear model selected.
3. How should I sharpen hedge shears?
It is easy to sharpen hedge shears with straight blades. You can run the blades against sharpening stones or millstones to bring back their defined edges.
Finding the best hedge shears should not be a problem if you keep all the important factors in mind. It is also important to check if the shears are designed with user safety in mind and includes features such as anti-slip handles. Pick a pair of hedge shears from this list and make cutting and pruning hedges and shrubs effortless.
The following two tabs change content below.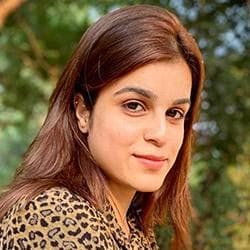 Sakshi John
Sakshi did her graduation in Journalism from the Madras Christian College, Chennai, before starting her career as a freelance writer. She is into blog writing and for MomJunction, she covers various topics, including products to buy for your kitchen, furniture, and other home requirements. Previously, she interned as a content writer in a cyber security firm. As a content writer, Sakshi...
more