If you have a large garden with bushes or hedges around, you need a hedge trimmer to keep them trimmed. Pruning removes dead twigs, leaves and reduces pest infestation. It also enhances the aesthetics of your garden. However, it's a time-consuming process and requires much effort. To make your task fast, safe, and efficient, you can use a hedge trimmer.
Hedge trimmers could be hand hedge trimmers, hedge shears, or electric hedge trimmers. A few trimmers fueled by gas are ideal for shaping bushes or cutting large hedges. This post has a list of the best hedge trimmers to buy online and a few tips for choosing the most appropriate one.
Safety Tips When Using A Hedge Trimmer
You should handle the hedge trimmer carefully to prevent injuries.
Read the manual and follow the outlined procedure for operating a hedge trimmer.
Wear a mask to avoid inhaling dust and mites during trimming and goggles to keep your eyes safe. You can even wear gloves for a secure grip on the trimmer.
Do not use the electric hedge trimmer when it is raining as there could be chances of electrocution.
Do not carry the hedge trimmer when it is switched on or plugged in.
Ensure using electrical or gas-based hedge trimmers on bushes and plants as they are ideal for cutting through more rigid or older stems.
Clean the machine after use and store it in a safe place where children have no access to it. Professional hedge trimmers often come with a safety key that serves as a child lock when not in use.
Sharpen blades before use to check if they are broken or if cords are damaged.
Do not use a ladder if you have tall hedges. Instead, get a long-handled hedge trimmer or hedge trimmer with extension. If you have to trim bushes indoors, a small hedge trimmer can be useful.
Do not stretch or bend forward when holding the trimmer to avoid accidental falls onto the blade.
Do not operate the hedge trimmer blade near your hand or hold onto a plant when trimming it.
11 Best Hedge Trimmers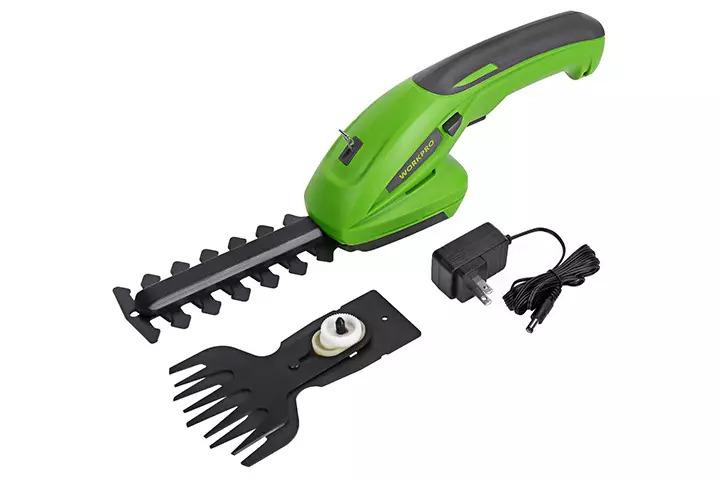 The Workpro hedge trimmer is powered by a rechargeable lithium-ion battery and has two blades designed for cutting grass and trimming hedges. It is an ideal choice for those looking for a handheld hedge trimmer with a compact design. You can use it to improve your small garden or trim those additional bushes in your patio. It weighs 1.04lb and makes one-hand operation convenient. The motor operates at 1100rpm and has a long life.
Pros
Lasts for up to 40 minutes on one charge
10mm thick cutting capacity
No tools required for changing blades
Hedge trimmer key for child lock
LED lights to indicate charge
Ideal for bonsai trees
Cons
Key may fall out often
Battery charge does not last long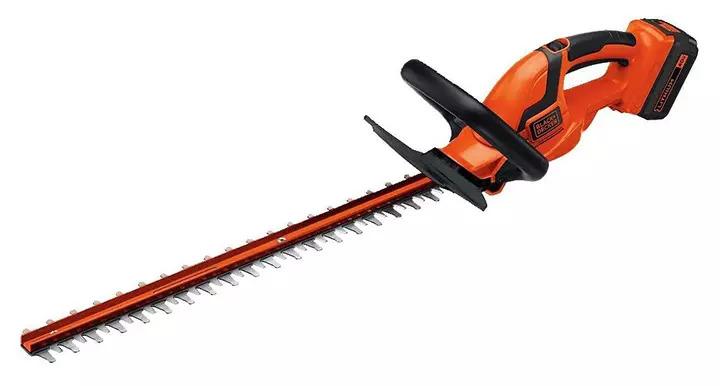 The battery-operated trimmer from Black+Decker does not require a cord for operation and is ideal for trimming hedges. It is powered by a rechargeable 40v lithium-ion battery and has a dual-action blade to cut double branches. The trimmer has an ergonomic handle for a comfortable grip and a trigger to stretch over the handle's full length.
Pros
Capable of cutting ¾-inch thick branches
24-inch long blade
Soft and secure grip
One charge covers 6000sqft hedge
Quickly recharges the battery in one hour
Operates with less vibration
Provides 2400 cutting strokes in a minute
Cons
Motor may burn out
Blades may produce a loud noise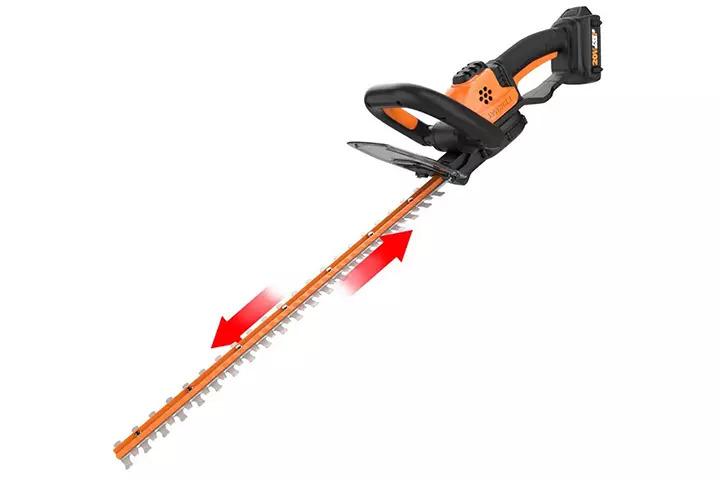 The Worx hedge trimmer is battery-powered, and you can conveniently operate it without a cord. It has dual-action reciprocating blades to trim hedges and bushes cleanly in one pass. The 20v battery allows the trimmer to run uninterrupted for about 40 minutes, and it can smoothly cut through 0.75in branches with a minimum amount of vibration. The device is lightweight, weighs 5.5lb, and is powerful. You don't have to worry about cord retention when using the trimmer.
Pros
Can hoist it lower or higher
Compact and durable
22-inch long blade
Good battery technology
Enables concise cutting
Ergonomic handle for a comfortable grip
Cons


If you are looking for a long reach hedge trimmer, then the Craftsman trimmer with a 22-inch blade can be a good option. It has a dual-action blade with a maximum 0.75-inch cutting capacity and a power saw attachment to handle 1.5-inch thick branches. A 20v battery for cordless operation powers the tool. Similar to other rechargeable hedge trimmers, its handle has a unique wrap-around design and easy-to-access button to operate.
Pros
Lithium-ion battery for long run time
Lightweight and durable
Provides maximum maneuverability
Battery technology for fast recharging
Safe and convenient to use
Cons
Button does not extend over the entire handle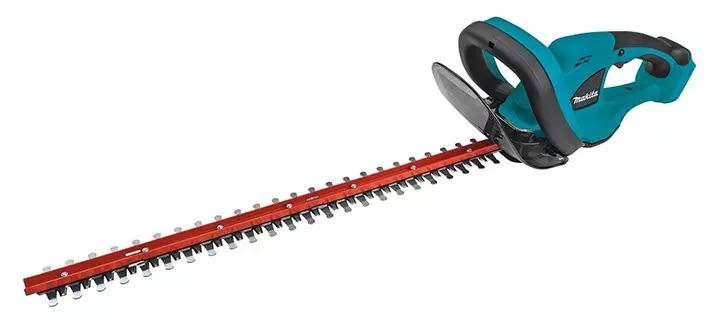 The Makita rechargeable hedge trimmer is an efficient tool to prune hedges. It runs on an 18v rechargeable battery and has inbuilt protection against overheating and overloading. The motor provides 1350spm and allows safe and fast cutting. It also has in-built cushions to reduce vibration during the operation of the hedge trimmer. The tool cuts the noise output up to 87dba, which is about 25% lower than similar devices.
Pros
22-inch long blade
Double-sided blade for efficient shearing
Battery light indicates a low charge
Lightweight at 7.4lb
Improved safety with a two-handed grip
Anti-vibration structure for reduced noise
Cons
Does not include a battery and charger


The hedge trimmer from Greenworks runs on a 40v battery to provide fade-free power. When fully charged, its 2Ah battery can operate for 60 minutes without any break. It comes with a charger so you can start using the device right out of the box to enhance the aesthetics of your garden.
Pros
Ergonomic grip
Three-sided wrap handle
Lightweight and versatile
Provides professional trimming
No memory loss on charging the battery
24-inch long blade
Cons
May not be effective for thick hedges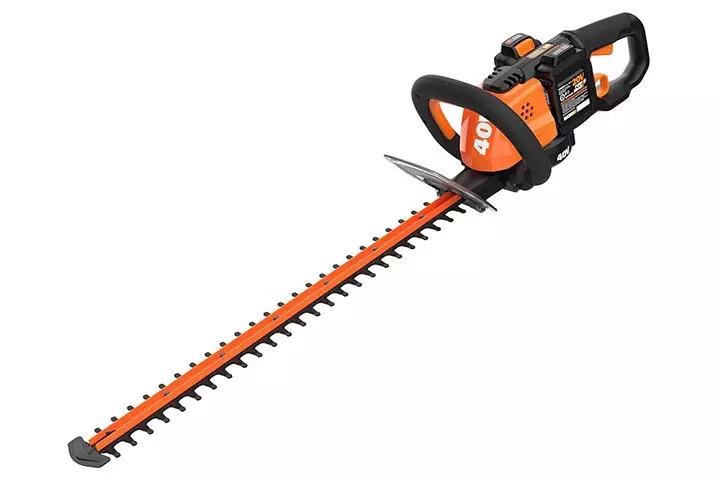 The versatile hedge trimmer from Worx has an adjustable head that rotates 180° and lets you cut hedges from top to bottom without contorting your body or leaning forward. The dual-action reciprocating blades are specifically designed to allow clean cutting of hedges with minimum passes. It is similar to a grade gear design and is ideal for handling large tasks. You can deliver up to 2200 strokes per minute and cut 0.75-inch thick branches.
Pros
Two 20vlithium batteries and charger included
Safety guard and sheath for blade included
26-inch long blade
Battery level indicator
Lightweight, compact, and powerful
Cons
Could be difficult to assemble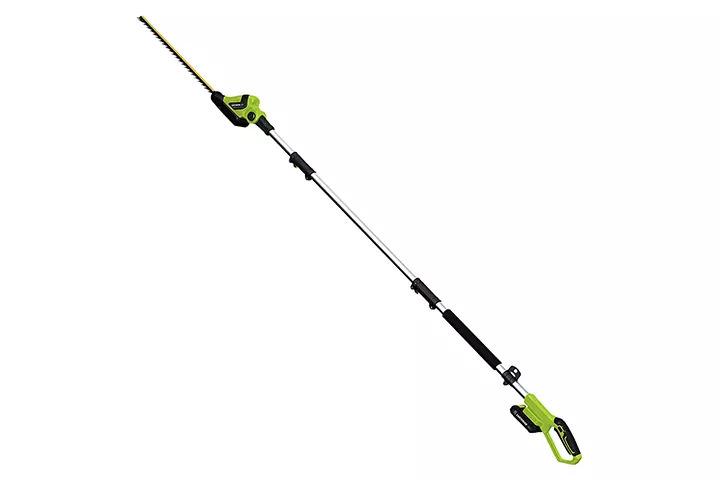 The Earthwise long hedge trimmer allows you to cut away unwanted portions of tall hedges that may otherwise require a ladder to reach. Look for hedge trimmers with extension to reach up to over 9ft in height. The battery-powered hedge trimmer has a fast charger, a blade that extends by 20 inches, and a dual-action mechanism for and quick cutting of hedges.
Pros
Electric trimmer cuts 0.63-inch thick branches
Adjustable over six positions
2.0Ah lithium-ion battery
Lightweight and ergonomic design
Environmentally-friendly
Doesn't require gas or oil
Cons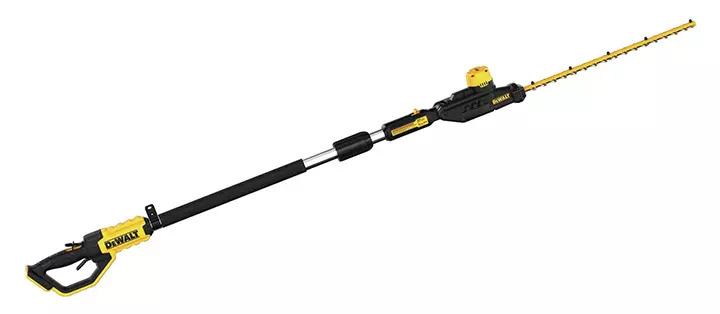 Use the long-handled hedge trimmer and reach up to 12ft to prune the tall hedges effortlessly and safely. Its adjustable head rotates 180° to trim the top and sides of the borders with ease. With rechargeable 5Ah batteries, you can operate it for up to two hours without recharging. Its one-inch cutting capacity and battery-powered mechanism make it versatile.
Pros
Dual-action 22-inch long blade
Motor with 2800spm cutting speed
Easy-to-sharp blade
Provides clean and fast cuts
Can be used for various landscapes
Cons
Battery may drain quickly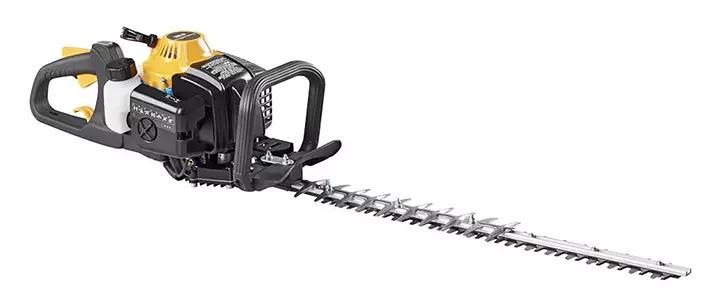 When you need to trim hedges spread over a large area, investing in the gas-powered hedge trimmer from Poulan can be good. It has a 23cc engine onboard and an adjustable handle to rotate and trim hedges conveniently. The lightweight machine weighs 11.1lb, is built to prevent vibration, is equipped with a handguard, and can be easily started with a pull cord crank.
Pros
Big fuel tank
Dual-action 22-inch long blade
Powerful and durable
Can cut one-inch thick branches
Cons


You can convert the Sun Joe pole tool from a handheld trimmer to a pole version within seconds. With an extension cord for ease of use and an attachable telescoping pole, it can be used to trim hedges of up to13ft height. It produces about 40% less vibration than other standard machines. Use it for trimming bushes, shrubs, and hedges for enhancing your garden's look.
Pros
Pole telescopes from 3.8 to 5.9ft
Dual-action,19-inch long blade
Safety switch built into the handle
Protective sheath for blade included
Pivoting head for easy trimming of bushes
Cons
Blades are thin and may tend to break
How To Choose The Right Hedge Trimmer?
Here are a few features to consider when choosing a hedge trimmer.
Maturity and height of hedges: Checking the thickness and maturity of hedges helps to know if you need a small or a heavy-duty electric hedge trimmer. If you have tall hedges in your garden, it is ideal to use a long-handled hedge trimmer to reach up to 10 to 12ft height. However, if hedges are present near the walls of your home, a small hedge trimmer would be good enough to do the job.
Size of the garden: If you have a big garden, it is better to use a gas-powered hedge trimmer or battery-powered one to make your task quick and safe.
Type: Use a corded hedge trimmer with cord retention if you have a small garden. You plug it into an electrical outlet without worrying about fuel or battery charge. A rechargeable hedge trimmer with a light battery requires charging for a run time of 45 minutes. If you have a large garden with thick bushes and hedges, you can use a heavy-duty, gas-powered hedge trimmer. However, it creates more noise than a battery-powered trimmer and can be operated for a longer duration until the fuel runs out.
Blade length and space between the teeth: If you want to trim hedges faster, a hedge trimmer with dual blades and adequate cutting capacity is ideal, although considered less safe than single blades. A 15-inch to 20-inch long blade is ideal when you have thick hedges. The distance between the teeth can range from 3/8 to 1in. Choose blades with more space between the teeth for mature hedges.
Weight: Electric hedge trimmers are lighter than the bulky gas-powered versions and are suitable for commercial hedge trimming.
Handle design: A wrap-around ergonomic design handle allows you to hold the hedge trimmer easily. Additionally, if the handle has an adjustable head, the process of cutting the side and bottom of the hedge becomes easier.
Additional features: Some professional hedge trimmers have a portion of the blade to saw through thicker branches. Other features in hedge trimmers are protectors that keep blades from being damaged when they hit walls accidentally and a handguard to keep your hands safe.
A premium-quality corded or cordless hedge trimmer can make your gardening job easy and quick. You no longer have to struggle to maintain your hedges as the handy hedge trimmer lets you prune the bushes and shrubs effortlessly. Compare the features of the shortlisted products and choose the most appropriate one.
Recommended Articles: