Shampoos are an essential part of your hair care routine. But they contain harsh ingredients that strip off oils from your hair. Herbal shampoos provide natural care to your hair. They naturally stimulate hair follicles to boost hair growth and reduce the risk of allergies as the ingredients are mostly natural. The eco-friendly shampoos deliver natural oils and extracts to moisturize the roots and improve overall scalp health. They contain extracts from herbs and plants and are usually free from parabens, sulfates, and silicones.
Check our list of the best herbal shampoos in India to choose the most suitable product.
13 Best Herbal Shampoos In India
The Khadi Ayurvedic Shampoo contains natural extracts of amla and bhringraj. Amla strengthens the hair, while bhringraj controls hair fall and scalp damage. The shampoo is suitable for any hair type both for men and women. It reduces pigment loss from hair, prevents greying, and stimulates hair growth. Using regularly can make your hair shinier, softer, and silkier.
Dabur Vatika is one of the trustworthy brands in India. The shampoo contains extracts of seven natural ingredients – henna, amla, shikakai, almond, hibiscus, reetha, and olive. It cleanses your hair scalp and conditions the hair, making it smoother, softer, and silkier.
The shampoo has anti-dandruff properties and keeps the hair nourished allday long. It is also claimd to improve blood circulation, resulting in improved health of your hair and scalp.
The amla and bhringraj extracts in Mauri Herbal Shampoo help strengthen your hair roots, prevent hair loss and promote healthy hair growth. It helps remove dandruff and make the hair shinier and silkier. The product is free from parabens and other harmful chemicals. The Gramodyog-certified Khadi product is suitable for every hair type.
If you are looking for an anti-hair fall shampoo, the Himalaya Herbal Protein could be your pick. Regular use helps strengthen the hair roots and minimize hair fall and damage. The product also moisturizes the hair and helps retain its moisture. Enriched with natural extracts of chickpea, amla, licorice, henna, etc., it provides gentle care for your hair and keeps them manageable.
With ten powerful natural ingredients, including yashtimadhu, bhringraj, aloe vera, henna, methi, amla, reetha, almond, rosemary, and javakusum, the Dabur Vatika Ayurvedic claims to address ten hair problems and give 48% extra protection to your hair compared to other non-conditioning shampoos available in the market.
Made of 100% natural ingredients – amla, reetha, shikakai, and methi dana — the four-in-one Havintha helps improve hair pigmentation, reduce graying, prevent hair loss, and split ends. With gentle care, it relieves your hair from the bad effects of synthetic shampoos. Regular use of the shampoo gives stronger and shinier hair.
Enriched with the goodness of amla, shikakai, and reetha, the Vaadi follows a triple-action plan promoting a healthy scalp, strengthening hair roots, and deep-conditioning your hair. It is known to reduce hair fall. The natural extracts clean and nourish the hair without harming the hair follicles. The shampoo is free from any harmful chemical ingredients.
Herbal Essence is known to repair damaged hair. Made from 90% naturally derived ingredients, it enhances your hair's quality and texture. The shampoo is free from parabens, gluten, and other harmful chemicals. With a blend of natural antioxidants, aloe, and sea kelp, it provides gentle care to your hair. It is also recognized as a cruelty-free product by PETA.
The ayurvedic Lotus shampoo is composed of shikakai, amla, behra, reetha and is suitable for any hair type. It removes impurities and pollutants from the scalp and helps strengthen the hair. The shampoo also contains trifla that helps in reducing hair fall and maintains the natural pH. The shampoo also gives a lustrous shine to your hair.
The Sesa+ shampoo and conditioner contains 26 rare herbs and six nourishing oils. Herbs such as hibiscus and bhringraj help reduce hair fall and repair damage. The nourishing oils, including coconut, lemon, and mustard oils, nourish hair and strengthen roots from within. The shampoo is made using the ancient ayurvedic procedures and is 100% certified ayurvedic shampoo. It has no harsh chemicals and is suitable for every hair type. The microbial properties of the shampoo help prevent itchiness and curb dandruff.
Rootz Shampoo contains extracts from hibiscus flower, neem, sandalwood, heena, and shikakai. It cleanses the scalp, nourishes the roots while stimulating natural oils to make your hair naturally glossy and soft. The shampoo also keeps hair loss, dandruff, and premature graying in check. The special formula repair hair that has been exposed to excessive sunlight, faulty nutrition, and harsh hair treatments.
The daily use herbal shampoo Dhathri is made from a blend of aloe vera, gooseberry, tulsi, coconut oil, bhrami, and shikkakai. It is mild, safe, and paraben-free. The natural ingredients in the shampoo help curb dandruff and make your hair healthier. The natural conditioner maintains the required moisture for healthy hair.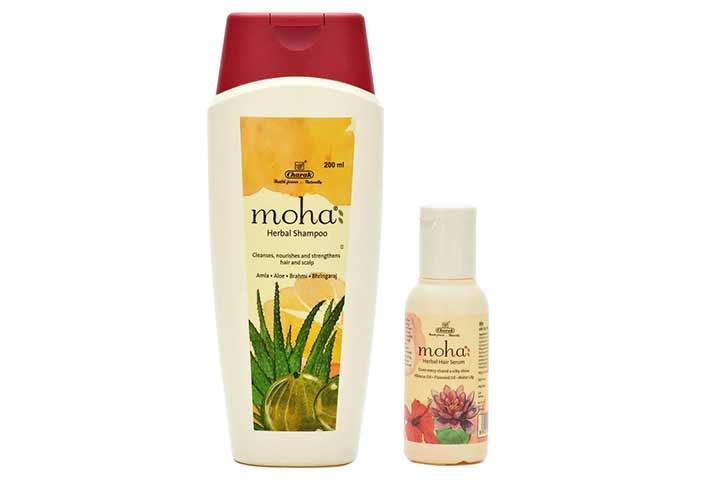 The herbal shampoo naturally cleanses, conditions, and strengthens the hair and scalp. It washes away the impurities and pollutants your hair is subjected to every day. Made from a revitalizing blend of amla, aloe, brahmi, and bhringraj, the shampoo also helps curb dandruff. . It contains vitamins A (beta-carotene), C, and E, and regular use can help cool the scalp and stimulate hair growth.
How To Choose The Right Herbal Shampoo?
Here are a few points to consider while choosing a herbal shampoo.
Hair type: Not every shampoo may work effectively for your hair type. Choose a shampoo based on your hair type such as rough hair, dry scalp, oily scalp, etc.
Ingredients: Scan the ingredients and go for a shampoo containing natural ingredients and few harsh chemicals.
Hair issue: Choose the shampoo based on your hair issue. Consider a shampoo that repairs hair damage, provides moisture control, reduces dandruff, etc.
Your hair needs gentle yet effective care to stay healthy and shiny. Unlike regular shampoos, herbal shampoos contain several beneficial natural ingredients such as amla, bhringraj, aloe, oils, and more to treat various hair concerns, including dryness, dandruff, breakage, and more. However, you must consider your hair type, specific issue, and other requirements to find a suitable product. We hope our list of the best herbal shampoos in India can help you understand the available options, features, and benefits.
Recommended Articles: 
The following two tabs change content below.

Poulami Nag is a writer and associate editor at MomJunction. She did her MA in English from Miranda House, University of Delhi and has qualified UGC-NET. Her journey as a content writer began in 2017 and since then she has garnered diverse interests along the way. Her knowledge of literature and language has given her an eye for detail and...
more