If you want to enjoy a rain shower, soothe your muscles, or massage your scalp, you need a modern showerhead to make the shower pleasant and enjoyable.
The best showerhead needs to maintain the perfect water pressure to let you take a relaxing shower. If you want a quick shower, you need a high-pressure nozzle.
Modern shower heads perfectly blend aesthetics and function to ensure a soothing shower experience. Since there are several showerheads on the market, we have compiled the best shower heads worth buying.
Types Of High-Pressure Showerheads 
High-pressure showerheads can be categorized into five types:
Jet: These showerheads feel like rainfall, entirely covering your body from a fixed installation point. Typically, the jet showerheads are fixed to the ceilings.
Fixed: A fixed showerhead is commonly attached to a shower arm that comes out of a wall. These are easy to set up and suitable for most bathrooms.
Handheld: This is the most convenient and versatile type of showerhead. The device includes a detachable hose that you can use to unmount the showerhead and use it with ease.
Dual: Dual showerheads are incredibly effective and have two showerheads — fixed and handheld — in one unit. The device helps clean all body parts easily.
Filtered head: These showerheads are suitable in areas where water is hard. They can gently reduce the chlorine content in hard water, thereby preventing the hair from becoming frizzy. 
11 Best High-Pressure Showerheads In India
The compact three-inch broad metal showerhead provides excellent rain spray. The showerhead is equipped with 45 silicon jets that provide excellent water flow and prevent lime and hard water deposits. The rotating brass ball joint is easy to operate and covers a wide stream. The consistent water flow is maintained well.
Pros
Removable stainless steel filter and silicon jets
Easy to maneuver
Quick to install
Easy to clean
Aesthetic design
Cons
Hindware's high-quality shower head is a stylish bell-shaped product that provides a consistent water supply. The showerhead is made of virgin brass ingots, which contain a significant amount of copper. The chrome-plated layer of the showerhead prevents scratches and corrosion, so it has a long service life. The showerhead comes with an adjustable swivel ball and anti-clogging nozzles.
Pros
Corrosion-resistant
Quick to install
Exquisite design
Comes with a one-year warranty
Cons
Nozzles might cause issues
Marbrasse handheld spray is made of high-quality ABS material with a stainless steel panel. The high-pressure showerhead has a smooth on/off button, so you can conveniently shower and pause when needed. The three-mode shower settings include power massage, mixed-mode, and water-saving mode, and you can operate them with a straightforward push-button. The swivel ball ensures a wide coverage area, and the advanced micro-technology dramatically increases the water pressure.
Pros
Easy installation
Rust-proof
Leak-resistant
Lightweight
Cons
Difficult to maintain a grip on the handle
Nosame three-in-one high-pressure showerhead allows you to enjoy a rainfall-like shower. The showerhead has the function of stopping water flow with one button. The equipment's double filter can effectively remove harmful substances and chemicals in the water. The sturdy showerhead is made of high-quality chrome-plated ABS material.
Pros
Long-lasting
Corrosion-resistant
Efficiently saves water
Easy switch between modes
Cons
Showerhead jets are a bit small in size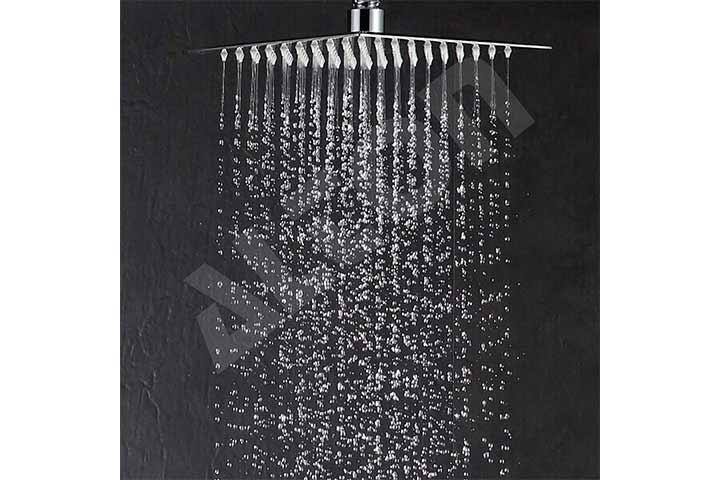 Alton overhead shower has an elegant design with a chrome finish. The showerhead is made of chrome ABS and 304 stainless steel materials. The nozzles of the rain spray are made of heat-resistant silicone, preventing clogging and making the cleaning process easy. The showerhead, equipped with advanced laser technology, can effortlessly provide water at high-pressure.
Pros
High temperature tolerant
Rust-resistant
Comes with a one-year warranty
Leak-proof
Anti-aging and anti-clogging
Cons
Aquieen showerhead is an excellent product that can provide one-way water flow. It is also adjustable at any angle to achieve broader coverage. The overhead shower has five water flow types, including mist, massaging pressure jet, classic rain, mist with rain, and rain with massaging pressure jets. The aesthetic product has a bright chrome coating and is made of durable brass joints and high-quality ABS materials. The silicone nozzles of the showerhead prevent clogging and are easy to clean.
Pros
Leak-resistant
Rust-proof
Comes with a two-year warranty
Hassle-free
Cons
No installation tools included in the package
Kohler's high-intensity chrome-plated showerhead is made of high-quality ABS material with chrome plating and is equipped with angled nozzles to ensure a wider convergence area. The innovative spray engine can provide five unique shower experiences, including full coverage, powerful massage, two combination sprays, and intense rinse.
Pros
Smooth transition between modes
Quick installation (requires no tools)
Exotic look
Effective for use on pets
Comes with a 10-year warranty
Cons
Surface area is a bit small
The Kohler duet chrome-plated overhead shower uses advanced Katalyst air-induction technology to ensure larger water droplets and uniform water pressure. The showerhead with a classic design is made of high-quality ABS material, and the spray face is easy to clean.
Pros
Resists corrosion
Prevents tarnishing
Easy maintenance
Excellent performance
Comes with a 10-year warranty
Cons
Doesn't come with a shower arm
The eight-inch high-quality showerhead is made of high-quality stainless steel and is equipped with 81 silicone gels showerheads to prevent limescale. The silicone nozzles can easily remove dirt and deposits. You can tilt the flexible ball of the showerhead to all angles. The ball joints and butt of the showerhead are plated with copper. The rain shower head is easy to install and requires no additional tools.
Pros
Perfect finish
Rust resistant
Prevents clogging
Easy operation
Mirrored design
Cons
Doesn't work too well with low water pressure
Bihuo chrome-plated shower head has a unique design, allowing you to install it on any shower arm or fix it on the ceiling. The product has more than 100 nozzles, provides anti-clogging protection, and is super easy to clean. The showerhead works exceptionally well at low and high water pressure.
Pros
Rust-proof
Durable
Easy maintenance
Anti-clogging nozzles
Cons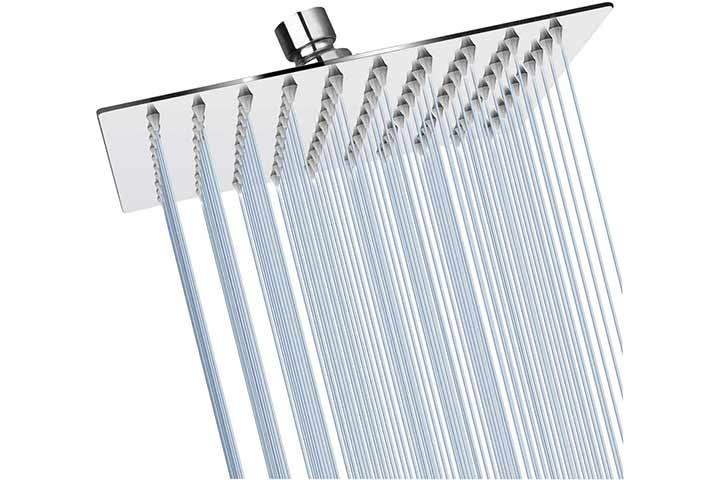 The high-pressure showerhead uses the latest air-in technology to ensure high and strong water pressure is always maintained. You can easily mount the device on walls and ceilings without additional tools. The high-quality rain shower head is made of sturdy 304 stainless steel and has a black matte finish. The food-grade silicone nozzles are easy to clean and maintain.
Pros
Reliable
Corrosion-proof
Leak-proof
Resists high temperature
Self-cleaning nozzle
Cons
Does not provide wide coverage
What To Look For When Buying A High-Pressure Showerhead
It is essential to fully understand all the significant factors you must look for when buying a high-pressure showerhead. Here's a list of the crucial factors you must consider before making your final decision.
Spray mode: Several products provide powerful stream, combination spray, intense rinse, gentle mist, and other modes. Try to buy a showerhead that offers multiple spray options.
Design: The appearance and style of the showerhead must complement your bathroom decor. Most showerheads have chrome, brass, and stainless steel finish.
Easy installation: Choose a showerhead that is easy to install without requiring professional assistance or additional tools.
Rust-resistant: Compared with plastic, shower heads made of high-quality stainless steel or ABS have a longer service life because of their anti-leakage and anti-corrosion capabilities.
Nozzles: Choose a showerhead equipped with high-grade silicone nozzles that are easy to clean and prevent clogging and blockage. 
Frequently Asked Questions
1. What is a good water pressure for a shower?
Good water pressure for a shower is between 45 and 55 PSI (pounds per square inch).
2. How should I reduce the pressure of a showerhead?
To reduce the showerhead's water pressure, turn off the water first, then look for the valve and turn it off. Adjust the pressure and secure the lock nut according to your convenience. Turn on the valve and water.
High-pressure showerheads not only offer you a relaxing shower but also help relax the muscles and massage your scalp. These showerheads offer high-pressure water flow for a consistent spray or rainfall effect. If you wish to install a similar showerhead, you need to consider the design, spray modes, material, and installation process to find the right one for your bathroom. Various showerheads are available, from handheld to jet, to suit your requirements. You can consider a showerhead with multiple spray settings to customize your shower experience. However, ensure it is leakproof, rust-resistant, anti-clogging, and easy to use.
Recommended Articles:
The following two tabs change content below.

Sakshi did her graduation in Journalism from the Madras Christian College, Chennai, before starting her career as a freelance writer. She is into blog writing and for MomJunction, she covers various topics, including products to buy for your kitchen, furniture, and other home requirements. Previously, she interned as a content writer in a cyber security firm. As a content writer, Sakshi...
View Profile

›