The subwoofer of a speaker defines its sound quality and can take your system from average to awesome. The best home subwoofers can make a huge difference to your movie-watching or music-listening experience. A subwoofer can give you an excellent cinematic experience while watching a film or add some bass to the music you are listening to.
Picking the best subwoofer can be quite a challenge since there are several designs and models in the market. However, doing adequate research and knowing the features you should consider when buying one can help you make a more informed decision. Keep reading as we list some of the best subwoofers and tell you what to look for in a subwoofer to help you bring the right subwoofer home.
Types of Subwoofers
A ported subwoofer or a bass reflex speaker has an extra port or hole for air to escape, usually through a tube. This boosts the bass level of the subwoofer and gives a thick, rich bass sound..
A unit which does not have a port or passive radiator is a sealed cabinet. In this type, the bass has only one route to leave the cabinet and so what may be lost in depth is made up for with a more well-rounded sound, with fewer booms and peaks.
This kind of subwoofer replaces the port with 2 passive radiators that are not wired to the amp. This has a greater range of frequencies though the sound escapes the speaker in a similar way to a port. This is great for cars where people want audio with huge bass frequencies.
Front and Down Firing Types of Subwoofers
Front and down firing refers to the placement of the internal speakers within the unit of the subwoofer. Front-firing models usually have a speaker pointing forward and the sound will radiate to the front and sides of the unit. Down-firing models point the sound toward the front and ground which is useful if the speakers are placed on a stand or used as bookshelf speakers.
This type is commonly used in professional live sound equipment used in large arenas. It is also used in subwoofer cabinets designed for car audio. These subwoofers have a more complex design and allow for a clean and natural bass output within the given frequency ranges. They allow you to specify the levels of bass you want through the speakers with great precision.
Horn-loaded speakers tend to sound louder than other types. Their sound is also more directional in the higher frequency bands as the sound that would otherwise have leaked and spread in various directions is channelled through a longhorn speaker. They are typically used in large venues where sound needs to go farther and more precisely.

13 Best Home Subwoofers
This top rated subwoofer has a traditional wooden look in a titanium baffle design. Its 10" front firing dynamic balance polymer composite driver and uniquely configured directed port provide precise bass with added depth that brings both music and movies alive and is ideal for small to mid-sized rooms. High-roll foam surrounds provide longer excursion that makes the audio even better. It has a specially tuned and directed port for maximum bass impact and its unique configuration keeps it stable even at high volumes. Its clearly marked back panel makes this fully loaded subwoofer convenient to use. It blends perfectly with other Polk audio speakers like Monitor and T-series and you can enjoy a rich, deep sound, even at low frequencies. A phase toggle switch for multiple subwoofers makes this compact subwoofer cohesive and complete. Sophisticated engineering and great resonance-free technology makes it highly durable and fit for extended use. If you want to know more about the benefits of this product, check out this quick review on YouTube.
This home theater subwoofer has standard RCA inputs which easily connect to the dedicated subwoofer output of your home theater's receiver. It has a signal sensing auto on/off feature that saves on power bills. Acoustic Audio's audiophile subwoofer, that's barely a cubic foot, features internal bracing and a 24Hz to 250Hz frequency response, which adds impact to the action of fast-paced movies and sports and full-bodied bass to your favorite tunes. The MDF bass-reflex enclosure delivers thumping bass and its elegant black ash finish adds to the style element of most flat-panel displays. It features a high-current, 500-watt amp which ensures that the down-firing 12″ subwoofer produces dynamic low-frequency effects, and its high and low inputs let you use any receiver or processor. The 12″ woofer utilizes a long excursion cone for deep, accurate response and comes with a dual RCA 6 foot cable, 1 RCA "Y" adapter, and an instruction manual. Here's an honest review of the product.
The 9.84-inch cone diaphragm of this small subwoofer moves a larger volume of air, thereby producing a powerful low-end resonance that makes the bass sound rich and deep. This makes for a great home theater experience as the subwoofer reinforces low frequency sounds in movies and music. Instead of using paper cones like many speakers do, this product has a Mica Reinforced Cellular (MRC) cone that doesn't deteriorate over time or create a distorted sound. This subwoofer has a built-in amplifier with up to 115 W power output. Electrical circuits that can produce vibration are located outside the cabinet, releasing high pressure within the enclosure, and thus producing a clear and powerful bass sound.
Vibrations are taken care of by acoustically absorbing waves generated from the rear pressure of the unit; and damping vibrations within the cabinet itself, thus producing accurate bass. This speaker has a smart black finish that blends with modern interiors and the wood veneer retains its shape well, ensuring that the sound is not influenced by changes in temperature and humidity. Its compact design is perfect for installation in small spaces.
This subwoofer's USP is that it has 4 powerful full range drivers and 2 uniquely configured bass reflex tubes that pump out 150W of total power and120 dB sound level pressure, delivering a powerful, crystal clear sound quality. The advanced DSP technology and 3D high-fidelity surround sound system incorporated in this subwoofer produce heavy-bass, a detailed mid-range, and crisp, natural treble to make all your music and movies sound even better. The 5.25" subwoofer's depth goes as low as 45Hz delivering a deeper, richer bass sound. Without the hassle of wires, you can move the subwoofer around to create the best sound. It has 4 preset sound mode selections— treble/music, bass/movie, dialogue, and equalizer mode which can be adjusted with the remote control. Its automatic feature to set up treble and bass beforehand at the click of a button is also a nice touch. The wireless subwoofer can connect to the soundbar in 2 seconds, saving your time.
This high quality subwoofer has a balanced double surround system which improves driver excursion and results in producing the bass output which one usually associates with a larger driver. It also has a high excursion, 8″ front mounted radiating woofer pressure-coupled to an 8″ low bass radiator, thus creating a 27% greater radiating area and delivering a unique level of impact. Its high definition driver produces bass with low distortion reaching down to the lowest subsonic frequencies. The ProSub has 4 adjustable and integrated feet with rubber tips for secure placement on any hard floor. This subwoofer can be connected to any stereo or multi-channel audio system using a wide range of line-level and speaker-level input and output connections. Backed by Definitive Technology, its superior cinematic and musical effects make it one of the favorite subwoofers of all time.
These spun copper, injection molded graphite subwoofers are designed to give amazing sound with the latest technology. It has front-firing cerametallic woofers and a 10-inch, down-firing driver. Its aluminium diaphragm compression driver produces crystal clear frequencies and its linear travel suspension minimizes the distortion of sound. This subwoofer produces remarkably deep bass and is compatible with almost any receiver. It pumps out 200 watts of continuous and 420 watts of dynamic power. This subwoofer's black and copper body accentuates its sleek and sophisticated look, and it's so designed that it can be placed anywhere.
One of the ultimate subwoofers, this product is your new point of reference for high-quality sound. As one of the larger powered models in the subwoofer series of this company, the SUB R12 adds powerful bass to any entertainment system. This subwoofer for homes has a 12″ fiber-composite driver synced to the 300 Watt high-power digital amplifier. The subwoofer cabinet has a solid construction and, with its internal edge-to-edge windowpane bracing, gives a firm foundation to reinforce the dynamic deep bass required for high-resolution digital surround and modern music. This combination of strong structure, high output digital power, and robust driver provides a powerful and deep bass that will make your music and movies come alive. The SUB R12's slender design and elegant details blend well with any decor.
SUB6 is a sealed box, front-firing subwoofer offering 200W of powerful bass extension and a perfect balance to your favourite soundtracks. Its precise low pass filter makes it a perfect match for any Kanto speaker. Its 6" paper cone driver enables true sub-bass production that has real depth. It takes into account the fact that every space is different and its precise dials for volume and cut-off frequency offer exacting, responsive control that lets you shape your bass to fit the unique character of your room. SUB6's MDF enclosure is acoustically engineered to reduce undesired resonance and reverberation inside the cabinet, providing undistorted sound. A grille, that is specially designed for the purpose, protects the 6″ paper cone driver from dust and impact while allowing sound to travel with minimum distortion. The added features of power saving auto-off, phase adjustment, and full L/R line level input round up this compact subwoofer.
Nothing makes recorded sound more real than a rich, deep, and authoritative bass. This product has not compromised in this critical region. The rich, powerful bottom octaves are an important feature when it comes to music and movie soundtracks and in reproducing the full spectrum of instruments and sound effects. This modern subwoofer has a bass reflex enclosure and a class AB amplifier. The amplifier power is 60 Watts RMS and 120 Watts at its peak. Its frequency response is 38Hz-200Hz and the crossover frequency is from 40Hz-200Hz. This 10-inch powered subwoofer also features a low throw dynamic woofer with these L/R input.
The Rock Shaker home theater subwoofer is an all-in-one 8-inch, 400 Watts subwoofer perfect for any home theater system or studio application. This product uses high quality components and delivers clear sound with a rich, deep bass that you can really feel. The enclosure is made of high quality MDF wood with a high grade vinyl covering which delivers crystal clear sound. The enclosure is filled with fire-resistant poly cotton and a detachable foam grill. It has a highly efficient class D amplifier that is perfectly matched with the enclosure and woofer, which adds to the sound experience. The rear firing port delivers the best bass response and disburses the sound equally throughout the room. The woofer is of top quality with foam surrounds, paper cone, and features a 1.5-inch 4-layer voice coil and Y30 grade magnet. This small subwoofer has RCA inputs and outputs as well as high level speaker inputs and outputs to support any setup.
This home theater subwoofer is designed keeping in mind consumers who desire extra powerful bass for their home theater experience. Made with only high grade moisture resistant materials, it has a sophisticated design, black wood finish, and its slim 6.5 inches height ensures it can fit anywhere. Computer designed software has been used to design this powered subwoofer to achieve an optimal balance and interface between components. The specially built-in cabinet amplifier has very efficient left/right spring terminal inputs. The 24dB per octave crossover is continuously variable and can go from 50-150Hz. This powered subwoofer also has a built-in auto shut off. Volume and crossover frequency dials round up the special features of this super powerful subwoofer. The design of the ports allows air to flow in and out of the cabinet, reducing port noise, increases linearity, lowers distortion, and provides an increased output which can go as high as 2-3dB. This versatile, compact subwoofer comes with a stand and can be set up in any area.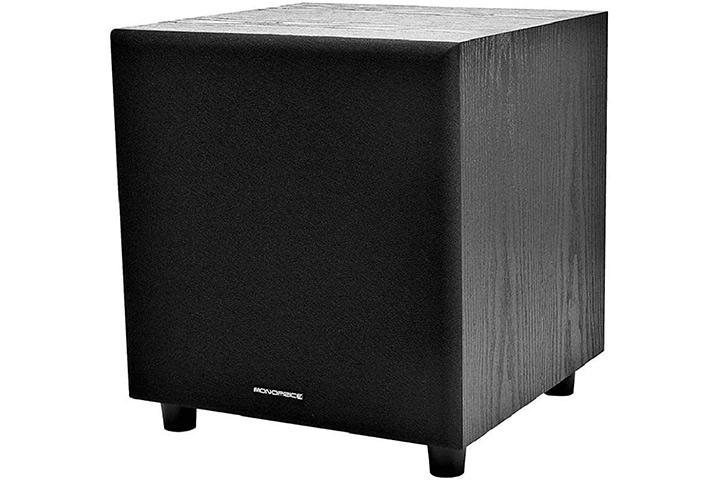 This 8 inches powered subwoofer is capable of producing 60 watts (RMS) output. The subwoofer has a frequency response range of 50 to 250 Hz with a low pass crossover filter which can be adjusted from 50 to 150 Hz. Gain and frequency knobs allow you to adjust the crossover filter and the power output for the optimum bass output with your stereo or surround speakers. The subwoofer has several input options because of which it can be used with any existing stereo or 5.1 amplifier system. It has its own power and includes impedance matching circuitry, which prevents the reduction of power output to the front speakers and doesn't affect the overall impedance load on the amplifier. Additionally, the subwoofer has 2 right/left line level inputs. It is housed in an elegant black wood cabinet. The driver and a 2 3/4-Inch sound port are located in the front and are covered by a black cloth speaker grill.
This 6.5-inch powered compact subwoofer features a crossover that is continuously variable between 60-250Hz and a frequency response of 40-250Hz. Its enclosure is built with the perfect and ideal air space to maximize sound quality and punch. Its standard RCA and bluetooth allow this small subwoofer to blend its low-frequency tones with other speakers and devices. The driver in the powered compact subwoofer pumps out loads of deep and smooth bass with minimum distortion. It has a built-in amp that combines both delicate and thunderous sounds for the ultimate home theater effect. Its convenient LED display design displays different colors while switching  modes. This product has a stunning black finish with curved edges which gives it a visually appealing look that fits in with any home decor.
Now that you have been through our review of the 13 best home subwoofers, we would like to make your task even simpler by giving you a few pointers on how to choose a subwoofer that best suits your requirements.
How To Choose The Right Subwoofers For Home
If you have a wired subwoofer with a single RCA connector, chances are you can upgrade your subwoofer. This could be part of an HTIB, a real 5.1 system, or even a soundbar with a wired subwoofer. Wireless subwoofers that come with sound bars or HTIBs generally can't be upgraded, as they are proprietary. In conclusion, it is recommended you buy an upgradable subwoofer.
Subwoofers involve a very important aspect— power. The watt rating gives you a rough idea as to how loud a subwoofer might be able to play, but it doesn't have to be louder just because it has a higher wattage. In fact, a 1,000-watt subwoofer may sound better at a normal room volume than a 100-watt subwoofer. Thanks to digital amplification, 300, 500, and higher wattage subwoofers are quite affordable. Wattage by itself is not a complete judge of a subwoofer's performance. They are just one aspect of it and there are other factors to be considered as well.
Generally speaking, subwoofers are boxes inside which is a fairly large driver (and usually the amp that powers it). For best performance, a driver should have some space in the cabinet behind it. So ideally, a 12-inch driver will have a bigger sized box, while an 8-inch driver would have a smaller box. The driver has to work hard to produce the long bass waves in volumes you can hear. One way to do this is with a bigger driver, 12 inches being the most common size, but you can get 15-inch models as well. Some models have multiple drivers.
This does not mean that 2 6-inch drivers are equivalent to a 12-inch driver, but they'll definitely  perform better than a single 6-inch driver. The other way to produce bass waves is with lots and lots of power. As the driver and cabinet size go down, the power needs to go up to compensate for that. So, an 8-inch subwoofer in a small box can sound similar to a 12-inch subwoofer in a big box if it has significantly more power.
Placing the subwoofer against the wall will add a little bit to the volume, as will putting it in the corner. Either place isn't strictly the most accurate bass response but it will get you more volume if that's what you're looking for. Multiple subs placed in different locations interact with the room differently because of where they are placed.
Certain subwoofers have room EQ processing, which plays test tones through your speakers and subwoofer and generates an equalizer setting specific to your room. These can do a lot, like helping to minimize over-accentuated notes.
In a small room, a small subwoofer (minimum 100W, 10 or 12-inch sub) will work just fine. In larger rooms, you will need a bigger subwoofer. If your room has open walls, you'll need even more power or a larger sub as the bass sound will need to fill the entire space. If you have the space and the budget, multiple subwoofers are a good option, as they often perform better than a single subwoofer. Placement is crucial, and the right position can greatly enhance the bass sound quality.
Most people equate subwoofers with volume which is at the expense of quality. A quality subwoofer, placed correctly in a room, can produce a deep realistic bass. The idea of any good speaker system is to accurately recreate all the frequencies in the audio spectrum equally. So, the best subwoofers don't make a booming sound, but just have a stronger bass than is possible with small speakers.
Frequently Asked Questions
1. Can't I just crank up the bass on my regular speakers?
A normal speaker cannot produce low frequency sound waves and hence, cannot be used as a subwoofer. A subwoofer's unique purpose is to produce low frequency sounds and a normal speaker cannot replace it. You can use a woofer to achieve low bass tones, but even this does not compare to a subwoofer.
2. What is the best subwoofer for deep bass?
Polk Audio PSW10, Klipsch R-100SW, Monoprice 60w Powered Subwoofer, Elac Sub1010, and Rockville Rock Shaker 8'' Powered Subwoofer are ranked among the top products for deep bass in subwoofers.
We all want to create a cinematic or concert-like experience while watching a movie or listening to our favorite music at home. This is all the more true in the present pandemic situation that prevents us from going out. Acquiring the best home subwoofer makes all the difference in the audio quality with its rich and deep bass. A subwoofer specifically targets a lower frequency range which is what produces the trademark rumble that you can feel. But with all the different brands and models available in the market and the tall promises they make, this becomes a rather difficult task. We hope our review of the 13 best home subwoofers will make this experience come true for you.
Why Trust MomJunction?
Wedetso Chirhah is our in-house product writer and editor with experience in reviewing electronic appliances. He relies on in-depth surveys and analyses to choose the most reliable products with amazing features. Here, he brings you a collection of the best subwoofers for your sound system that will surely enhance your listening and movie-viewing experiences. To help make your selection process easier, Wedetso also shares a detailed buying guide.