Get pretty waves or ringlets with our list of the best hot rollers for thick hair and experiment with new hairstyles. These hot rollers can leave you with attractive, lustrous, and wavy tresses, instead of regular ones, which may not be quite as effective if you have thick hair. If you have a party or a professional event, these hot rollers can help you style your hair in different ways to make you look chic. So, take a look at the multiple options available to choose the right one for your hair.
11 Best Hot Rollers For Thick Hair
The Remington H5670NA Professional Style Jumbo Curl Setter comes with four jumbo rollers and eight large rollers. These rollers give some gorgeous and silky curls by reducing static and frizz and are lined with ceramic that provides consistent heat. Each roller comes with a thermal wax core that helps retain high heat and create long curls. They also come with cool touch ends for protection.
This exclusive set is a combination of four super large and eight large rollers. The rollers not only give bouncy salon-like curls, but also protect the hair against heat. The ceramic-filled plates provide consistent heat required for proper hair curling. These heat up within a couple of minutes and can be held firmly using the complimentary roller clips.
This set of BaBylissPRO rollers includes six small, six medium, and eight large rollers that can create both tiny and large bouncy curls. These rollers are lined with nano-titanium ceramic plates that use infra-red rays to heat the hair, which is less damaging to hair as compared to other technologies.
This set of Caruso steam hair rollers includes 30 rollers ranging from small to large. The steam-based and dual-voltage rollers are easy to carry around as the set comes packaged in a portable storage bag. These rollers have a lasting effect on the curls and are designed for use on all hair types.
This set of 20 hair curlers has a built-in thermal wax core that locks in  heat for an extended period, and the ironic conditioning in each roller helps reduce frizz and add shine to your curls. The curlers are color-coded, and the set includes three J clips that can securely hold the rollers in place while you curl your heart away. The set also comes with an indicator light that lets you know when the rollers are ready for use.
This classy set includes eight rollers, each measuring two inches. The rollers curl your hair swiftly yet perfectly, and the titanium ceramic lining reduces frizz and provides a natural shine to the hair. These rollers get heated up within two minutes, and the ionic conditioning provides long-lasting curls. The rollers come packaged in a compact and convenient storage pouch.
The Voluminous hot rollers come with tourmaline technology that uses infrared heat to curl up your mane. The aluminum core locks in and transfers heat for a reasonable amount of time. These rollers come with a ceramic core that gives you bouncy, shiny, and sorted curls in no time.
This set of nine rollers provide rare anti-bacterial protection to the scalp and hair while styling, resulting in shiny, thick curls. The rollers also come with LED lights, allowing you to style your hair even in the dark. These rollers are lined with ceramic plates that hold heat for upto 15 minutes and  enable styling without damaging the hair.
This set of 10 rollers uses Tourmaline ionic technology with a triple ceramic coating that provides you with consistent heat and gives you frizz-free, shiny curls. These rollers are very convenient to carry around as they come packaged a travel pouch. These also come with indicator lights.
This set includes five rollers, each measuring 1.5in. The rollers heat up within two minutes and give amazing, cascading, bouncy curls. These are designed to minimize frizz, and the ends feature a cooling mechanism for easy handling. The dual-voltage rollers can be carried anywhere and come in a complimentary travel pouch.
This roller set includes ten rollers, each measuring 1in. The rollers come with an indicator light and cool-touch tips for convenient handling. The set also includes two user-friendly clips that help in securing the rollers.
Types of hair rollers
Let us take a look at the various types of hair rollers.
Hot rollers: The easy-to-use rollers come in a container that stores and heats the rollers.
Foam curlers: These curlers do not use heat or electricity. They are used on slightly damp hair that can be blow-dried or naturally dried after the roller is set in with the help of fastening clips.
Velcro rollers: These are made of plastic, with a Velcro attached to them. They just need to be rolled up and left to cool to give you long-lasting, gorgeous curls.
Steam hair rollers: Steam hair rollers work on the same dynamics as heat rollers, except they use steam along with heat to create the super-curl effect on your hair.
Flexi rods: Flexi rods do not require heat, steam, or electricity. The flexible curlers can be fit into any damp hair to create bouncy ringlets in a super healthy way.
Heated rollers: These are usually used by professionals to create a maximum impact by applying heat to style those dreamy curls. Once they cool down, cascading curls will flow down your head.
Ribbon curlers: The bendy rollers are comfortable to sleep on and contain a wire mesh where the hair can be separated and placed for it to curl perfectly.
Magnetic rollers: They have magnetic clasps to hold wet hair in place.
Brush hair rollers: These curlers contain built-in bristles that use a brush down technique to clasp the hair securely and give you wavy curls.
Sponge rollers: These rollers help you to style wet hair into curls while sleeping and are super soft and convenient to sleep in.
How to use hair rollers?
To get gorgeous and bouncy salon-like curls, you may follow these steps.
1. Prep the hair
Before using a hot roller, preparing your hair for styling is essential as your aim should be to create minimum damage to your hair. Thus, spraying a setting spray onto your hair is very important. If you are using a non-heating device, make sure you damp your hair.
2. Knot them up
Divide your hair into sections and curl each section one at a time. The larger the sections of the hair, the looser and wavy the curls.
3. Set the time
Read the label on the roller and follow the time mentioned. Make sure you do not overdo it.
Once the curls are set, remove the rollers and allow them to cool.
4. Shake it up
Free the curls and run your fingers through them. Loosening up the curls will give a more dramatic look to the hair.
5. Use a hair spray
After the curls are set, spray some hair spray to keep the hair set and frizz-free.
Safety Tips While Using Hot Rollers
Always use rollers with cooling tips.
Use rollers on damp hair and not wet hair, as wet hair tends to break, causing hair loss and split ends.
Use a heat resistant spray on the hair before using hot rollers.
Before styling, wrap the ends of your hair in a damp tissue paper to protect them from heat.
How To Choose The Right Hot Rollers For Thick Hair?
Go for titanium and thermal wax rollers as they generate less heat.
Hot rollers with infra-red and ionic technology cause less damage to the hair-ends as compared to other hot rollers.
Large rollers help in curling the hair quickly.
A curler with silicon lining can give you long-lasting curls.
Frequently asked questions
1. Do hot rollers work on thick hair?
Yes, hot rollers do work on thick hair. You may choose jumbo rollers to get the best results. Also, remember to damp your hair or apply a setting spray before using hot rollers on thick hair.
2. Do hot rollers damage your hair?
With new-age technology and features such as ionic conditioning, silicone lining, and titanium lining, rollers may not be a hair hazard when used occasionally.
3. How long should you keep hot rollers on your hair?
This depends on the type of roller you choose. If it's a foam-based, non-heated roller, you could keep it for 20 minutes or even overnight. If it's a hot roller, then 10-15 minutes is ideal.
4. Will hot rollers give my hair more volume?
Hot rollers give a lot of volume to the hair if the hair is rolled from the base. After curling the hair, you could also use a hairdryer, which would do the trick.
5. Can I use hot rollers on wet hair?
Wet hair and hot rollers are a dangerous combination. It could damage the hair in the form of split ends or can burn your scalp due to the excessive steam produced.
A hair roller has become an essential accessory that is found in almost every girl's closet. With an array of rollers featuring newer technologies, we can now say goodbye to hair woes. We hope this list helps you pick the right hot roller for thick hair. Go ahead and flaunt those dreamy curls.
Recommended Articles: 
The following two tabs change content below.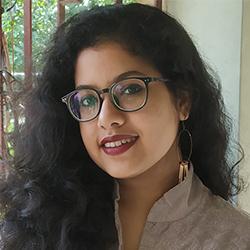 Poulami Nag
Poulami Nag is a writer and associate editor at MomJunction. She did her MA in English from Miranda House, University of Delhi and has qualified UGC-NET. Her journey as a content writer began in 2017 and since then she has garnered diverse interests along the way. Her knowledge of literature and language has given her an eye for detail and...
more