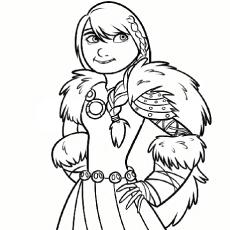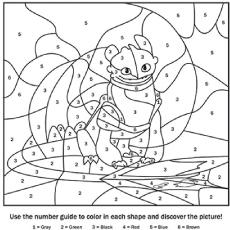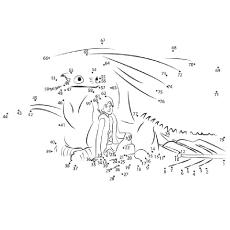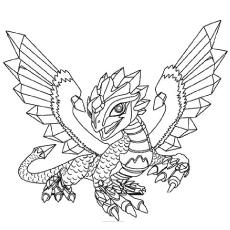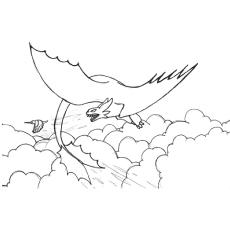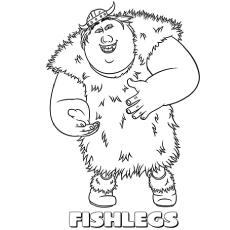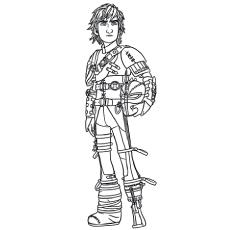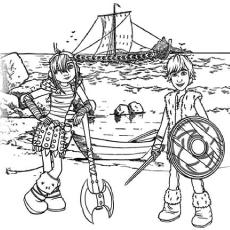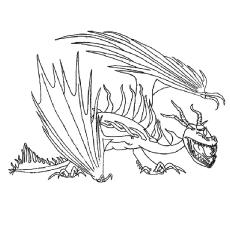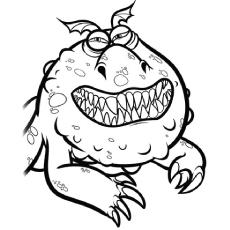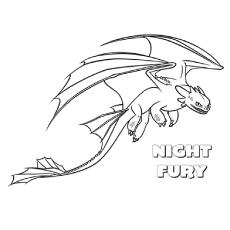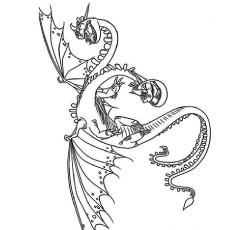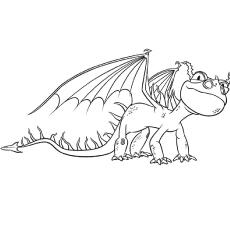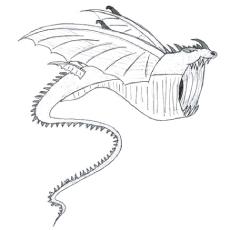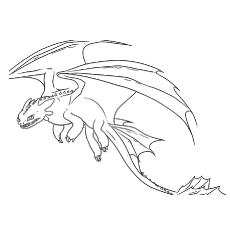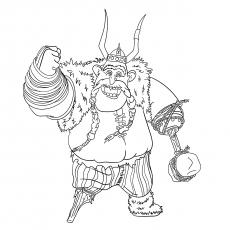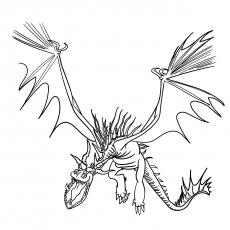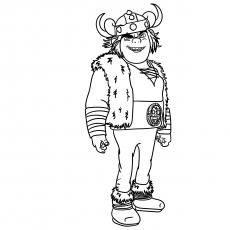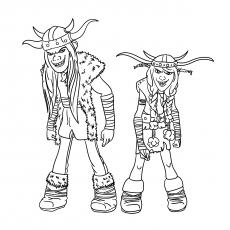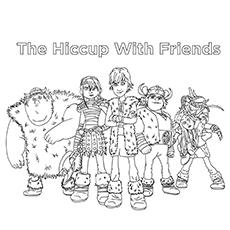 Recommended Articles:
"How to Train Your Dragon" is a 2010 animated film based on the book of the same name. The story revolves around a mythical Viking world, where a young teen named Hiccup, aspires to follow his tribe's tradition of becoming a dragon slayer.
After capturing his first dragon, he finds that he no longer has the desire to kill it. He instead befriends it and learns that there is more to the dragons than he had assumed. The film has also won the Academy Award for Best Animated Feature film.
Top 20 How To Train Your Dragon Coloring Pages:

Kids love How to Train Your Dragon coloring sheets regardless of age. They can spend hours coloring their favorite how to train your dragon coloring pictures. Give your kids these cool coloring pages of the characters from this movie, while they wait for the upcoming "How to Train Your Dragon 3".
1. Hiccup With Friends:
This is a coloring page of Hiccup with his friends Gobber, Astrid, Snotlout, Fishlegs, Toothless and Windwalker. We are sure your kids will have fun coloring these images.
Gobber is Hiccup's mentor, Astrid is Hiccup's love interest, Snotlout is Hiccup's despised cousin.
Fishlegs is Hiccup's best friend.
Toothless and Windwalker are Hiccup's pet dragon.
Enjoy this coloring sheet by adding a splash of colors to these characters. Explain more about these characters while your kid completes this enjoyable coloring exercise.
[ Read: Kangaroo Coloring Pages ]
2. Hiccup:
Here is a coloring page of older Hiccup, the protagonist of the series.
During the course of the story, the witch vampire Spydragons bit him twice, causing paralysis of his left side. Print this amazing coloring sheet and have fun.
Hiccup is the son of the chief named Stoick the Vast, thus making him the heir to the tribe.
He is one of the few people who can speak and understand Dragonese, the language of the dragons.
This left-handed sword fighter is the prized owner of two dragons – Toothless and Windwalker.
3. Gobber:
Meet the Mysterious Dragon rider of Viking, Gobber.
Gobber is a veteran warrior of the Hairy Hooligans. Here are some interesting details about this character.
Gobber is a six and a half foot tall maniac. He has the responsibility of training the Hairy Hooligans teens in skills needed to become a Viking, like catching and training dragons and sword fighting.
He is an enormous, extremely loud Viking who has a wild, yellow colored beard.
Gobber is usually seen wearing his small shorts and nothing else.
[ Read: Dragon Ball Z Coloring Pages ]
4. Ruffnut and Tuffnut:
Ruffnut and Tuffnut are the members of the Hairy Hooligan Tribe.
Ruffnut is a 13 year old girl seen wearing a light brown animal skin vest and a dark blue tunic.
Tuffnut on the other hand, wears light gray pants and dark brown furry boots.
Ruffnut and Tuffnut share a love and hate relationship. They keep quarrelling and fighting over trivial things.
Despite this, they share an amazing bond and cannot spend too much time staying apart.
They can understand each other's feelings and thoughts without even speaking.
[ Read: Chinese Dragon Coloring Pages ]
5. Astrid:
This coloring page features Astrid, a fierce Viking girl of the Hairy Hooligans and Hiccup's love interest.
She is a thin girl with blond hair. Her bangs cover the left side of her forehead, as you can see in the picture.
She is a skilled fighter, who is extremely dedicated to becoming a Viking warrior.
Astrid is a short-tempered woman who does not think twice before hitting people who anger her.
6. Snotlout:
Snotlout is the son of Hiccup's uncle Baggybum the Beerbelly and Hiccup's much-despised cousin.
He has a snout nose, hence the name. What will be the next move of this cunning dragon hunter? Let your child decide as he colors this sheet.
Snotlout is an ambitious man who dreams of becoming the chief of the Viking despite the fact that Hiccup is the true heir.
He is a highly narcissistic boy and is prone to delusion of perfection, popularity and extreme attractiveness.
He considers himself the strongest and smartest of all the teens.
[ Read: Dragon Tales Coloring Pages ]
7. Toothless:
The majestic dragon you see in this coloring page is none other than Toothless, Hiccup's hunting dragon.
Toothless is a young Seadragonus Giganticus Maximus. Here is a coloring image of Toothless on the move. The only thing he is missing is some color. Can your child help him get some color?
As his name suggests, Toothless has no teeth. He has large, jet black scales covering his whole body.
He possesses two sets of wings – one pair of main wings and one smaller pair near his tail.
Toothless is the most intelligent dragon of the lot and one of the first dragons to be trained in the series.
8. Stormfly:
Stormfly is Astrid's pet dragon. Help her look more attractive by coloring this image of hers.
Stormfly is Mood Dragon, which means that her color changes according to her mood. This golden colored dragon turns blue-black when she is angry and purple when she lies. So, which color would you choose for Stormfly?
Stormfly is an extremely loyal dragon and shares a special bond with Astrid. She is fond of Hiccup too.
She is normally gentle and docile, but can turn aggressive if required.
[ Read: Camel Coloring Pages ]
9. Hookfang:
Hookfang is one of the several dragons of Stoick the Vast.
He is a 61 feet long dragon, with large black, curvaceous, horns. He has bright reddish-orange scales with dark spots scattered around. This fierce dragon is in need of some color.
Unlike the other dragons, Hookfang's horns lack the extra anthers coming off them.
This helps to distinguish him from other Monstrous Nightmares.
Hookfang has the ability to light himself on fire using his sweat.
[ Read: Big Bird Coloring Pages ]
10. Fishlegs:
This is a cute black and white diagram of Fishlegs, Hiccup's best friend. This coloring page is sure to make your kid smile. Coloring inside the lines will improve his fine motor skills too.
Fishlegs is a clumsy man who always makes mistakes at inappropriate times.
Despite his flaws, he is a valuable member of the gang.
Fishlegs is strong and smart, but lacks confidence. He is one of the most coward and quietest members of the Academy.
11. Night Fury:
The Night Fury is a strike class dragon that appears in the movie adaptation of 'How to Train Your Dragon'. It is one of the most powerful dragons and rarest of its kind. It is described as the "unholy offspring of lightning and death itself." So one can guess how dangerous a Night Fury can be. Toothless is the only known Night Fury in the series.
12. Monstrous Nightmare:
The Monstrous Nightmare is one of the most aggressive, powerful and stubborn breeds of dragon known to Vikings. This formidable dragon species lives up to its name. Only a powerful and brave Viking can slay the Monstrous Nightmare.
If your little one has already watched this movie, then he will need little guidance to color the Monstrous Nightmare. This dragon is sure to leave an indelible impact on your child's mind. His creativity will make this dragon look larger than life!
13. Terrible Terror:
Terrible Terror is one of the smallest known dragons. However, don't let its size fool you! This dragon can cause lot of trouble to the Vikings. For instance, Terrible Terrors gather in large groups and break into a song. The song is not a melodious one either! The out of tune chirps, squawks and croaks can keep the Vikings awake throughout the night.If one annoys this pesky dragon it can pack a punch of lethal fire.
Just don't let your child stick to crayons; ask him or her to experiment with different coloring mediums. The background is kept plain, so that your child can use his or her imagination and fill it with colors. His or her magic touch will make this picture come alive!
14. Color As Said:
This coloring page can serve as an effective learning tool. As a parent you can test your child's number skills and the ability to follow simple instructions. It will also give your child the opportunity to learn about new colors.
Ask your child to use the number guide to fill in the colors. Make sure he follows the instructions correctly. Your child will be excited to color this picture and find out how this dragon will look like once he colors it. Don't forget to pin it up in his room, so that he can show his artwork to his or her friends. Your appreciation will teach him to take pride in his work.
15. Hiccup and Astrid:
In this picture, Hiccup and Astrid are carrying their weapons. At the background we see a Viking ship floating on the sea. Both Hiccup and Astrid are just about to begin their journey to search for dangerous dragons and slay them.
There is a sense of adventure in then picture which makes it dynamic and interesting. There is a detailed background in this picture that your child will enjoy coloring. This picture will give your little darling ample scope to use his or imagination and keep him engaged for hours.
16. Complete the Picture:
This is an interesting activity all kids love to do- joining the dots. Ask your child to use a bold pencil to join the dots. This picture is a perfect test of his or her number skills. Ask your child to read out the numbers loudly while joining them so that he remembers the numerical order.
Also your child will be curious to know what this picture will look like after he has joined the dots. Pin up this picture in your child's room once he has completed joining the dots and coloring it. This page will improve your child's observation skills and help him to get over the scribbling phase.
17. Meatlug:
Meatlug is Fishleg's Gronckle from the film. She is kept under dragon training in this film and belongs to the female gender. It is brown and black in color and resembles both Sea Slug and Horrowcrow. Meatlug weighs 5,724 pounds and measures 14 foot long. Meatlug's height is same as Gobbers.  Meatlug is a very loving, caring and loyal dragon. It does have sharp fangs like other dragons but it is more gentle and docile in nature.
18. Dragon Attacking the Bird:
This dragon didn't receive any training yet! If he had, then he would definitely leave this poor little bird alone. Dragons are mythical creatures that are popularized by folklore and legends. These fire breathing dragons could burn an entire city, so you can guess that this bird has little chance of survival.
19. Cute Little Dragon:
This dragon doesn't look scary at all! This cute little dragon has minute details, that your little one will enjoy filling in with his or her favorite shades. Your child can use his or her imagination to the maximum extent while coloring this page.
This coloring page will definitely improve your child's concentration and observation skills!
20. Thunderdrum:
The Thunderdrum is a massive dragon that is comfortable on land and in water. According to the Dragon Manual, "this reclusive dragon inhabits sea caves and dark tide pools. When startled, the Thunderdrum will produce a concussive sound that can kill a man at close range. Extremely dangerous….." A Thunderdrum named Thornado was owned by Stoick the Vast, the chief of Hairy Hooligan Tribe.
Your child will definitely enjoy coloring this powerful and dangerous dragon. Coloring this dragon will improve his eye-hand coordination.
We hope your child enjoys coloring these free printable how to train your dragon coloring pages online. You can download these sheets and create your own how to train your dragon coloring book with us in the comment section below.
DISCLAIMER: All images found here are believed to be in the "public domain". We do not intend to infringe any legitimate intellectual right, artistic rights or copyright. All of the images displayed are of unknown origin. If you are the rightful owner of any of the pictures/wallpapers posted here, and you do not want it to be displayed or if you require a suitable credit, then please contact us and we will immediately do whatever is needed either for the image to be removed or provide credit where it is due. All the content of this site are free of charge and therefore we do not gain any financial benefit from the display or downloads of any images/wallpaper.