Mountain trekking or cycling can be strenuous and leave you dehydrated. To ensure that you never run out of your dose of H2O, you need a good hydration pack.
Hydration pack refers to the water provision system in a backpack or a waist pack that comes with a reservoir, commonly known as the bladder. This bladder is made of rubber or plastic that holds the water and comes with a hose for easy sipping or drinking of water.
The following are some of the best hydration packs found online. Go through their features and pick one to not remain thirsty for long the next time you are outdoors.
11 Best Hydration Packs Of 2021

Carrying a hydration pack should not be a pain for your back. This pack comes with shoulder straps that contour to your body shape to prevent back pain and give you maximum comfort. Its 2L hydration bladder with a kink-free sip tube allows you to drink water without any struggle. The anti-shock chest strap helps distribute the weight through the torso.
Features:
Rugged high-denier rip stop makes the exterior highly durable
Wide, two-inch opening in the bladder allows to insert ice and clean thoroughly
Full-length main pocket with weather guard to keep other essential items
Suitable for both men and women
Available in five colors

Available in a variety of colors, this backpack comes with a hydration pack of 2L. The hydration bladder is made of BPA-free, food-grade material. The pack compartment is insulated so you can sip on cool water for several hours. Its other storage compartments offer a large carrying capacity so you can carry your clothes and other belongings. Also, the brand offers a free brush to clean the tube.
Features:
Leak-proof bladder with fast-flow valve and wide-opening lid
Lightweight backpack design
Padded shoulder straps
Stretchable mesh pockets accommodate extra loading

What makes a hydration pack the best hydration pack for mountain biking? Anything that makes it functional and comfortable. This pack may just fit the bill as it comes with a padded back panel and breathable shoulder strap to give you extra comfort. The water bladder holds a capacity of 2L and is made of BPA-free material. The hose comes with a rubber mouthpiece that is easy to pull out and drink water from.
Features:
Lightweight design
Durable material
Multiple pockets
Straps are adjustable to provide a comfortable fit
Bladder is made of FDA-approved food-grade standard material

Looking for a good-quality, budget-friendly hydration pack? Have a look at this hydration backpack that comes with ventilated shoulder straps and padded back panel. The shoulder straps come with dual-tube clips for a smooth drinking experience. Its Velcro pocket gives you quick access to other important items. The 2L bladder made of leak-proof and BPA-free material  features a twist-bite valve and keeps water cool for up to five hours.
Features:
Adjustable bungee enables you to carry extra items
Lightweight, sleek design
Spacious compartments and pockets
Most suitable for kids and women

The best hydration pack for running is the one that is designed to withstand harsh outdoor conditions. This backpack is made of 900D polyester that is resistant to tears and abrasions, making it ideal for outdoors. It comes with a 2L water bladder that  is equipped with a screw-up handle for easy refills and cleaning. The silicone mouthpiece on the hose comes with an auto-shutoff valve to prevent accidental leakage.
Features:
Water bladder made of FDA-approved, BPA-free EVA material
Waterproof exterior
Net pocket compartment for easy access
Molle system allows attaching tactical gears and equipment
Thick padding on shoulder straps
Detachable, rotatable water hose clip
Three foam pads on the back panel

Ergonomically designed to fit your shoulders, this bag comes with adjustable shoulder straps. The backpack is made of 1000D high-density Oxford fabric. The main compartment holds a 3L hydration bladder made of BPA-free, food-grade TPU. The three foam pads at the back panel offer breathability and better comfort. The 360-degree rotatable water hose adjusts as per your requirement.
Features:
Water-repellent exterior
Sturdy zippers
Flexible and cold-resistant TPU hose
Quick-release valve allows easy washing
High tenacity military-grade webbing for extra durability

Have a look at the most unique-looking backpack on this list. Its hydration pack is made of FDA-approved, BPA-free material. It can hold up to 2L of water and comes with a dust-proof cap to protect the valve. The thermal-insulated bladder compartment keeps your water cool, while the ventilated mesh back keeps you cool.
Features:
Waterproof exterior
Adjustable bounce-free chest strap
Reinforced bartack joint for durable use
Extra spacious front compartments to carry smaller items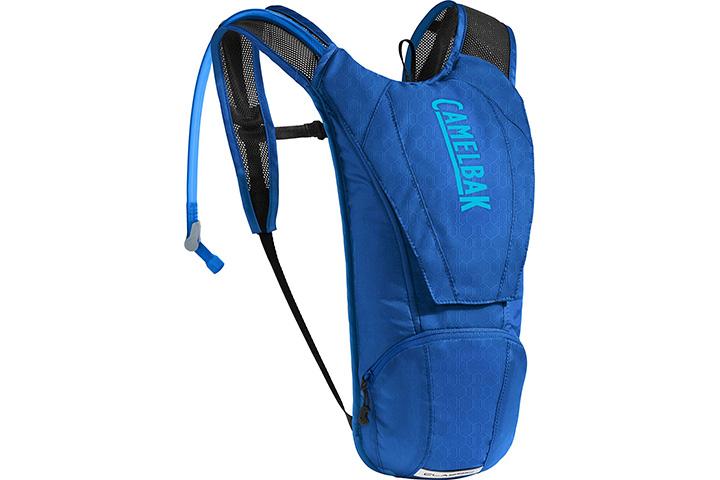 Coming from one of the most popular brands, this hydration pack is lightweight, so you get a comfortable fit. It comes with a breathable air mesh back so that the bag does not make your back sweat. The small front pocket allows you to keep your important small items. Its sturdy zippers will ensure that your belongings remain safe.
Features:
High flow reservoir with an ergonomic handle for easy refilling
Ventilated harness for comfortable wear
Hose comes with on/off lever to prevent leakage
Reflective accents enable better visibility in low-light

Here is a hydration pack backpack built to brave the outdoors, with an exterior made of splash-proof 210D ripstop nylon material. The 2L hydration pack is made of TPU material and is free of BPA, BPF, and BPS. The bladder also comes with an ergonomic handle and large opening to make refilling easy, while the soft-bite mouthpiece makes drinking water quick and easy. The small compartment in the front is for you to keep your essential items.
Features:
O-ring gasket push-lock on bladder connector prevents leakage
Zipline helps adjust sternum straps
Breathable mesh pad keeps water cold
Bottom double ditching straps for durability
Adjustable waist straps prevent bounce
Comes with reflective patches for safety

The 600D poly exterior with nylon ripstop makes this backpack tailor-made for the outdoors. It comes with a 2L hydration reservoir. Its organizer compartment with divider pockets allows you to access your energy bar easily. The padded back panel and shoulder straps come with air mesh material to keep you cool and dry.
Features:
Lightweight backpack is suitable to be used as a kids' hydration pack
Adjustable sternum helps in even weight distribution
Webbing hip belt keeps the bag secure
Key clip in the organizer compartment safely holds your keys
Bungee cord in the front holds extra attachments

This backpack with a hydration pack comes with an insulation layer that locks the water temperature to keep it cool for up to four hours. Its 2L hydration pack is made of BPA-free material, and the large opening allows you to fill ice and clean it properly. Its insulated tube with click-in connection makes it durable and easy to use. It comes with a waist pouch, so your important small items like cards, cell phones, or keys are easily accessible.
Features:
Breathable mesh padding for comfortable wear
Adjustable shoulder, waist, and chest straps
Bladder comes with a leak-proof valve
Multiple storage compartments
Mesh front pockets to store small items
Hole for earphones
How To Choose The Right Hydration Backpack?
Buying the right hydration backpack for yourself is quite simple if you look for the following essential features.
Water capacity: The first thing you need to look for in your hydration backpack is its fluid-holding capacity. If you need the backpack for a short trip, a small pack should be okay for you. But when you are out on a longer trip, you may want to carry a larger pack to last you through the entire day.
Drinking accessories: To be able to drink water from the bladder, you need to have a long, flexible hose. The hose functions well if it is properly connected to the valve. The valve has to be leak-proof, while the mouth of the hose should have a shut and lock feature to avoid leakage.
Extra baggage: After the water capacity is determined, check for how much of your items it can carry. You can opt for a backpack with multiple compartments so you are able to carry and organize your belongings easily.
Perfect fit: Just because you need more water, it doesn't mean you can go for a large backpack. The backpack has to fit you perfectly, and all the straps should be easily adjustable.
Material: Hydration backpacks do not come cheap, so, look for an option made of good material to last you long. The fabric for these backpacks differs from brand to brand. The fabric should be breathable and not make you feel hot when it is on your back. Rip stop fabrics are considered the ideal choice, as they are highly durable and comfortable.
Straps: The backpack must preferably have sternum straps, padded shoulder straps, and a waist belt to distribute weight through your torso.
Frequently Asked Questions
1. How do hydration packs work?
Hydration packs are water sleeves that store water in the bladder. The water is filled through a wide, sealable opening. You can drink this water through a hose that is connected to the valve, mostly located at the bottom of the pack. The other end of the hose has a mouthpiece that comes with a locking system, so the water does not leak out.
The hose usually sticks out through holes on the backpack and hangs over your shoulders so you can drink water easily. The backpack compartment in which the bladder is stored is mostly insulated to keep your water cold for several hours.
2. What is the capacity of a hydration pack?
Regular hydration bladders in a backpack come in sizes that hold 1L to 3L of water.
3. What kind of liquids can the bladder hold?
A hydration pack is like a bottle that can carry any liquid. However, it is best to stick to only drinking water as it is easy to clean, unlike a sports drink or juices, which if stored in the reservoir for long can cause the growth of mold in the reservoir or even the tube. Aerated drinks or stronger beverages can also impact the quality of the pack.
4. Can I buy spare parts for the hydration pack?
Yes, the valve, hose, mouthpiece, and the other parts of most hydration packs are replaceable and easily found in the market.
5. Does the reservoir freeze in cold water?
In extremely cold temperatures, the water in the hydration pack can freeze. And to avoid it, you can ensure that the hose is insulated. Try to keep the pack close to your body as it can help keep the water from freezing. You could also fill the pack with warm water as the insulation in the backpack will retain its temperature for long.
Hydrations packs eliminate the need to carry a water bottle, which means less use of plastic. For a nature enthusiast, this is a great option. A hydration pack is easily accessible and allows you to sip or drink water even as you continue to cycle or trek. The list above consists of some of the most popular hydration pack backpacks. We hope it helps you find the best backpack hydration pack.