It's not easy to refuse a bowl of delicious ice cream coming your way. But some of us worry about the quality of ingredients that go in. The issues with hygiene and quality can be eliminated when you can make your ice cream at home.
Homemade ice cream is undoubtedly safer, tastes yummy when made right, is relatively hygienic, and can be customized according to your tastes. Ice cream machines are uber-versatile, economical, and let you make varieties of desserts. So, investing in the best ice cream maker can be a wise decision, especially if your family is fond of this delight.
Be it frozen yogurt, fruit sorbet, or any other frozen delicacy, ice cream machines come in handy to prepare tempting desserts. This post lists the best ice cream machines available online and the features to check before buying one to impress.

Top Products From Our List
15 Best Ice Cream Machines
The fully automatic ice cream maker lets you make your favorite frozen dessert in less than 20 minutes. Its large capacity can make 1.5-quart ice cream conveniently and has a mess-free design with an easy-lock lid with a large spout. The machine has rubber feet to keep the base stationary so that the ingredients do not spill. It also has a mixing paddle that combines and aerates all the contents to makes smooth, frozen sweets.
Pros
A spout for easy pouring of ingredients
Transparent lid to watch the whole process
Doesn't make a noise
Makes smooth, creamy ice cream and frozen yogurt
Heavy-duty motor
Cons
Freezing bowl is not dishwasher-friendly
Cover on the machine may not be of good quality
The KitchenAid ice cream maker is powered by a stand mixer and has a one-year replacement warranty. It measures 10.9×10.3×10.3in and makes up to two quarts of ice cream, enough for eight to ten people. The machine also has a rotating dasher to whip, spread, and freeze.
Pros
Makes ice cream in just 25 minutes
Dishwasher-friendly dasher
Makes smooth and creamy ice cream
Recipe guide included
Cons
Internal parts of the machine may leak
Drive attachment may not be sturdy
Suitable for a small house party, this ice cream maker from Nostalgia makes four quarts of ice cream at once. The ergonomically designed machine comes with a handle attached to a bucket, making it convenient to move. It can be cleaned easily and quickly with wipes. The ice cream maker comes with a see-through lid to let you see how the ice cream is made.
Pros
The electric motor lock keeps all the parts in place
Canister made of aluminum
No manual effort is needed
User manual with delicious creamy recipes included
Cons
Motor may stop working after some time
May take more time than stated
The double-insulated freezer bowl prepares cold desserts without ice cubes. Its hassle-free design with a lock mechanism lets you enjoy ice cream making without creating any mess. The machine also has a large spout to add dry fruits and other ingredients to enhance the flavor while the ice cream is being made. It comes with a freezer bowl that requires hand-washing for cleaning purposes.
Pros
Makes desserts in less than 30 minutes
Fully automatic
Internal parts made of heavy-duty aluminum
Can make 1.5-quart ice cream
Cons
May become flimsy within a month of usage
Could be noisy
The self-contained ice cream maker has a heavy-duty design that doesn't require pre-freezing. With a capacity of 2.1 quarts, the appliance has detachable churning blades and a freezing bowl for easy cleaning and stacking. To avoid any mishaps, the mixer automatically switches off when the ice cream freezes.
Pros
Made of BPA-free stainless steel
Has an LCD time control
Powerful compressor freezer included
Good quality and durable
Doesn't make a weird noise
Cons
May have to scrap manually for churning
The fully automatic mechanism of the Musso ice cream maker allows you to stand, relax, and watch the process by just pressing two buttons. Designed with 1.5 quarts capacity, it has a time control operation to make different frozen confections. The Italian appliance is backed with a one-year warranty against any defects. It runs efficiently with a 100w motor and quickly makes delicious ice creams for you.
Pros
Made of stainless steel
Easy to clean
Lightweight and good quality
Comes with a user manual
Cons
May squeal and cease up after some time
The versatile and easy-to-use ice cream maker from Dash can prepare different frozen desserts in uber tasty flavors. From classic dairy ice cream to creamy yogurt and fruit sorbet to popsicles and fudgesicles, any of your favorite cold snacks can be made in an instant. Crafted with an ingredient spout, the machine is easy to use. You just have to turn the power button on, add the ingredients, and your flavorful dessert will be all set to delight you.
Pros
Double-walled insulated freezer included
Has minimal parts for easy cleaning
One-year warranty
Popsicle molds and reusable popsicle sticks
Complemented with a recipe guide book
Cons
May not be able to freeze all desserts efficiently
May take time in a hot and humid climate
Designed with a hardness setting bar, the Breville ice cream maker gives you 12 different options to set the right texture of your cold dessert. The machine has a self-refrigerating compressor with a 165w motor. It also has various indicators such as pre-cooling indicator, blade indicator, press start indicator, and mix-in indicator.
Pros
Features a child lock
Made of BPA-free material
Makes an alert beep when the dessert is ready
Versatile and durable
Cons
May leak into the motor
May heat up quickly
The unique ice cream ball maker has a manual mechanism that saves electricity and gives you a smooth texture to your ice cream. It is made of polycarbonate that differentiates it from others, and makes it a durable option. The ice cream ball maker is a manual device that doesn't require electricity.
Pros
Makes approximately one pint of ice cream
Makes ice cream in 30 minutes
Easy to use and stack
Ideal for making a variety of desserts
Cons
May be difficult to open
May not be able to freeze ice creams efficiently
Available in blue and red, the ice cream maker from Maxi-Matic is super fun to use and makes ice cream treats for birthday parties or any other peppy occasions. The convenient freezable bowl lets you make ice cream in the unit without creating any mess. It has an easy mechanism and doesn't use any harmful products such as alcohol, salt, or toxic chemicals.
Pros
Prepares one-quart ice cream
Made of good-quality aluminum
Makes dense, smooth ice cream
Recipe book included for yogurt, gelato, ice cream, and sorbets
Cons
May not be able to make a large quantity of ice cream in a single batch
Lid may come out while churning
May not be easy to clean
Catering to all your cravings, Sweet Alice's ice cream machine delivers delicious desserts like sorbet, yogurt, and other frozen desserts in 20 to 25 minutes. Its auto-shut function makes it easy to use as it shuts down after every 30 minutes. Also, it has a 1.5l detachable churning arm and freezing bowl for easy preparation.
Pros
Transparent large spout and lock-lid included
Detachable engine for easy cleaning
Mixing paddle that incorporates air for rich and dense ice cream
Made of BPA-free material
Instruction and recipe book
Cons
Blade might not be durable
May make runny ice cream
Made of heavy-duty aluminum, the ice cream machine can make up to four quarts of ice cream. It has a powerful motor of 110-120w to make the ice cream in less than 40 minutes. You can set it up conveniently as it has minimal parts, making it easy to clean.
Pros
Plastic interior for easy clean-up
Comes with a big spatula to mix the ingredients
Lightweight and durable
Easy to stack
Cons
Motor may not work efficiently at times
Equipped with a heavy-duty motor, the ice cream maker makes around 1.5 quarts of ice cream in 20 minutes. The mixing paddle is attached with the maker to mix, scrape, and aerate ingredients for a dense, creamy, rich ice cream. It has a double-insulated freezer that auto-freezes the ice cream and other frozen treats in no time. The large spout lets you pour ingredients into the freezing bowl while it whips creamy smooth ice cream to give you an enhanced, flavorsome dessert.
Pros
Transparent lid to watch the process
BPA-free mixing arms
Rubber feet to keep the base stationary
Tried and tested recipe cookbook included
Cons
Blade may not work smoothly
May not turn down the temperature quickly
If you're looking for an ice cream maker that works manually and has heavy-duty parts and hardware, this can be the product for you. Designed with a unique idea of hand-cranked ice cream, it is easy to use. You may not have problems related to leakage and cooling trouble, and the poly tub adjusts the outside temperature as it is designed with high insulation properties.
Pros
Durable and sturdy
Can be a fun activity for a family get-together
Saves electricity
Makes ice cream in bulk quantities
Cons
Continuous cranking may lead to sore arms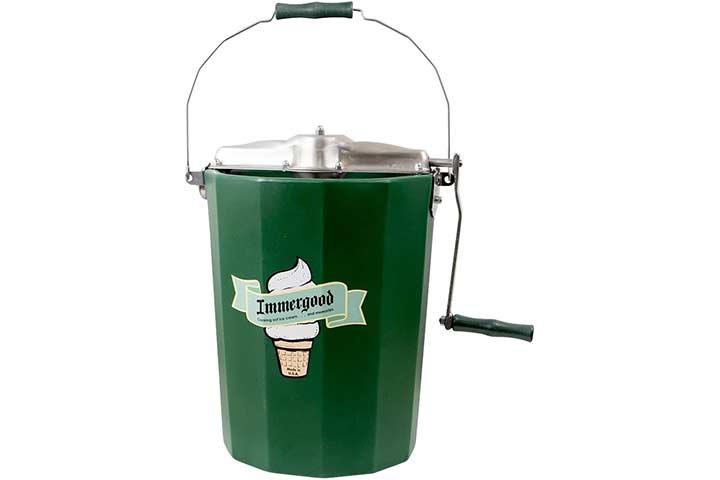 The Costway ice cream maker can be easily used by choosing a specific mode. It also comes with an LCD time control that lets you know when your ice cream is done. The machine also has a built-in device that automatically shuts off the motor to prevent damage or loss.
Pros
Makes 2.1 quarts of ice cream
Freezing bowl is detachable
Churning arms are removable, making it easy to clean
Easy to use, maintain, and store
Cons
May not be durable
May not give a creamy texture to the ice cream
Things To Consider When Buying An Ice Cream Machine
Before you buy the best ice cream maker, you must consider a few essential factors to make a smooth and rich bowl of creamy ice cream. So, let's delve into the features for that right ice cream machine.
Size: You must check the machine's size before buying so that it doesn't get difficult for you to store it in your kitchen. Look for a container that stacks easily and has minimal parts for hassle-free storage. Don't go for heavy and bulky machines as it might get difficult to maintain them for a longer period.
Capacity: This feature depends on the size of your family. If you have a big family of eight to ten members, you must consider buying a machine capable of making at least three quarts of ice cream.
Warranty: This is the most critical feature for an electric appliance. You must go for an ice cream maker that has at least a year of warranty.
Easy to clean: For this, look whether your machine has removable freezing bowls and churning arms. It is better to find a machine with dishwasher-safe parts.
Automatic switch-off: This is a unique feature as it prevents damage or loss. It switches off the machine automatically after the process is completed.
BPA-free: Don't go for cheap plastic materials. Not only can they ruin your health, but they also give a sour taste to the ice cream. Look for the material that's free from any toxic chemical.
The most crucial factor to consider when going for an ice cream maker is the purpose. If you have daily get-togethers, then a big electric ice cream maker would be good for you. But if you want to indulge your children in home chores with a sense of fun engagement, then small compatible ice cream makers can be an ideal choice. There are many manual ice cream makers as well, to save electricity and deliver ultimate results. Choose any maker that suits your requirements.
Recommended Articles: