Ice fishing is one of the great joys of winter, but it can also be trickier than fishing in normal conditions. If you're headed for a trip and want to turn the odds in your favor, the best ice fishing line will help you do that just that. In addition to helping you catch fish with ease, these lines are versatile, durable, and available in various sizes. Here are the best lines for ice fishing that will make your trips more productive.
Benefits Of Buying An Ice Fishing Line
Here are the reasons for you to use an ice fishing line:
Strong build: Ice waters are difficult for fishing compared to regular water The sharp ice edges could break the line. Hence, ice fishing lines are sturdy to withstand such conditions.
Increased sensitivity: Choosing a highly sensitive line can identify even a feathery touch. Ice fishing lines have low stretch and low memory, increasing their sensitivity levels.
Anti-freeze coatings: As the sole purpose of ice fishing lines is to withstand harsh cold climates, they have protective coatings to prevent them from freezing and breaking.
High flexibility: Ice fishing lines allow you to tie a firm knot even in cold conditions, unlike a regular fishing line.
Types Of Ice Fishing Lines 
Ice fishing lines vary depending on their specific properties, advantages, and limitations.
Fluorocarbon lines: These lines have low visibility, a high sinking ratio, and memory. They are suitable for fishing in clear waters but may get knotty in windy conditions.
Monofilament lines: These types have medium visibility, tend to be coil-less, offer high stretch, and are suitable for several areas and conditions. They absorb water eventually and offer high casting.
Copolymer lines: They have low visibility, medium diameter, and good stretching capacity. The abrasion resistance of these models is impeccable.
Braided lines: These are the highly found lines with low visibility, less stretch, and small diameters. They are suitable for most fishing styles except hook style. These fishing lines will freeze at extremely lower temperatures and offer high sensitivity.
11 Best Ice Fishing Lines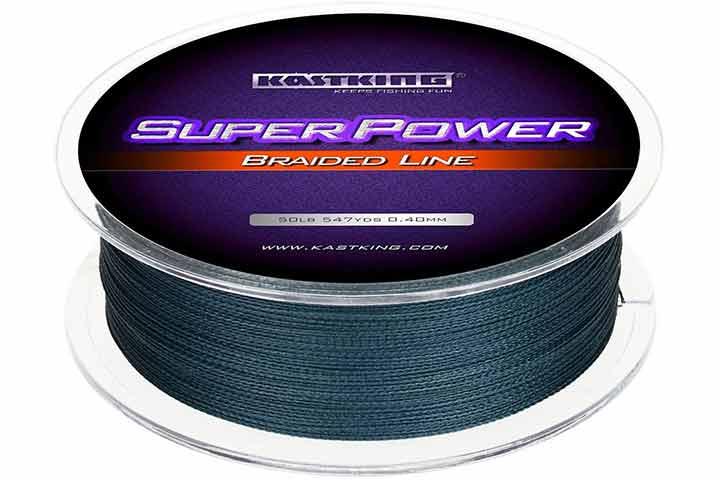 The KastKing's braided ice fishing line is a highly intricate braid with zero-stretch to give it the strength to catch even the toughest fishes. It has high abrasion resistance that decreases the likelihood of losing a big fish. This fishing line is made from high-quality polyethylene that adds to its durability. It has low memory and does not form any wind knots.
Pros
Suitable for all kinds of fishing
Holds knots well
Has a high response rate
Small diameter allows you to spool more
Cons
Breaking the line might be difficult
Colored lines may leave stains on fingers when used
The lines are covered with a high-grade nano-coating that increases the abrasion resistance by ten percent. This prevents any color fading during saltwater fishing. It is an ideal braided ice fishing line with an ultra-low stretch offering a high response. The high-tensile strength makes this ice fishing line suitable for anglers.
Pros
Has a high knot strength
Can be used for tournament fishing
Ideal casting diameter
Thin and smooth
Cons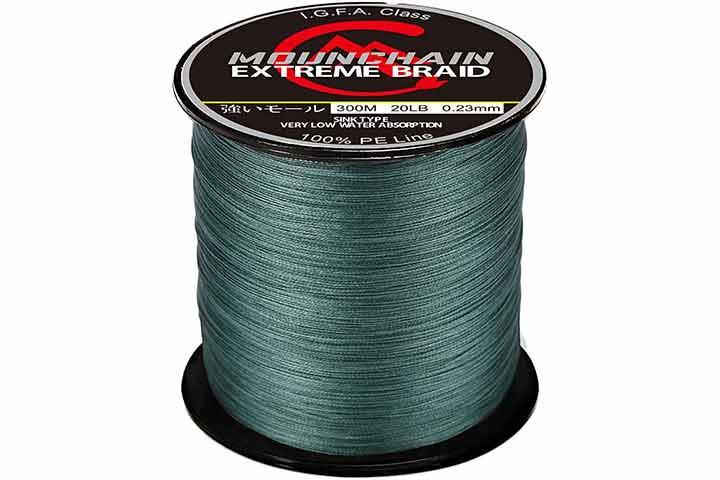 The braided ice fishing line by Mounchain is made of a four-stranded PE material with a high-knot strength. It possesses a strong abrasion resistance in most waters. Due to its thin diameter, the line's casting is not complex. This monofilament ice fishing line is available in various sizes and colors to choose from based on your fishing area.
Pros
Ideal for fishing in harsh conditions
Long-lasting color
Offers high hook-up ratio
Easy to attach
Cons
Might not be suitable for heavy fishing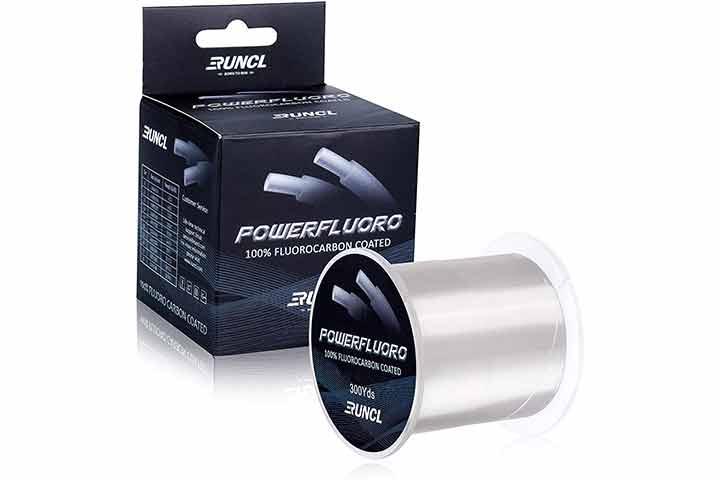 Offering ultimate strength, this fluorocarbon ice fishing line would be a great addition to your fishing tool kit. The high cutting rate and a non-reflexive finish make it invisible in the water. Its high shock strength reduces the memory time for a good impact speed. With compatibility for most waters and good abrasion resistance, your fishing trips would be a delight.
Pros
Low stretch offers extra sensitivity
Made of durable material
Offers high casting
Non-absorbance built makes it suitable for ice fishing
Cons
Might have low knot strength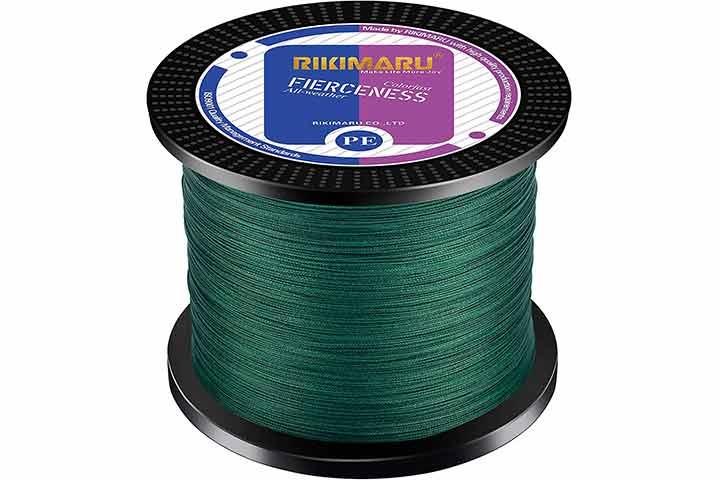 With low memory and high abrasion resistance, this braided ice fishing line can help you catch more fish. The line is thin, making it almost invisible for the fish to see. It has a smooth texture and is easy to mount on the pole. The zero-stretch capacity can help you cut water in the required spot within seconds. Its special coating makes the line remain intact under any fishing environment.
Pros
Works well even in extreme weather
Ideal for bass fishing
High load-bearing capacity
Less chance of forming wind knots
Cons
May have a shorter length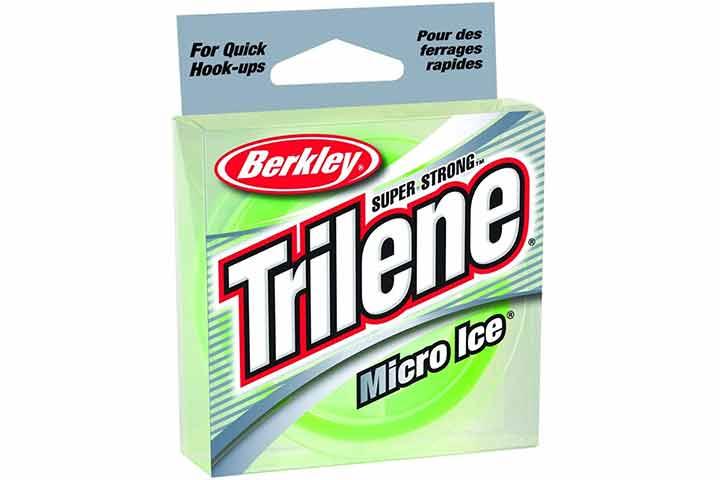 The Berkeley monofilament ice fishing line offers high strength and can restrain the fight of most fishes. It also provides high abrasion resistance when fishing near edgy ice bars. The durable built makes it a good line for anglers. It has low visibility and runs into most lures letting fishes easily fall prey to baits.
Pros
Offers high sensitivity
Low stretch for a quick response
Easy to work with
Supports even large fishes
Cons
Not great with spinning reels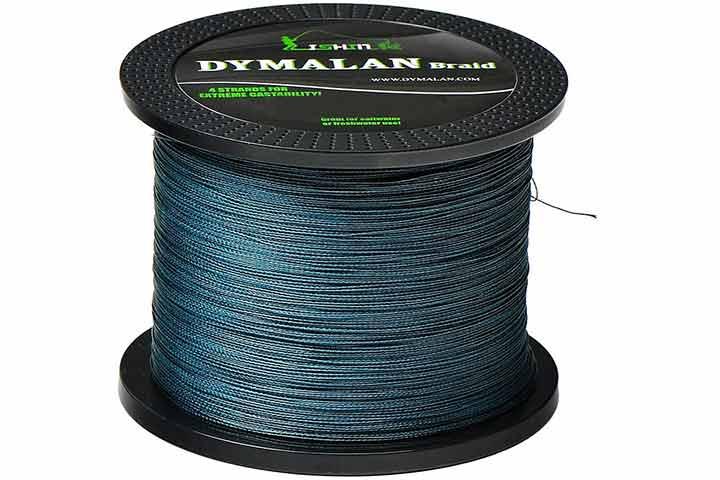 With a highly knit braid, this fishing line could be the best quality tool for anglers. The line is well-rounded and has great strength to work with any fishing action. It also offers high casting. This braided ice fishing line's durable PE offers good abrasion resistance required for fishing in extreme weather conditions. This factor also prevents frequent wind knotting of the line.
Pros
Suitable for saltwater and freshwater
Helps in quick retrieval
Suitable for most fishing styles
Offers high catch ratio
Cons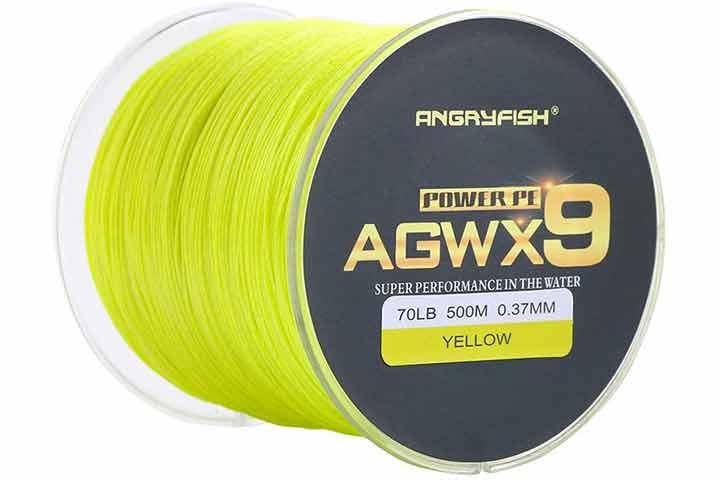 A twist of nine-strands makes this braided ice fishing line suitable for extreme weather conditions. It is made of PE fibers that don't cut off easily, making the line durable. The fishing line has high knotting strength and abrasion resistance. As it is available in multi colors, you can pick a shade based on your fishing environment.
Pros
Shows good wind resistance
Smooth and easy to lure
Zero-stretch product with high response
Suitable for saltwater
Cons
Casting the line may not be smooth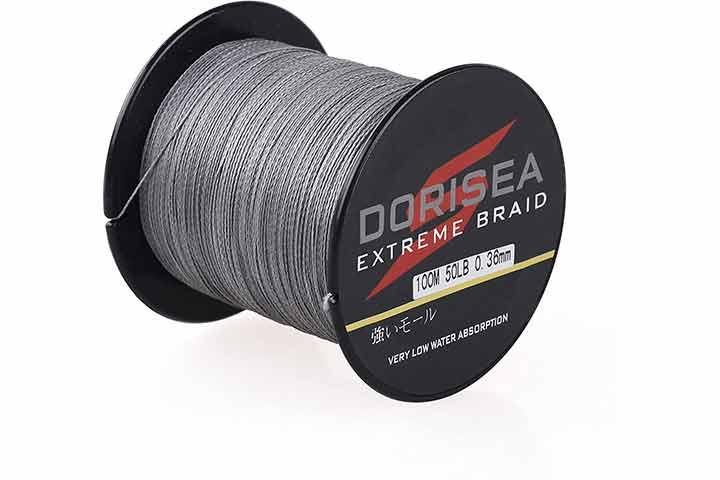 The ice fishing line setup by Dorisea is built for maximum performance. This PE fishing line has a thin diameter marking its invisibility in waters to aid a high catch ratio. To avoid water penetration, it is tightly wound and difficult to unwind. The line is easy to cast and penetrates water within seconds. This line is compatible with most fishing styles as its non-stretching build is easy to retrieve.
Pros
Highly sensitive
Good knot strength
Suitable for saltwater and freshwater
Easy to handle
Cons
Might not be suitable to catch large fishes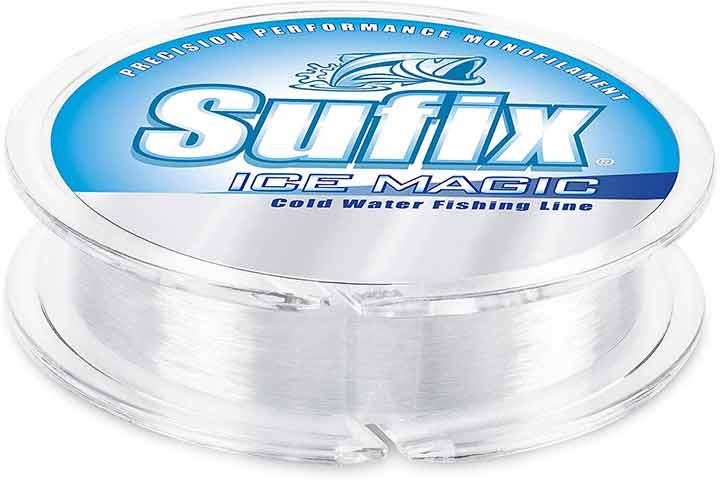 Built explicitly for ice fishing, this line by Sufix can withstand lower temperatures. The line makes this sport quite feasible by preventing water absorption even under freezing water. It repels water due to its special coating and has a good cutting capacity. This is light on most rods but strong enough to catch heavy fishes. Its invisible design ensures that fish fall prey to the bait quickly.
Pros
Runs smooth into the rods
Offers good cast
Lightweight but strong
Cons
Might be prone to wind knots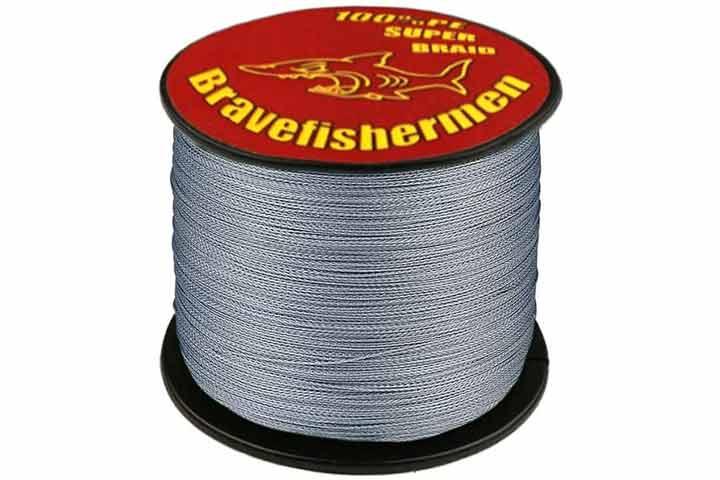 The braids are well-knit to offer high strength and will not unwind through use. It has a long-lasting color finish suitable to meet fishing needs in freshwater and saltwater. The line has a thin diameter and low memory. This fishing line is also ideal for tournaments with high-resistance capacity and low stretch.
Pros
Highly water-resistant
Increased sensitivity
Suitable for fishing in extreme conditions
Good reel capacity
Cons
May not be suitable for catching bigger fishes
How To Choose The Right Ice Fishing Line? 
Here are a few things to keep in mind while purchasing a line for ice fishing.
Color: Colored lines help you track the line under the water, and they also determine the catch ratio. Some colors are invisible to fishes but make you see the line better.
Diameter of the line: Lines with thin diameters easily cast, and thicker ones are stronger. Also, thin ones can be cast to longer distances.
Durability: A good quality line should not break easily, show low absorbance to water, and possess high abrasion strength.
Flexibility: Prefer models that can be tied into a knot with ease. Look into the description for this factor.
Temperature resistance: Choose a line that can withstand extremely cold temperatures and is compatible with ice fishing. This factor is mentioned in the description by the manufacturer.
Sensitivity: Fishing in lower temperatures reduces our chances of identifying even tiny nibbles from fishes. Stretch and memory are the two factors that determine high sensitivity. Look for models with low stretch and low memory as they tend to be highly sensitive to touch.
Size of the fish: Know about the given target area's species. Then choose a fishing line capable of pulling the determined weight.
Frequently Asked Questions
1. Do braided fishing lines freeze?
There are chances for the braided fishing line to freeze. Even if the line has highly intricate knots, there are fewer chances for water to penetrate the line.
2. Is there a difference between ice fishing lines and regular lines? 
Ice fishing lines are stronger and are easy to detect than regular fishing lines. The former has high abrasion resistance to prevent their breakage when they penetrate a sharp piece of ice. They also offer low stretch and have low memory.
Ice fishing is a difficult task, and it requires suitable gear. Our list will help you ease this task. For your next ice fishing trip, you should find the species available in that area and choose the line accordingly.
Why Trust MomJunction?
We have compiled this list of the best ice fishing lines after evaluating numerous product reviews from several trusted websites. We understand that ice fishing lines need to be more sensitive and durable than regular ones and resist cold temperatures. Hence, we have selected the products keeping these factors in mind and provided their specifications in detail. This post also includes a buying guide and an FAQ section to help you choose the right one for your requirements.
Recommended Articles:
The following two tabs change content below.

Tikendrajit Pegu
Tikendrajit Pegu is a content contributor at MomJunction. An engineering graduate, he also holds a postgraduate degree in management. He gravitates towards writing articles related to sports and adventure, and also has a good understanding of topics related to finance and economics.  Tikendrajit has over five years of corporate experience working on digital projects. Currently, he is based in Guwahati,...
more