That instant mood-kill when you have guests in the house, or you've poured out your favorite drink only to realize there's no ice in the freezer— bummer! We've all been there and experienced that frustration in person, right? After all, nobody likes to run out of ice, especially if there's a party or get-together at home. Hence why you need an ice maker on the countertop! Preparing ice blocks within minutes and making those drinks delicious and slurp-worthy, there's no reason why one shouldn't check out these best ice makers of 2021. Also, imagine summer with ready-to-serve ice in front of you always— yep, absolute bliss.
Now, are you ready to ice your drinks with the best? Here's our list of 11 best ice makers of 2021 for you below!
Read on to know!
11 Best Ice Makers of 2021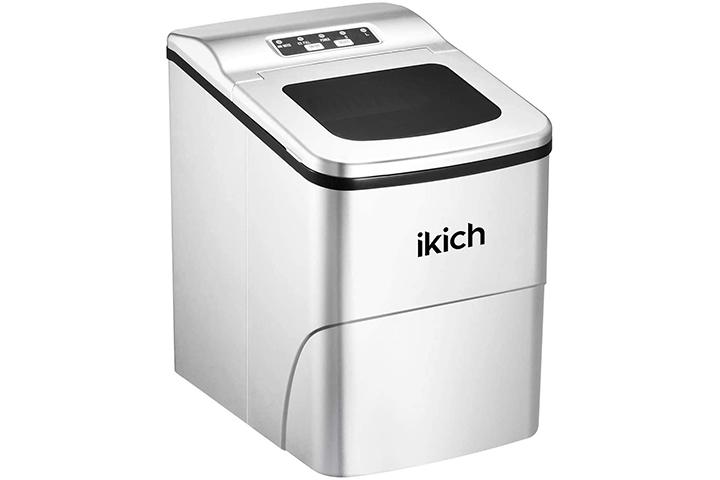 Fresh ice, now within 6 minutes with no noise and high portability! Yep, this home ice maker will easily fit on any countertop and allow you to select the size of the ice cube depending on your freezing needs. Preparing chewable, delicious, and bullet-shaped ice cubes, IKICH modern ice maker also has a drainage plug on the base to eliminate unused water. With a translucent window making the process all the more entertaining for the user, this block ice maker comes with a removable basket and ice scoop too for out-and-out convenience. So, if you are looking for the best portable ice maker, this would be it.
Pros:
Produces 9 non-sharp ice cubes in one go
Ensures low power consumption
Guarantees rapid freezing with the nickel-plated pure copper evaporator
Quick, easy-to-clean, and non-bulky
Built-in infrared LED sensors signal for water requirement or a full bucket 
Cons:
Ice may not stay frozen for long.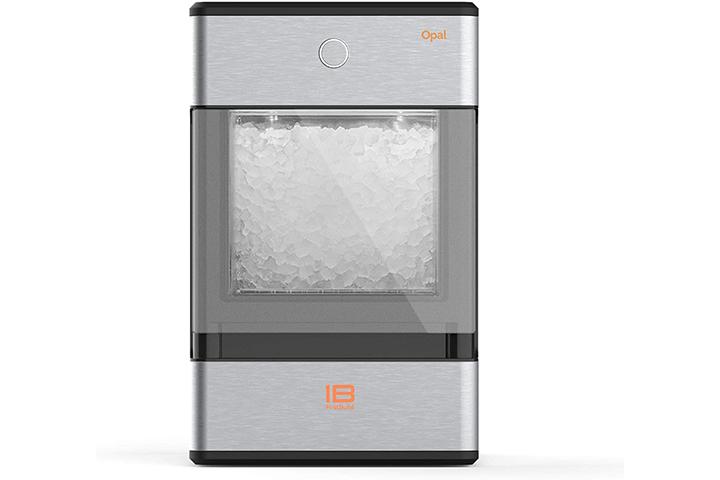 Compatible with Bluetooth, making ice can't get any more convenient than this! With this small ice maker in the kitchen, you can schedule ice making from anywhere in the house. Now, whether you are into large or small drinks, this ice cube maker needs no water hookups. All you have to do is fill the reservoir with water, and enjoy freshly made and crunchy ice within 20 minutes! Also, the melted ice returns to the water reservoir only to make more ice. Seriously, can ice-making get any simpler than this?
Pros:
Produces 24lbs ice in a day
Ensures 3 times more ice than others
Compact, portable, and easy-to-use
Automatically stops preparing when the bin is full
Convenient and compatible to use with FirstBuild App
Cons: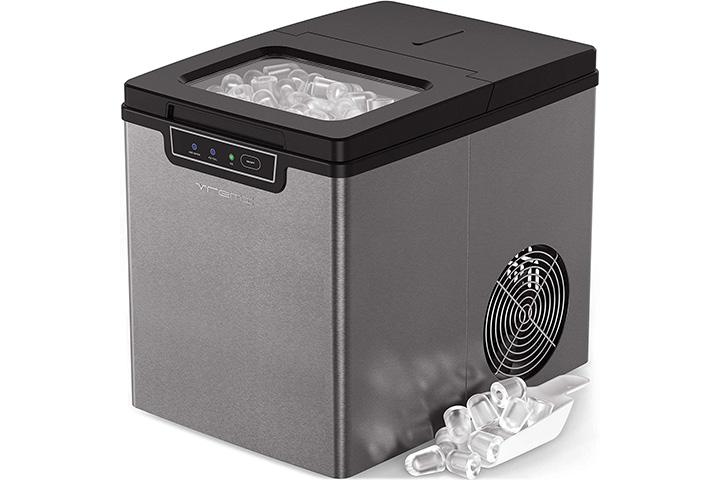 This one claims to make ice without making any noise! Keeping the whole experience chilling and thrilling, it does not require water hookups too. Easy-to-use and a great option for those who are looking for automatic ice makers, Vremi Countertop Ice Maker will not disappoint. Not only will it shut-off automatically when the bucket is full but also when it requires water. Also, it will give off warning lights to signal the user, which means you don't have to spend your time in front of the machine all the time! Yep, just what you need to enjoy parties without interruption— give this clear cube maker a try.
Pros:
Portable and compact
Runs and chills at 120Watts
Prepares 9 ice cubes per cycle within 9 minutes
Produces cylindrical-shaped and non-sharp ice cubes
Reuses melted water to make ice again
Removable ice bucket and scoop included
The ice cubes are soft, chewable, and easy-to-fit in any glass. 
Cons:
It may not be easy to clean.
Ice may melt if not used immediately.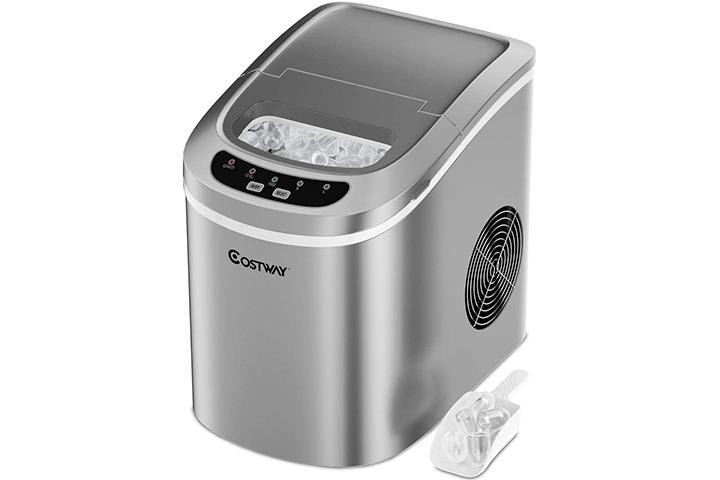 Are you looking for a small and portable ice maker that you can use on the go? Then COSTWAY Countertop Ice Maker could be the one for you. Whether you enjoy barbeque parties or require an ice maker at work, this small and handy ice maker can fit easily on any countertops. Plus, it produces 9 non-sharp ice cubes in one cycle (26lbs in a day), within 6 minutes and on low noise! Besides this, the machine is energy efficient with internal components such as a high-power compressor and 9 condensers that are corrosion-resistant to provide fresh and crunchy ice every day.
Pros:
Easy to clean, use, and time-efficient
Removable bucket and scoop included
ETL-certified and made of food-grade materials
Large and small ice cube size options available
Smudge-resistant and smooth ABS surface
The transparent window allows easy monitoring.
The drainage plug on the base eliminates unused water.
It has a user-friendly control panel with warning sensors.
Cons:
Ice may clump together.
It may not keep the ice cubes frozen for a long time.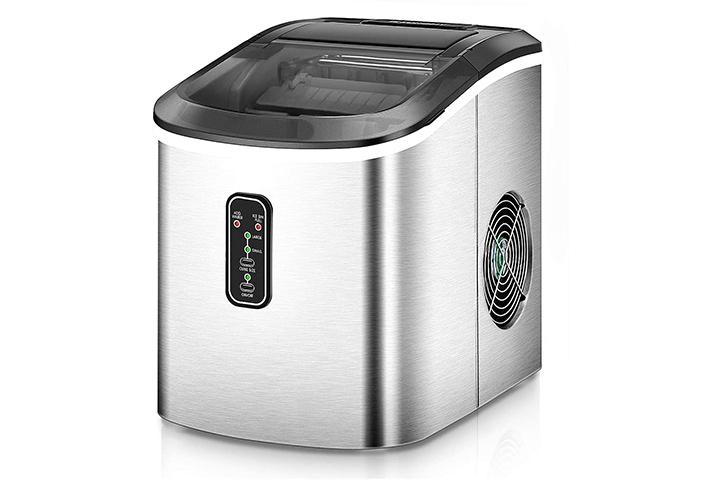 Not a fan of bulky or noisy ice makers? Try Euhomy Ice Maker Machine as it is lightweight, has a quiet compressor, and comes with extra add-ons such as the ice scoop and removable bucket. Gone are the days when having coolers in summers meant keeping a tab on re-filling ice trays. With this time-efficient and advanced refrigeration technology serving ice in just 8 minutes, you can enjoy cocktails and mocktails endlessly! And that's not all; since it allows different size options, you can make ice for all glasses, jars, or bottles of your choice. Give it a try!
Pros:
Easy to clean, use, and portable
Produces 26lbs bullet-shaped ice cubes in 24 hours
User-friendly control panel with light signals
Transparent window allows quick monitoring
The cooling system in the base cools down the machine quickly.
Infrared sensors signal the user if it requires water or when the bucket is full.
Cons:
Ice may clump if not picked immediately.
Ice may not stay frozen for long.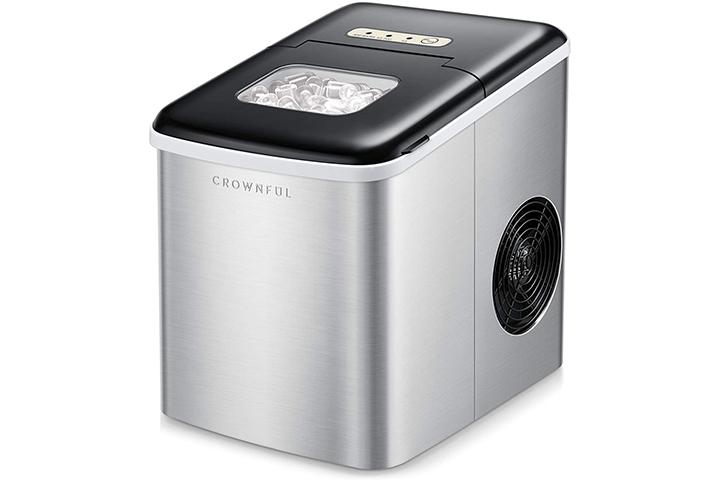 How about this stylish and compact ice maker for your countertop? If you like to keep the style quotient high in your kitchen, then this small and portable ice maker is ideal for you. Yep, besides being super quiet and easy to operate with one-touch, it is highly efficient too. All you have to do is touch the button and forget about the ice maker, as the sensors will signal if the bucket is full or if it requires water or needs cleaning. Now, why would you want to miss an ice maker so convenient and stylish?
Pros:
Produces 9 ice cubes in 10 minutes
Ensures 26lbs bullet-shaped ice cubes in 24 hours
Cools and freezes on low energy
Easy to use ice scoop available with the machine
The high-capacity removable bucket can store up to 80 pieces.
The drainage plug allows you to eliminate stale or unused water easily.
It is ideal to use in the kitchen, garden, barbeque area, office, camping, etc.
Cons: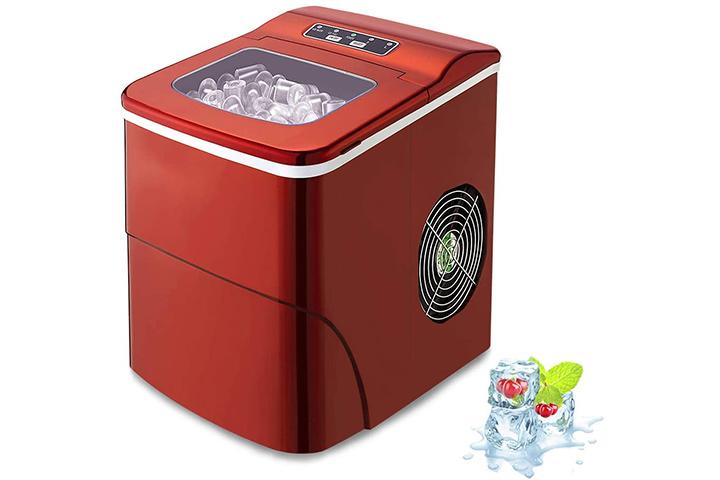 This one makes ice so quickly that even before you complete your conversation, your ice is ready to serve! Yep, this small ice maker is designed to produce ice at top speed to keep your drinks chilled all the time. Also, with options available to customize the size of the ice, you can use it for multiple purposes. And other than the fast-freeze technology, this clear cube ice maker has a very user-friendly panel that takes care of all your ice making needs with its smart controls. So, if patience is not your cup of tea, then this ice maker is a must-try for you.
Pros:
Serves 9 cubes in one cycle within 8 minutes
Environment-friendly and produces ice on low energy
Easy to carry, operate, and clean
Removable ice bucket and ice scoop included
The exhaust fan cools down the machine quickly.
Cons:
It may not keep ice frozen for long.
It may be slightly noisy.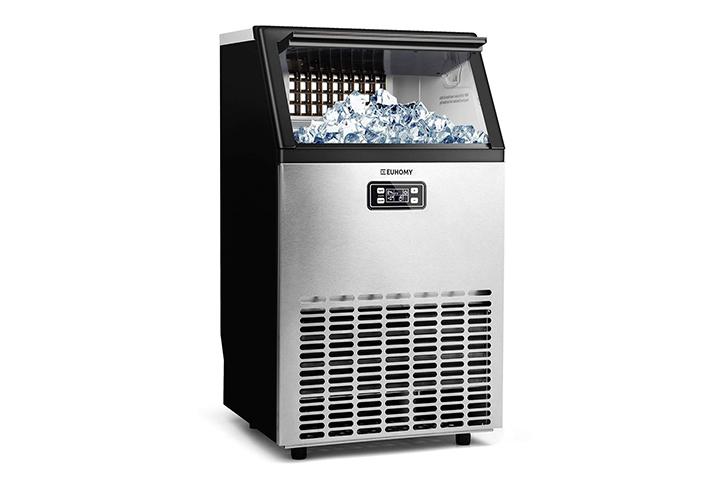 For a family that cannot do without ice, this freestanding commercial ice machine will be a great option. Whether you keep it in the kitchen, office, or use it for commercial purposes, it guarantees one thing— fresh, crunchy, and crystal-clear ice. An ideal choice for party enthusiasts and hot summers, it produces up to 100lbs ice in a day and can store up to 33lb ice at a time! Also, the built-in sensors automatically shut off the production when the bucket is full to prevent overfill. However, the best takeaway has it to be that it self-cleans on one-touch to ensure all the ice cubes are odorless and fresh, always!
Pros:
Durable and made of stainless steel
Low noise, energy-efficient, and easy to install
Produces ice in small, medium, and large sizes
Ice shovel, drain pipe, and water supply pipe included
The construction is convenient and user-friendly.
The LCD control panel is easy to operate.
Cons:
Bulky
Not ideal for outdoor purposes
It lacks built-in insulation.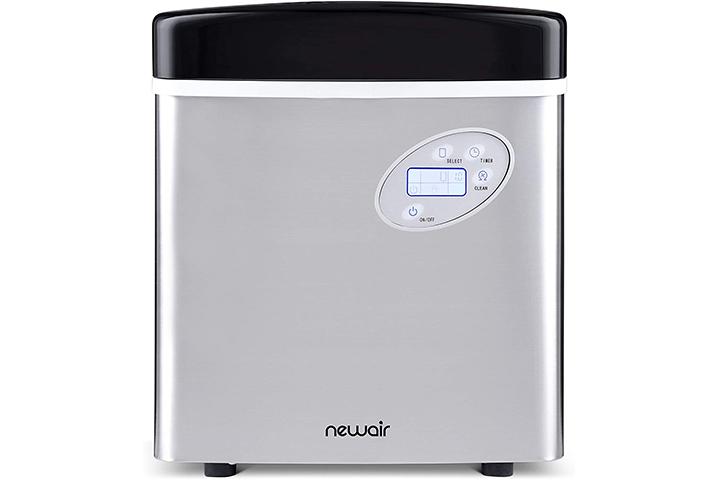 With this portable ice maker in your kitchen, your party will never run out of ice ever! Producing fresh, healthy, and crunchy ice cubes every 7 minutes, consider all your drinks chilled and delicious all the time. And it's so easy to use— all you have to do is fill water, set the 18-hour timer, and forget about the ice maker. With a rapid cycle that ensures the ice bucket is always full and ready to serve fresh ice, it also prevents overfill with its built-in sensors. Do you have a party coming up? Then this ice maker will make a great addition to your collection- try it!
Pros:
Serves 50lbs bullet-shaped ice cubes in a day
3 different size options available
Hassle-free, self-cleans, and easy-to-operate
Removable ice bucket and ice scoop included
All the product components are BPA-free.
The built-in light indicators signal if the machine needs attention.
Cons: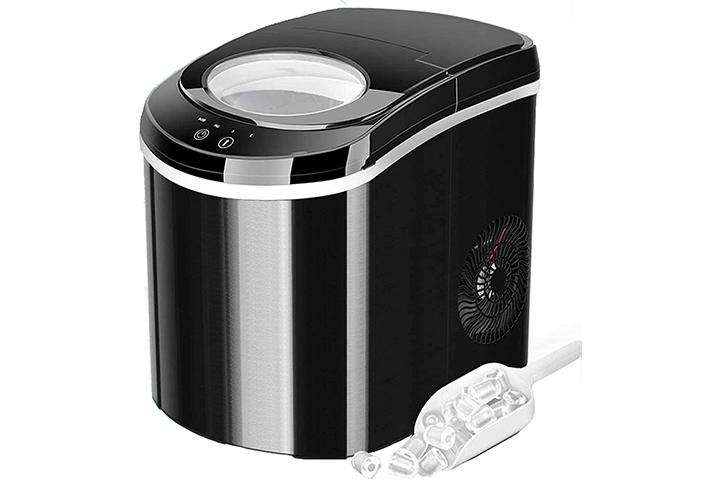 Super-quick, super-quiet, and super-efficient, beat the heat all around the year with this portable ice machine! Producing ice in 6 minutes, it also saves energy, thus making it an eco-friendly appliance to have in the kitchen. Just what you need to enjoy your favorite drinks in silence, you can also watch the machine churn out fresh and bullet-shaped ice cubes through the transparent window. Want more? It works in one-touch! Still, want to give it a miss?
Pros:
Compact, stylish, and portable
Self-cleans the tank automatically
Requires no permanent installation
Produces 9 ice cubes per cycle and 26lbs per day
Ideal for indoor, outdoor, and camping use
Smart indicators signal when it requires water or when the bucket is full
The ice scoop is included and the bucket is removable.
Cons:
It's non-insulated, so the ice may melt quickly.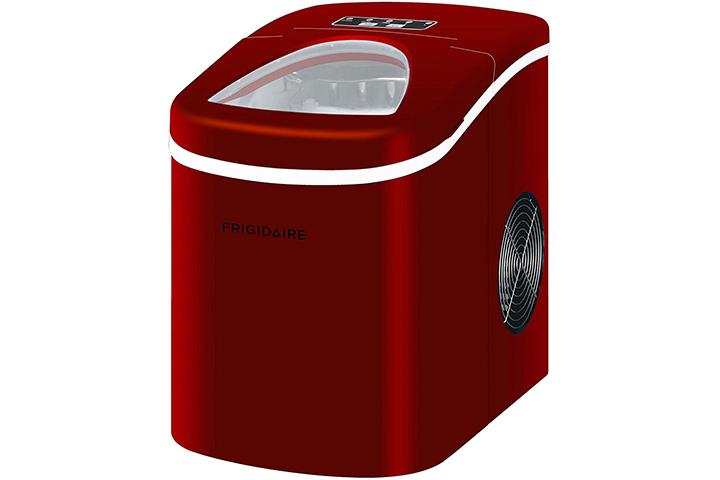 Lastly, this compact ice maker that other than producing 9 ice cubes every 7 minutes will also add a stylish touch to your kitchen décor. A perfect combination of style and efficiency, this ice cube machine is ideal for those with a small kitchen or for traveling purposes too. Making sure you have fresh and crunchy ice anywhere, anytime, it also guarantees healthy produce as all the refrigerants are chemical-free. And as far as the control panel is concerned, the buttons are soft-touch and easy to operate by anyone.
Pros:
Produces 26lbs ice in a day
Cools down quickly with compressor cooling system
2 different size options available
No permanent installation required
The see-through window for easy monitoring.
It has a drainage plug on the base to eliminate unused water.
Cons:
There you go, those were the 11 best portable ice makers that every ice lover must browse through to pick the best one this season. Do you still need assistance with buying the best ice maker? Or wondering how to maintain the ice maker? Check out our buying guide below!
How To Clean The Ice Maker?
It's simple. Though some of the ice makers have an automatic self-cleaning option, it's ideal that you manually keep it dry and clean too. Here are some steps to follow:
Unplug the wire from the socket
Remove all the internal components as well as the ice bucket
Clean and sterilize them separately
Now with a soft cloth dipped in dishwashing detergent or diluted bleach, clean the ice maker thoroughly
Next, use a clean cloth to wipe away all the soapiness and mold
If you have a drainage plug at the base, then pour some warm water inside to eliminate the soapy water.
Then place all the parts back inside and run an ice cycle to eliminate the bleach and detergent odor and residue.
Lastly, unplug the system again and wipe it with a dry cloth.
What to Look For When Buying An Ice Maker?
Size: Available in different sizes, there are over-the-countertops and under-the-countertops ice makers in the market. The compact ice makers are lightweight and portable enough to be carried around, whereas the commercial ones are bulky, but they churn more ice in a day. So, according to your freezing needs, pick the right size! 
Ice Shape & Size: Yes, the shape and size of the ice matter too. Though most ice makers produce bullet-shaped and non-sharp ice cubes, it's advisable to check before purchasing. Also, choose an ice maker that has more than one size customizable options so you can serve ice as per the requirements.  
Time efficiency: The whole purpose of having an ice maker is to eliminate the need for refilling trays and to get ready-to-serve ice within minutes. Also, ice makers in the market offer different time-efficient options from 6 minutes to 20 minutes. So, if you like hosting parties frequently, opt for the one that makes ice rapidly, or else you can settle for up to 20 minutes as well to avoid melting. 
Minimal Noise: Though an ice maker can't be completely silent, there are some available that ensure high production with low noise. Check this feature before choosing your ice maker, so you don't end up with a noisy one. 
Storage Capacity: All ice makers offer different storage capacity, which means the maximum ice they can store at one time. So, check the storage capacity before you decide on an ice maker.
All set to have your very own igloo in the house now? Get your hands on these latest and highly-efficient ice makers that ensure your drink will never go warm, ever! No less than a boon for the party and ice lovers and a perfect appliance to have for summer, every house deserves an ice maker of its own. So, what are you waiting for? Pick your ideal one and get ready to enjoy a round of endless cheers this 2021!