The therapeutic benefits of ice rollers are not a secret anymore. Successfully replacing frozen pea bags and cold spoons to de-puff under-eye areas and face swelling, ice rollers are now an essential part of a woman's skincare routine. They've come a long way from being just beauty tools as many use them to treat headaches, migraines, muscle cramps, etc., too. The best ice roller for face is non-messy, hassle-free, and easier to use than DIY traditional techniques. Before we jump to browse through the list, here are some benefits of ice rollers for you.
Top Products From Our List
Benefits Of Ice Rollers
Ice rollers offer several benefits and here's why you should use one:
Shrinks pores
Anti-aging benefits
Tones and tightens skin
Relieves fatigue and tiredness
Calms irritated and inflamed skin
Alleviates headache, migraine, and sore muscles
Reduces under-eye puffiness and face swelling
Improves blood circulation and lymph drainage
And so much more! Now, whether you are a first-timer or looking for an upgrade, we have some super-cool options lined up for all. Check out our list of the 11 best ice rollers for you below.
11 Best Ice Rollers For Face
The multiple benefits of this face ice roller will make you fall in love with your natural glow. Whether you want to use it after waking up or roll it on your face mask, it'll de-puff, de-stress, and tighten skin effortlessly. All you have to do is start rolling at the jawline and move it towards your forehead to watch the puffiness vanish and pores shrink. A great option to tackle sunburns, redness, fatigue, and dry skin too, you can also use this roller to alleviate sore muscles and aches.
Pros:
Portable
Battery-free
Detachable head
Prevents wrinkles
Improves lymph circulation
Suitable for all skin types
Cons:
Slightly big to de-puff under-eye areas
Be it dullness, dryness, puffiness, or migraine, they stand no chance against this facial ice roller. Helping skin restore your natural radiance effectively, the lightweight roller reduces redness, improves lymphatic drainage, and eliminates toxins too. Do away with unwanted cellulite, migraine, headaches, and sunburns by rolling on this ultra-smooth beauty tool that ensures an out-and-out cooling sensation with every use. And as for puffy eyes, consider it taken care of in just 5 minutes! The kit also comes with an amethyst roller, which boosts blood circulation to reveal healthy and glowing skin, relieves tension in the jaw, and fights dark circles.
Pros:
Portable
Pain-relieving
Pore reducer
Anti-aging
Improves complexion
Tones and tightens skin
Cons:
May take some time to see visible results
The only kind of meltdown that's good for your skin, this sturdy ice roller guarantees to tackle all of your skin's tantrums in the coolest way possible. Infused with cooling properties, it calms the skin and reduces inflammation, sunburns, and irritation to leave a radiant glow. What might make you a fan of this face cooler instantly is the way it sculpts the jawline, tightens skin, and shrinks pores with all the smooth ice rolling! It is easy to use, maintain, and suitable for all skin types. Give it a try.
Pros:
Anti-aging
Pain-relieving
Detachable head
Battery-free
Reduces puffiness
Improve blood circulation and lymphatic drainage
Cons:
Slight bulky for under-eye areas
How about going natural with this ice roller and 100% jade roller kit? Turn your facial massages into blissful therapies, as this jade roller will improve your skin's health and eliminate negative energies. Designed with an ultra-smooth surface, watch it banish the puffiness, relieve fatigue, shrink pores and tighten skin, one roll at a time! Also, the brand guarantees a cooling experience for up to 15 minutes making this ice roller a great choice to alleviate migraines, sore muscles, and body aches.
Pros:
Anti-aging
Easy to install
Detachable head
Comfortable massage
Ergonomic design
Travel-friendly
Cons:
Some may find the jade roller slightly small
Give your skin the coolest break ever! Made of surgical-grade stainless steel, this ice roller guarantees to stay cold for a long time to leave your skin feeling fresh and glowing. Besides targeting puffiness, shrinking pores, tightening skin, and relieving fatigue, this roller also doubles up as a calming tool for the skin. So, whether you are dealing with skin irritation (post breakouts or shaving), muscle tension, or headaches, a few good rolls of the Kitsch Stainless Steel Ice Roller will offer instant relief.
Pros:
Durable
Anti-aging
Lightweight
Ergonomic design
Enhances complexion
Improves elasticity and blood circulation
Easy to sterilize at home
Cons:
Here's an ice roller that'll keep your skin cool and calm even when the temperature rises. A must-try for those suffering from heat or sunburns, this ice roller is designed with cooling technology to relax and calm your skin instantly. Did you know that high temperatures can enlarge pores, increase sebum, and destroy collagen? This is why this cooling tool is a great choice to maintain your skin's temperature and eliminate redness, irritation, puffiness, and fatigue. The ice roller plate is anodized, which protects the surface from contamination and corrosion.
Pros:
Hygienic
Anti-aging
Pore reducer
Curved design
Youthful glow
Improves complexion
Stimulates blood circulation
Cons:
Best not be best suited to reach sharp angles and corners in the face
For those who love to flaunt their skincare kit (influencers take note), this pretty peach roller will perk up your collection instantly. Besides adding an aesthetic charm to your skin care routine, this therapeutic roller can tackle puffiness, swelling, and relieve pain effortlessly. Just the tool you need to tighten your skin before applying makeup or close pores and eliminate dryness before bed, this ice roller goes on smoothly and is easy to use. It contains a soft and comforting gel-like liquid that freezes quickly and provides optimal massages with every use.
Pros:
Portable
Effective
Lightweight
Freezes in 15 minutes
Relieves fatigue
Reduces inflammation
Cons:
May not be suitable for under-eye areas
With this slim and sturdy ice roller in your skin care routine, puffiness will be a thing of the past. What's unique about this massager is that you can use it cold or at normal temperature, and it will still deliver skin-loving results. Suitable to target enlarged pores, false wrinkles, migraine, nasolabial fluids, headaches, redness, and more, this portable tool can be your go-to solution anywhere, anytime.
Pros:
T-type roller
Stainless steel
Ergonomic design
Lightweight
Pore reducer
Pain-relieving
Improves blood flow
Cons:
This ice roller set is the ultimate package you need for natural, beautiful, and puff-free skin. With 2 stainless steel wheels and 1 large ABS wheel, you'll never have to worry about puffy mornings again. With an option for every part of your face and body, you can do away with puffiness, swelling, aches, and soreness with these rollers. They also offer anti-aging and skin-tightening benefits too! Those who are looking for a gift to give to a skin care enthusiast, this 3-in-1 set would be a great choice.
Pros:
Sturdy
Lightweight
Travel-friendly
Detachable heads
Easy to assemble
Safe and skin-friendly tools
Cons:
With a premium stainless-steel construction, look, and feel, this ice roller set will make you go gaga over your glowing skin. With 2 options in this set, the larger-sized massage head is ideal for relaxing skin on your face and muscles on your neck and body, whereas the smaller-sized massage head will relieve puffiness, migraine, and aging signs from the temple and under-eye areas. If you are dealing with dryness, sunburns, inflammation, or fatigue, you will like this set even more because it calms your skin's tantrums and rolls out skin-damaging stressors effortlessly.
Pros:
Pore reducer
Smooth touch
Easy to clean
Pain-relieving
Ergonomic design
Improves complexion
Alleviates bug bites
Cons:
For your eyes only! This finger-sized ice roller is a great option to have in your bag or while traveling to keep puffiness and swelling at bay. Promising dramatic changes after using it every day for just 5 minutes, you can use this mini stainless-steel roller with eye creams too. Although small, it has the power to banish the most stubborn under-eye puffiness, false wrinkles, redness, migraine, and headaches with every use. It rolls like a dream and will not irritate or harm your skin.
Pros:
Lightweight
Pore reducer
Anti-aging
Easy to clean
Ergonomic design
Suitable for all skin types
Cons:
Due to its compact size, de-puffing the whole face may be time consuming.
Puffiness, be gone, and let the good times roll! There you go, those were the 11 best ice rollers for face that are a must-try this season. If you still need assistance with choosing the right ice roller, you must check out our buying guide below for tips.
How To Choose The Right Ice Roller For Face
Look out for the following features before buying your ice roller:
Ice roller heads are available in different sizes. Larger massage heads are ideal for the face, neck, body, and feet, whereas smaller ice massage heads do a better job at eliminating puffiness, swelling, and aches from the temple and under-eye areas. So, make sure you buy the right size for your needs to avoid inconvenience later.
The most common ice roller heads are made of stainless steel, ABS plastic, and stone (such as jade or rose quartz). Stainless steel ice rollers retain cold temperatures for long periods and are durable, rust-resistant, and sturdy too. ABS plastic rolling heads are durable and sturdy, but they may not stay cold as long as stainless steel ones unless you pick a gel-infused plastic roller. Stone ice rollers have the lowest cold-retention powers, which is why they are great to use with cooling creams, moisturizers or face masks.
You must check the cooling duration a brand guarantees with its ice roller before buying. Although 5-10 minutes are enough to cool and calm your skin and reduce puffiness, there are ice rollers that can stay cool for a longer time. For example, if you are looking for a quick 5-minute massage, stone or ABS plastic ice rollers are great for you. However, if you want it to stay cool for a long time, stainless steel and gel-infused ice rollers ensure cold retention for 15-30 minutes.
Not many people inspect the design or body of the roller before buying, only to regret it later. Hence, you must pick a roller that has an ergonomic design or an easy grip so you can roll over all areas smoothly without it being awkward or painful on the skin.
Frequently Asked Questions
1. Why is an ice roller better than an ice pack or just plain ice?
Ice rollers massage, refresh, soothe, and strengthen your skin all at the same, along with calming irritation and leaving a cooling effect. Ice packs or ice cubes reduce puffiness and calm the skin effectively, but once it starts to melt, the massage can get messy, which is why an ice roller is better.
2. Can I use an ice roller to reduce swelling from cosmetic procedures?
Yes, you can. Ice rollers are great at reducing puffiness, swelling and improving blood circulation too. However, you must consult your doctor first before using one.
Still, thinking? Get ready to roll on for good skin, girls and guys! There's no doubt that ice cubes and frozen bags are effective, but once they start to melt, it is all a big mess! Ice rollers are making the task of de-puffing and skin-firming a joy while being non-messy. Surprisingly they are mood-boosting and stress-busting too. So, wait no more and get, set, rolling to restore your natural radiance with your new frosty little buddy! With multiple sizes and types of ice rollers on our list for you to explore, go on and pick the best ice roller for face today.
The following two tabs change content below.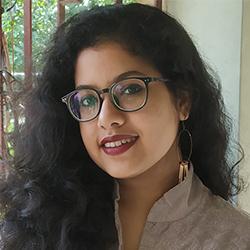 Poulami Nag
Poulami Nag is a writer and associate editor at MomJunction. She did her MA in English from Miranda House, University of Delhi and has qualified UGC-NET. Her journey as a content writer began in 2017 and since then she has garnered diverse interests along the way. Her knowledge of literature and language has given her an eye for detail and...
more