An immersion blender or hand blender is a kitchen tool used to blend, crush, or puree vegetables or fruits to make smoothies, soups, or gravies. Easy to use and clean, an immersion blender makes your time in the kitchen hassle-free.
If you no longer want to use bulky mixers and want a simple and quick solution to grinding or blending, keep reading this post as we bring you a list of the best immersion blenders. We also list their pros and cons to make your selection process easier.
11 Best Immersion Blenders
Mueller's compact and versatile immersion blender lets you whip, blend, and beat ingredients without any hassle. It comes with whisking and milk frother attachments to let you experiment in the kitchen. It has a copper motor that works three times longer than other blenders.
Pros 
Has an ergonomic design
Provides a comfortable and non-slip grip
Easy to clean and takes less space
Can be used for multiple purposes
Faster and simpler usage 
Cons 
Bottom of the shaft tends to become warm quickly
Blade bearing may not be lubricated
Sleek and modern in design, this stick blender is available in eight colors, including white, metallic red, silver, yellow, and blue. The kitchen tool has an eight-inch blending shaft made of stainless steel to make your job smoother.
Pros 
Has a 300-watt motor
Slide control for two speeds, high and low
No noise and powerful motor
Conveniently to use in bowls and pots
Has enhanced blade guard for safety
Comes with a 24oz mixing cup
Cons 
Requires two hands to switch on
Design may not be user-friendly
The Koios high-power kitchen immersion blender, made of stainless steel with a shiny finish, will be a unique addition to your kitchen. It is red and silver and comes with a whisk attachment, mixing beaker, and chopper attachment.
Pros
Has 12 variable speed settings
Has an anti-splash design
Works on an 800-watt motor
Compact and sleek design
Easy to clean and dishwasher-safe 
Cons 
Some parts may get detached after use
May get hot after a few minutes of use
The immersion hand blender has a bell-shaped base, giving it a unique design. It gives you a controlled grip when whisking or blending, making your task mess-free. You also get a chopping bowl, whisk attachment, and an extra-large jug to help you prepare a delicious meal.
Pros 
Has adjustable speeds
Functions on a 280-watt motor
Has an ergonomic pistol grip
8in stick, ideal for tall pots
Has a no-scratch base
Extra-long cord for convenience
Cons 
May not be easy to clean
Could be difficult to blend thicker foods
Could be heavy for some
Braun's kitchen immersion blender is designed with power ball technology and has stainless steel blades. It provides a soft grip that makes it easy to hold while blending or making a paste. You can get multiple attachments with the blender to make your kitchen experiments successful.
Pros 
Durable and high-precision motor
Has turbo boost for extra power
Works with one click
Easy to use and durable
Works on a 350-watt motor
Blends fine and faster 
Cons 
Can be used to blend light items only
May not be durable
Designed in a contemporary style, this immersion blender is easy to operate and durable too. It lets you blend food in seconds and makes your cooking experience faster than usual. The hand blender is easy to control and doesn't require any maintenance.
Pros 
Has stainless steel blades
Ergonomic design with a firm grip
Comes with a 600ml mixing beaker
Easy to clean and use
Has a two-speed selection button 
Cons 
Can be used for light vegetables and fruits only
May get heated quickly
The unique five-in-one blender allows you to make milkshakes, baby food, soups, and more conveniently. It has a powerful motor and comes with detachable attachments that are dishwasher-safe and free of chemicals and BPA.
Pros 
Comes with eight speed settings
Has stainless steel mixing wand
Includes four blades
Functions on a 250-watt motor
Comes with a milk frother, whisk, chopper, and beaker 
Cons 
Blade could rust soon
Blades could be too small
May get overheated
The lightweight and ergonomically designed hand blender comes with a no noise motor to make your kitchen experience stress and mess-free. It is easy to hold and doesn't slip when blending or mixing. You can control it with a push-button and prepare yummy meals in no time.
Pros 
Easy to clean and dishwasher-safe
Can blend, chop, beat, and whip
Compatible with 120-volt outlets
Comes with three spiraling blades
BPA-free plastic handle
Cons
Could be noisy
May not be long-lasting
The hand blender can make kitchen time exciting. It is modern and compact in design and helps you to blend anything with ease. The machine works on two speeds, high and low. It has high-grade stainless steel blades to chop or blend food just the way you want.
Pros 
Works on 300-watt power
Comes with non-slip handle
Has an ergonomic design
Easy to hold, gives a firm control
Dishwasher-safe and easy-to-clean
Cons
May get overheated too soon
May not be durable
Available in black and white color, this hand blender can be an ideal choice to make sauces, dips, smoothies, and soups. Its one-touch functionality makes it easy to use. It comes with optional attachments, including a chopper, beaker, and whisker.
Pros 
Has variable speeds
Compact and ergonomic in design
Reaches to the bottom of tall pots
Functions on a 300-watt motor
Makes no noise, easy to wash 
Cons 
May splatter the ingredients
Shaft is smaller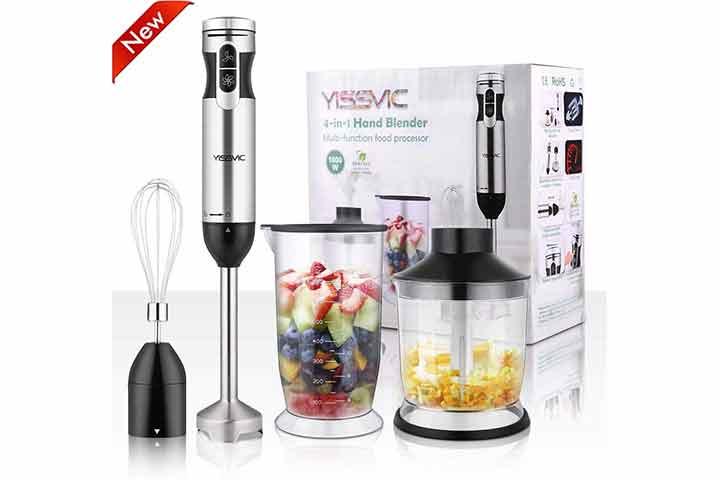 The four-in-one immersion blender comes with a whisk attachment and an immersion beaker to make food preparations smoother. It works on a 1000-watt motor and has variable speed control options to work as per your desired requirement. The machine has removable handles, which makes it easy to wash and clean.
Pros 
Comes with brushed stainless steel exterior
Has nine-speed controls
Includes four blades to make a fine blend
Doesn't make much noise
Has a 360-degree motor body 
Cons 
Speed is either too high or too low
May not be durable
How To Choose The Right Hand Blender?
We have a few tips to help you pick the right immersion blender for yourself.
Power: Ideally, 200 to 300-watt motors would be enough to blend or beat light food. However, if you prepare food in large quantities, you can get an immersion blender with 600 to 1000-watt motors.
Design: A good immersion blender has an ergonomic design so that it is sleek and compact. It becomes easy to hold the blender with one hand and the pot or vessel with another. A hand blender should be light in weight and have a firm grip too.
Speed: There should be two basic speeds, high and low. However, some blenders have six to eight-speed variations too. You can pick the one based on your needs. In case, you need a handle blender just to make smoothies or soups, then two-speed machines are enough. But if you blend, beat, mix, grind, and do much more, then pick an immersion blender with variable speeds.
Blades: Different blenders have different blades. While some blades work only for light food, such as to make smoothies, some of them have sharp blades for multiple purposes. Check the blade and choose the one as per your needs.
Accessories: Some brands offer immersion blenders with various accessories, including a beaker, whisk attachment, milk frother, or a chopper. You can either pick a simple blender or a set that has everything useful.
You can jot down the features you are looking for in an immersion blender. Compare the products mentioned above, and short-list a few of them that match your checklist. This makes your selection process easier and quicker and leaves you with a hand blender that is ready to help you make tasty delicacies.