The right home treadmill can incorporate fitness into your daily life and let you enjoy exercising within your home's comfort. Get home the right treadmill, and you won't have to work out at a crowded gym. An incline treadmill is one of the popular choices for use at home, as it aids in weight loss and preparation for races or other athletic events.
We give you a list of the best incline treadmills available online. Go through the benefits, the list, buying guide, and choose the one that suits you the most.
Benefits Of Incline Treadmills
Incline treadmills have several benefits that fitness enthusiasts bank on.
Uses more muscles and burns more calories than walking, jogging, or running on a flat surface
Strengthens and tones calf, leg, glutes, and hamstring muscles
Burns calories faster
Strengthens your heart
Expands your VO2 max (the optimum rate at which heart, muscles, and lungs can effectively use oxygen during exercise)
Increases overall stamina
Decreases the amount of time you need to workout
11 Best Incline Treadmills
The NordicTrack T series treadmills are created with innovative design elements and expert engineering. This gives you a personal coaching experience with iFIT membership that comes along with this treadmill purchase. You get to do heart-pounding studio workouts and trainer-guided workouts with this guide. It is equipped with 2.6 CHP (Continuous Horsepower) motor, 10° incline, 1.9° roller, one-touch controls, 0-10MPH speeds, and Dual CardioGrip heart rate monitor.
Pros
Lasting lifetime frame and motor coverage
iFit compatible; you can connect through phone or tablet
Foldable, and easy-to-use
Withstands weight of 300lb
30-day free iFit trial membership
Interactive workout sessions
Dual two-inch digitally amplified speakers
FlexSelect cushioning to soften impacts on your joints
6 CHP motor moves you through strenuous workouts without failing
Pretty good warranty on frame, parts, and labor
Cons
No option for heart rate monitoring
iFit app needs an ongoing subscription
The Sunny Health & Fitness treadmill comes with nine built-in workout programs, handrail control, and a mobile or tablet holder. They add comfort and accessibility while performing the workout. The treadmill's soft drop system avoids a big slam or damage to the floor/carpet while being opened. The treadmill works on a 2.20 peak HP drive system with a speed range of 0.5 to 9MPH and requires a power source of 110v (18amps) (1980 watts). It has three options for adjusting incline levels manually.
Pros
Easy folding mechanism
Designed for a maximum user weight of 220lb
Can choose from nine programs
Measures speed, distance, time, calories burnt, and pulse
Manual mode option and safety lock option
Power-saving function
User-friendly control keys right at your fingertips
Built-in transportation wheels for a smooth relocation
Cons
Mixed reviews on durability
Some users have reported poor customer service
The SereneLife smart digital treadmill with automatic incline uses digital technology and is engineered for speed and stability. You can customize your regimen to best fit your fitness goals by choosing the speed between 0.6 and 6MPH. The simple plug-in design and built-in grip sensors help monitor your pulse. It links to the FitShow app that pairs your mobile or tablet via Bluetooth and can record your personalized workouts. The extended running deck with a 39.3 x 13.4 inches running surface gives you extra space for a comfortable workout experience.
Pros
Withstands a maximum weight capacity of 265lb
Compact design that can fit any room
Portable and foldable for easy setup and storage
LCD screen displays running and training data statistics
Selectable present training modes
Adjustable speed settings
Can be used for walking, running, jogging and exercise training
Integrated safety key and emergency shut off button
Smartphone or tablet holder
Handlebars keep you balanced while walking
Transportation wheels for a smooth relocation
Cons
The permanent incline cannot be adjusted
The belt can be narrow for large people
The MaxKare treadmill is ergonomically designed for people between the heights of 4.6ft and 6.2ft and can withstand weights up to 220lb. It includes all the necessary installation tools and accessories, and it takes around 10 to 15 minutes for installation. The treadmill is equipped with a powerful and pure copper motor that can give you a silent workout experience at running speeds from 0.5 to 8.5MPH. You can monitor real-time data for each workout by checking the speed, time, distance, heart rate, and calories.
Pros
15 preset programs with a one-touch operation that is ideal for home use
Multi-layer 17-inch rubber tread belt makes running comfortable and reduces knee damage
Robust and stable design for a quiet workout experience
Easy folding mechanism, and soft drop system
Transportation wheels for a smooth relocation
Compact and easy to store
Includes a cup holder
Easy-to-assemble
Provides 24/7 customer service
Cons
Preset programs may not be as useful
Does not state power requirements
The Nautilus T618 treadmill series can be a popular pick for home. It inclines up to 15%, and the running surface is 20 x 60 inches. This could be one of the best options for the whole family to experience personalized workouts and track performance. It can support weights up to 350lb and is ideal for the serious runner. The built-in contact pulse monitors located at the handrails allow the users to adjust the intensity level throughout the workout.
Pros
Ideal for weight loss and cardio workouts
Strong and powerful 3.5 CHP motor that reaches a maximum speed up to 12MPH
SoftDrop folding technology conserves space
Rebound deck cushioning technology reduces the impact on joints
26 built-in workout apps
Compatible with RunSocial app
Media holder to place phone or tablet
Bluetooth technology to enable users to connect to various smart devices
Chest strap for wireless pulse monitoring
Dual-mode blue backlit LCD
Cons
Heavy machine weight
No lifetime warranty on frame and motor
The Goplus electric incline treadmill is made from high-quality steel and excels in overall durability and longevity. It features a 2.25HP motor that does not make noise when in use. The speed limits up to 7.5MPH can be perfect when you combine with interval training and endurance training. It features four silicone pads, two on each side of the machine that reduces noise and vibrations on the floor.
Pros
Five-inch blue-ray LCD gives a better watching experience
17 X 47 inches wide rubber running belt provides comfort and stability
Three adjustable incline options
Running speed could be adjusted from 0.5 to 7.5MPH
Easily foldable, and a soft drop folding technology
12 built-in workout programs
Integrated safety key and emergency stop button
Sensitive heart rate handrails measure accurate pulse while working out
Cons
Heart rate monitor may not be accurate
Maximum speed capacity too low for intense workouts
The Efitment incline treadmill comes with three manual adjustable options, an easy-to-read display, and a wide running surface of 13.5 X 42 inches. It includes a simple LCD screen for you to monitor speed, time, calories burnt, pulse rate, and distance. You can adjust the incline to seven, eight, or nine degrees. It could be one of the best treadmills for running rather than walking and has a maximum weight capacity of 220lb.
Pros
Foldable with wheels for easy transport
Adjustable magnetic resistance with the turn of a knob
Adjustable tension handlebars that move with natural arm swing
Handle features heart rate monitors
Compact size, ideal for smaller spaces
Suitable for any skill level
Displays each metric for four seconds
Cons
Belt is relatively narrow
No bottle or smartphone holder
The Xterra fitness TR6.6 folding treadmill is a mid-rage incline model with a quiet and powerful 3.0 HP motor. Whether you are preparing for trail running or a leisure stroll, this could be the pick. The wide 20 x 60 inches deck provides ample space for walking, jogging, and running, and lets you achieve your fitness goals comfortably. It has an effective fan, heart rate monitor, two quality stereo speakers, a water bottle holder, and a tablet holder.
Pros
Easy-to-read 7.5-inch blue backlit LCD
Two-ply, heavy-duty treadmill belt
Seven preset, two user, and two heart rate controlled programs
Handlebars with remote controls to adjust speed and incline options
Includes a heart rate chest strap
XTRA soft technology cushion reduces the impact on joints and minimizes stress
Handgrip pulse sensors conveniently mounted on the handlebars
Lift-Assist folding deck is safe and comfortable to use
Withstands a weight of 350lb
Lifetime warranty on frame and motor
Cons
Limited in-home labor warranty
Generates excessive belt dust
The Marnur electric treadmill gives an efficient walking and running gym experience at home with its double-deck running platform. It has a 17 x 43in running belt with a non-slip diamond pattern, and safety belts on both sides. This cushioning effect reduces the impact on the bones and protects your knees and ankles.
You can pick from 15 preset training modes for optimum exercise. You can walk, run, or do aerobic exercises on it. Constructed from a heavy-duty stainless steel frame, this durable treadmill can bear a maximum load of 220lb. Its 2.5HP powerful motor with a noise reduction system runs smoothly with minimum noise.
Pros
Foldable and portable
Upper rebound rubber belt acts as a shock absorber
Lower silica gel layer works as a cushion and filters out vibrations
Three adjustable incline options
Top speed is 8.5MPH with noise decibel lower than 60db
Easy to fold and convenient to store
Includes a cup holder, pad, and mobile phone holder
Heart rate handrails measure accurate pulse while working out
LCD monitor displays data about your workout
Safety lock for emergency stop
Cons
Some users have reported poor customer service
The 3G Cardio elite runner treadmill comes with an upgraded commercial Ortho Flex Shock suspension system. This has a thicker belt and plenty of cushioning for a comfortable exercise session. The oversized 22 x 62 inches running platform provides an amazing workout experience.
It is easy to customize your workout with pre-programmed training courses, fitness tests, one-touch speed, and incline settings. The treadmill gives you a feeling of a gym treadmill with an easy-to-use control panel and inclination up to 15%.
Pros
Orthopedic running belt and suspension
Eight built-in workouts with customizable options
Built-in speakers that play music while you workout
Holds a maximum weight of 386lb
Comes with a lifetime warranty on motor
Multi-speed fan keeps you cool
Can be connected to your tablet or phone
Cons
No Bluetooth connectivity
Display is relatively small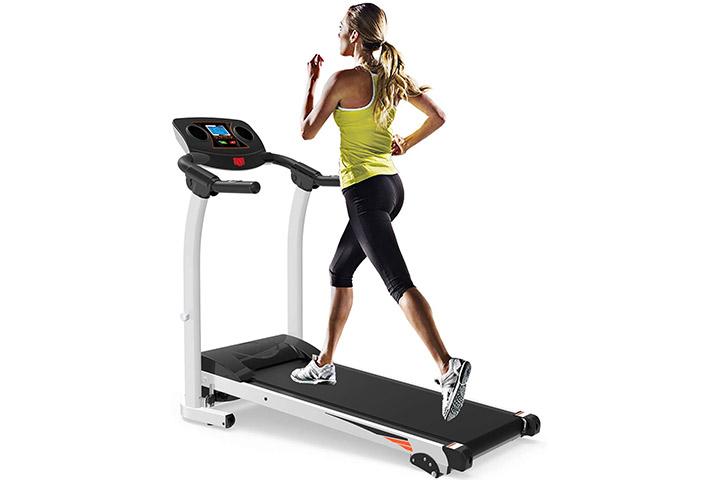 The Julyfox folding treadmill has an anti-slip grass-pattern belt measuring 14 x 40 inches, which provides extra impact absorption and optimum friction. This is an ideal option for your walking, running, or jogging as it reduces the impact on your joints and increases the energy return for each stride. The smooth and high torque 1.5HP motor delivers smooth and consistent power at speed up to 6.2MPH. It comes with preset programs that improve your health and cardiovascular fitness while burning fat. 
Pros
Easy-to-change three incline levels
12 preset programs available
Five-inch, easy-to-read blue-ray LCD
Integrated cup holder and mobile phone holder
Adjustable speed options for manipulating between light warm-up and heavy sprints
Quick buttons on handles for instant start and stop
Heart rate sensors mounted on the handlebars
Ideal for losing weight and increasing body performance
Safety key on the handrail with emergency stop button
Foldable and transportation wheels for easy relocation
Cons
Belt is relatively narrow
No Bluetooth connectivity
How To Choose The Right Incline Treadmill?
Finding the best incline treadmill becomes easy when you keep the following factors in mind.
Deck size: If you are tall with long-running stride, consider a treadmill with a large deck area. It should be ideally 55 inches long and 20 inches wide.
Console features: It includes everything from a speaker, fans to heart rate strap. You may also check if the console has convenient places to hold the phone and water bottle. Check for the screen size, built-in workouts, and customization features.
Incline: Consider buying a treadmill that has enough inclination angle to increase the intensity of the workout.
User weight: Most quality treadmills have a maximum weight-bearing limit of 300 to 400lb, but some may be just 200lb. Consider your weight before purchasing one.
Budget: If you need something for a proper workout regime, to practice for marathons or athletic events, it is better to invest in a high-quality treadmill with several features. If budget is a restraint, choose a manual model over automated one.
Warranty: Longer the warranty, better is the product. Read through the warranty section and know what the warranty covers and for how long. Ideally, there should be a lifetime warranty on frame, motor, and deck.
Frequently Asked Questions
1. What is a good incline setting for beginners?
Incline settings for optimal results vary depending on your fitness levels and goals. The incline setting of 2% to 3% is proper for beginners and can be increased gradually. You have to consult your physician or fitness expert before beginning an incline treadmill workout.
2. Is incline on treadmill bad for knees?
It is not bad for the knees to walk on an incline if you work on it slowly. Walking is better for your knees than running on a flat incline.
3. What is a good incline to walk on a treadmill?
There is no fixed incline that is good to walk on a treadmill. It depends on how fast you are walking and how long you walk. The steeper the incline, the difficult it is to walk. But you will burn a similar number of calories walking slower and longer on a less steep speed.
4. What is the benefit of changing speed and incline during your workout?
Different angles engage different muscle groups. For instance, a flat incline with a higher speed will improve cardiac and aerobic endurance, while a high incline strengthens calves, glutes, and quads.
5. Does incline walk build butt muscles?
Butt muscles or glutes are the primary muscles used to walk, climb, or hike up an inline. Therefore, incline walking can build butt muscles.
If you plan to lose weight or build heavy muscles, buying a treadmill is likely to help. Pair it with a balanced diet program, and you will surely benefit. Check the list, compare the specification, read the reviews, and choose the best incline treadmill that works for you.