Everyone likes a good ol' barbeque party with friends and family. However, not everyone has a large outdoor space or backyard to place a full size grill. Outdoor grills also tend to be used only in spring and summer and most of the time you have to wait an entire year to have a simple steak or burger at home. Thankfully there are some companies in the world that decided this has to change and gave us the gift of indoor kitchen grills.
Indoor kitchen grills can be freestanding or countertop, big or small, depending on the amount of space you have in your kitchen. They are generally smokeless grills so that your house doesn't end up becoming a furnace with smoke all over. Indoor barbeque grills are also very convenient to use, easy to wash and clean and sometimes can be portable enough to take it wherever you want. If you are looking for a smokeless grill and don't know where to start, you are at the right place because we are serving you a list of the best indoor kitchen grills to buy, on a platter!
13 Best Indoor Kitchen Grills To Buy in 2021
The T-fal OptiGrill Electric Grill is the first indoor grill which can adapt its cooking cycle to the thickness of meat and other foods. This indoor countertop grill is made in cast iron and offers 6 cooking programs that are automatic- fish, sandwich, burger, red meat, poultry, and sausage. In addition to this there are also 2 modes for cooking, the frozen food mode and manual cooking mode, which means the grill understands that frozen food will need more time and more heat for best results. The cooking plate is also set at an angle of 7°, so that all the fat and juices can be collected in the juice tray.
Pros:
The cooking area is 600 square centimeters.
Beeping sounds inform you if food is well done, medium or rare.
Indicator lights tell you if pre-heating is done or food is ready.
Drip tray and grilling plate are dishwasher-safe
Cons:
The lid of the grill may be too tight and may not be suitable for thick food items.
This Ninja Foodi Indoor Electric Grill is a literal grilling ninja! Apart from grilling food it also air fries, bakes, roasts and dehydrates food like a super cooking machine. With a stainless steel finish on the outside this indoor barbeque grill has a BTU power of an outdoor grill and induces the same flavor and smoke odor in the food. It also cooks frozen food that is not defrosted to the point of being charred only in 25 quick minutes.  Cyclonic grilling technology makes the 500°F air circulate all around the food to sear perfectly and grill with excellent charred grilled marks on food that is cooked completely on the inside. You can also air fry to crispy perfection using 75% less oil as opposed to deep frying in the 4 quart basket that is provided with the grill.
Pros:
Most components are dishwasher-safe
It has the capacity to grill 4 steaks at once
The non-stick cooking grate is 10"x10"in size and coated with ceramic
Includes a recipe book with 15 dishes created by a chef as well as a cleaning brush
Cons:
It may release enough smoke to set off smoke alarms.
If you need a super fast fuss-free indoor countertop grill, the Philips Kitchen Appliances Smoke-less Indoor BBQ Grill is for you. This award winning kitchen grill has a patented smoke-less technology that actually lives up to its name. The grill runs at a consistent temperature of 446°F that is optimal for searing and cooking chicken, fish, and meat while it stays tender and juicy on the inside. The fat is also separated during the grilling process and gets collected into the dipping tray. Special reflectors and infrared technology make sure that every square inch of the grilling tray is heated evenly.
Pros:
The cooking plate is dishwasher-safe.
The grill has non-slip feet that provide a safe and convenient grilling experience.
The electric grill can be set up within 1 minute.
Dripping tray at the bottom stays cold and does not heat up
Cons:
The buttons are made of plastic that may not take the heat very well.
With a grilling surface measuring 14" in diameter, the Maxi-Matic Elite Gourmet Large Indoor Electric Nonstick Grill is a must have in your kitchen. The cooking surface area is large enough to fit a combination of meals for a family of 4. The hot plate has a non-stick coating that will ensure your food doesn't get stuck to the bottom of the grill. This indoor kitchen grill also includes a thermostat control that is removable and has 5 adjustable settings that can go up to 450°F. The grill also features a heating element that moves in circular motion, making sure the food is evenly cooked in a lesser amount of time. There is a special grease collector at the bottom of the pan that collects all the fat and gives you a healthy meal.
Pros:
Dishwasher-safe
Includes glass lid
Ergonomically-designed
Base and handles remain cold, say goodbye to burned fingers
Cons:
It may release some grease and smoke into the kitchen.
There is something about Panini presses that bring back your Roman vacation right into your kitchen. Combine that with an indoor barbeque grill and you have The George Foreman 5-serving Electric Indoor Grill and Panini Press. It is such a joy to have this indoor kitchen grill in your home with which each meal can be different, new, fresh and smoked. This grill has a cast iron hot plate measuring 72 sq inches in area, and can cook burgers and Italian sandwiches with ease and finesse. The non-stick coating on the grill is a blessing and makes it even easier to wash off the oil and butter from the grill. The slope in the grilling plate helps remove fat easily making your grilled food light and enjoyable.
Pros:
Indicator light for temperature and pre-heat symbol
Removable grill plates that are dishwasher-safe
Gets rid of 42% of fat
Cons:
The grill may not be able to fit many burgers at once.
Easy to use and wash, The Presto Cool Touch Electric Indoor Grill makes grilling accident and burn-free with its cool touch body surrounding the grill surface in the front and at the back on the outside. The oil and fat from the food also gets drained automatically into the bottom drip tray making your meal healthy and grease free. The automatic Control Master maintains the required cooking temperature and once you place the raw food inside the grill, all you have to do is sit tight and wait for the food to be prepared on its own. Talk about buying the gift of time.
Pros:
Includes free spatula
Dishwasher-safe
Fits in standard-size under-counter cabinets
Cons:
It may take longer to cook on this grill.
The Techwood Smokeless Grill gives a new meaning to tabletop indoor grills. Gorgeous to look at and easy to set up, this is one of the best smokeless grills worth a try. This smokeless indoor grill has built-in overheat protection which shuts off the machine if the internal temperature rises which ensures the food doesn't get burned or destroyed. The indoor grill is also equipped with advanced airflow technology and a concealed fan because of which most of the smoke is reduced so that your apartment doesn't smell of grill smoke. The grill can easily cook burgers, bacon, fish, pork chops and just about anything else. The LED digital temperature control lets you choose temperature between 220°F to 450°F keeping the temperature constant throughout the cooking process.
Pros:
Oil drip tray and grill plate are dishwasher-safe
Non-stick grill surface for hassle free removal of food and zero wastage.
Marks the meat and veggies perfectly, as it would be on a charcoal grill
Cons:
The cooking surface may not get heated very quickly.
The Tenergy Redigrill Smoke-Less Infrared Grill heats up within 6 minutes to a scorching temperature of 446°F which is ideal for grilling. It also leaves diamond shaped grill marks on steaks, fish, and vegetables. The North American ETL has certified this infrared indoor kitchen grill as safe as it also contains a built-in overheat protection system that shuts down the grill automatically when temperature becomes very high. The infrared heating technology used in this tabletop grill is so advanced that the heat spreads evening on the grill top and leaves no cold spots in the food.
Pros:
Quick and easy to set up
Contains dishwasher-safe parts
Releases 80% less smoke when compared to other indoor grills
Cooling tray keeps the oil and grease contained so food is fat free
Cons:
It may not give the desired grill marks on your meat.
The Hamilton Beach 8-Serving Electric Indoor & Outdoor Smokeless Grill can be used in your kitchen as well in your backyard provided it is not raining. This indoor barbeque grill is almost 100% smoke free as the water at the base reduces most of the smoke when grilling. Tiny food particles also fall into the water, but that just makes cleaning the grill a lot easier. The cooking surface area is 125 square inch and can grill about 8 burgers or kebabs at once. The adjustable temperature control lets you adjust the temperature manually which is a very good feature. The entire unit is dishwasher-safe, all you have to do is remove the power cord and voila, the grill plate and base both can be placed in the dishwasher.
Pros:
Non-stick skillet surface
Ideal for keto and paleo diets
Can be used to simply warm food
Handles are cool touch so say goodbye to burned fingers
Cons:
It may take longer for the grill to get heated up.
This indoor kitchen grill from GoWISE USA has a 17-inch wide cooking surface that is an ideal size for a small family. The overall size of the unit is 21.5 x 14 inches which makes storing it very easy. One of the best smokeless grills available, it has a built-in fan that reduces smoke so you do not have to worry about the smoke alarm going off.  The grill also maintains a constant temperature and lets you control it so you can cook the food at desired heat levels. The maximum heat that can be achieved with this indoor kitchen grill is 482°F and it comes with more temperature options than most barbeque grills out there. 
Pros:
The grill heats up very quickly
A recipe book with 20 unique recipes is included.
Griddle and grill plate are non-stick and dishwasher-safe
Cons:
It may be a little difficult to clean the grill after use.
The Ovente Electric Cooking Grill is designed to look like a piece of art in the kitchen. With a copper finished grilling plate and organically shaped body this indoor kitchen grill has good grilling features too. The grilling plate is 13 x 10 inches and can cook a scrumptious dinner for two easily. The temperature probe is removable and lets you control the exact temperature you wish to use for cooking. The cool touch handles of the grill protect your fingers from getting burned, so you can cook and move the electric grill around easily. This indoor countertop grill also includes a channel that lets all the fat and oil slip under the grill cooking surface into the drip pan.
Pros:
All non-electric parts of the grill are dishwasher-safe
Indicator light to tell you when pre-heating or cooking is done
Cooking surface is non-stick and removable
Cons:
The coating on the grill may come off after multiple washes.
Offering heating from both sides, the Deik 2-in-1 Electric Indoor Grill & Panini Press Grill is rated 1400 W that can cook your food faster and evenly without the need to be flipped. You not only save time but also save yourself from standing in the heat and flipping burgers and kebabs. In spite of being a press grill this indoor tabletop grill lets you enjoy the flavors of an actual barbeque like you would have on a balmy summer day. The grill cooking surface is 9.5 x 7.5 inches and is designed so it can be stored upright when not in use and does not occupy too much space.
Pros:
Includes a complimentary grill spatula
Teflon coated non-stick cooking surface
Scratch-resistant body and anti-flaking surface
100% BPA, PFOA, and PTFE-free
Cons:
The coating on the grill may come off after multiple washes.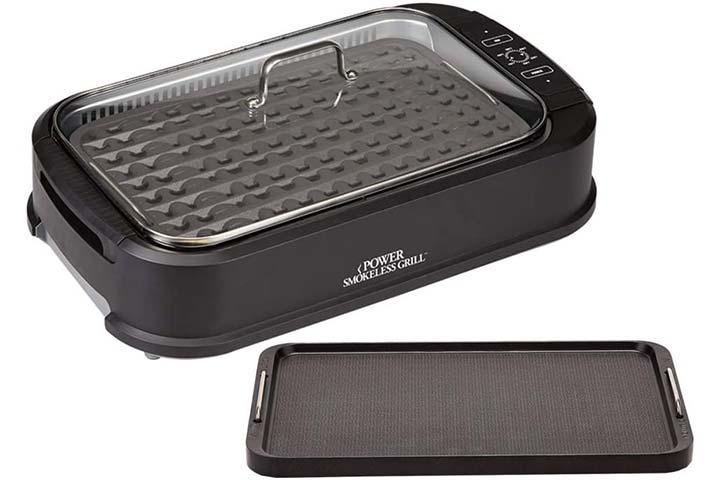 The PowerXL Smokeless Grill With Tempered Glass Lid includes a non-stick griddle plate and fat grill that can be interchanged with each other depending on what you are cooking. This means the food does not stick to the grilling surface and cleaning the grill is a breeze. Equipped with a smoke extraction fan, this indoor electric grill reduces the amount of smoke that is released giving you a cooler grilling experience. This cast iron grill also features a dipping tray and a collection pan so that all your fat is collected at the bottom and can easily be discarded once you are done cooking. A tempered glass lid is also included with the grill so that the food stays covered when not being consumed.
Pros:
The grill surface is large and sized at 13.5"x 8".
Most parts can be removed easily for washy washing and cleaning.
Made using very durable die-cast iron
Adjustable temperature up to 450°F
Cons:
The fan may not be able to keep all the smoke in when cooking at very high temperature.
Here are a few important points to consider when choosing indoor barbeque grills.
How To Choose Best Indoor Grills
Before you commit to an indoor grill, make sure you know what qualities you need to focus on to make the most of your purchase.
Inclined surface and drip pan: Meat and other delicious food items have a tendency to release fat when they are being cooked. It's best to get rid of that fat, especially if it can be drained by itself. Make sure the indoor grill you are considering has a cooking surface that is inclined and a pan that can collect the fat.
Sufficient power: Most people have a habit of opening the grill to check how ready the food is and if it is not being too overcooked.  Every time this happens, some of the heat escapes. Most electric grills take a long time to go back to the hot temperature they were at if the power they run on is not sufficient.
Temperature indicator: The temperature of your grill should not be guesswork and there should be clear indication of how hot or how ready to cook the indoor grill has become. This can be either done by a light or by a beeping sound.
Maximum temperature: High cooking temperatures that can max up to 600°F indicate that the settings in between have the capacity to give lots of medium temperature options too. The more cooking options, the more use will come from the indoor grill.
Removable drip pan and cooking surface: It is preferable if the cooking surface and drip pan can be removed so that washing and cleaning them can be done without much difficulty.
Grilling food on fire was one of the earliest forms of cooking man ever used and as a species we will always be drawn to grilled food. Grilling is an important part of our lives and it will keep evolving in the years to come with better technology and easier options. Make the most of now with the multiple options of the best indoor smokeless grills that have revolutionized the way we throw steak and burger parties. Even if you have space for an outdoor grill, it is always convenient to have an indoor one especially if you are not cooking for a large party as indoor grills are much easier to set up and clean.
Recommended Articles: