Infield gloves aid a player in defending and catching the ball better in baseball and softball games. These gloves come in various sizes, shapes, and color schemes. Mostly made of soft and genuine leather, the gloves are lightweight, flexible, and durable. They are specifically designed to be worn by infielders in baseball and are available for different age groups. They often come with built-in features such as extra padding, closed webbing, and wrist adjustments.
If you enjoy playing baseball, this list of some of the best infield gloves available online is for you. Each glove comes with its set of features, ensuring optimal performance on the field.
11 Best Infield Gloves For 2021
If you are looking for a quality glove for recreational baseball or softball games, then the product by Rawlings is worth giving a try. The 12-inch slow-pitch baseball glove has a conventional back with a flex loop Velcro strap for an easily adjustable fit for adult use. Designed for right-hand orientation (left-hand throw), the glove, with basket web, allows one to play nearly any field position.
Pros:
Comes with a soft, flexible shell and lining materials that make catching easy
Zero shock palm padding for enhanced impact protection while catching
Made of full-grain oiled leather shells and all leather laces for great durability and strength
Cons:
May not be an ideal choice for fastpitch softball
The 11.5-inch infield baseball glove by Wilson is known for its rugged durability and an unmatched feel. Made of superior-quality pro stock leather (black and blonde), the infield glove is designed for left-hand orientation. The glove comes with dual welting, ensuring a durable pocket and long-lasting break-in.
Pros:
Comes with double lacing at the base of the web
Flat finger binding
Thin heel pad, ensuring faster break-in and better closure
Cons:
May require some time for break-in (stiff on arrival) before you can use it
Mizuno's baseball gloves are made from pre-oiled tumbled leather (Java leather) that blends perfectly and comes game-ready from the word go. One of the best infield baseball gloves, the hand-based patterns allow you to set your pockets under the web, thereby shaping your gloves like a pro. The glove is designed for right-hand orientation.
Pros:
Comes with a Parashock plus palm pad that alleviates the sting and deadens the ball at impact
Comes with hi-lo lacing for greater flexibility, making it game ready while still holding its shape
Cons:
May appear quite stiff on arrival
Not an ideal choice for adults or individuals with big hands
One of the best infield softball gloves, the product by Worth is made of XT Extreme heavy-duty leather that offers extreme durability. Ideal for adults playing recreational and competitive slow pitch softball (infield/outfield/pitcher), the 13-inch glove has a small break-in period with customized pockets and break-points.
Pros:
Custom-fit with an adjustable and fast-release wrist pull-strap feature
Has a cushioned (high density) index finger and palm padding, ensuring maximum comfort and long-lasting, optimal performance
Cons:
Quite an expensive product
A little heavy and may not be game-ready
The baseball fielding glove is made of genuine, soft, and flexible cowhide leather (black) that ensures a quick and easy breaking in process for optimal performance season after season. An ideal infield glove, the product is sleek and stylish and comes with a shallow I-webbing. The 11.5-inch glove has a chrome accent stitching and logo patch, which give it a very professional look. The product is made for right-hand throwers.
Pros:
Comes with a super soft palm lining for maximum comfort
A highly durable product with fast break-in
Cons:
May not be an ideal choice for adults
Quite expensive
The fastpitch infield glove comes with soft and high-quality leather (pigskin) palms that are match-ready from the word go. The Pro Weave Mesh accents add a very professional look to the glove, making it ideal for young fastpitch players. The 10.5-inch glove comes with solid web design and is made for right-hand throwers (left-hand glove). 
Pros:
Comes with optimized wrist adjustments and finger stalls
Features a bruise guard padding
Has a zero gravity mesh back
Cons:
An ideal baseball glove for young baseball players, the product by Gonex is lightweight, soft, durable, and made of full-grain genuine pigskin leather. The 11.5-inch baseball glove has a cow split-leather lacing, making the product strong and durable. The youth infield glove has double-stitched seams to prevent it from splitting when you catch the ball. The glove is made for right-hand throwers (left-hand glove).
Pros:
Has a deep basket-web pocket so that you can catch the ball steadily
Comes 80% break-in from the factory
Adjustable lacing designed for different wrist sizes
Comes with sweat-absorbing interior
Comes with a carrying bag
Cons:
Not an ideal product for adults
If you are looking for a good-quality fastpitch softball glove, Easton's product is worth giving a try. Made of premium steer USA leather, the glove is designed for left-hand throwers (right-hand glove) and comes with supple leather lining for added comfort and feel. The 11.75-inch glove with H-web is specially designed for female softball players.
Pros:
Extra-strong rawhide laces offer durability, thereby enhancing the glove's longevity
Comes with a unique Quantum Closure System for adjustable hand opening, ensuring optimized fit and feel
Cons:
Designed only for female players
The fastpitch fielding glove by Nokona comes with great features. A ready-for-play glove, the product is suitable for positions all over the field, including second, third, the outfield, short stop, and pitcher. Made with Nokona's proprietary top-grain Stampede Steerhide and Kangaroo leathers, the 12.5-inch glove comes with a closed web and closed back. The product is made for right-handed throwers.
Pros:
Designed with specific fastpitch patterns, ensuring great comfort and wear
Needs very little break-in time
Cons:
Quite an expensive product
The infield training glove has been specially designed to help develop soft and quick hands with improved coordination. An undersized 9.5-inch glove, the product is a good choice for baseball and softball game training. They are made of superior Japanese tanned US steer hide (oil-softened) with heavy-duty rawhide laces.
Pros:
Durable glove is ideal for enhancing fielding technique and skills
Customized and comfortable fit with Velcro back closure
Cons:
May require some breaking in (stiff on arrival) before you can use it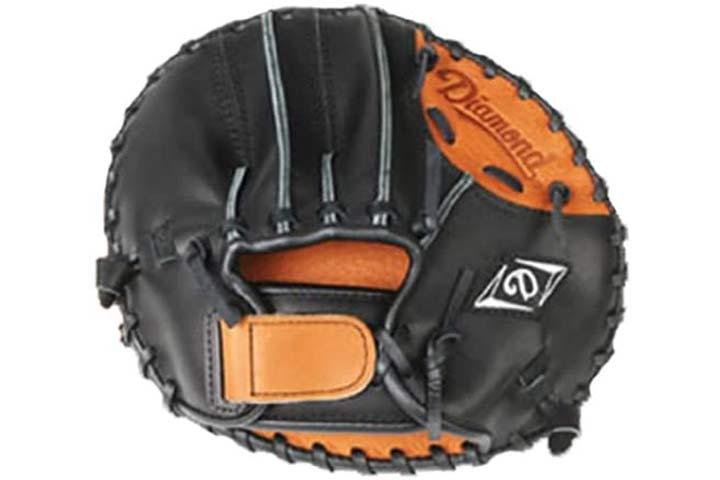 The infielder training glove has been specially designed to enable one to practice a two-handed fielding technique with ease. The highly durable and stylish glove has a circumference of 29in and is made of high-quality full-grain American steer hide/leather.
Pros:
Comes with finger slots to give a real and comfortable feel
Has an adjustable strap for comfortable wrist adjustment
Cons:
May appear stiff on arrival
How To Choose The Right Infield Gloves? 
Mentioned below are a few vital factors that should be taken into consideration while buying infield gloves.
Quality and material: The quality of the material used in the manufacture of infield gloves can play a pivotal role in enhancing their durability and performance. Most of the infield gloves are made using high quality, soft, flexible, and genuine leather, such as retro leather, pigskin leather, cowhide leather, and Java leather. A few infield gloves are also made of mesh or premium quality synthetic materials such as nylon.
Inner padding: The inner padding makes the infield glove comfortable to wear and minimizes the risk of severe injury to the hands and wrist. Most of the infield gloves come with cushioned palm and finger (especially index finger) pads that go on to reduce the sting and also deaden the ball at impact.
Many gloves also come with a sweat-absorbing interior, keeping the hand dry and comfortable. However, one should avoid too much padding in the gloves, as it might interfere with their catching skills and overall performance.
Glove pocket size: Unlike outfielder gloves, the infield gloves generally have a smaller pocket size. The small pocket size ensures a faster and more convenient exchange of balls. Additionally, the small pocket helps to negate the chances of injury from fastballs to a large extent. However, if you are more of a utility player or looking for an outfield glove, you can opt for a glove with a deep pocket with a Trapeze or H-web.
Throwing hand orientation: In general, a left-handed thrower should buy a right-handed glove and a right-handed thrower, a left one. Make sure you look for this specification in the product description while making the purchase.
Webbing on the glove: If you are an infielder, look for a glove that comes with loose webbing/stitches. A glove with loose webbing/stitches will give you a better control/grip of the ball so that you can catch and release the ball quickly and with ease. Many gloves also come with adjustable webbing. However, what you choose is completely a personal choice.
Wrist adjustment: A glove without wrist adjustments can be quite a waste. The best infield gloves are ones that come with a wrist adjustment facility such as Velcro straps/back closure, lacing, buckle, or D-ring.
Pocket-friendly: The infield gloves may come at a varied price range. Some of the gloves, especially the ones used for recreational/casual games, are relatively budget-friendly. However, professional gloves can be expensive. 
From adults to children to teenagers, the gloves come in different sizes suitable for different age groups. Some gloves may be for amateurs, while others may be for professionals. Thus, don't buy the product in haste. A little research before the purchase will give you a clear perspective about the exact requirement, thereby taking your experience of a baseball or softball game to another level altogether.