Looking to buy a versatile printer for printing documents, pictures, and graphics? An inkjet printer can seal the deal. It uses microscopic liquid ink drops to offer efficient and impressive results. The market is flooded with various printers with additional features like scanning, USB port file transfer, and instant printing. You can find an appropriate printer suiting your requirements and budget by comparing the top listed products.
This post shares a list of the best inkjet printers and a buying guide to help you find the most suitable option.
9 Best Inkjet Printers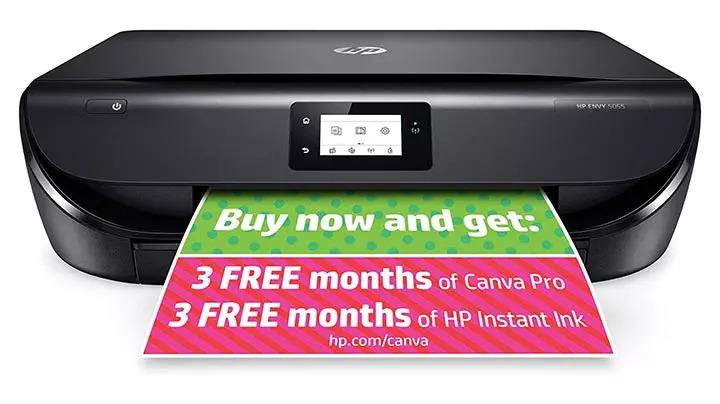 The versatile all-in-one inkjet printer can be operated with phones and computers through Wi-Fi and Bluetooth connectivity. You can rely on its automatic printer cartridge booking option to never run out of ink. You can easily print high-quality photos and documents with adjustable borders through the HP Smart app connected to Google Drive, Dropbox, and iCloud.
Pros
Offers faster print speed
Can print, scan, and copy documents
Works with different paper sizes
One-year limited hardware warranty
Allows two-sided printing
Cons
Doesn't have an automatic document feeder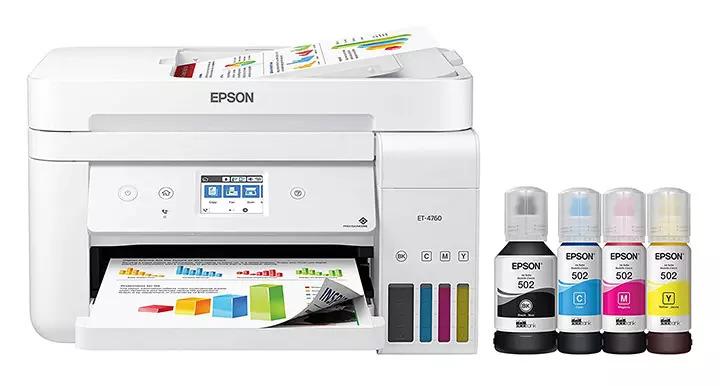 The latest all-in-one inkjet printer from Epson offers exceptional output with a low running cost. Even with its compact size, this printer has a high paper capacity and an automatic document feeder. Its touchscreen control panel aids in effortless function and has a high print volume of up to 15 pages per minute.
Pros
Offers high print yield for up to two years
Can be connected to operating devices through Wi-Fi
Features automatic duplex mechanism, scanning, and borderless printing
Could improve productivity
Prints on two sides of the paper
Cons
May have a high upfront cost
Ink slot must be filled manually due to the absence of a printer cartridge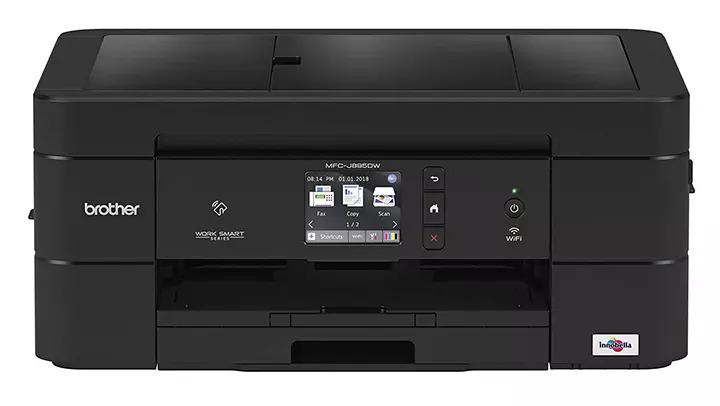 The Brother store's inkjet printer offers high capacity and speed printing, ideal for homes and small offices. Though it comes with only one input tray, it has a large paper holding capacity of 100 standard printer papers and 20 photo sheets. The printer is best suited to print in monochrome for frequent users, as it offers a low yield.
Pros
Good photo printing quality
Offers varied connectivity options for both Android and iPhone
Near Field Communications (NFC) enables connection-less printing for nearby devices
Accessible touchscreen control panel
Intuitive touch screen for easy navigation
Cons
Doesn't have an automatic duplex scanning system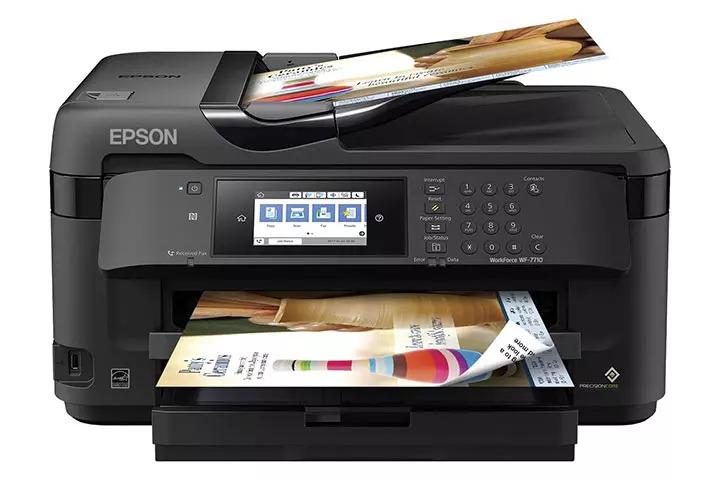 If you're searching for a printer with a large capacity, this Epson WorkForce offers high printing quality and productivity. You can use the all-in-one inkjet printer for multiple purposes effortlessly, as it can also be connected with your Android and iPhone phones. It has a 4.3in touchscreen and can hold 20 sheets of paper. You can print, scan, fax, and copy too.
Pros
Offers automatic duplex print
Includes NFC, Ethernet, and Wi-Fi connectivity options
Touchscreen control panel provides effortless accessibility
Compact size and lightweight design
Automatically prints on two sides
Cons
Only functions with Epson printer cartridges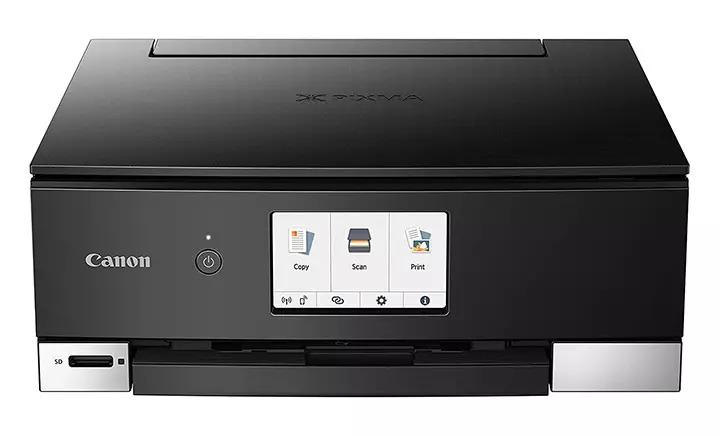 If you occasionally use a printer and are looking for one with decent features, the Canon all-in-one inkjet printer can be a good pick. It has low black page yielding, but its efficiency in printing color copies is high. With its high color accuracy and wide connectivity options, this home inkjet printer is convenient and easy to use.
Pros
Offers good cost per print
High photo print speed
Canon Print app can be connected for convenient printing
Can accept varied printer paper sizes
LCD touchscreen for effortless usage
Cons
Doesn't have an automatic duplex scanning system
Black ink printer cartridge may require frequent refilling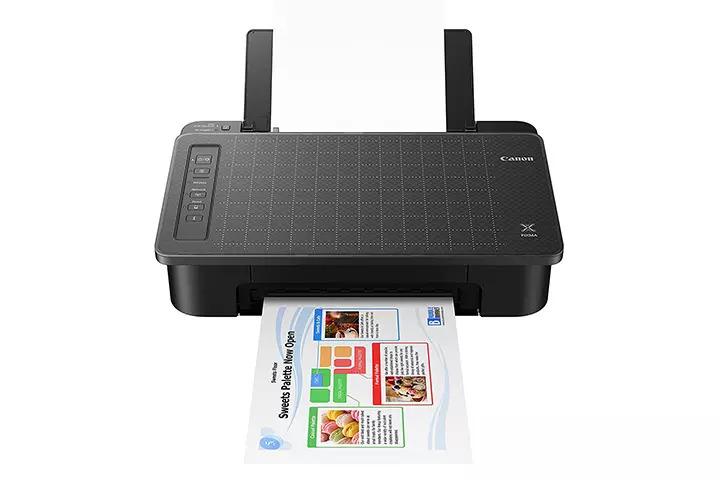 The Canon printer has high resolution and is well-suited to print high-quality color pictures. With its large paper tray, it can take in multiple paper sizes. Equipped with several features, including Bluetooth and wireless connectivity, it can be paired with your smartphone via the Canon print app. It has a hybrid ink system that ensures high contrast results.
Pros
Can be connected with Alexa
Supports borderless printing option
Smooth and noise-free functioning
Easy and quick to use
Can also be used to scan and copy multiple documents
Cons
Setting up with phone may be difficult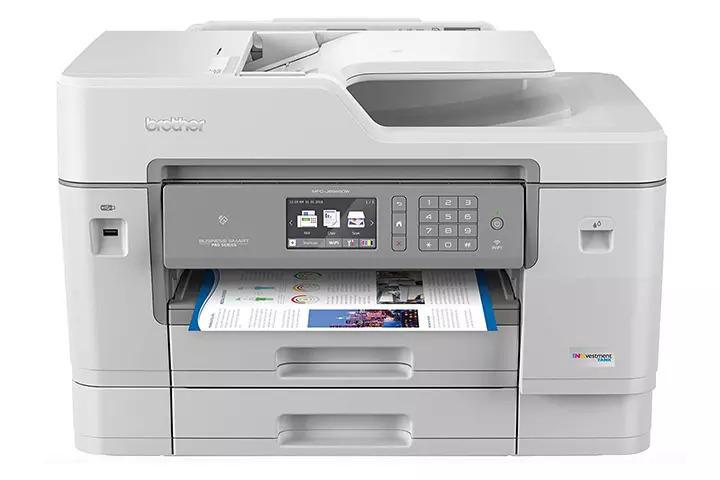 With a low running cost, this all-in-one inkjet printer from Brother is ideal for small offices. You can adjust the border size as needed before scanning, copying, or faxing through the manual touchscreen. Its flexible connectivity ensures proper functioning through cloud services such as OneDrive, Dropbox, Google Drive, and Brother Cloud apps.
Pros
High-yielding printer cartridges
Automatic document feeder saves time
Effortless touchscreen control panel
NFC and USB interfaces can be used with no internet connectivity
Cons
May not be suitable for large print volumes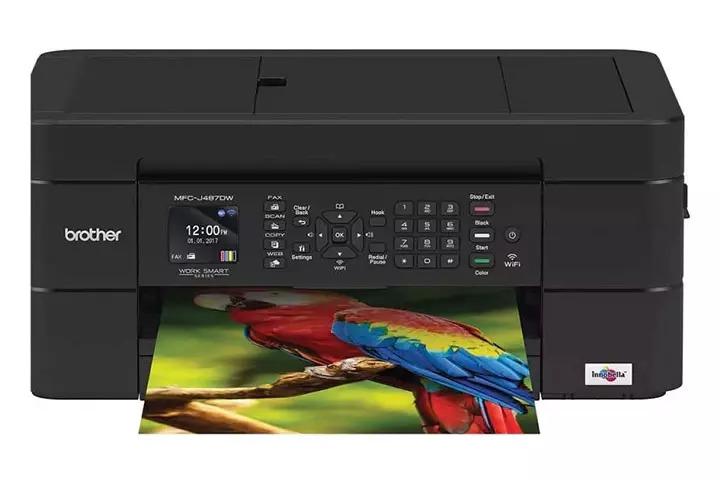 The Brother inkjet printer's scanner and automatic feeder offers effortless functioning and can be paired with most cloud apps. It is a decent all-in-one inkjet printer suitable for home and small offices. Despite its printer cartridges requiring constant replacement, it is relatively cost-effective and offers good color accuracy.
Pros
Offers good cost per unit
Compact and portable design
Can also be connected with a USB interface
Automatic document feeder saves time
Ideal for printing photos
Cons
May have a low black page yield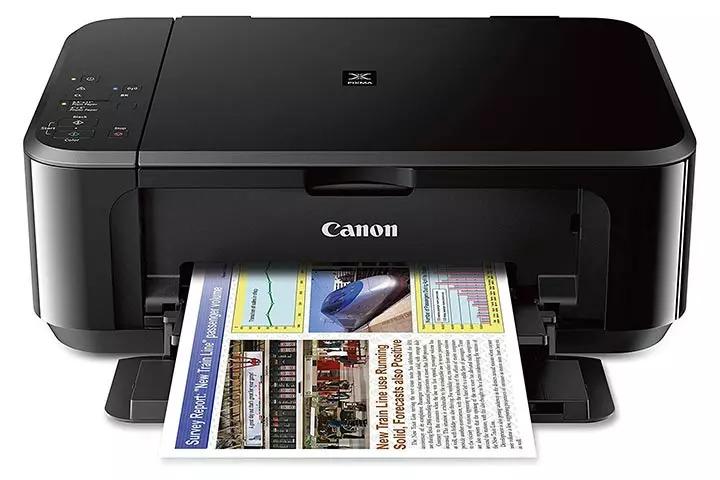 Ideal for small office and home purposes, the Canon Pixma inkjet printer is a decent, wireless model with high scanning resolution. As it offers a low cost per print, it is economical in the long run. Due to its high color accuracy, it can be used to obtain color pictures effortlessly. You can also scan and print black pages as it has a good printer cartridge capacity.
Pros
Multiple connectivity options from mobile phones
High resolution for quality pictures
Compact and portable design
Can be connected via the cloud, NFC, Canon Print and Mopria
Cons
May have a low printing speed
How To Choose The Right Inkjet Printer?
There are several features to consider when purchasing a printer. Now that you know your options, here are a few features to check for zeroing on one.
Frequency of usage: This factor should be considered for both inkjet and laser printers. If you use your printer occasionally, you can purchase an inexpensive model. But you may have to compromise on a few features with these models.
Function: Multifunctional printers include features like copying, faxing, and scanning documents. Most of these models can also be operated through Wi-Fi for convenient operation. Look for an automatic document feeder feature in these models for saving time.
Input and output trays: Printers with input trays behind the machine prevent jamming, compared to the models with trays in front. This feature is essential for offices with a high workload.
Duplex: It is the ability of the printer to print both sides of a page. An automatic duplex system is time-saving. But in models without this feature, you can always print on both sides manually.
Price per page: The refilling of printer cartridges may sometimes overtake the cost of the printer. Hence purchasing a printer with a high yield cuts down the cost over time. Refer to the page yield information by the manufacturer for this feature.
Connectivity: Make sure your printer has Bluetooth, NFC, or Wi-Fi connectivity options and is compatible with mobile phones and computers. Each company has its own application that can be used to connect the printer to a Cloud.
While choosing the best inkjet printer, it is essential to choose one that suits your requirements. Most printers have features that are not very evident, so read each product's pros and cons to make a wise decision. Consider what you need -printing photos or pages with black and white content, to make the right choice.