Inline skates are portable, fun, and inexpensive. Though designed for comfort and recreation, these roller skates enable a great form of exercise too. With two to five wheels stretched through their length, they help improve your balance, coordination, and serve as a fun transport system.
If you're a beginner or a professional looking to purchase a pair of inline skates, we got you covered. With our list of the best inline skates available in the market, you can choose one that best suits your taste.
Safety Measures To Take When Inline Skating
Though inline skating is fun, it could be dangerous when done wrong. Here are a few tips that can keep you safe and prevent injuries.
Always wear protective gear, including wrist guards, elbow pads, knee pads, and a helmet when skating.
If you are a beginner, skate under an experienced skater's supervision and practice indoors first before going on the road.
Skate at a comfortable speed level, neither too slow nor too fast.
Use appropriately sized skates. Refer to the size chart provided by the company before you purchase.
Always check if the screws of the wheels are tight before every ride.
The brake and the ball bearings must be checked and replaced regularly if needed.
Children should ride under adult supervision.
Wear a pair of athletic socks for a tight fit and extra comfort.
11 Best Inline Skates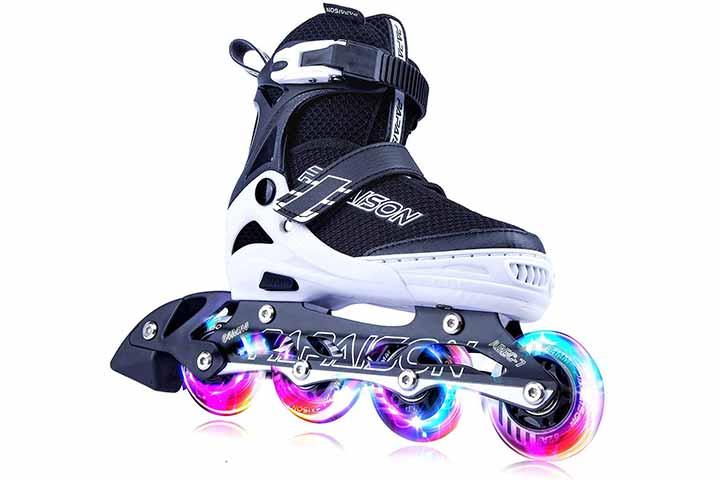 With four 82A polyurethane wheels, triple protection system, and high strength safety buckles, the Papaison's unisex inline skates are designed for long, safe, and stable rides. Available in four sizes, they can be altered to fit both children and adults with a single push-button adjustment system. The ABEC-7carbon steel bearings are built on an aluminum alloy frame to provide smooth and confident rides.
Pros
Durable shoelace and hook straps
Has breathable, 3D flyknit socks with arch support
Strengthened heel and toe for stability
Available in three colors
Automatic illuminating wheels
Soft cushioned liner and tongue for extra support
Cons
May provide less ventilation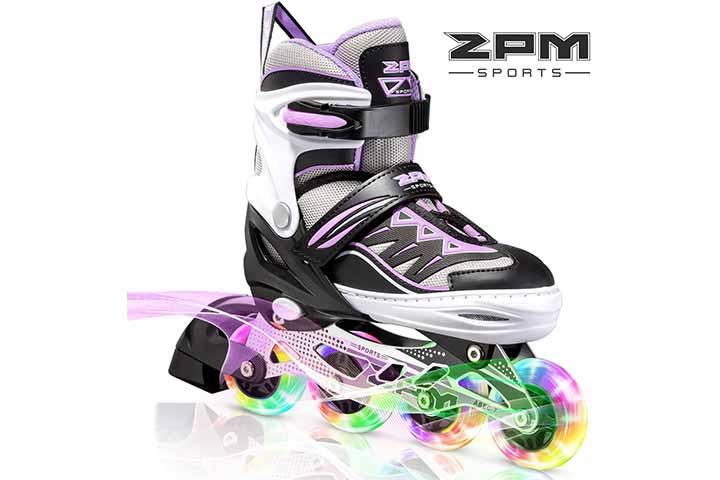 The 2PM roller skates with adjustable sizes have an aluminum frame and ABEC-7 bearings as a sturdy base. Suitable for beginners, these skates are provided with four wheels and a triple protection system for your child's safety. The attractive pink or purple color with self-generating illuminated wheels makes these rollerblades a perfect birthday present.
Pros
Available in four sizes
Sturdy support
Switchable rubber brake for safety
High stopping power
45° strap and a high strength buckle
Cons
May have sizing issues for some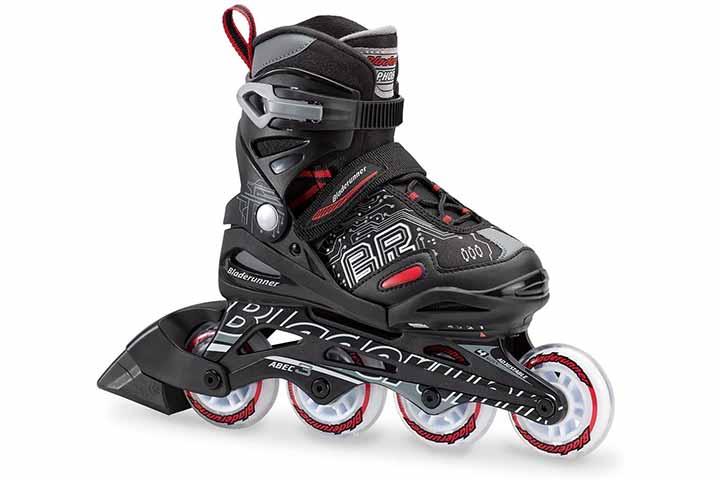 The sleek and lightweight design of these skates makes them suitable for beginners. These Bladerunner skates have a comfortable and flexible push-button system that can adjust to growing feet. Mounted on a low frame, the skate's four wheels provide a controlled center of gravity for the right balance and stability. With integrated lace closure, strong buckle system, and padded lining, these skates offer lateral support and extreme comfort.
Pros
Available in three sizes
Pull and push to adjust the size
Proper support and balance
72mm wheels and SG3 bearings for controlled speed
Standard brake
Cons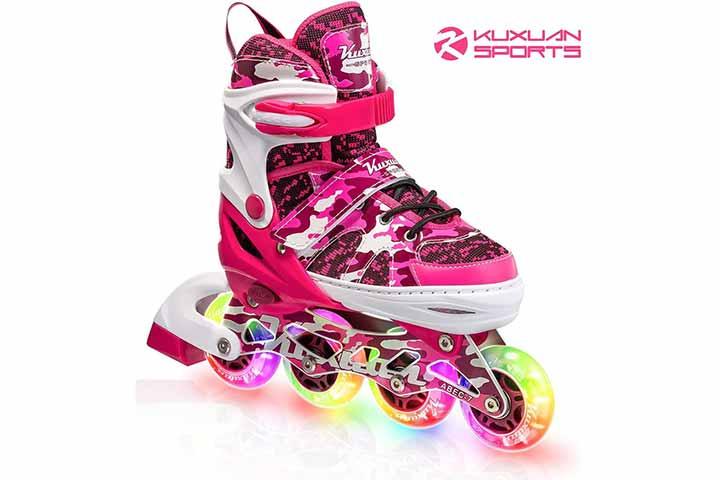 These lightweight, adjustable inline skates have colorful light-up wheels to make your child's rides fun. The size of the skates can be adjusted up to four lengths to accommodate growing feet. Its triple secure lock mechanism with a firm hook, loop, and shoelaces ensures safety without sacrificing a great fit.
Pros
Lined tongue for comfort
Available in three colors
Eight wheels for stability
Built with ABEC-7 bearings for a smooth ride
Durable aluminum frame
Cons
May wear down quickly
May have a weak ankle strap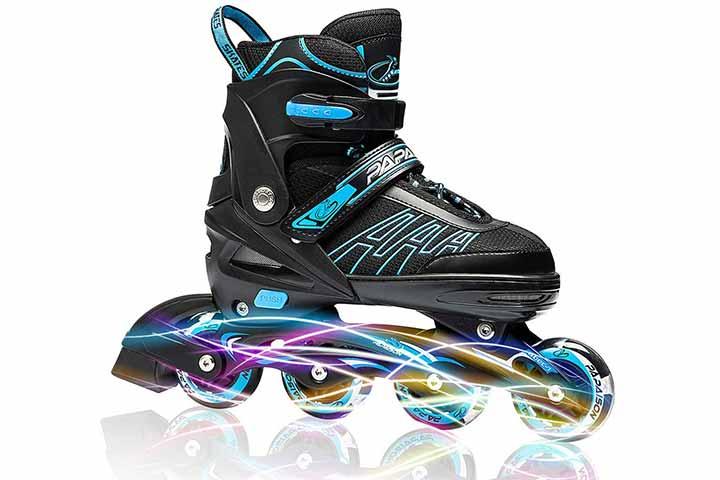 Designed for both children and adults, the ITurnGlow's unisex, adjustable roller skates have 82A PU wheels and ABEC-7 bearings to provide a smooth and quiet ride. With a simple push-button mechanism and a stretchable toe top, you can increase the boot's size without compromising on your feet's comfort. Its in-built safety mechanisms, including a triple closure system, detachable brake, and thick aluminum frame, make these skates an ideal option for anyone who wants to improve their skating skills.
Pros
Self-generating light-up wheels
Adjustable to four sizes
In-built toe cap for upper feet protection
Non-slip shock absorption wheels
High strength safety buckle
Breathable mesh ventilation for sweat-free rides
Available in two colors
Cons
Could be slightly heavy
May not be durable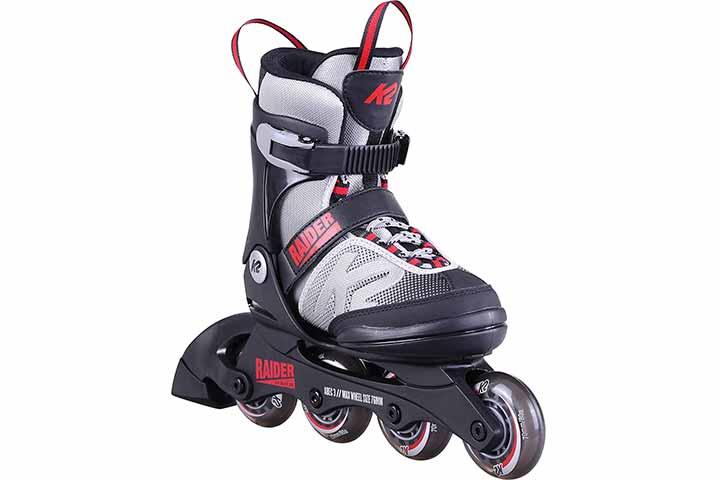 The K2 inline skates have a composite framing interlocked to the base that makes a great choice for beginners. It provides stable and lower-to-ground support for a smooth and balanced ride. The pair of skates has 70mm wheels and ABEC-3 bearings that allow effortless spin and safe speed when skating.
Pros
Vibration-absorbing durable frame
Lightweight and adjustable
Available in three sizes
Strong lacing system and a controlled brake
Cons
Available in a single color
May not have proper ventilation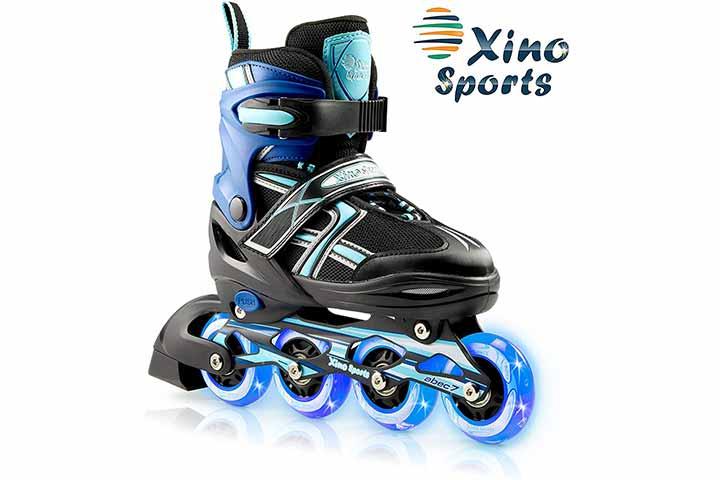 Built with an aluminum frame equipped with 82A PU wheels and ABEC-7 carbon steel bearings, these soft boot roller blades are suitable for children and teenagers. With their extra padded boots and breathable ventilation mesh, the pair of rollerblades offers comfort and convenience for a longer time. It has an adjustable push button that helps stretch the boot to four lengths for a good fit.
Pros
LED illuminating wheels
Safety buckle and a Velcro strap for a tight grip
TPR brake on the right foot
Available in four colors
Cons
May not provide high speed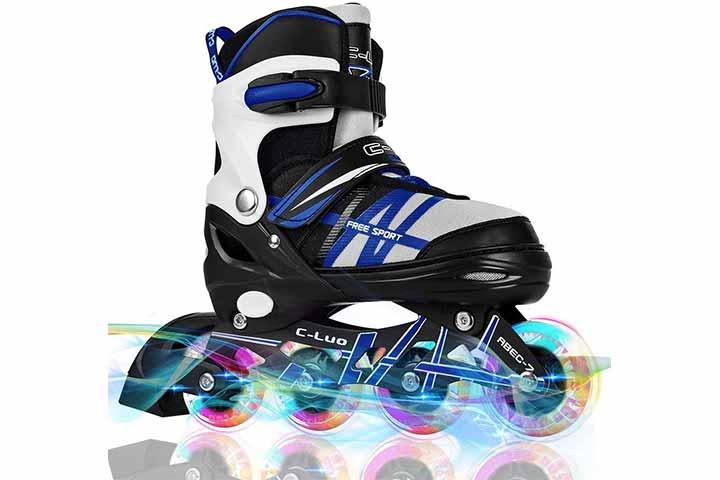 The pair of outdoor inline skates is lightweight and has a triple protection system. Designed for both children and adults, it has a strong lacing system and an additional wrap ensuring firm grip and safety. Its reinforced heel, strong toe cap, and good ankle support keep your feet comfortable for a longer duration. Built with 82A PU wheels, ABEC-7 bearings, and a low center of gravity system, these skates are sound-proof and easy to balance.
Pros
Self-generating light wheels
Fourth gear adjustment function
Push button for adjusting the size
Powerful strap and high strength buckle
Breathable ventilation system
Brake on the right foot
Cons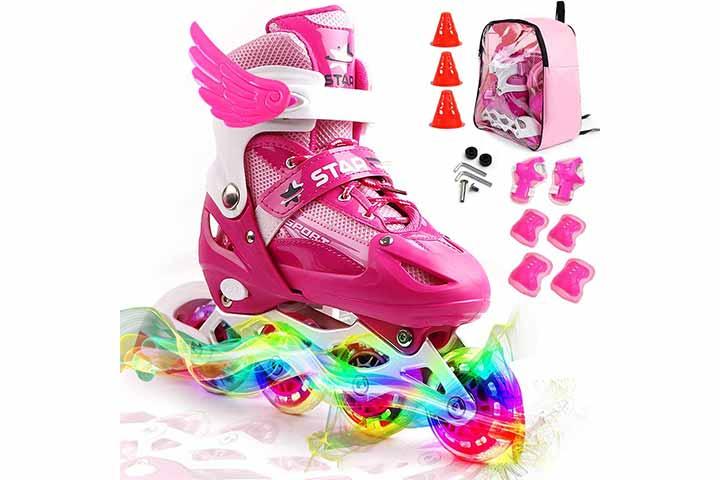 The skates are suitable for children who want to improve their skating skills. They are inexpensive and can be adjusted up to four sizes to fit a growing kid's feet. The PVC brake on the right foot and its low center of gravity provide extra support for beginners. These skates also have a triple safety system with adjustable buckle, firm Velcro, and strong laces to ensure safety during rides.
Pros
Breathable mesh for comfort
Adjustable push button
Made of aluminum alloy
ABEC-7 bearings for sound-proof rides
High-elastic PU rubber wheels
Cons
May not ride smoothly on rough surfaces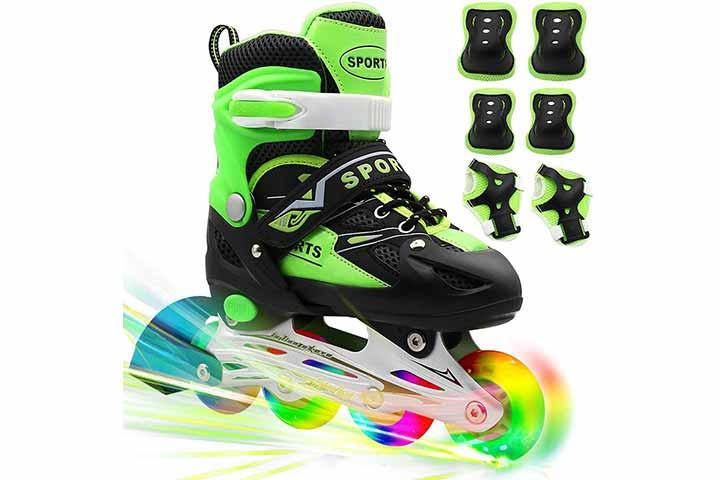 Built with an adjustable memory buckle and a convenient heel pull, the Petuol's inline roller skates can be easily worn by children without much effort. The illuminating wheels are made of high-quality PU and have a self-generating light-up effect that makes the rides enjoyable. These skates also have removable brakes, firm laces, and a Velcro, and are suitable for beginners who want to learn skating.
Pros
Has a unisex design
Push and pull button to increase its length
ABEC-7 chrome steel bearings
Aluminum frame for wheels
Cons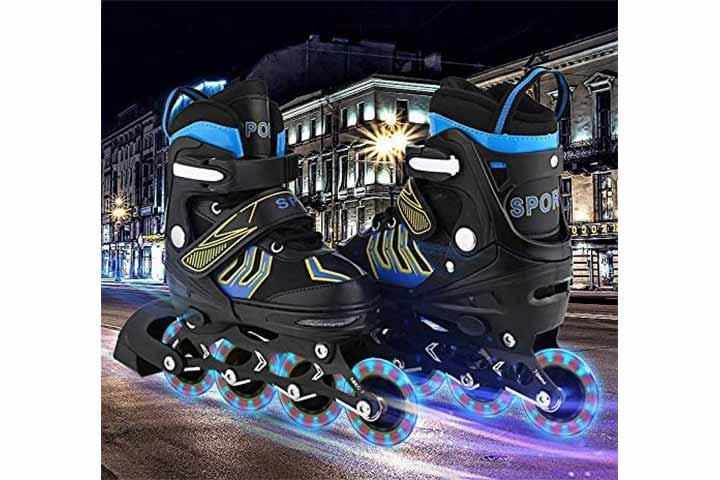 With three striking black combinations and hard wheels illuminating neon lights, the Aceshin's adjustable inline skates will make your child's playtime enjoyable. Built with an aluminum frame and 70mm PU wheels, these rollerblades are safe and comfortable and enable smooth rides on different surfaces. These skates are durable, and the size can be adjusted as per your child's growing feet.
Pros
Breathable cloth for long rides
Rubber brake on the right foot for stability
Protective cap on toes
Triple closure system for safety
Made of polyester
Cons
May have a weak strap
May have insufficient padding
How To Maintain Inline Skates?
Here are a few ways to take care of your inline skates and improve its durability.
Before every usage, check the screws and replace them if they are rusty or damaged.
If you find any loose screws, tighten them before your ride.
Avoid skating on rough surfaces and rotate the wheels from time-to-time to optimize their function.
Always inspect the buckles and laces before the ride and replace them if required.
Clean the outer surface with a damp cloth and soap.
How To Choose The Right Inline Skates?
To choose the right inline skates, you should look for the following features:
Size: Always measure your foot size before placing an order to avoid misfits. Try to find skates with an adjustable push button that can increase the boot's length to fit your foot.
Experience level: If you're a beginner, consider purchasing skates with triple protection and brake systems. This will help you find balance and stability. You could even consider purchasing safety gear.
Design: A few inline skates are padded well for an extra plush feel and have a breathable mesh for ventilation. Such skates are comfortable even when used for a long duration.
Wheels: Most of the wheels are made of polyurethane, are sturdy and offer a smooth ride. The size of the wheel also plays a prime role in determining the experience. Wheels measuring57mm offer great acceleration while 100mm wheels provide high speed.
Frame: It determines the strength required to ride the skate. If the quality of the frame is cheaper, you may need to spend more energy while skating. Though aluminum frames are lighter, cheaper, and stiff, carbon frames are preferred for a smooth skating experience.
Closure system: It determines your safety while skating. Most of the inline skates come with a triple protection system that includes firm buckles, Velcro, and laces for a strong grip on your feet.
Skating has been a popular recreational activity for both adults and kids. As long as you use proper protective equipment and wear breathable socks, rollerblading is beneficial as an exercise, a mode of transport, and a fun activity. With our list of the best inline skates, you can find yourself a nice pair that can awaken the skater inside you.
Recommended Articles: