An inversion table is swiveling equipment that hangs a person in an upside-down position with the back resting on a padded bed. It is designed to offer inversion therapy, a technique to shift the gravitational pressure from the discs and nerve roots of the spine, and provide traction.
Inversion therapy stretches the body from head to toe and is known to relieve back pain, improve circulation, and relax the muscles of the body. If you have a painful condition and your doctor has recommended that you use an inversion table, then this post could help you pick one.
Read on for a list of the best inversion tables, and their pros and cons to make an informed choice.
13 Best Inversion Tables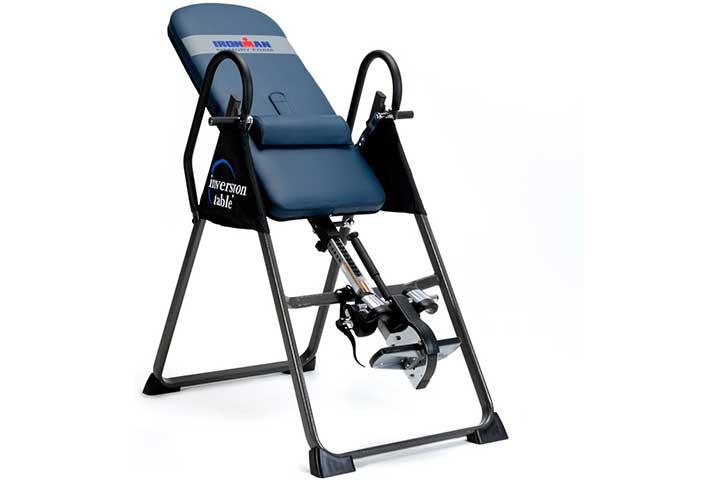 The inversion table has a durable steel frame and comes with a removable lumbar pillow. It can be inverted up to a 90° angle and can hold 350lb weight. The table has an extended backpad and a memory foam with 2.5in thickness to provide additional comfort during the therapy session.
Pros 
Secure elongated handles
Comes with no-skid stabilizers
Has an ankle lock system
Can be folded for convenient storage
Measures 26x65x49in when assembled
Cons 
Could be bulky
Ankle harness may not be comfortable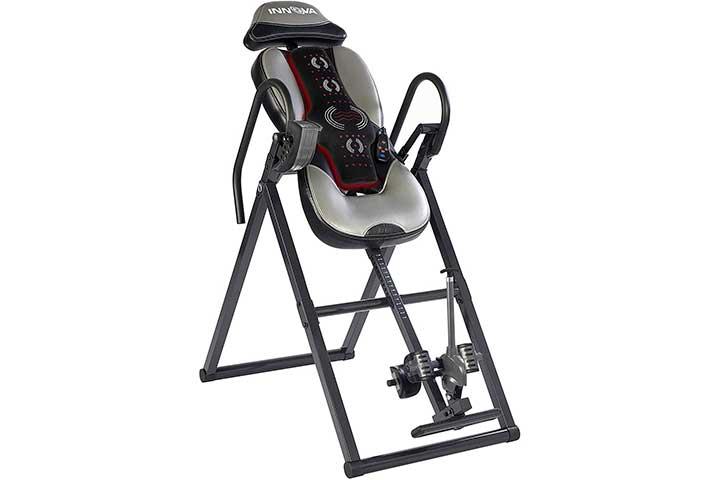 The multi-functional inversion table is designed to offer advanced massage and heat inversion therapy. It comes with multiple mode settings and can hold up to 300lb weight. The ergonomic ankle lock system helps to secure the legs, and the safety harness keeps your body intact on the table. Heat and vibrations are the additional features that make it a good choice.
Pros 
Comes with height settings
Has six angle pin slot system
Firm elongated handles
Has adjustable backrest and headrest
Heavy-duty and durable steel frame
Promotes a true balance system
Cons 
Could be difficult to assemble
Ankle clamps may not be comfortable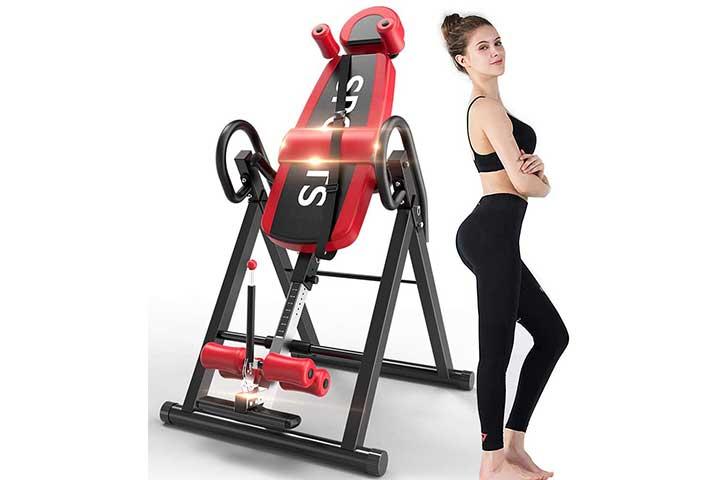 Premium-quality and versatile in design, this inversion mechanism table can be rotated at three angles based on your age and type of condition. It has a strong frame and lets you stretch more safely. The table can be folded when not in use and occupies less storage space. It comes with adjustable features and can withstand 300lb weight.
Pros 
Adjustable height capacity settings
Offers double safety
Ergonomic triangle design for stability
Shoulder foam rollers can be removed
Comes with four-layered backrest
Relieves pain and promotes good posture
Cons 
May not look as shown in images
Some may find it hard to balance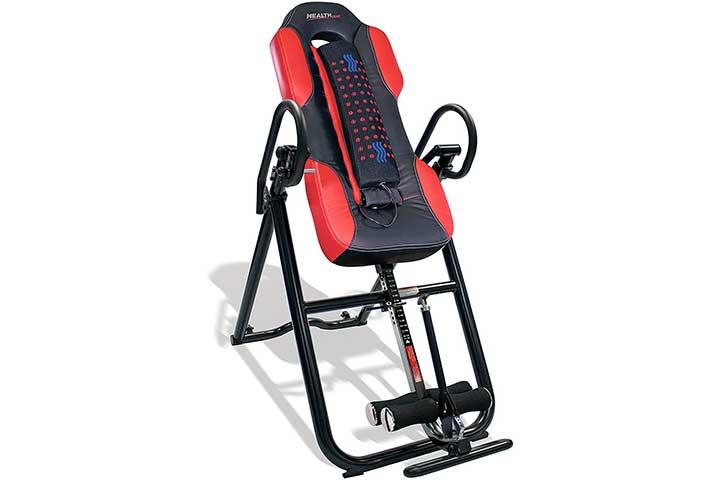 You can reap the benefits of advanced inversion therapy by using this standard inversion table designed ergonomically for safety and comfort. It can be inverted to four different angles and can hold 300lb weight. The table has a vibrating and heating pad that can be used and removed as and when required. The foldable inversion table is designed to save your storage space and provides added benefits.
Pros 
4in memory-style foam
Hand controller for adjustments
High-quality massage and heat pad to relieve back pain
Conveniently change to 20°,40°, 60°, and 90° inverted angles
Heavy-duty and sturdy steel frame for stability
Comes with an adjustable rod
Cons 
May not be suitable for short people
May not be fully inverted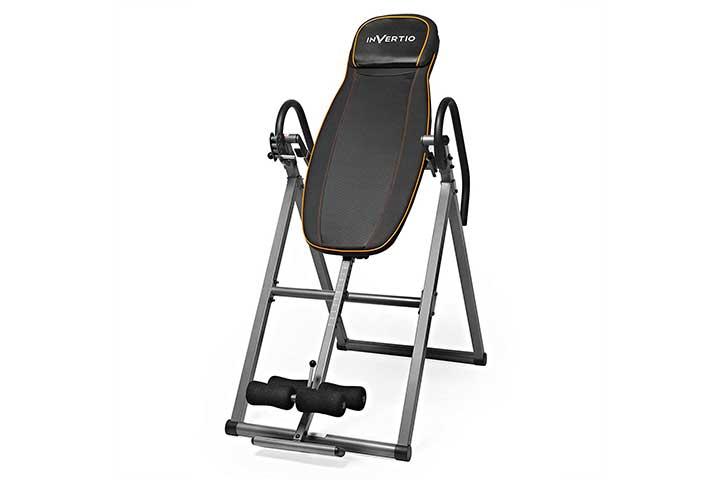 The useful inversion therapy table has a minimalistic design and is made of durable material to provide stability and safety during your session. It has padding for extra comfort and is ideal for users who are 5.1in to 6.6in tall and weigh up to 300lbs. The table offers safe rotation at all angles.
Pros 
Foldable and portable
Comes with adjustable features
Has extra-long handrails
Easy and quick to set up
Offers extra support to ankles, and has a backrest and an armrest
Cons 
Could be too heavy
May not be convenient for use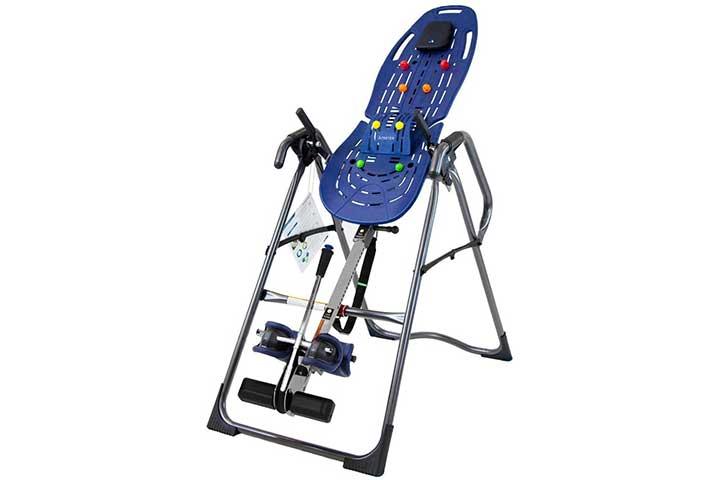 Provide pain relief to your body with the help of this inversion table that comes with lumbar bridge and acupressure nodes as added features. The table can be turned to 20°, 40°, and 60° and provide control and better flexibility to the user. It has elongated handles for firm grip and safety.
Pros 
Has ankle cups for safety
Adjustable ankle handles
Offers precise balance
Promotes extra stretch and comfort
Comes with a sturdy heavy-duty frame
Cons 
Could be hard on the body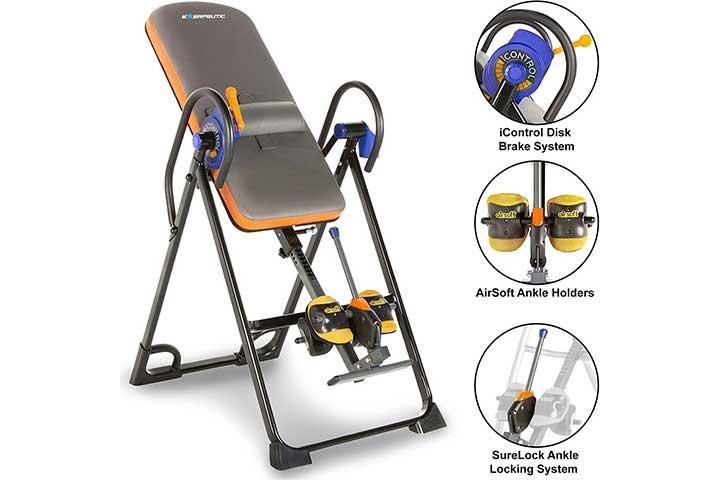 The therapeutic inversion table has a disk brake system that is easy and quick to lock and unlock. It comes with an extra-wide frame for additional support. The table has a soft foam for comfort, and it supports 350lb weight. It can be inverted up to 180°.
Pros 
Comes with airsoft ankle holding system
Thick foam and lumbar pillow
Provides back, head, and neck support
Foldable and supportive
Has stretch handles for a firm grip
Cons 
May not provide the best results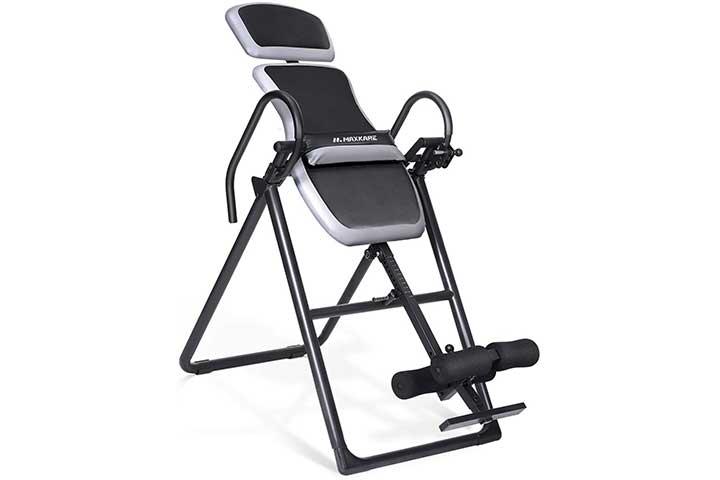 You can assemble the inversion table easily and fold it whenever required. It has a high-quality steel frame that is durable and adjustable as per the user's convenience. The table has an ergonomic design that fits your waist to provide balance and release the pressure to offer comfort.
Pros 
Can be inverted to a full angle
Waist cushion can be adjusted
Comes with a secure handle
Foam rollers for ankle support
Supports 330lb weight
Provides relief and promotes circulation
Suitable for people of heights 4ft 8in to 6ft 9in
Cons 
Could be difficult to adjust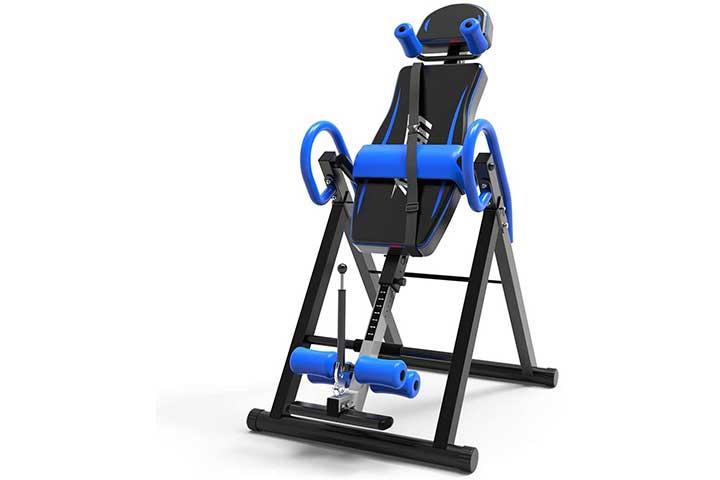 High-quality, ergonomic, and versatile, this immersion inversion table is convenient to use and provides pain relief. It comes with a safety lock and chuck buckle system for security. The table can be used by a user of any height as it comes with height adjustment settings and can hold 300lb weight.
Pros 
Comes with a safety harness
Offers waist, head, and back support
Foldable and portable
Promotes good body posture
Can be adjusted as required
Cons 
Assembly could be difficult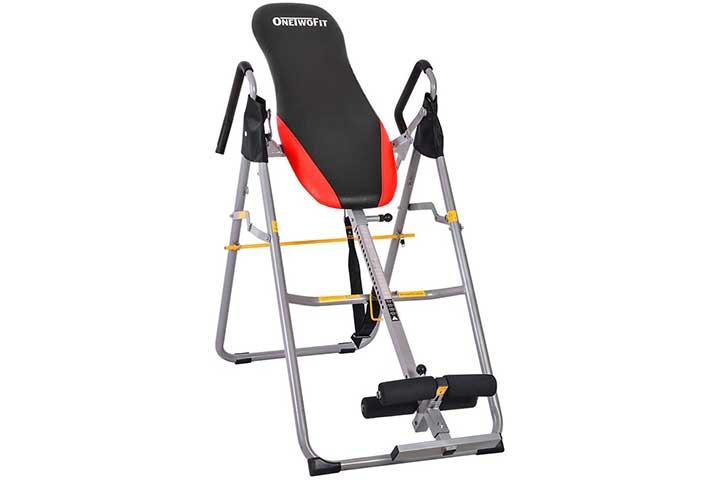 The triangular-structured inversion table has support at four points and can be inverted at three angles. It has an ergonomic design with a cushion at the back to provide comfort. The table is made of a steel tube that makes it sturdy and long-lasting.
Pros 
Foldable and convenient design
Can be adjusted in three ways
Comes with soft handlebars
Has a foot adjustment system
Supports back and head
Promotes a true balance to the body
Cons 
May not be suitable for all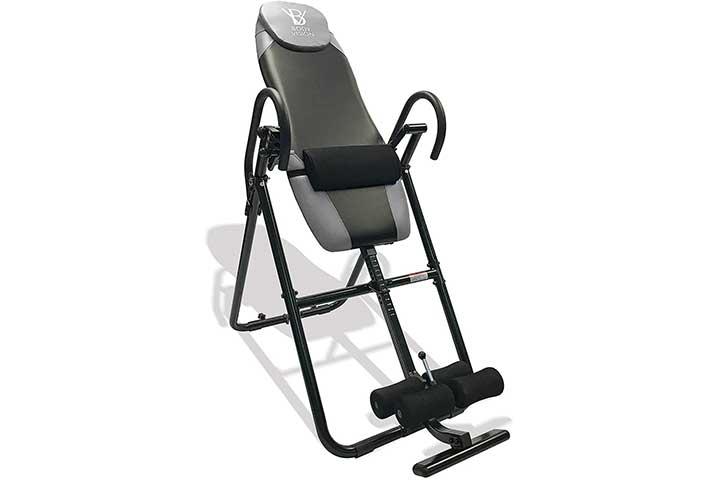 The high-quality inversion table comes with a lumbar support and head pillow to provide comfort to the body. It is considered to be one of the best inversion tables with features such as four-position inversion, memory-style foam, and contemporary design.
Pros 
Has a scratch-resistant duty frame
Comes with height selector
Has non-marring floor caps
Lumbar support pad can be adjusted
Designed to relieve pain
Supports a maximum weight of 250lbs
Cons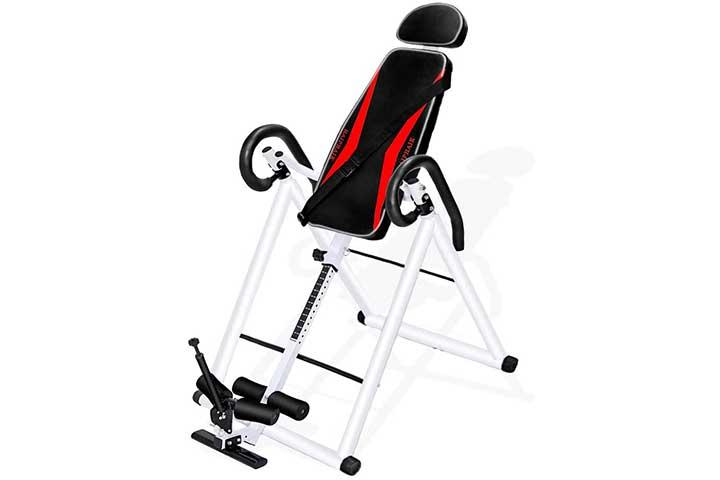 The cushioned inversion table with adjustable settings helps to relieve back pain. With just one button, you can change the settings as per your convenience. It ensures safety from all sides and provides support to your head, back, and legs. The table can support up to 350lb weight.
Pros 
Comfortable and multi-functional
Comes with multi-gear adjustment
Foldable and portable
Has an ergonomic design
Promotes circulation and relaxes the back muscles
Cons 
May not be effective for all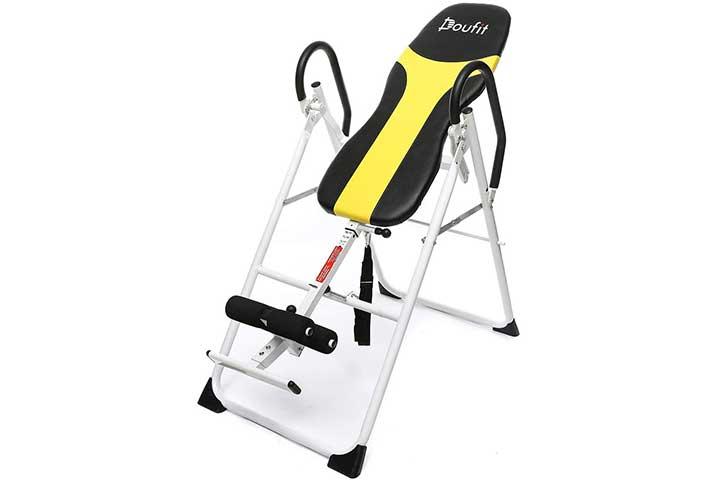 The premium-quality inversion table comes with a backrest and firm handles to hold on to. The height and the inversion angle of the table can be adjusted as per the age, body type, and condition. It comes with all safety features and can be used for multiple purposes.
Pros 
Foldable and adjustable
Comes with non-slip foot covers
Has foam-based backpads
Durable and versatile
Has height adjustment features
Supports the body and relieves pain
Cons 
May not be easy to operate
Uses Of An Inversion Table 
Inversion therapy can be an effective method to relieve pain for some. Your doctor may recommend using an inversion table for the following benefits.
Using an inversion table could help relax the muscles by the spinal alignment, whichfurther reduces shoulder and neck muscle spasms.
Inversion therapy could reduce lower back pain and improve the flexibility of the body.
It could also improve blood circulation in the body and relieve headaches.
Heat and massage therapy with inversion could relax the tense muscles, rehydrate discs, and even reduce nerve pressure.
How To Choose The Right Inversion Table?
You can keep in mind the following features when selecting an inversion table.
Sturdy frame: A good version table is made of heavy-duty steel frame and premium-quality materials. An inversion table is usually a one-time investment and hence, a durable one would be a great option.
Design: The table should have an ergonomic design and strap systems that provide both support and comfort to the user. It should also be foldable and portable so that it doesn't take much space in the room when not in use.
Adjustability: Height, angle, and foot or ankle lock of the table should be adjustable for the user's convenience.
Others: Some added elements that you can look for are heat and massage pad, firm holding handles, controller to change the angle of the inverted table, foam-based padding, and great value for money.
An inversion table may not provide an effective cure for all your pains but could help alleviate some. So, consider the features of the inversion tables and see if they match your requirements. Also, consider the cost, the safety features, and compare the options you have to make the right choice.
Recommended Articles: